Best dry dog food 2023 for nourishing your canine
Feed your canine some of the best dry dog food to keep them full, happy and healthy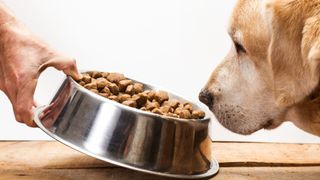 (Image credit: Getty Images)
It can be a little overwhelming choosing the best dry dog food. With a plethora of different options out there, picking something that your dog will love, but while also satisfying their dietary requirements and not breaking the bank can be a challenge.
That's before you've even considered is dry dog food best, or is wet food a more appropriate choice? There's no one size fits all answer, but, kibble is a good choice for many reasons - it's neater than wet food, can be left out for fussy or slow eaters without going bad, and doesn't generally require any special storage options. Be sure to take a look at our best wet food guide - some choose to mix both together.
When thinking about the food you're going to buy, make sure you check dog food ingredients carefully to make sure it provides everything your pooch needs. Protein should ideally come from a high-quality source, and it should also contain healthy fats to promote good brain health, as well as carbohydrates to keep energy levels high. It's important to also think about vitamins, minerals and fibre too to keep your dog's body running as smoothly as possible.
In this buying guide, we sought expert advice from Dr Joanna Woodnutt, who gives us tips on which kibbles are best, and whether you might want to consider wet food for your dog too.
Let's take a look…
Dr Joanna Woodnutt qualified as a veterinarian from the University of Nottingham where she then went on to practice companion animal medicine in the Midlands. She really took to the consulting side of things and helping clients with medical problems such as dermatology, behaviour and nutrition - anything that involved helping clients understand their pets better.
PetsRadar's pick of the best dry dog food
Why you can trust PetsRadar Our expert reviewers spend hours testing and comparing products and services so you can choose the best for you. Find out more about how we test.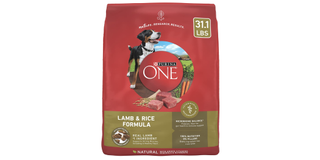 Purina ONE Natural Dry Dog Food
Best dry dog food overall
Specifications
Recommended age::
1-7 years
Key nutritional inclusions::
Vitamin E, vitamin A, minerals zinc, selenium, omega 6 fatty acids, protein
Reasons to buy
+
Prebiotic fiber for gut health
+
Easy to digest
+
Supports the immune system
Reasons to avoid
-
Some pet parents report their dogs having smellier stools after eating this kibble
If you're looking for a reputable brand that offers high quality nutrition with everything your pup needs to thrive, then Purina ONE is hard to beat. Featuring real lamb as the first ingredient, this meaty kibble supports strong muscles and a healthy heart while also being great for the immune system.
Made with high-quality ingredients, including natural prebiotic fiber, Purina ONE Lamb & Rice Formula is easy to digest and nurtures your dog's digestive microbiome to ensure their gut functions optimally.
High in protein, it also comes packed with Omega 6 fatty acids, vitamins and minerals to support the skin and coat while also adding a sparkle to the eyes. You'll also find it increases energy levels and has natural sources of glucosamine to help maintain healthy joints.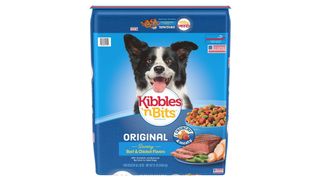 Kibbles 'n Bits Original Savory Beef & Chicken Flavor Dry Dog Food
Best budget dry dog food
Specifications
Key nutritional inclusions::
Beef and bone meal, vitamin E, vitamin A, vitamin D3, vitamin B12, carrots, green beans
Reasons to buy
+
Fantastic value for money
+
Suitable for all breeds
+
Huge 31 lb pack
Reasons to avoid
-
Not suitable for dogs with allergies or food sensitivities
One of the best value kibbles we've seen in a long time, this humongous 31 lb pack costs around $21, so it's ideal if you're on a budget and are looking for a complete and balanced formula that won't break the bank.
Granted, it hasn't got the super clean ingredient list that you would expect from expensive brands, but it still offers good nutrition that has everything your pup needs to thrive - including plenty of vegetables.
While it may not be free from gluten and fillers, it is antioxidant-rich and includes 23 essential vitamins and minerals. Super crunchy and with a rich meaty taste, this kibble is proving to be super popular amongst both pet parents and their canine companions thanks to its delicious flavor and outstanding value for money.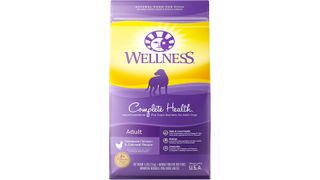 Wellness Complete Health Deboned Chicken & Oatmeal
Best no-filler dry dog food
Specifications
Key nutritional inclusions::
Premium proteins, whole grains, omega fatty acids, antioxidants, glucosamine, probiotics and taurine
Reasons to buy
+
Whole-body nutritional support
+
No by-products or fillers
Reasons to avoid
-
Larger bags not resealable
-
Premium price
Wellness has an extensive range of wet and dry dog foods that are made in the USA from globally sourced ingredients, and our top pick from its line-up is its Complete Health Deboned Chicken and Oatmeal kibble.
Designed for whole body nutritional support, it extensive list of ingredients includes high quality protein in the form of chicken, wholesome grains including oatmeal and ground barley, plus antioxidant-rich, immunity-boosting blueberries and spinach.
With such a wide range of ingredients, of course, it's entirely possible that there are elements in there that your pooch won't take to, and reviews suggest that there are a few dogs out there who aren't keen, so if you're planning to introduce your pup to this dry dog food you might want to switch it over gradually.
Its quality kibbles measure around 10mm across, so are a good size for most dogs to munch comfortably, and they're packed with fiber and probiotics as well as omega fatty acids plus vitamin A and calcium, so they're definitely a healthy option.
One word of warning, though: only the smallest 5lb bag is resealable, so if you're planning on buying in bulk you should find a suitable container in order to keep things nice and fresh.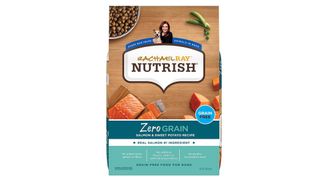 Rachael Ray Nutrish Zero Grain Dry Dog Food, Salmon & Sweet Potato Recipe
Best grain-free dry dog food
Specifications
Key nutritional inclusions:
Sweet potato, flaxseeds, vitamin E, taurine, omega fatty acids
Reasons to buy
+
Contains real salmon as the first ingredient
+
Highly digestible formula
+
Free from fillers, artificial colors, flavors, and preservatives
Looking to feed your dog a zero-guilt meal that's easy to digest and packed full of flavor and nutrition? Then look no further than this tasty and nutrient-dense dish from Rachael Ray.
Free from grains, gluten, and fillers, it's ideal for any dog with a delicate stomach, and comes with beet pulp and sweet potato to help move the kibble through the digestive system for easy elimination.
With real salmon as the first ingredient, this dry food is great for helping to build and maintain lean muscle mass, and the addition of turkey meal provides a natural source of Glucosamine and Chondroitin for joint health.
Rounded out with whole flax seeds and chicken fat for skin and coat health, this grain-free dog food comes with all the vitamins and minerals your pup needs to stay happy and healthy.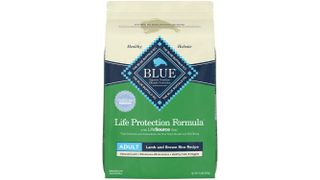 Blue Buffalo Life Protection Formula Natural Adult Dry Dog Food
Best natural dry dog food
Specifications
Key nutritional inclusions::
85% protein ingredients, whole vegetables, zinc, vitamin E
Reasons to buy
+
Has high-quality ingredients
+
Antioxidant-rich
+
Gentle on the digestive system
A hit with both pet parents and their furkids, Blue Buffalo Life Protection Formula is one of the best natural kibbles available today. With real lamb as the first ingredient, and using only the highest-quality proteins and ingredients, this nutritious and delicious dry dog food ticks all the boxes.
Packed full of wholesome whole grains like brown rice and oatmeal, and overflowing with an array of healthy garden vegetables, this fiber-rich formula supports a healthy digestive system while still being gentle on the gastrointestinal tract, making it superb for dogs with sensitive stomachs.
Featuring Blue's exclusive antioxidant-rich Lifesource Bits that have been designed by holistic vets and animal nutritionists to deliver all the vitamins and minerals your furkid needs to thrive, it's suitable for all life stages, and promotes a strong immune system and a healthy oxidative balance.
With calcium and phosphorus for strong bones, glucosamine for joint health, and an optimal balance of omega-3 and 6 fatty acids for a shiny coat and soft skin, it also contains cranberries to help prevent urinary tract infections.
Free-from poultry by-products, corn, wheat, soy, and artificial flavors and preservatives, this high-quality natural kibble excludes all the potential allergens found in other brands. Containing everything your doggy needs and none of what they don't, this food has been designed to ensure your canine companion thrives.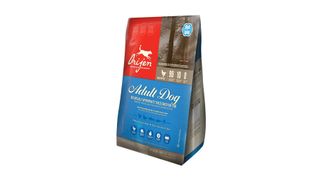 Best premium dry dog food
Specifications
Meat content:
85% meat, 15% fruits and vegetables
Additives:
Zinc chelate 100 mg pr kg
Dog Food Analysis rating:
5 star
Reasons to buy
+
Grain-free
+
Premium meat and fish sources
+
No additives or preservatives
When it comes to premium dog foods based around your dog's biological nutritional needs, Orijen is really hard to beat.
It uses only fresh and raw meats sourced locally in the USA in an assortment of formulas catering for dogs in all life stages from puppy to senior.
Orijen's brand motto, as suggested by the name, focuses on producing high-quality dog food mixes that closely match that of their gray wolf ancestors – high in protein and low in carbohydrates, especially from high-glycemic sources such as potatoes.
Their Original dry dog food is trademarked as 'Biologically Appropriate' by satisfying various meat-quality criteria; two-thirds fresh or raw and one-third dehydrated or raw meats, including chicken, turkey, mackerel, herring, and sardine.
This results in a market-leading minimum of 85% meat inclusion in their formula and produces a macro-nutrient breakdown of 43% protein, 21% fat and only 28% estimated carbohydrates.
With the majority of the fat coming from meat sources and whole eggs, the carbohydrates are sourced from an impressively diverse range of low-glycemic, highly digestible fruit and vegetables, ranging from fresh pumpkin and zucchini to blueberries, cranberries and brown kelp.
If we're being cautious, the inclusion of whole peas may cause stomach irritation in some dogs, but it's hard to find much wrong with the nutritional profile of this product.
The primary downside of Orijen dry dog food is its price, but if you can afford it you won't find a more complete dry option on the market.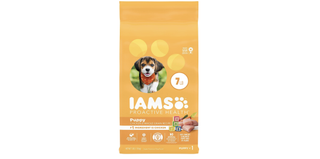 IAMS Proactive Health Dry Puppy Food with Chicken and Whole Grains
Best dry dog food for puppies
Specifications
Recommended age:
From weaning to 1 year of age
Key nutritional inclusions:
Omega 3 & 6, antioxidants
Reasons to buy
+
Features real, farm-raised chicken
+
Includes omega-3 for brain health
+
Aids in the development of a strong immune system
Reasons to avoid
-
May not be suitable for puppies with sensitive stomachs
For the youngest furry member of your family, it's hard to go past IAMS with their solid reputation for providing quality wet and dry food dishes that are always hugely popular with dogs.
Created to fit a puppy's specific needs, this kibble features real, farm-raised chicken as the first ingredient to promote strong muscles, plus essential minerals to help build strong bones.
Veterinarian-recommend, it contains 22 key nutrients like those found in mother's milk, including omega-3 DHA to promote healthy cognition and comes enriched with antioxidants to help develop a robust immune system.
Offering complete and balanced nutrition, this kibble contains no artificial preservatives, flavors, or fillers.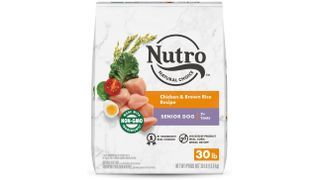 NUTRO Natural Choice Senior Dry Dog Food, Lamb & Chicken
Best dry dog food for senior dogs
Specifications
Key nutritional inclusions::
Fiber, antioxidants, high-quality protein, vitamin C, vitamin B1, vitamin B12, vitamin B6, vitamin D3
Reasons to buy
+
High in three lean animal proteins
+
No Corn, wheat, or soy
+
No artificial colours or flavours
Reasons to avoid
-
Rice not suitable for some dogs
Like humans, as dogs age, their health and stamina slowly decline and their bodies lose the ability to repair themselves and maintain normal body functions.
As a result, when looking for options to suit your ageing pooch, formulas high in protein and fiber with an adequate fat balance and suitable carbohydrate levels could be the best option.
Nutro ticks these boxes, offering a minimum crude protein content of 24% coming from whole chicken, as well as high-quality lamb and chicken meals to maintain your dog's lean muscle mass and satiety.
The formula's real strength lies in its rich superfood profile to promote glossy coats and increased energy, including Vitamin B-rich oatmeal, Flaxseed, Chia seeds, and Chicken fat as sources of healthy omegas and dried fruit and vegetables like kale, spinach, pumpkin, and blueberries.
Alongside glucosamine and chondroitin for optimal joint health, chelated minerals (ones that are chemically attached to proteins) to aid digestion are included, an ingredient typically added in higher-quality dog foods.
With a 24% protein content, and a fat level of 12% the formula represents an above-average protein, and below-average fat content when compared to its competitors.
The formula doesn't include added probiotics, something usually included in senior dog food formulas to improve nutrient absorption. It also opts for sunflower oil over higher Omega 3 oils, such as flaxseed or canola.
Additionally, the formula includes three different rice products (brown rice, brewers rice, rice bran). Rice bran is considered a strong source of fiber, while brown rice and brewers rice provide only a modest nutritional benefit to dogs, primarily as a source of energy, but can be harder to digest.
But overall, the formula is one of the top options for ageing dogs, particularly with regards to the strength of the macro and micro-nutrient offering from its high superfood content.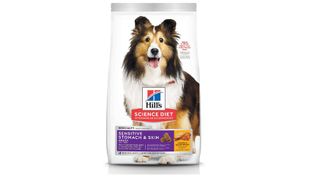 Hill's Science Diet Sensitive Stomach & Skin
Best dry dog food for sensitive stomachs
Specifications
Key nutritional inclusions::
Omega 6, vitamin E
Reasons to buy
+
Good quality
+
Affordable price
+
Helps with dogs prone to diarrhea and digestive issues
Reasons to avoid
-
Not always helpful for skin issues
If your dog suffers from digestive issues, then Hill's Science Diet Sensitive Stomach & Skin is specially formulated to help. The brand features prebiotic fiber to fuel gut bacteria and support a balanced microbiome, as well as natural, good quality ingredients, to support your dog's digestive health.
For dogs that are particularly prone to loose stools or are especially picky eaters, Hill's Science Diet Sensitive Stomach & Skin has helped plenty of dogs enjoy a stable diet free from stomach complaints and their owners enjoy peace of mind.
It can be used for all breed sizes, but if you have a puppy in the household or your dog is currently pregnant, you'll want to consider another product. However, Hill's Science Diet do have a wide range of dog foods so if you've been intrigued to try the brand but have a young dog in the family, you can try their puppy formula instead.
If you've been considering buying the product on the basis of skin issues, it's important to note that skin problems in dogs can be caused by different medical issues, including skin allergies, so look to check in with your vet before purchase as you might find they actually require medication instead.
Hill's Science Diet Sensitive Stomach & Skin can help to create a shiny coat, but shouldn't be considered as a complete solution to this problem.
Best dry dog food: FAQs
How to choose the right dry dog food
Even though we've done our best to cater to multiple needs, there are a huge variety of factors to consider for both owner and pet before deciding on the right dog food.
First and foremost, it's always best to know your dog's needs inside and out. Different breeds, sizes and ages have different nutritional needs and as a result, many options may not be suitable for your dog.
Intolerances, sensitive stomachs, injuries and other maladies also play a huge part in deciding on the right dry feed.
While it may seem a daunting task, the first step should be to book a vet consultation, where your dog's overall health can be evaluated. The vet may be able to recommend appropriate options.
If you feel like you know what you're looking for and are simply looking to try more options, our list may be the perfect starting point.
In general, the golden rule is to find a formula that is affordable for your budget in the long term, high in quality animal protein and with minimal additives… and most importantly, one that your dog enjoys!
Which dried dog food is best?
"There's no 'best' dog food for every dog, and most will do very well on most foods," explains Woodnutt. "When choosing a dog food, the most important thing is that it's 'complete and balanced', meaning it has everything your dog needs, in the right proportions, for your dog's life stage. It's a good idea to buy from established brands, as their recipes are likely to be well tested and they're more likely to have a good nutritionist on board."
Do dogs need wet food too?
"As long as your dog's food is 'complete and balanced' they don't need any other food," Woodnutt says. "However, some dogs might enjoy some wet food occasionally, especially in a Kong-type toy. Some dogs will also benefit from wet food being most of their calorie intake- this may be the case for dogs with severe dental disease, kidney failure, or some allergies. Remember, your vet will guide you if this is the case."