Best dry dog food: Fuel your furkid with nutritious kibble
By Rhodri Morgan published
Crammed full of nutrients and packing a flavor punch, the best dry dog food has everything your pup needs to power through their day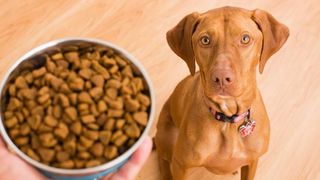 (Image credit: Getty Images)
When it comes to the best dry dog food, you really are spoiled for choice these days with a huge range of delicious and nutritious options lining the grocery store shelves. But, while it's wonderful to have so many high-quality products to choose from, all those bags can certainly make choosing a challenge!
The good news is, once you know what you're looking for, shopping for the best dog food doesn't have to be tricky. First things first though, you may be wondering if kibble is the right choice for your canine companion, so let's address that before we reveal our favorite dry food dishes.
There's no denying that the best wet dog food is pretty darn popular with our furry friends, and who can blame them? Packed full of moisture and with a rich and meaty taste that our canine companions tend to go crazy for, wet food is ideal for keeping your pup hydrated and ensuring their kidneys and urinary tract function at their best. It's also super soft, so it can be a great choice for dogs with dental issues.
But dry food has plenty of its own advantages that make it well worth considering. For starters, it's nowhere near as messy or smelly as wet food, so if you have a fur baby who tends to throw their food around, you'll find kibble much easier to clean up. It's also great for dental health, with a crunchy and abrasive outer shell that sweeps away plaque and tartar while your dog chews.
You'll find that most dry dog food formulas are suitable for all pups, but if your beloved bundle of fur tends to suffer from regular skin issues or digestive disturbances, we highly recommend you check out our guide to the best dog food for allergies, which has a range of great options that are tailored to suit your dog's unique health concerns.
If you've decided that kibble is king in your household, here are the best dry dog food brands lining the shelves in 2022, with options to suit every taste preference and budget. Let's take a look...
PetsRadar's pick of the best dry dog food
Best overall dry dog food
Specifications
Meat content:
Chicken (31%), Duck (7%)
Analytical constituents:
Crude Protein 23.5% Crude Fat 12% Crude Ash 7% Crude Fibres 3% Omega 6 1.8% Omega 3 1.2% Calcium 1.1% Phosphorus 0.8%
Reasons to buy
+
Grain-free
+
Only whole-meat formula
+
No artificial additives
Lily's Kitchen was born from a simple question, "Why doesn't pet food smell delicious and have human-grade ingredients?"
Faced with her border terrier Lily's distaste for mass-produced pet food, founder Henrietta Morrison decided to try producing whole-meat and vegetable dishes for her pooch at her north London home. The results were definitely worth her time
Their dry dog food formula comes in three flavors; Chicken and Duck, Venison and Duck, and Lamb, and boasts an eco-friendly approach from its organic ingredients to environmentally friendly packaging.
One of the main selling points is the 0% animal 'meal' content; the ultra-processed animal by-products (hooves, feet, and bones), and preservatives like stabilizers, emulsifiers, thickeners, and anti-caking agents.
In the Chicken and Dry Duck formula (the one examined in this review), only Methylsulfonylmethane, an inert chemical found in plants, and Chondroitin sulfate, an important structural component of cartilage, are still there.
Alongside 13 herbs and botanicals present, including kelp, rosehips and antioxidant marigold, the only other ingredients in Henrietta's Chicken & Duck Dry Food formula are whole meats from chicken (31%), duck (8%), chicken liver (3%), and sweet potatoes (30%) making up the vegetable portion, which totals an impressive 72% of the ingredients that are derived from whole meat and vegetables.
Moreover, the formula contains Vitamins A, D, and E, which help boost dogs' immune systems, in the process promoting healthy skin, and the addition of Omega 3 fatty acids from salmon oil helps lubricate joints and achieve a glossier coat.
The only real drawbacks are the high price, and the fact that this is currently not available in the USA, making importing an even more expensive option. However, thanks to the company's recent expansion, US customers should be able to purchase it in the near future.
Read our Lily's Kitchen Dry Dog Food review: Adult Chicken and Duck Complete
Kibbles 'n Bits Original Savory Beef & Chicken Flavor Dry Dog Food
Best budget dry dog food
Specifications
Analytical constituents:
Protein - 19%, Fat Content - 8%, Crude Fibre - 4%
Reasons to buy
+
Fantastic value for money
+
Suitable for all breeds
+
Huge 31 lb pack
Reasons to avoid
-
Not suitable for dogs with allergies or food sensitivities
One of the best value kibbles we've seen in a long time, this humongous 31 lb pack costs around $21, so it's ideal if you're on a budget and are looking for a complete and balanced formula that won't break the bank.
Granted, it hasn't got the super clean ingredient list that you would expect from expensive brands, but it still offers good nutrition that has everything your pup needs to thrive - including plenty of vegetables.
While it may not be free from gluten and fillers, it is antioxidant-rich and includes 23 essential vitamins and minerals. Super crunchy and with a rich meaty taste, this kibble is proving to be super popular amongst both pet parents and their canine companions thanks to its delicious flavor and outstanding value for money.
Barking Heads Puppy Days Puppy Food
Best dry dog food for puppies
Specifications
Meat/fish content:
27% salmon, 21% dried chicken, 10% chicken
Analytical Constituents:
Crude Protein 28%, Crude Fat 17.5%, Crude Fibres 3%, Crude Ash 8%, Omega-6 3.2%, Omega 3 1.3%, DHA 0.3%, Calcium 1.4%, Phosphorus 1%
Reasons to buy
+
High quality meat, no fillers
+
Small kibble for small mouths
+
Healthy additives
Especially formulated for growing puppies, Barking Heads food is made with 100% natural chicken and salmon. The food is designed to support the development of healthy teeth and bones, plus brain development. There's also a good combination of vegetables and herbs to make this an all-round good food for the newest member of your family.
For anyone worried about introducing any nasties to their puppy, this food is free from artificial colours, flavours and preservatives. As it is made from high-quality ingredients, it is slightly more expensive than some of the cheaper foods you might see listed for puppies, but if you can budget in a good price for food, it'll pay dividends in the long run if you have a healthy pup.
The make-up of this food is a high proportion of chicken and salmon, with sweet potato, peas and egg also being high-up on the ingredients list. It's not packed with unnamed grains, which is helpful if you suspect your pet might have an allergy. You'll also find nutritional addicties, such as Vitamin A and Vitamin D3.
Another bonus of this product is that the kibble itself is small, making it more manageable for young dogs who are still learning to chew. You can mix it with wet food (which Barking Heads also makes), or you can feed it on its own. If you find your dog gets on well with Barking Heads, you can transition to adult feed once they are a bit older.
Purina ONE Natural Dry Dog Food
Best dry dog food for all-round health
Reasons to buy
+
Prebiotic fiber for gut health
+
Easy to digest
+
Supports the immune system
Reasons to avoid
-
Some pet parents report their dogs having smellier stools after eating this kibble
If you're looking for a reputable brand that offers high quality nutrition with everything your pup needs to thrive, then Purina ONE is hard to beat. Featuring real lamb as the first ingredient, this meaty kibble supports strong muscles and a healthy heart while also being great for the immune system.
Made with high-quality ingredients, including natural prebiotic fiber, Purina ONE Lamb & Rice Formula is easy to digest and nurtures your dog's digestive microbiome to ensure their gut functions optimally.
High in protein, it also comes packed with Omega 6 fatty acids, vitamins and minerals to support the skin and coat while also adding a sparkle to the eyes. You'll also find it increases energy levels and has natural sources of glucosamine to help maintain healthy joints.
Blue Buffalo Life Protection Formula Natural Adult Dry Dog Food
Best natural dry dog food
Specifications
Analytical constituents:
Protein 22%, Crude Fibres 5%, Crude Fats 14%, Moisture 10%
Reasons to buy
+
Has high-quality ingredients
+
Antioxidant-rich
+
Gentle on the digestive system
A hit with both pet parents and their furkids, Blue Buffalo Life Protection Formula is one of the best natural kibbles available today. With real lamb as the first ingredient, and using only the highest-quality proteins and ingredients, this nutritious and delicious dry dog food ticks all the boxes.
Packed full of wholesome whole grains like brown rice and oatmeal, and overflowing with an array of healthy garden vegetables, this fiber-rich formula supports a healthy digestive system while still being gentle on the gastrointestinal tract, making it superb for dogs with sensitive stomachs.
Featuring Blue's exclusive antioxidant-rich Lifesource Bits that have been designed by holistic vets and animal nutritionists to deliver all the vitamins and minerals your furkid needs to thrive, it's suitable for all life stages, and promotes a strong immune system and a healthy oxidative balance.
With calcium and phosphorus for strong bones, glucosamine for joint health, and an optimal balance of omega-3 and 6 fatty acids for a shiny coat and soft skin, it also contains cranberries to help prevent urinary tract infections.
Free-from poultry by-products, corn, wheat, soy, and artificial flavors and preservatives, this high-quality natural kibble excludes all the potential allergens found in other brands. Containing everything your doggy needs and none of what they don't, this food has been designed to ensure your canine companion thrives.
James Wellbeloved Adult Fish And Rice Kibble
Best hypoallergenic dry dog food
Specifications
Meat content:
Turkey meal (24.8%)
Analytical constituents:
Protein 22%, Crude Fibres 3.1%, Crude Oils and Fats 10.5%, Crude Ash 7.3%, Moisture 1.4%
Reasons to buy
+
Gluten, wheat, and dairy free
+
Hypoallergenic
+
Relatively low in calories
Another reputable name in the dog food market, James Wellbeloved has been making a wide range of high-quality products for over a quarter of a century.
Their Adult Fish and Rice Kibble has been specially formulated for hypoallergenic dogs, and has become an incredibly product for the company over the years.
The simple formula boasts a high protein content, coming from fish (22%), when compared to many alternative options. The high fish content is included to keep your dog fuller for longer.
In order to help keep it allergy-free, there are no items that are generally associated with allergies, such as wheat and wheat gluten, or any dairy products. Artificial enhancers are similarly dispensed with.
All of this combines to mean that this product is essentially virtually risk-free, as far as being hypoallergenic is concerned.
The only complaints that we can see is that the food itself has a very strong odor – your dog won't care, but there's a chance that you might!
Best premium dry dog food
Specifications
Meat content:
85% meat, 15% fruits and vegetables
Additives:
Zinc chelate 100 mg pr kg
Dog Food Analysis rating:
5 star
Reasons to buy
+
Grain-free
+
Premium meat and fish sources
+
No additives or preservatives
When it comes to premium dog foods based around your dog's biological nutritional needs, Orijen is really hard to beat.
It uses only fresh and raw meats sourced locally in the USA in an assortment of formulas catering for dogs in all life stages from puppy to senior.
Orijen's brand motto, as suggested by the name, focuses on producing high-quality dog food mixes that closely match that of their gray wolf ancestors – high in protein and low in carbohydrates, especially from high-glycemic sources such as potatoes.
Their Original dry dog food is trademarked as 'Biologically Appropriate' by satisfying various meat-quality criteria; two-thirds fresh or raw and one-third dehydrated or raw meats, including chicken, turkey, mackerel, herring, and sardine.
This results in a market-leading minimum of 85% meat inclusion in their formula and produces a macro-nutrient breakdown of 43% protein, 21% fat and only 28% estimated carbohydrates.
With the majority of the fat coming from meat sources and whole eggs, the carbohydrates are sourced from an impressively diverse range of low-glycemic, highly digestible fruit and vegetables, ranging from fresh pumpkin and zucchini to blueberries, cranberries and brown kelp.
If we're being cautious, the inclusion of whole peas may cause stomach irritation in some dogs, but it's hard to find much wrong with the nutritional profile of this product.
The primary downside of Orijen dry dog food is its price, but if you can afford it you won't find a more complete dry option on the market.
Truline Fish Variety Dog Food
Best fish-based dry dog food
Specifications
Meat/fish content:
75% Animal Ingredients
Additives:
Yeast and malt extracts and chicken gravy
Reasons to buy
+
Nutritious animal ingredients
+
Added joint supplements
+
Zero grains or cereals
Reasons to avoid
-
Not for dogs with a meat preference
No dry dog food list would be complete without including a pure fish option and Pero Truline's offering is one of the best around.
A small family-run company from north Wales, Pero takes much the same branding approach as previously mentioned Orijen; whole animal ingredients and vegetables to match the ancestral dog diet.
Three-quarters of their formula consists of fresh trout and sardines; protein sources recommended by vets for being higher in healthy fats to improve your dog's digestion and reduce joint inflammation.
Pero proudly avoids grain, wheat and any animal offcuts or 'meal' that can find their way into many dog foods and have been known to cause intolerances, instead including a mix of fast and slow-digesting carbohydrates such as potatoes, green beans and a variety of berries.
The company was given a 'Brand of the Year' award by the World Branding Forum for the 2017-18 and 2018-19 dry dog food category, and the fish variety is one of their best sellers.
Their range also includes lower-calorie and 'fussy-eater' options as well as a meat and fish Truline mix if a pure fish formula wouldn't suit your pooch.
While the pure fish flavor could be slightly more pungent than poultry options, the high Omega 3 content provided by the high fish content could be a fantastic choice for dogs with creaky joints or those looking to try something different.
NUTRO Natural Choice Senior Dry Dog Food, Lamb & Chicken
Best dry dog food for senior dogs
Specifications
Crude Protein:
43.00% (min.)
Reasons to buy
+
High in three lean animal proteins
+
No Corn, wheat, or soy
+
No artificial colours or flavours
Reasons to avoid
-
Rice not suitable for some dogs
Like humans, as dogs age, their health and stamina slowly decline and their bodies lose the ability to repair themselves and maintain normal body functions.
As a result, when looking for options to suit your ageing pooch, formulas high in protein and fiber with an adequate fat balance and suitable carbohydrate levels could be the best option.
Nutro ticks these boxes, offering a minimum crude protein content of 24% coming from whole chicken, as well as high-quality lamb and chicken meals to maintain your dog's lean muscle mass and satiety.
The formula's real strength lies in its rich superfood profile to promote glossy coats and increased energy, including Vitamin B-rich oatmeal, Flaxseed, Chia seeds, and Chicken fat as sources of healthy omegas and dried fruit and vegetables like kale, spinach, pumpkin, and blueberries.
Alongside glucosamine and chondroitin for optimal joint health, chelated minerals (ones that are chemically attached to proteins) to aid digestion are included, an ingredient typically added in higher-quality dog foods.
With a 24% protein content, and a fat level of 12% the formula represents an above-average protein, and below-average fat content when compared to its competitors.
The formula doesn't include added probiotics, something usually included in senior dog food formulas to improve nutrient absorption. It also opts for sunflower oil over higher Omega 3 oils, such as flaxseed or canola.
Additionally, the formula includes three different rice products (brown rice, brewers rice, rice bran). Rice bran is considered a strong source of fiber, while brown rice and brewers rice provide only a modest nutritional benefit to dogs, primarily as a source of energy, but can be harder to digest.
But overall, the formula is one of the top options for ageing dogs, particularly with regards to the strength of the macro and micro-nutrient offering from its high superfood content.
Hill's Science Diet Sensitive Stomach & Skin
Best dry dog food for sensitive stomachs
Specifications
Calories:
3740 kcal/kg (382 kcal/cup)
Reasons to buy
+
Good quality
+
Affordable price
+
Helps with dogs prone to diarrhea and digestive issues
Reasons to avoid
-
Not always helpful for skin issues
If your dog suffers from digestive issues, then Hill's Science Diet Sensitive Stomach & Skin is specially formulated to help. The brand features prebiotic fiber to fuel gut bacteria and support a balanced microbiome, as well as natural, good quality ingredients, to support your dog's digestive health.
For dogs that are particularly prone to loose stools or are especially picky eaters, Hill's Science Diet Sensitive Stomach & Skin has helped plenty of dogs enjoy a stable diet free from stomach complaints and their owners enjoy peace of mind.
It can be used for all breed sizes, but if you have a puppy in the household or your dog is currently pregnant, you'll want to consider another product. However, Hill's Science Diet do have a wide range of dog foods so if you've been intrigued to try the brand but have a young dog in the family, you can try their puppy formula instead.
If you've been considering buying the product on the basis of skin issues, it's important to note that skin problems in dogs can be caused by different medical issues, including skin allergies, so look to check in with your vet before purchase as you might find they actually require medication instead.
Hill's Science Diet Sensitive Stomach & Skin can help to create a shiny coat, but shouldn't be considered as a complete solution to this problem.
Nature's Logic Canine Chicken Meal Feast
Best dry dog food for nutrients
Reasons to buy
+
The food is 100% all-natural
+
High-protein chicken meal
+
The company has good eco-credentials
Reasons to avoid
-
Certainly not the cheapest
Nature's Logic has been making premium all-natural dog food since 2005, priding itself on never using synthetic vitamins and minerals. As a bonus, the company is also environmentally-conscious, ensuring its kibble and packaging are produced with 100 percent renewable energy – indeed, for every 1lb of pet food it sells, it buys 1kWh of renewable energy which simply has to be commended.
The food itself is certainly quality. It's made using minimally processed whole foods and only the finest quality, high-protein chicken meal is used. It also includes fruits and vegetables such as dried kelp, blueberries, spinach and cranberries, leaving out chemically synthesized minerals, potatoes, lentils, wheat, corn, soy, rice and peas.
With no artificial colors and flavors, it should make for a healthy meal for you pooch and because digestive enzymes and probiotics are added after cooking, this is said to aid digestion so you should see fewer gut problems. This does, however, come at a price. The 25lb bag is very much on the expensive side but you generally get what you pay for.
How to choose the right dry dog food
Even though we've done our best to cater to multiple needs, there are a huge variety of factors to consider for both owner and pet before deciding on the right dog food.
First and foremost, it's always best to know your dog's needs inside and out. Different breeds, sizes and ages have different nutritional needs and as a result, many options may not be suitable for your dog.
Intolerances, sensitive stomachs, injuries and other maladies also play a huge part in deciding on the right dry feed.
While it may seem a daunting task, the first step should be to book a vet consultation, where your dog's overall health can be evaluated. The vet may be able to recommend appropriate options.
If you feel like you know what you're looking for and are simply looking to try more options, our list may be the perfect starting point.
In general, the golden rule is to find a formula that is affordable for your budget in the long term, high in quality animal protein and with minimal additives… and most importantly, one that your dog enjoys!
Get the best advice, tips and top tech for your beloved Pets
Thank you for signing up to Petsradar. You will receive a verification email shortly.
There was a problem. Please refresh the page and try again.