Best dry dog food: Kibble to fuel your furkid
Quality kibble offers lots of advantages for your dog without compromising on taste and nutrition
Included in this guide:
1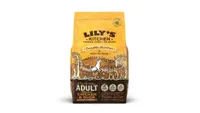 Lily's
Kitchen Chicken & Duck Dry Dog Food
2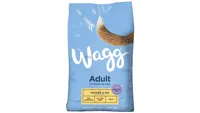 Wagg
Complete Dog Food
3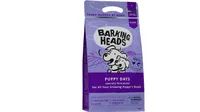 Barking
Heads Puppy Days Puppy Food
4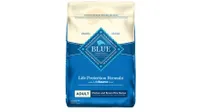 Blue
Buffalo Life Protection Formula
5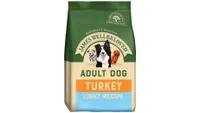 James
Wellbeloved Naturally Healthy Light Kibble
6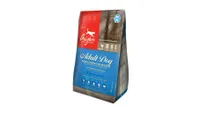 Orijen
Dry Dog Food
7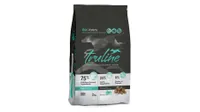 Truline
Fish Variety Dog Food
8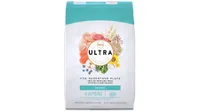 Nutro
Ultra Senior Dry Dog Food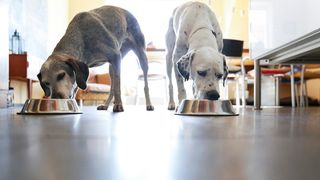 (Image credit: Getty)
The best dry dog food will not only tantalize your furkid's taste buds, it will also provide all of the nutrients needed to keep a canine in good health. Kibble is certainly no compromise. As well as being high in protein, it can also include omega-3 fatty acids and glucosamine, thereby promoting flexible joints and a good-looking shiny coat.
Of course, you may be in a quandary. There is a lot of debate about what constitutes the best dog food and whether you are better providing wet or dry meals. But while there is no doubt that the best wet dog food should be considered – particularly if you worry your dog is not getting enough water (70 percent of wet food is moisture) – there are plenty of benefits to be had from the dry variety.
Perhaps the most vaunted is kibble's ability to remove some plaque from the top areas of a dog's teeth. This is due to the food's crunchy texture and it can help to reduce build-up, prevent cavities and gum disease, and keep bad breath at bay.
Kibble also satiates a dog's desire to chew, which is a good stress reliever. You just need to make sure that you have plenty of fresh water on hand to make up for the lack of moisture (it's worth considering one of the best pet water fountains). This will help your dog avoid kidney and urinary tract problems.
Now there are also benefits for you too. As well as being more economical, kibble lasts longer than wet dog food so you can leave it out for free feeders. You needn't worry about the smell either, unlike with wet food which can be a bit pongy. So long as you discard it after about eight hours, you can avoid the risks of it becoming exposed to bacteria and spoiling. What's more, if you have a messy mutt, dry food is far easier to clean up.
Still not convinced? Well, there's another benefit. Pop kibble into some of the best dog puzzle toys and feeders and you're able to keep a pooch entertained and enriched (who says you shouldn't play with your food). There's also no harm in offering a mix of wet and dry food either, giving your dog the best of both worlds.
With all of that in mind, we've rounded up our pick of the best dry dog food available in 2021 with a host of delicious formulas.
PetsRadar's pick of the best dry dog food
Best overall dry dog food: Lily's Kitchen Chicken & Duck Dry Dog Food
Best budget dry dog food: Wagg Complete Dog Food
Best dry dog food for puppies: Barking Heads Puppy Days Puppy Food
Best natural dry dog food: Blue Buffalo Life Protection Formula
Best dry dog food for weight loss: James Wellbeloved Naturally Healthy Light Kibble
Best premium dry dog food: Orijen Dry Dog Food
Best fish-based dry dog food: Truline Fish Variety Dog Food
Best dry dog food for senior dogs: Nutro Ultra Senior Dry Dog Food
Best overall dry dog food
Specifications
Meat content:
Chicken (31%), Duck (7%)
Feeding Guide:
Small: 100-150g Medium: 150-250g Large: 250-350g
Reasons to buy
+

Grain-free
+

Only whole-meat formula
+

No artificial additives
Lily's Kitchen was born from a simple question, "Why doesn't pet food smell delicious and have human-grade ingredients?"
Faced with her border terrier Lily's distaste for mass-produced pet food, founder Henrietta Morrison decided to try producing whole-meat and vegetable dishes for her pooch at her north London home. The results were definitely worth her time
Their dry dog food formula comes in three flavors; Chicken and Duck, Venison and Duck, and Lamb, and boasts an eco-friendly approach from its organic ingredients to environmentally friendly packaging.
One of the main selling points is the 0% animal 'meal' content; the ultra-processed animal by-products (hooves, feet, and bones), and preservatives like stabilizers, emulsifiers, thickeners, and anti-caking agents.
In the Chicken and Dry Duck formula (the one examined in this review), only Methylsulfonylmethane, an inert chemical found in plants, and Chondroitin sulfate, an important structural component of cartilage, are still there.
Alongside 13 herbs and botanicals present, including kelp, rosehips and antioxidant marigold, the only other ingredients in Henrietta's Chicken & Duck Dry Food formula are whole meats from chicken (31%), duck (8%), chicken liver (3%), and sweet potatoes (30%) making up the vegetable portion, which totals an impressive 72% of the ingredients that are derived from whole meat and vegetables.
Moreover, the formula contains Vitamins A, D, and E, which help boost dogs' immune systems, in the process promoting healthy skin, and the addition of Omega 3 fatty acids from salmon oil helps lubricate joints and achieve a glossier coat.
The only real drawbacks are the high price, and the fact that this is currently not available in the USA, making importing an even more expensive option. However, thanks to the company's recent expansion, US customers should be able to purchase it in the near future.
Read our Lily's Kitchen Dry Dog Food review: Adult Chicken and Duck Complete
Best budget dry dog food
Specifications
Meat content:
min 4% in brown chunk
Additives:
Protein - 21%, Fat Content - 8%, Crude Fibre - 3%, Crude Ash - 8.5%, Omega 6 - 1.4%, Omega 3 - 0.3%
Reasons to buy
+

Fantastic value for money
+

Suitable for all breeds
+

Helpful serving size guidance
Reasons to avoid
-

Not suitable for sensitive stomachs
Out of the most well-known commercial pet food brands that produce good quality dry dog food at an affordable price, Wagg is generally one of the most trusted. Produced by family business, Inspired Pet Nutrition in Thirsk, North Yorkshire, it is the more wallet-friendly option to the company's other offering, Harringtons.
Its Complete Dog Food comes in Chicken and Veg and Beef and Veg flavors, and is suitable for dogs of all breeds aged upwards of eight weeks.
The formula boasts a high level of protein content (22%), and includes additional citrus extracts to support a healthy immune system, yucca plant to reduce flatulence, and probiotic MOS, which has the effect of promoting the health of the gastrointestinal tract
Moreover, it comes with no artificial colors or flavors and no added sugar, which is something that can't often be said about most types of mass-produced dog food.
Most of the protein and carbohydrate profile here is drawn from cereals, meat, and animal derivatives (24%). You could be forgiven for being slightly worried here if your dog has a sensitive stomach, but bearing in mind the overall strength of the formula and the additional ingredients it comes with, we are satisfied to say that it stands out as one of the best-value types of dry dog foods that is currently on sale.
Wagg Complete's biggest talking point is its low price, which represents great value for a solid ingredient profile, as well as 100% recyclable packaging.
Read our Wagg Complete Dry Dog Food review
Barking Heads Puppy Days Puppy Food
Best dry dog food for puppies
Specifications
Meat/fish content:
27% salmon, 21% dried chicken, 10% chicken
Analytical Constituents:
Crude Protein 28%, Crude Fat 17.5%, Crude Fibres 3%, Crude Ash 8%, Omega-6 3.2%, Omega 3 1.3%, DHA 0.3%, Calcium 1.4%, Phosphorus 1%
Reasons to buy
+

High quality meat, no fillers
+

Small kibble for small mouths
+

Healthy additives
Especially formulated for growing puppies, Barking Heads food is made with 100% natural chicken and salmon. The food is designed to support the development of healthy teeth and bones, plus brain development. There's also a good combination of vegetables and herbs to make this an all-round good food for the newest member of your family.
For anyone worried about introducing any nasties to their puppy, this food is free from artificial colours, flavours and preservatives. As it is made from high-quality ingredients, it is slightly more expensive than some of the cheaper foods you might see listed for puppies, but if you can budget in a good price for food, it'll pay dividends in the long run if you have a healthy pup.
The make-up of this food is a high proportion of chicken and salmon, with sweet potato, peas and egg also being high-up on the ingredients list. It's not packed with unnamed grains, which is helpful if you suspect your pet might have an allergy. You'll also find nutritional addicties, such as Vitamin A and Vitamin D3.
Another bonus of this product is that the kibble itself is small, making it more manageable for young dogs who are still learning to chew. You can mix it with wet food (which Barking Heads also makes), or you can feed it on its own. If you find your dog gets on well with Barking Heads, you can transition to adult feed once they are a bit older.
Blue Buffalo Life Protection Formula
Best natural dry dog food
Specifications
Meat content:
Real chicken
Analytical Constituents:
Protein 24%, Crude Fibres 5%, Crude Oils and Fats 14%, Moisture 10%
Reasons to buy
+

High-quality ingredients
+

Antioxidant-rich
+

Gentle on the digestive system
A hit with both pet parents and their furkids, Blue Buffalo Life Protection Formula is one of the best natural kibbles on the market today. With real chicken as the first ingredient and using only the highest-quality proteins and ingredients, this nutritious and delicious dry dog food ticks all the boxes.
Packed full of wholesome whole grains like brown rice and oatmeal and overflowing with an array of healthy garden vegetables, this fiber-rich formula supports a healthy digestive system while still being gentle on the gastrointestinal tract, making it a superb choice for dogs with sensitive stomachs.
Featuring Blue's exclusive antioxidant-rich Lifesource Bits that have been designed by holistic vets and animal nutritionists to deliver all the vitamins and minerals your furkid needs to thrive, it's suitable for all life stages and promotes a strong immune system and a healthy oxidative balance.
With calcium and phosphorus for strong bones, glucosamine for joint health, and an optimal balance of omega-3 and 6 fatty acids for a shiny coat and soft skin, it also contains cranberries to help prevent urinary tract infections.
Free-from poultry by-products, corn, wheat, soy, and artificial flavors and preservatives, this high-quality natural kibble excludes all the nasties and potential allergens found in other brands. Containing everything your doggy needs and none of what they don't, this food has been designed to ensure your canine companion thrives.
James Wellbeloved Naturally Healthy Light Kibble
Best dry dog food for weight loss
Specifications
Meat content:
Turkey meal (24.8%)
Analytical Constituents:
Protein 26.5%, Crude Fibres 4%, Crude Oils and Fats 10%, Crude Ash 8%, Moisture Not stated
Reasons to buy
+

Gluten, wheat and dairy free
+

Hypo-allergenic
+

Low in calories
Before starting your dog on a weight loss program, you should always consult your vet to determine the appropriate exercise regiment and foods to use. But if you're hunting for a lower calorie feed to help shed the pounds, James Wellbeloved's Naturally Light Kibble may be just the ticket.
Another reputable name in the dog food market, James Wellbeloved has been making a wide range of high-quality products for over a quarter of a century.
Their Naturally Healthy Light offering comes in Turkey and Rice Dry Mix and has been specially formulated for overweight or underactive dogs. It is one of the company's best-sellers in recent years.
The simple formula boasts a high protein content, coming from single-meat turkey meal (24.5%), when compared to many alternative options. The high animal meat content is included to keep your dog fuller for longer as well as to encourage loss of fatty tissue rather than muscle tissue.
Carbohydrates come from brown rice (23.2%), naked oats and white rice (12%) and the addition of barley and sugar beet is a natural provider of dietary fiber.
The name of the game with 'diet' food products is to balance whole, quality ingredients with a low overall calorific content and this product ticks both boxes.
One thing to bear in mind; it is quite a substantial-sized bite so as to fill the bowl and promote satiety, and can be tough going for dogs with weaker and smaller jaws.
Best premium dry dog food
Specifications
Meat content:
85% meat, 15% fruits and vegetables
Additives:
Zinc chelate 100 mg pr kg
Dog Food Analysis rating:
5 star
Reasons to buy
+

Grain-free
+

Premium meat and fish sources
+

No additives or preservatives
When it comes to premium dog foods based around your dog's biological nutritional needs, Orijen is really hard to beat.
It uses only fresh and raw meats sourced locally in the USA in an assortment of formulas catering for dogs in all life stages from puppy to senior.
Orijen's brand motto, as suggested by the name, focuses on producing high-quality dog food mixes that closely match that of their gray wolf ancestors – high in protein and low in carbohydrates, especially from high-glycemic sources such as potatoes.
Their Original dry dog food is trademarked as 'Biologically Appropriate' by satisfying various meat-quality criteria; two-thirds fresh or raw and one-third dehydrated or raw meats, including chicken, turkey, mackerel, herring, and sardine.
This results in a market-leading minimum of 85% meat inclusion in their formula and produces a macro-nutrient breakdown of 43% protein, 21% fat and only 28% estimated carbohydrates.
With the majority of the fat coming from meat sources and whole eggs, the carbohydrates are sourced from an impressively diverse range of low-glycemic, highly digestible fruit and vegetables, ranging from fresh pumpkin and zucchini to blueberries, cranberries and brown kelp.
If we're being cautious, the inclusion of whole peas may cause stomach irritation in some dogs, but it's hard to find much wrong with the nutritional profile of this product.
The primary downside of Orijen dry dog food is its price, but if you can afford it you won't find a more complete dry option on the market.
Truline Fish Variety Dog Food
Best fish-based dry dog food
Specifications
Meat/fish content:
75% Animal Ingredients
Additives:
Yeast and malt extracts and chicken gravy
Reasons to buy
+

Nutritious animal ingredients
+

Added joint supplements
+

Zero grains or cereals
Reasons to avoid
-

Not for dogs with a meat preference
No dry dog food list would be complete without including a pure fish option and Pero Truline's offering is one of the best around.
A small family-run company from north Wales, Pero takes much the same branding approach as previously mentioned Orijen; whole animal ingredients and vegetables to match the ancestral dog diet.
Three-quarters of their formula consists of fresh trout and sardines; protein sources recommended by vets for being higher in healthy fats to improve your dog's digestion and reduce joint inflammation.
Pero proudly avoids grain, wheat and any animal offcuts or 'meal' that can find their way into many dog foods and have been known to cause intolerances, instead including a mix of fast and slow-digesting carbohydrates such as potatoes, green beans and a variety of berries.
The company was given a 'Brand of the Year' award by the World Branding Forum for the 2017-18 and 2018-19 dry dog food category, and the fish variety is one of their best sellers.
Their range also includes lower-calorie and 'fussy-eater' options as well as a meat and fish Truline mix if a pure fish formula wouldn't suit your pooch.
While the pure fish flavor could be slightly more pungent than poultry options, the high Omega 3 content provided by the high fish content could be a fantastic choice for dogs with creaky joints or those looking to try something different.
Nutro Ultra Senior Dry Dog Food
Best dry dog food for senior dogs
Specifications
Crude Protein:
(min.) 23.00%
Additives:
Alpha-Linolenic Acid, Docosahexaenoic Acid, Selenium, Vitamin E
Reasons to buy
+

High in three lean animal proteins
+

No Corn, no wheat, no soy
+

No artificial colours or flavours
Reasons to avoid
-

Rice not suitable for some dogs
Like humans, as dogs age, their health and stamina slowly decline and their bodies lose the ability to repair themselves and maintain normal body functions.
As a result, when looking for options to suit your ageing pooch, formulas high in protein and fibre with an adequate fat balance and suitable carbohydrate levels could be the best option.
Nutro's Ultra Senior product ticks these boxes, offering a minimum crude protein content of 26% coming from whole chicken as well as high-quality lamb and salmon meals to maintain your dog's lean muscle mass and satiety.
The formula's real strength lies in its rich superfood profile to promote glossy coats and increased energy including Vitamin B-rich oatmeal, Flaxseed, Chia seeds and Chicken fat as sources of healthy omegas and dried fruit and vegetables like kale, spinach, pumpkin and blueberries.
Alongside glucosamine and chondroitin for optimal joint health, chelated minerals (ones that are chemically attached to proteins) to aid digestion are included, an ingredient typically added in higher-quality dog foods.
With a 29% protein content, a fat level of 17% and estimated carbohydrates of about 46%, the formula represents an above-average protein, below-average fat and near-average carbohydrate content when compared to its competitors.
The formula doesn't include added probiotics, something usually included in senior dog food formulas to improve nutrient absorption. It also opts for sunflower oil over higher Omega 3 oils such as flaxseed or canola.
Additionally, the formula includes three different rice products (brown rice, brewers rice, rice bran). Rice bran is considered a strong source of fiber, while brown rice and brewers rice provide only a modest nutritional benefit to dogs, primarily as a source of energy, but can be harder to digest.
But overall, the formula is one of the top options for ageing dogs, particularly with regards to the strength of the macro and micro-nutrient offering from its high superfood content.
How to choose the right dry dog food
Even though we've done our best to cater to multiple needs, there are a huge variety of factors to consider for both owner and pet before deciding on the right dog food.
First and foremost, it's always best to know your dog's needs inside and out. Different breeds, sizes and ages have different nutritional needs and as a result, many options may not be suitable for your dog.
Intolerances, sensitive stomachs, injuries and other maladies also play a huge part in deciding on the right dry feed.
While it may seem a daunting task, the first step should be to book a vet consultation, where your dog's overall health can be evaluated. The vet may be able to recommend appropriate options.
If you feel like you know what you're looking for and are simply looking to try more options, our list may be the perfect starting point.
In general, the golden rule is to find a formula that is affordable for your budget in the long term, high in quality animal protein and with minimal additives… and most importantly, one that your dog enjoys!
Get the best advice, tips and top tech for your beloved Pets
Thank you for signing up to Petsradar. You will receive a verification email shortly.
There was a problem. Please refresh the page and try again.