10 toy dog breeds: Good things come in small packages
Tiny toy dog breeds will always remain the size of puppies but you'll find they're big on personality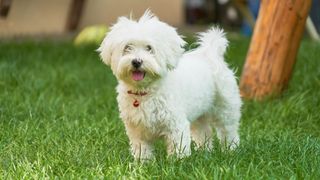 (Image credit: Getty Images)
Toy dog breeds are becoming more and more popular, particularly among first-time owners. Not only are they generally among the more playful dog breeds, tinier dogs need much less room, which makes them perfect for people who live in smaller houses or apartments. They are also cheaper to feed and they tend to live for a longer period of time which means your little furkid is going to be a wonderful companion for a good number of years.
One thing they are not, however, are actual toys. Although these breeds tend to be favorites among Instagram influencers and are showcased for being small and cute, they still need great care and attention. They have gained their label purely because they are the size of a stuffed toy animal when they are adults and because they weigh less than 15lbs (6kg). What's more, they have been specially bred to be that way.
Why? Well, some owners specifically want a tinier canine and small dogs have also traditionally been seen as symbols of affluence which is why they've long been prized by aristocracy (and now celebrities) the world over. They've actually been around for many centuries with many breeds getting ever smaller over that time. Here we take a look at 10 toy dog breeds and their impact.
PetsRadar's guide to toy dog breeds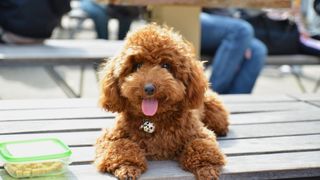 There are three sizes of Poodle: standard, miniature and toy. Of those, the toy poodle is the smallest of them all, weighing around 6lbs (2.7kg) and standing no more than 11 inches (28 centimeters) tall.
Originating in Germany and once bred as hunting dogs, poodles have long been hugely popular. Loved as cute companions and admired for their high intelligence and friendly nature, they have, over the years, been highly sought by wealthy Parisians and been firm favorites among royalty.
King Louis XVI of France had a particular fondness for them and celebrities enjoy them today. They also come in 10 different colors, live to a good age and are amazing with children.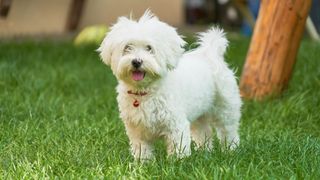 Maltese
This ancient breed has been around for thousands of years and, while no-one knows their exact origins for sure, the Mediterranean island of Malta is where they most likely developed, having been imported by the Phoenicians.
Once known as "Ye ancient dogge of Malta", they were bred as companions, proving to be playful, adaptable and easily trained. But while their "toy" credentials are backed by them weighing no more than 9lbs (4kg) and standing no greater than 10 inches (25 centimeters) tall, what is perhaps most striking – and toylike – is their beautiful, easily-styled glossy, silky white coat. It's not hard to see why they were so loved by ancient Romans and Greeks.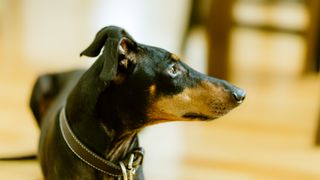 Toy Manchester Terrier
The toy variety of Manchester Terrier (which is considered to be its own breed in the United Kingdom where it's known as the English Toy Terrier) emerged after the Industrial Revolution. The standard Manchester Terrier had been bred to kill rats in the early 1800s but a demand for smaller dogs as pets led to them being crossed with Chihuahuas. They were popular in Victorian England.
Weighing as little as 2.2lbs (1kg), the Toy Manchester Terrier is athletic, alert and intelligent with a soft temper. They were once nicknamed the Groom's Pocket Piece because they were carried by horse riders in leather pouches suspended from their belt.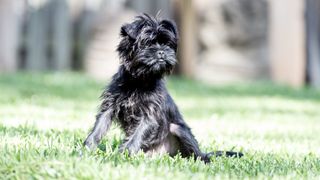 Affenpinscher
Although a relatively rare breed, the Affenpinscher – or Monkey Terrier as it is also known – originated in the 17th century. Bred in Germany as a vermin catcher, this endearingly scruffy-looking pooch is self-confident yet comical, boasting a distinctively cute-looking monkey-like face (hence the nickname) that caught the eye, thereby leading them to becoming popular as companions.
Weighing 13.2lb (6kg) at their heaviest and measuring up to 12 inches (30 centimeters) in height, they're great dogs to have around, becoming popular in the US following World World II when they were imported from Europe. Some are a little tricky to housebreak but they are generally quiet and very low shedding. They are also brave little things: they can pick fights with larger animals and become fiercely protective of their families.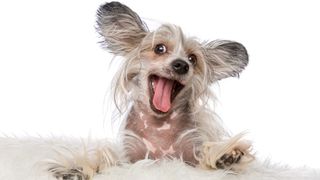 Chinese Crested
It's hard not to perform a double-take when you see a Chinese Crested dog for the first time. It's certainly difficult to find a breed with a more unique appearance, especially if you've caught sight of the hairless variety with its exposed spotted pink skin.
Although the Powderpuff variety has hair across the body (with both being roughly 13 inches high (33 centimetres) and between 10 and 13 lbs (4.5 to 5.9kg) in weight), the hairless ones have mere tuffs. They are located around the paws and tail as well as the top and sides of their head and it's like they have socks and a punk rock hairdo!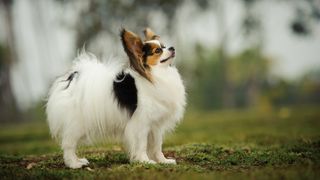 Papillon
Descended from toy spaniels, the small, low-weight Papillon has been around for centuries. You can see the breed's ancestors depicted in European paintings from the 1500s onwards and the Papillon itself has said to have played a role in key historical events – the last queen of France, Marie Antoinette, was a fan and is claimed to have carried her dog with her to the guillotine (although some doubt the story's authenticity).
There is definitely a look of elegance with this tiny toy breed, helped in part by its large ears and beautifully shiny single-coated fur. Papillons love to laze around, making them ideal lapdogs. And while they are short on size, these intelligent dogs more than make up for that with their happy, friendly personalities.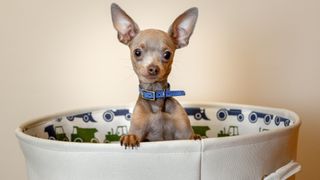 Chihuahua
Named after the Mexican state of Chihuahua, these pooches are often carried around by their owners in tote bags. They have also been named the most popular breed on Instagram according to the number of hashtags they end up generating which will be music to their pointy ears given how much they love being the centre of attention.
In many ways, these small but feisty toy dogs are the ultimate playthings. They adore being around people, form the closest of bonds, require very little grooming and show an abundance of affection. They will use their small size to their advantage, though, by trying to squeeze in and through the tightest of spaces. They keep owners on their toes!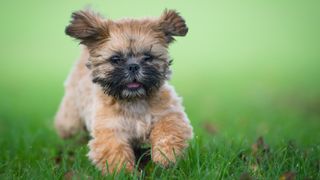 Shih Tzu
Originating from Tibet, Shih Tzus are calm, even-tempered, affectionate, outgoing and playful. Dating back at least 1,000 years, they were once favorites among Chinese royalty but they also ended up in Europe less than 100 years ago before being imported into the United States following World War II.
Bred to resemble lions – their name actually means little lion – they are closely associated with the Tibetan Buddhist God of Learning. So many famous people have owned one including Queen Elizabeth II, Microsoft founder Bill Gates and singer Mariah Carey, giving this lively toy breed a real air of glamour.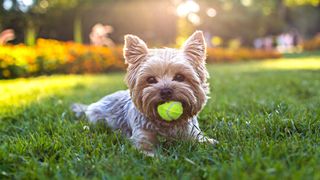 Yorkshire Terrier
As the most popular toy breed in the United States, the Yorkshire Terrier is a joy to have around. Small but with a big heart, they lavish affection on their owners and they love nothing more than curling up on your lap and going to sleep.
There's no mistaking why they are classed as being a toy breed. They are just seven inches tall (18 centimeters) and they weigh between three and seven pounds (1.36 to 3kg). Indeed, they are so unassuming and generally well behaved that some airlines will even allow you to take them on board a plane when you travel.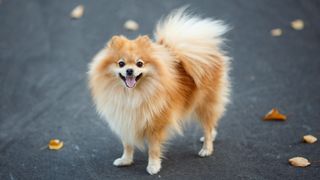 Pomeranian
Pomeranians were bred from Arctic working dogs and they take their name from the German province of Pomerania. Their popularity continues to grow, putting them in the top 15 of registered American Kennel Club dog breeds and it's easy to see why given their incredibly cute teddy-bear style looks.
Their fans over the years have included Queen Victoria who would exhibit her pets at London dog shows and Michelangelo who is said to have been accompanied by a Pomeranian when he was painting the Sistine Chapel. They were actually once larger than their seven to 12-inch (18 to 30 centimeter) size but were bred to become even smaller, with dramatic reductions during Victoria's reign.
Get the best advice, tips and top tech for your beloved Pets
David Crookes has been a journalist for more than 20 years and he has written for a host of magazines, newspapers, websites and books including World of Animals, BBC Earth, Dogs and Canines, Gadget and The Independent. Born in England, he lives in a household with two cats but he's also keenly interested in the differences between the huge number of dog breeds — in fact, you can read many of his breed guides here on PetsRadar. With a lifelong passion for technology, too, he's always on the lookout for useful devices that will allow people to spend more time with their pets.