10 oldest dog breeds in the world
The oldest dog breeds have been around for hundreds of generations, going right back to ancient times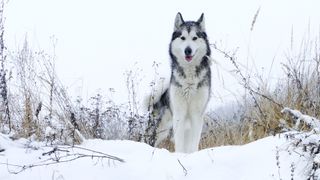 (Image credit: Getty)
Dogs have been our best friends for quite some time – thousands of years, in fact, when you consider the oldest dog breeds in the world. In this article, we're doing just that by looking at the pooches which have proven popular throughout the ages. These are dogs which predate the modern canines that we also adore today although, as you will see, there is an ongoing debate over which one is the oldest of them all.
Our furry friends descended from the grey wolf in East Asia at the dawn of the ice age and humans began domesticating them around 15,000 years ago.
One theory suggests that they came into contact with us because of the abundance of food we had to offer. But humans soon realized how useful they would be and began breeding them for specific purposes. Interestingly, there has been a breakthrough regarding how long ago that was, as we will soon see.
Here then, we explore the oldest dog breeds, drawing upon scientific and historical records. Ongoing studies are shedding fresh light on the history of dogs and we reflect on that. Who knows how soon this article may need to be updated as fresh evidence comes to light.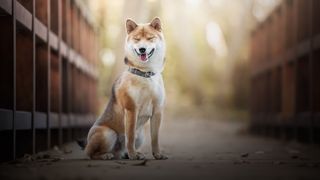 Akita Inu
There are two distinct breeds of Akita today – the American Akita and the Japanese Akita Inu – and, while we don't have firm evidence of their origin, they are understood to date back as many as 10,000 years. A discovery of dog bones at the Kamikuroiwa Rock Shelter Site on Shikoku Island in 1962 were carbon dated back to around 9,400 years ago. What's more, DNA analysis has suggested Akitas descended from the now-extinct Matagi-Inu breed – a breed once used for hunting by the Matagi people in northern Japan that is known to have existed from around 8000 BCE. Suffice to say, Akitas (revered by the Japanese people and once the preserve of samurai), have some serious history behind them!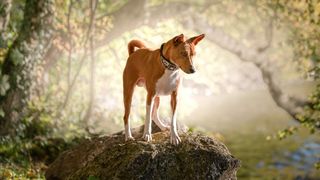 Basenji
As if to throw a spanner in the works, however, Basenji are also considered to be the oldest dog breed in the world. In 2017, academics studied modern dog breed development and found that, out of more than 400 domestic dog breeds, Basenji was the closest ancestor to wolves. Having originated from Congo, this breed is also depicted in cave paintings in Libya dating back to around 6000 BCE (some 8,000 years ago) and they were a favorite among ancient Egyptians too. It makes for a compelling case but given that the dating for Akita Inu could be a couple of thousand years older, we can't say for certain that the Basenji is the top ancient dog just yet.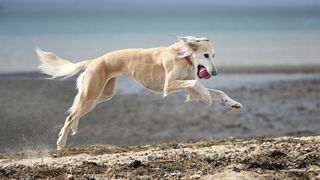 Saluki
Another bone of contention is whether or not the Saluki breed could also stake a claim. After all, the Guinness World Records lists it as the world's oldest known breed of domesticated dog and says it is believed to have emerged in 329 BCE. That alone wouldn't make it as old as the two breeds we've already discussed, but a golden pendant of what is believed to be a Saluki dog was found in the Sumerian city of Uruk and dates back to 3300 BCE. Excavations of ancient tombs have also uncovered carvings in what is now southern Iraq of dogs that bear a canny resemblance to Saluki. These go back as far as 7000 BCE.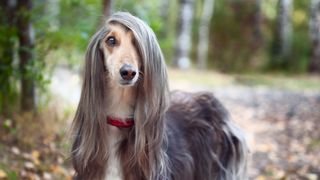 Afghan Hound
And that brings us neatly to the Afghan Hound, another basal breed predating modern dogs. Originating from Afghanistan where they were bred as a hunting companion in the mountains, hence the name (although some reckon Egypt), the breed's history is traceable to 6,000 BCE and it's said to be closely related to the Saluki. There's also a lovely legend which suggests Noah picked this particular dog when he was figuring which animals to allow on his flood-beating ark. While there is no scientific evidence to confirm the past existence of Noah's vessel, it at least shows widespread awareness that this instantly recognizable breed of sighthound has indeed been around for a long time.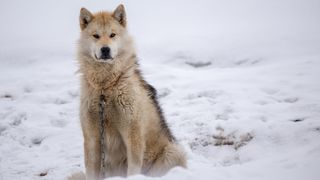 Greenland sled dogs
In mid-2020, the findings of a new genetic study was published, bringing with it another contender for the title of oldest dog breed: the Greenland sled dogs. Scientists analyzed bones found on Zhokhov Island and it would appear that hunter-gatherers in this freezing land north of the Russian mainland (when it was actually connected!) had been breeding dogs to pull sleds 9,000 years ago. If true, then it would be the earliest evidence of dog breeding for a specific purpose. More than that, there is evidence that the sled dogs haven't interbred with grey wolves for 9,500 years and that the Zhokhov dog is the closest to modern-day sled dogs.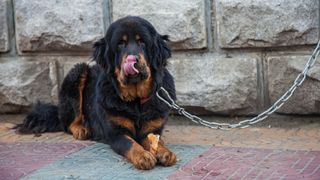 Tibetan Mastiff
In 2008, scientists at the Agricultural University Laboratory of Animal Reproductive Genetic and Molecular Evolution in Nanjing, China, presented the Tibetan Mastiff as "the oldest and most ferocious dog in the world" – the same year, incidentally, that the breed competed in the Westminster Kennel Club Dog Show for the very first time! Phylogenetic analysis found that "the approximate (genetic) divergence time between Tibetan Mastiff and grey wolf was 58,000 years before the present". That compares to 42,000 years ago for the majority of other breeds. With that in mind, the Tibetan Mastiff is considered the progenitor of all breeds of Mastiff dog but its earliest recorded mention is 1121 BCE when it was given as a hunting dog to the Emperor of China.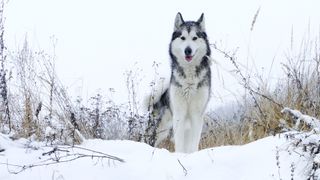 Alaskan Malamute
Now we're into the territory of oldest dogs that aren't really considered to be the oldest, but that's not to say their history is any less fascinating. The Alaskan Malamute is said to date back to 1000 BCE, bred by the Inuit people called Mahlemut of the Kotzebue Sound of northwestern Alaska with whom they formed a very strong bond. Known for their superb hunting skills and built to withstand the cold, the breed would be used in the pursuit of large predators. They would also pull sleds, defend their people and hunt seals. To that end, they are one of – if not the – oldest sled dogs and their value was recognized during the Gold Rush, World War II and Antarctic expeditions.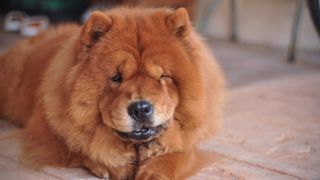 Chow Chow
A good way of working out the minimum age of a dog breed is to discover records that make reference to it. For the Chow Chow, we can refer to a Chinese bas-relief dating back to the 150 BCE during the period of the Han Dynasty which shows eight hunters carrying nets accompanied by an identical number of hunting dogs that bear a close similarity with the breed. Many ceramic models from that time have also been found so we can say with some conviction that the breed is at least 2,000-years-old. There are also records of what appears to be a chow chow in 11th century texts and a description by Marco Polo in the 13th century. These dogs with their black or blue tongues have certainly left an impression over the ages!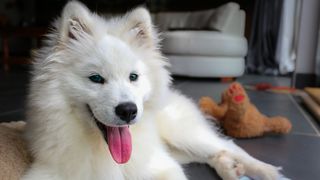 Samoyed
Hailing from Siberia (and as white the snow you'll find there), those big smiling Samoyeds were traditionally used for hunting, herding reindeer and sledding by the Samoyed people. They are understood to have moved to the Arctic with their owners around 1,000 BCE so the breed is at least 3,000-years-old. This seems to be backed up by DNA analysis and a study published in September 2021 which shows that dogs imported into the Siberian Arctic "led to the establishment of Siberian breeds such as the Samoyed." Indeed, according to the study authors, "a large fraction of the Samoyed genome can be traced back to ancestral bloodlines" but they have "remained largely unchanged since the Middle Ages."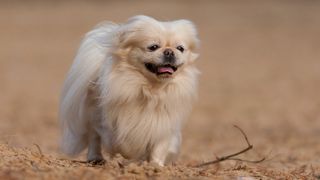 Pekingese
With their origins in Beijing, China, (formerly known as Peking) and dating back 2,000 years, Pekingese were once reserved for ancient Chinese royalty and they have long been viewed as sacred. There is a fun legend that suggests the first Pekingese was a lion who fell in love with a marmoset monkey and appealed to Buddha for help. The result was the lion being shrunk to a similar size. Certainly, there is something of a resemblance, with their lengthy mane of hair but, in truth, the story likely appeared because the breed was introduced around the time Buddhism made its way into China at the time of the Shu dynasty. In the absence of lions in China, the Pekingese made for a rather cute-looking alternative.
Get the best advice, tips and top tech for your beloved Pets
David Crookes has been a journalist for more than 20 years and he has written for a host of magazines, newspapers, websites and books including World of Animals, BBC Earth, Dogs and Canines, Gadget and The Independent. Born in England, he lives in a household with two cats but he's also keenly interested in the differences between the huge number of dog breeds — in fact, you can read many of his breed guides here on PetsRadar. With a lifelong passion for technology, too, he's always on the lookout for useful devices that will allow people to spend more time with their pets.