Best dog food for allergies 2023: Relieve stomach and skin problems
If you suspect your pooch is displaying diet-related symptoms, the best dog food for allergies can help to keep them at bay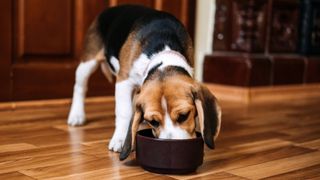 (Image credit: Getty Images)
The best dog food for allergies is well worth considering if your canine companion regularly suffers from digestive disturbances or skin issues. These foods are designed to avoid the uncomfortable symptoms that can result from your pup consuming certain trigger ingredients that are commonly found in mainstream dog food.
While the best dog food will provide most pups with a delicious and nutritious dinner containing all of the vitamins, minerals, and antioxidants they need to thrive, for a small number of dogs, the ingredients found in traditional dog food may cause an allergic reaction.
Although the American Veterinary Medical Association (AVMA (opens in new tab)) estimates that only around 0.2% of canines have a food allergy that can be linked to ingredients found in the best dry dog food and the best wet dog food, symptoms for those that do suffer can include everything from vomiting and diarrhea to itching and hair loss.
Before transitioning your dog onto a new diet, the first thing you want to do if you suspect your pup has a food allergy, is to speak with your vet who will be able to conduct specific tests and offer advice and guidance on an appropriate diet going forward. However, if you're given some advice but want to pick your own dog food, taking notice of the ingredients is crucial.
According to Dr. Joanna Woodnutt, "A good diet for allergies has a single protein source, such as lamb, and a single carbohydrate source. This reduces the chance of an allergen being present. If you don't know what your dog is allergic to, the diet should contain a novel protein - one your dog hasn't encountered before. Unusual proteins like ostrich and bison are sometimes used for allergy diets for this reason."
We've included dog foods in our round-up that exclusively feature a single source of animal protein and we've limited the number of carbohydrate sources used wherever possible. With that in mind, let's take a look at the best dog food for allergies lining the shelves in 2022….
Expert opinion in this guide is provided by:
Expert opinion in this guide is provided by:
Dr. Diana Hasler BVM&S MRCVS
Dr. Diana Hasler graduated with distinction from the University of Edinburgh Royal (Dick) School of Veterinary Studies in 2018. She has experience working as a small animal veterinarian in general practice, where she has treated many dogs, cats, rabbits, and rodents.
Dr Joanna Woodnutt (opens in new tab) qualified as a veterinarian from the University of Nottingham where she then went on to practice companion animal medicine in the Midlands. She really took to the consulting side of things and helping clients with medical problems such as dermatology, behaviour and nutrition - anything that involved helping clients understand their pets better.
PetsRadar's pick of the best dog food for allergies
Why you can trust PetsRadar Our expert reviewers spend hours testing and comparing products and services so you can choose the best for you. Find out more about how we test.
Royal Canin Veterinary Diet Gastrointestinal Low Fat
Best overall dog food for allergies
Specifications
Key nutritional inclusions:
Omega-3, prebiotics, antioxidant blend
Reasons to buy
+
Highly digestible proteins
+
Promotes healthy skin and coat
+
Antioxidants for a strong immune system
Reasons to avoid
-
Contains grains and pork by-products
Dogs that love wet food but suffer from a sensitive stomach are often forced to miss out on their favorite fare due to the high-fat content. Thankfully, it's Royal Canin to the rescue with this veterinarian-approved low-fat formula which is both tasty and gentle on the tummy.
Hailed as a lifesaver brand by many a pooch parent, Royal Canin has an outstanding reputation for delivering high-quality nutrition that you can trust and this offering is no exception.
If your dog is prone to an easily upset stomach and bouts of vomiting and diarrhea then this is a great choice. Packed full of prebiotics to support the growth of good gut bacteria, dietary fibers for healthy digestion and Omega-3 fish oils to soothe the GI tract, this highly digestible formula is bound to get two paws up from your pooch.
Not only is this a great choice for supporting the stomach but it's also a fantastic option if your dog suffers from frequent urinary tract issues as the formula works to prevent crystals from forming in the bladder. If you have an older dog that's becoming more sedentary, you'll love that the high-fiber and low-fat content boosts energy levels and prevents weight gain.
The one drawback to this product is the choice to include grains and pork by-products. Grains can be hard to digest for dogs with more severe allergies and pork by-products do lower the overall quality of what is otherwise a great ingredient list. Those small issues aside though, and this is still the standout choice when it comes to the best dog food for allergies.
Rachael Ray Nutrish Just 6 Limited Ingredient Diet Dry Dog Food
Best budget option
Specifications
Age range:
All life stages
Key nutritional inclusions:
Vitamins and minerals
Reasons to buy
+
Six easy-to-digest ingredients
+
Made without poultry by-products
+
Complete and balanced
Reasons to avoid
-
Firm texture not suitable for dogs with dental issues
If you've ever watched Rachael Ray cooking up a storm then you know how mouth-wateringly good her dishes can be and guess what? Now your pampered pooch can get in on the action too.
For a limited-ingredient kibble that won't break the bank, this formula is well worth considering. With just six easy-to-digest natural ingredients, plus a host of important vitamins and minerals, this is a recipe that's going to be gentle on your doggy's digestive system while still giving them everything they need to thrive.
Lamb meal is first on the list but please don't be put off by the word 'meal'. Basically, that's just a term that manufacturers use to describe a protein source (in this case, lamb) that has been dried and heat-treated then ground into a powder that is then turned into kibble.
Alongside lamb, you'll also find plenty of brown rice to give your pup the energy they need and beet pulp, which is a great source of fibre and ideal if you have a dog that struggles with constipation.
There's also a good amount of vitamins and minerals in this recipe, including omega fatty acids for a shiny coat and healthy skin, plus calcium and glucosamine for strong joints. At 20% protein and 13% fat, this is a well balanced and complete formula that will power your pooch through the day.
The kibble is free from fillers, artificial flavors, colors and preservatives and there's no added corn, wheat, soy or gluten. This is a clean formula that sticks to the basics and does them well, so if you're after a gentle but delicious kibble, this offering from Rachel Ray is worth trying.
Acana Singles Limited Ingredient Dry Dog Food
Best limited ingredient dog food for allergies
Specifications
Age range:
Suitable from six weeks of age
Key nutritional inclusions:
Calcium, B12, Vitamin E
Reasons to buy
+
Variety of flavors
+
Grain-free and high in protein
+
Formulated for all life stages
With real pork as the first ingredient and nourishing vegetables in the form of pumpkin and sweet potato, this gentle formula is grain-free, high in protein and comes in a range of delicious flavors your fur baby is sure to love.
Turn the packet over and you'll find a clean and wholesome ingredient list, with chickpeas and lentils providing a good dose of fiber to keep the digestive tract running smoothly, and antioxidant-rich cranberries for a healthy urinary tract.
There's also a wide range of vitamins and minerals on offer in the form of calcium, B12, Vitamin E, taurine and zinc to ensure that both your dog's bones and immune system stay in tip-top condition.
You'll also find plenty of prebiotics and probiotics, which are ideal for dog's with sensitive stomachs and we love the addition of turmeric for joint health. Although this kibble is on the pricey side, the quality of the ingredients makes it well worth purchasing if your budget can stretch to it.
Hill's Science Diet Sensitive Stomach and Skin
Best for digestive issues
Specifications
Key nutritional inclusions:
Beet pulp, omega fatty acids, vitamin E
Reasons to buy
+
Supports a balanced gut microbiome
+
Highly digestible
+
Vitamin E and Omega 6 fatty acids for a healthy coat
Keep your dog's digestive system functioning smoothly and their skin and coat glowing with this well regarded formula from the crew at Hill's Science. A source of prebiotic fiber to support a balanced gut microbiome in your canine companion, this kibble is highly digestible and gentle on sensitive stomachs.
Packed with vitamin E and Omega 6 fatty acids to help your grown dog get a lustrous coat and healthy skin, this natural formula uses only the highest quality ingredients and comes backed by veterinarians for the ultimate in peace of mind.
This is a very popular product that is full of all the vitamins, minerals and amino acids your dog needs to stay happy and healthy. The kibble is slightly on the larger size though, so it may not be the ideal choice for tiny teeth.
ZIWI Peak Air-Dried Lamb Dog Food
Best premium dog food for allergies
Specifications
Age range:
All life stages
Key nutritional inclusions:
No grains or fillers, all-natural, ethical and sustainable
Reasons to buy
+
Ethical and sustainable ingredients
+
High-quality
+
Nutrient-rich
With limited ingredients and a single-protein formula, these high-quality air-dried lamb pellets contain 96% meat and organs for a rich and meaty taste your pooch is sure to love. The slow and gentle air-drying process locks in all the vital vitamins and minerals for a nutritious dish that contains everything your dog needs and none of what they don't.
Using ethical and sustainable New Zealand ingredients that are raised without added hormones or antibiotics, these lamb morsels also contain green-lipped mussels, a potent source of chondroitin, glucosamine, and omega-3 for healthy and strong joints.
Free from grains and unnecessary cheap fillers that are high in carbohydrates, such as peas and potatoes, this formula is a great choice for those with sensitive stomachs and food allergies. Suitable for all breeds and life stages and available in a range of different sizes and flavors, ZIWI Peak Air-Dried Lamb Dog Food is gently nourishing and full of nutrition and tail-wagging goodness.
Taste of the Wild Pacific Stream Grain-Free Dry Dog Food
Best grain-free dog food for allergies
Specifications
Key nutritional inclusions:
Antioxidants, prebiotics, Omega-3 and 6
Reasons to buy
+
Sustainably sourced salmon
+
Powerful antioxidants from fruit and vegetables
+
Egg-free
Reasons to avoid
-
More expensive than other brands
If you're looking to treat your furry friend to one of the most premium products on the market then this offering from Taste of the Wild is sure to impress.
The ingredient list for this formula reads like a health lover's dream with red salmon leading the pack, a novel protein that's great for dogs with allergies as it's easy to digest. Sweet potato provides energy that is slowly released into the bloodstream and the antioxidants from the tomatoes, blueberries and raspberries help support the immune system and overall health and wellbeing.
We love that this grain-free formula steers away from common allergens and instead chooses to go with fiber-rich alternatives like lentils, which are gentle on the digestive tract. The recipe also omits eggs, another common trigger for dogs with sensitivities, and the inclusion of chelated minerals help maximize the absorption of valuable nutrients.
This high-quality product uses chicory root as a prebiotic to support healthy digestion and comes packed with Zinc, Selenium, Vitamin E and Omega-3 and 6 fatty acids, all of which will keep your mutts mane looking its best. The addition of Taurine is great for eye and heart health and also stimulates bile acid in the stomach to help break down and metabolize fat.
While more expensive than other brands, if ethical and sustainable food practices and quality of ingredients are an important consideration for you, then this is definitely a brand worth considering. Made in the USA by a family-owned and run company, Taste of the Wild has a standout reputation for ensuring their ingredients come from trusted and sustainable sources so you can rest assured you're giving your dog the best nutrition money can buy.
Hill's Prescription Diet Derm Complete Environmental, Skin & Food Sensitivities Dry Dog Food
Best vet-approved dog food for allergies
Specifications
Key nutritional inclusions:
Prebiotics, vitamin E, Omega-6 fatty acids
Reasons to buy
+
Visible skin healing in as little as 21 days
+
Reduces nighttime scratching
+
Supports the skin barrier against environmental irritants
Backed by rigorous research, it's hard to beat this standout formula from Hill's Science that has been specially formulated by Hill's nutritionists and veterinarians to help manage your dog's environmental or food sensitivities.
Formulated to support the skin's barriers against environmental irritants, this kibble has been proven to result in visible skin healing within 21 days and it has also been clinically tested and shown to improve a dog's sleep quality by reducing nighttime scratching.
Crammed full of all the goodness you'd expect from this brand, this tasty kibble has all the vitamins and minerals your pup needs to power through their day, plus plenty of added fruits and vegetables for a powerful hit of antioxidants.
Wellness Simple Limited Ingredient Diet Wet Dog Food
Best wet dog food for allergies
Specifications
Key nutritional inclusions:
Vitamin E, vitamin A, vitamin B12, vitamin D3
Reasons to buy
+
Grain free
+
Easily digestible
+
Supports skin and coat health
If your foodie fur baby isn't a huge fan of kibble and prefers a hearty wet food dish to dive into at mealtimes, then this limited ingredient formula from Wellness is definitely worth considering.
Grain-free, this limited-ingredient recipe features a single source of protein and easily digestible carbohydrates, with no extra fillers or additives, making it ideal for dogs with sensitivities.
Made with all natural ingredients with added vitamins and minerals, this wet food contains no meat byproducts, fillers, or artificial preservatives and it's super high in prebiotics and fiber, making it great for gut health.
You'll also find this formula great for your dog's skin and coat with plenty of nourishing Omega fatty acids from the flaxseed and lots of additional vitamins and minerals to support heart health and the immune system.
Blue Buffalo Basics Limited Ingredient Diet