Best dog food for allergies 2022: Relieve stomach and skin problems
If you suspect your pooch is displaying diet-related symptoms, the best dog food for allergies can help to keep them at bay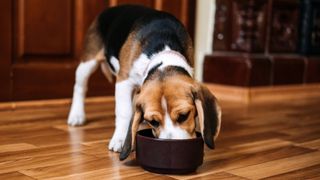 (Image credit: Getty Images)
If your canine suffers from diet-related intolerances, then you should consider giving them the best dog food for allergies. In doing so, you can help to alleviate skin and stomach problems by ensuring your pooch is only eating food containing limited ingredients. They've been specially formulated to remove anything likely to cause an issue.
Before you choose dog food for allergies, though, it's worth talking to your vet. They will be able to carry out tests on your dog to work out the cause of the food allergy while also ruling out any other underlying problems that may be causing ill-health. The good news is that your dog won't suffer. Just because certain ingredients aren't present doesn't mean the meals are any less tasty or, indeed, nutritious.
Indeed, dog food for allergies is still balanced. They simply strip out wheat, dairy, eggs, soy, corn, gluten, artificial colors, flavours and preservatives but they will contain a single protein. In general, these are often novel proteins such as venison and duck rather than common ones such as chicken and beef. The food will also contain a single vegetable (sweet potato and pumpkin being gentle on the digestive tract).
The main problem for you is going to be choosing a food that's suitable. You need to sift through the best dry dog food or the best wet dog food to find something ideal. But there are two points to make. First, both wet and dry are totally fine and neither is better than the other. Second, you only really need to seek out a reputable brand and your dog will be getting all the vitamins, minerals, and amino acids they need.
So let's take a look at the best dog food for allergies in 2022...