Best dog food for allergies: Settle their tummies and banish that itch
The best dog food for allergies will help pooches with problems lead a happy and normal life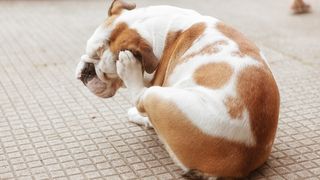 (Image credit: Getty)
No-one really knows why certain ingredients in a dog's diet can cause the immune system to overreact but buying the best dog food for allergies will help ensure they remain happy and healthy. 
After all, the only way to be certain your four-legged friend doesn't become ill from eating particular foodstuffs is to avoid giving it to them in the first place. That way you'll prevent the risk of them producing antibodies that cause an allergic reaction. 
Food allergens are typically present in proteins and many manufacturers will cater for dogs unable to tolerate dairy, gluten, wheat, corn, soy, as well as a range of artificial colors and preservatives. The first step is to identify what's causing problems for your pooch either by observing reactions to certain foods or, preferably, by consulting a veterinarian. But don't worry: your dog can lead a perfectly normal life if they have an allergy. The important thing is spotting it.
Symptoms can vary. Some wet dog food or dry dog food can cause red itchy skin. You may also find they result in diarrhea, soft stools, bloated bellies, vomiting or excessive wind – all signs of a more serious allergy. Call a vet if you spot any of these issues and explain that they appeared shortly after eating. Tests can then be carried out to confirm an allergy.
From that point, in most cases, it's a mere matter of finding a formula suited to your dog's condition. Just be aware that there are lots of specially formulated dog food for allergies on the market so pay careful attention to the packaging of anything you buy. For skin allergies, food high in Omega 3 and 6 fatty acids are good choices, as are those containing nourishing anti-inflammatory ingredients such as sweet potatoes, oats and coconut oil.
With food affecting a dog's digestion, however, you should seek foods that have no artificial flavorings or preservatives and those with limited ingredients. That way you can be sure that you're removing anything that can lead to tummy problems. Finally, it may also be a good idea to muzzle dogs with severe problems when you're out on a walk to ensure they don't pick up anything on their travels.
PetsRadar's pick of the best dog food for allergies
Royal Canin Veterinary Diet Gastrointestinal Low Fat
Best overall dog food for allergies
Item form: Wet | Age range: Adult | Key nutritional inclusions: Omega-3, prebiotics, antioxidant blend
Highly digestible proteins
Promotes healthy skin and coat
Antioxidants for a strong immune system
Contains grains and pork by-products
Dogs that love wet food but suffer from a sensitive stomach are often forced to miss out on their favorite fare due to the high-fat content. Thankfully, it's Royal Canin to the rescue with this veterinarian-approved low-fat formula which is both tasty and gentle on the tummy.
Hailed as a lifesaver brand by many a pooch parent, Royal Canin has an outstanding reputation for delivering high-quality nutrition that you can trust and this offering is no exception. 
If your dog is prone to an easily upset stomach and bouts of vomiting and diarrhea then this is a great choice. Packed full of prebiotics to support the growth of good gut bacteria, dietary fibers for healthy digestion and Omega-3 fish oils to soothe the GI tract, this highly digestible formula is bound to get two paws up from your pooch.
Not only is this a great choice for supporting the stomach but it's also a fantastic option if your dog suffers from frequent urinary tract issues as the formula works to prevent crystals from forming in the bladder. If you have an older dog that's becoming more sedentary, you'll love that the high-fiber and low-fat content boosts energy levels and prevents weight gain. 
The one drawback to this product is the choice to include grains and pork by-products. Grains can be hard to digest for dogs with more severe allergies and pork by-products do lower the overall quality of what is otherwise a great ingredient list. Those small issues aside though, and this is still the standout choice when it comes to the best dog food for allergies. 
Rachael Ray Nutrish Natural Chicken & Veggies Recipe Dry Dog Food
Best budget dog food for allergies
Item form: Dry | Age range: All life stages | Key nutritional inclusions: Free from poultry by-products, fillers and wheat
Uses 100% farm-raised chicken
Made without poultry by-products
Free from gluten, artificial colors and preservatives
Contains ground corn as a filler
If you've ever watched Rachael Ray cooking up a storm then you know how mouth-wateringly good her dishes can be and guess what? Now your pampered pooch can get in on the action too. 
Available in a variety of different sizes, the 40lb bag offers great value for money compared to others on the market, especially given it's chock full of high-quality ingredients.
With 100% farm-raised chicken taking out the number one spot, the list is rounded out by wholesome vegetables, like peas and crisp carrots, and high-fiber brown rice and beet pulp to aid digestion and provide a healthy dose of prebiotics for gut health. 
Food is love for this chef and that's exactly the feeling your dog is going to get when they chow into this hearty and rich-tasting formula. The inclusion of plenty of poultry fat will give your fur baby a shiny coat and healthy skin and the omission of gluten and other known allergens makes this the perfect product for sensitive dogs.
The one thing worth noting is that corn is used as a filler in this formula. For most dogs that won't be an issue and it's certainly preferable to using animal by-products or some of the more common allergens but if corn is problematic for your pup then you may wish to look elsewhere. 
We love that a portion of the proceeds from every sale goes to The Rachael Ray Foundation, which helps animals in need. It's a pretty great feeling to know that while you're helping your dog, you're also helping other animals receive the food, medical supplies and treatments that they need. Now that's what we call a win-win. 
Purina Pro Plan Focus Adult Sensitive Skin And Stomach Salmon And Rice Formula
Best science-backed dog food for allergies
Item form: Dry | Age range: Adult | Key nutritional inclusions: Omega-3 and 6, zinc, calcium, glucosamine
Includes easy to digest carbohydrates
Omega-6 fatty acids and zinc for healthy skin
Nutrient-rich salmon is the first ingredient
Aimed at adult dogs
Purina is world renowned for good reason, and with the creation of this sensitive formula it has hit the mark again. 
Salmon is a great choice as the primary ingredient, with its high combination of Omega-3 and 6 fatty acids, which are gentle on the stomach and help to keep your dogs skin and coat in premium condition, being highly positive inclusions. They're also great  for joint health and mobility so it's a good choice whether your dog is young and energetic, or old and a possible arthritis sufferer. 
The inclusion of easy to digest carbohydrates like rice and oatmeal, which are kind to sensitive tummies and nourish the beneficial intestinal bacteria, also gets our seal of approval. Oatmeal is rich in antioxidants, has anti-inflammatory properties, and maintains blood sugar levels while contributing long-lasting energy. 
Moreover, we like the presence of live probiotics and natural prebiotic fibers, which both promote good digestion and aid a healthy immune system. For better value, you also have the option of purchasing this in a variety of different sized bags, with the 5lb size being something we would choose if you would like to give this a trial before committing. 
This formula is primarily focused on adult dogs, so if yours is a youngster then you might want to leave this now. This aside, this a great product that is definitely worth your time should your pup fit the right age demographic.
Blue Buffalo Basics Limited Ingredient Diet Wet and Dry Cups
Best wet and dry mix dog food for allergies for small dogs
Item form: Wet and dog food mix | Age range: Adult - small breeds | Key nutritional inclusions: Omega 3 and 6 oils
Single protein source
Limited ingredients
Contains fish oils
Only aimed at small breeds
Some dogs just don't get on well with a purely dry food diet. Even if you know a specially formulated dry food is likely to be better for them, that's no good if they turn their noses up at it! Being able to add some wet food that won't upset their digestive tracts or skin health is a great way to get them eating the dry food that contains what they need. This tasty offering from Blue Basics is a limited-ingredient wet and dry dog food mix great for small dogs with food sensitivities that will get their tails wagging as soon as you peel back the lid.
The family behind the Blue Buffalo range of natural limited ingredient pet food created it after their own Airedale called Blue started getting health issues, so you can be confident they understand what it's like to have to deal with a food-sensitive furry friend. This wet food part of their limited-ingredient range is great for mixing with kibble or can be a meal by itself.
The food cups contain a pate-like meat mix which does not include chicken (or poultry) by-products, beef, corn, wheat, soy, dairy or eggs. Instead, the single source of protein here is lamb combined with potatoes, flaxseeds, fish oil and pumpkin to help with digestion. The fish oil and flaxseed also provide naturally occurring Omega 3 fatty acids to help support skin and coat health. With no artificial flavors or preservatives, this is one dog treat your fur babies can enjoy without any adverse itching or stomach upsets.
ZIWI Peak Air-Dried Lamb Dog Food
Best premium dog food for allergies
Item form: Pellets | Age range: All life stages | Key nutritional inclusions: No grains or fillers, all-natural, ethical and sustainable
Ethical and sustainable ingredients
High-quality
Nutrient-rich
Expensive
With limited ingredients and a single-protein formula, these high-quality air-dried lamb pellets contain 96% meat and organs for a rich and meaty taste your pooch is sure to love. The slow and gentle air-drying process locks in all the vital vitamins and minerals for a nutritious dish that contains everything your dog needs and none of what they don't.
Using ethical and sustainable New Zealand ingredients that are raised without added hormones or antibiotics, these lamb morsels also contain green-lipped mussels, a potent source of chondroitin, glucosamine, and omega-3 for healthy and strong joints. 
Free from grains and unnecessary cheap fillers that are high in carbohydrates, such as peas and potatoes, this formula is a great choice for those with sensitive stomachs and food allergies. Suitable for all breeds and life stages and available in a range of different sizes and flavors, ZIWI Peak Air-Dried Lamb Dog Food is gently nourishing and full of nutrition and tail-wagging goodness.
Taste of the Wild Pacific Stream Grain-Free Dry Dog Food
Best grain-free dog food for allergies
Item form: Dry | Age range: 4.7 | Key nutritional inclusions: Antioxidants, prebiotics, Omega-3 and 6
Sustainably sourced salmon
Powerful antioxidants from fruit and vegetables
Egg-free
More expensive than other brands
If you're looking to treat your furry friend to one of the most premium products on the market then this offering from Taste of the Wild is sure to impress.
The ingredient list for this formula reads like a health lover's dream with red salmon leading the pack, a novel protein that's great for dogs with allergies as it's easy to digest. Sweet potato provides energy that is slowly released into the bloodstream and the antioxidants from the tomatoes, blueberries and raspberries help support the immune system and overall health and wellbeing. 
We love that this grain-free formula steers away from common allergens and instead chooses to go with fiber-rich alternatives like lentils, which are gentle on the digestive tract. The recipe also omits eggs, another common trigger for dogs with sensitivities, and the inclusion of chelated minerals help maximize the absorption of valuable nutrients.
This high-quality product uses chicory root as a prebiotic to support healthy digestion and comes packed with Zinc, Selenium, Vitamin E and Omega-3 and 6 fatty acids, all of which will keep your mutts mane looking its best. The addition of Taurine is great for eye and heart health and also stimulates bile acid in the stomach to help break down and metabolize fat.
While more expensive than other brands, if ethical and sustainable food practices and quality of ingredients are an important consideration for you, then this is definitely a brand worth considering. Made in the USA by a family-owned and run company, Taste of the Wild has a standout reputation for ensuring their ingredients come from trusted and sustainable sources so you can rest assured you're giving your dog the best nutrition money can buy.
Hill's Science Diet Dry Dog Food Sensitive Stomach and Skin
Best vet-approved dog food for allergies
Item form: Kibble | Age range: Adult | Key nutritional inclusions: Prebiotics, vitamin E, Omega-6 fatty acids
High in prebiotics
Gentle on the digestive system
Vitamin E and Omega-6 for skin and coat health
Contains grains
Gentle on the stomach while nourishing the skin, this kibble has been formulated for optimal nutrient absorption and easier stool pick-up. Packed full of vitamin E and Omega-6 fatty acids, this blend promotes a lustrous coat and healthy skin.
We love the addition of beet pulp in this recipe, a potent source of prebiotic fiber that fuels gut bacteria and supports a balanced microbiome. The smaller kibble size is ideal for all dog breeds and a grain-free version is also available if your furkid needs an even gentler formula.
Backed by vets and using only real meats and the highest quality ingredients, this kibble is free from artificial colors, flavors, preservatives, and packs a hefty vitamin and mineral punch. 
Nutro Limited Ingredient Diet Grain-Free Dog Food
Best easy to digest dog food for allergies
Item form: Kibble | Age range: Adult | Key nutritional inclusions: B vitamins, vitamin E, vitamin D3, Zinc, Selenium
Great for skin, coat and digestive issues
Less than 10 ingredients
Impressive range of vitamins and minerals
Expensive
We're loving this natural and nourishing formula from Nutro with a simple ingredient list and a vast array of essential vitamins, minerals, and other nutrients. With a single salmon protein and a healthy mix of chickpeas, lentils, and sweet potatoes, doggy nutrition doesn't come much cleaner than this.
Grain-free and with no corn, wheat, soy, or dairy, this gentle kibble soothes sensitive skin and promotes a soft and shiny coat. In fact, Nutro is so convinced about the health benefits of their product that they'll happily give you a full refund if their chow doesn't work for your canine companion.
We love the high-fiber content with added beet pulp to keep the digestive tract running smoothly and the recipe is made with non-GMO ingredients, so you can be sure your pup is getting the purest nutrition possible. 
Nutro has been getting some rave reviews for this product, with one pet parent writing: "My dog loves this food. She eats it every day with no complaints. She has had zero stomach issues with it. In fact, her mood and fur and her eyes are the best I have ever seen since we got her 1.5 years ago. The kibbles are small enough for her as well. I am glad we switched to this food!"
Over 90% of reviews are from owners who say this kibble has transformed their dog, eliminating their health issues and allowing them to thrive. The limited negative reviews mostly point to dogs simply not enjoying the taste, but if you find this to be the case with your pooch, there are plenty of other great products in this guide to try out. 
How to choose the best dog food for allergies
If your dog seems more interested in pawing at his ears or scratching her skin than hanging out with you and you've ruled out other causes, then it could be time to consider experimenting with their diet. 
But with as many free-from foods on the market for dogs as there is for people, knowing where to start can be daunting. Thankfully, we've come up with a few simple guidelines that will help point you in the right direction.
Look for products that have short ingredient lists, generally with one form of protein and one form of carbohydrate which makes it easier to identify the potential allergen. While there are both risks and benefits, raw dog food is another option worth looking into. With few ingredients and zero additives, our guide to the best raw dog food is a great resource if you're not sure where to start. 
Novel proteins and other ingredients can work well for a lot of dogs as they won't have been over-exposed to them in the past. Think venison, rabbit, kangaroo, pheasant and bison, and gluten-free ancient grains and seeds like quinoa, millet, and chia.
Look for added vitamins, minerals, prebiotics and probiotics. Vitamins C and E and probiotic strains like lactobacillus and acidophilus are great for soothing the GI tract and ensuring good digestive health. Antioxidants from fruits and vegetables and Omega-3 fatty acids are also great additions. 
Finally, if you're noticing your dog displaying any of the symptoms of a possible allergic reaction be sure to consult your vet who will be able to help identify the cause and recommend the best course of treatment. 
Kathryn is a freelance writer with a passion for creating health and wellness, travel and wildlife content. Originally from New Zealand, her nomadic lifestyle has her currently fur baby-less. She scratches her pet parent itch by stealing frequent cuddles with any neighbourhood cat kind enough to indulge her.
Get the best advice, tips and top tech for your beloved Pets
Thank you for signing up to Petsradar. You will receive a verification email shortly.
There was a problem. Please refresh the page and try again.