Best raw dog food: A guide to raw feeding your canine
By Amy Davies
If you're considering putting your canine the best raw dog food diet, our guide will help you find the right option
Included in this guide:
1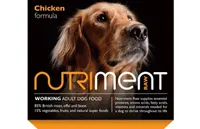 Nutriment
Complete Raw Dog Food
2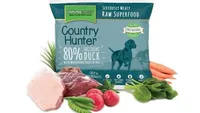 Natures
Menu Country Hunter Raw Nuggets
3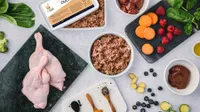 Bella
& Duke Raw Dog Food Complete Premium
4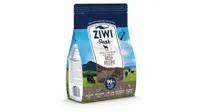 ZIWI
Peak Air-Dried Beef Recipe Dog Food
5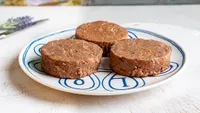 Luna
& Me Puppy Power Patties
6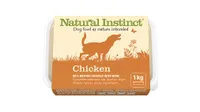 Natural
Instinct Natural Chicken
7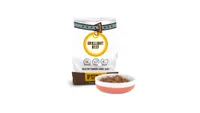 Pure
Brilliant Beef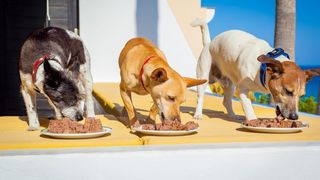 (Image credit: Getty Images)
Our canines need a highly nutritious, tasty and healthy diet to help them thrive and more recently, the best raw dog food has become popular among pups and pet parents alike. This diet tends to stick to the raw ingredients your pup evolved to eat and mimics that of its ancestors. While the majority of best dog food includes plenty of excellent formulas, the main concern is the unnatural ingredients or the amount of processing these recipes have undergone.
However, if you prefer the benefits of raw dog food, and considering this specialty diet, there are some things to note. The good things are, you can control the amount of raw dog food and know exactly what is going into the bowl. What's more, there are fewer ingredients involved, which means there are hardly any fillers or unhealthy additives. In fact, not only can raw dog food help with digestion and calorie control but it can produce healthy and shinier coats.
In addition, if your pup has a food allergy, a raw dog diet is more beneficial in alleviating allergic reactions or skin irritations, although the best dog food for allergies can certainly help reduce the risk of such issues.
On the other hand, though, a raw food diet may not be as nutritionally balanced. Raw food can also contain bones that can cause blockages or bacteria which is a potential health risk to your pooch and humans at home. In any case, it's worth weighing up both the pros and cons before introducing a raw dog food diet. And if you're unsure, always talk to your vet before making that mealtime change.
If you do decide to switch up your dog's diet, we've rounded up the best raw dog food options on the market, to ensure your pup stays happy and healthy with their food plan.
PetsRadar's pick of the best raw dog food
Nutriment Complete Raw Dog Food
Best overall raw dog food
Frozen or dried: Frozen | Dog life stage: Adult | For small, medium or large dogs: All breeds | Top ingredients: British chicken with bone, British lamb with bone, British lamb heart, Lamb Liver (example)
Lots of different choices
Good value
Can require a lot of freezer space
Harder to portion control for smaller animals
Nutriment is one of the best known brands in the UK for raw dog foods, and it has won multiple awards. It's also one that you'll likely to be able to pick up in lots of pet shops around the country, making it a convenient choice if you suddenly find your stocks are running low – or you don't want to bulk buy in huge amounts.
If you have a large dog, or want to stock up, as with most of the foods here, you'll have to keep in mind the amount of freezer storage space you'll need. One dog owner we asked recommended picking up small freezer that you could use specifically for this purpose.
If you have a very small dog, you might find that portioning out Nutriment, which comes in 500g trays or 1.4kg "chubbs" is a bit more tricky, which is where those foods in "nugget" forms can be more appropriate.
Nutriment was the first raw dog food to be assigned a "5/5" rating on the trusted AllAboutDogFood website, and it prides itself on using a variety of different proteins and ingredients to avoid intolerances and allergies.
Meat is sourced from local farms across the UK, and you can read more about the source of all the ingredients on the Nutriment website.
As one of the larger brands, it's also able to offer good value for money. Naturally, how much you need to spend per day will depend on the size of your dog, but for small-medium dogs, you can get the cost down to less than £1 a day.
Natures Menu Country Hunter Raw Nuggets
Best raw dog food for convenience
Frozen or dried: Frozen | Dog life stage: Adults and Puppies over 20 weeks | For small, medium or large dogs: All breeds | Top ingredients: Duck 80%, Peas, 5%, Swede 4%, Carrots 4% (example)
Stores easily in the freezer
Grain free
Fairly expensive
Natures Menu offer a fantastic selection of different raw dog foods (as well as non-raw options, too).
If you're just starting out with raw feeding, one of the things likely putting you off is the inconvenience of it.
However, with these Natures Menu nuggets, you get a quick and easy way to try raw feeding which is almost as convenient as feeding standard kibble or wet food.
Veterinary Education Manager from Natures Menu, Melanie Sainsbury, told us, "A key misconception is that feeding raw can be inconvenient. The Country Hunter Nuggets offer a great starter meal for those considering switching their dog to a raw diet. Simply select the number of nuggets you need before thawing and serving."
Another plus point of these nuggets is that they come in relatively small packages (1kg), so although you will need access to a freezer, unless you've got an enormous dog, you won't necessarily need to buy them their own unit.
Because this is such a convenient option, it's not the cheapest on the market. Again, if you have a very large dog, this will be especially the case as you'll need to buy more. For those with smaller dogs or those who just want to give raw feeding a go, the price will be less of an issue.
Bella & Duke Raw Dog Food Complete Premium
Best raw dog food for those new to raw feeding
Frozen or dried: Frozen | Dog life stage: Adult | For small, medium or large dogs: All breeds | Top ingredients : Beef Muscle Meat 30%, Beef with Bone 10%, Beef Heart 10% (example)
Good variety of meals
Grain free
Fantastic customer service
Requires sufficient freezer space
Can be expensive for very large dogs
This brand has been recommended to us by several dog owners. You can buy it direct from places like Amazon, but you can also set up a subscription service to have the food delivered directly to your door.
If you're new to raw feeding, a company like Bella & Duke are the ideal choice as the website contains lots of information for those who like to do their research, plus the dog owners we spoke to said that they received fantastic customer service and support whenever they had a question to ask.
Although Bella & Duke offers a wide variety of different options, including food for puppies and senior dogs, and those with special requirements, we've picked the "Complete" option as a fantastic all-rounder, which should suit most dogs.
In order to avoid problems with intolerances and sensitivities, the proteins, vegetables and berries are changed regularly, and it's recommended that you choose different options for your dog to give them a good dose of variety.
One of the key things that our dog owners liked about Bella & Duke was the firm's commitment to sustainability.
All of the meat is sourced from BRC Accredited human-grade factories in the UK, while fruit and vegetables are also sourced locally. The company has been working on making its packaging more environmentally friendly, too.
Like many raw food brands, Bella & Duke is frozen, so you will need to ensure you have a good amount of freezer space – especially if you have a larger dog that obviously requires more food.
Bella & Duke works out at excellent value for many dogs, but again, if you have a larger dog it can work out a little on the pricey side.
ZIWI Peak Air-Dried Beef Recipe Dog Food
Best high-quality raw dog food
Frozen or dried: Dried | Dog life stage: All | For small, medium or large dogs: All breeds | Top ingredients: NZ beef, organ meats, green mussels
96% NZ beef
Ethical and sustainable ingredients
High in vitamins and minerals
Expensive
While it won't be winning any awards for its low prices anytime soon, Ziwi Peak's range of air-dried raw dog food is a standout case of getting what you pay for.
Made from 96% real NZ beef with organ meats and green mussels, the slow and gentle air-drying process locks in the nutrition and taste of raw dog food with the safety of dry kibble.
Grain-free, low-carb, and with a seriously short ingredient list, it's made without unnecessary fillers and is suitable for all life stages and breeds. High in probiotics to aid digestion and full of chondroitin and glucosamine for joint health, there's also plenty of omega-3 to keep your doggy's coat looking its best.
We love that you can use this as a meal on its own or as a nutritional topper to other dishes, and the ethical and sustainable ingredient list features only free-range and grass-fed meats and wild-caught seafood. Raised without added hormones or antibiotics, this is one of the highest-quality raw dog foods on the market right now.
While customers have pointed out the expensive nature of this food, overall, this product receives glowing reviews with one pet parent writing: "My Maltese absolutely LOVES this food. It can be hard to get my little Maltese to eat food sometimes but not with Ziwi Peak. Both of my dogs go bonkers for this food. It's pricy but you don't need to feed as much because there isn't any filler. It is calorically dense. And of course, my babies are worth it. The food is soft as opposed to crunchy, so I think it tastes more like meat to them. One of my dogs had a few teeth pulled, making crunchy kibble a challenge. Ziwi is easy to eat for dogs with missing teeth or sensitive gums."
If your budget can stretch to it, Ziwi Peak is a fantastic addition to a raw food diet or used in conjunction with your furkid's favorite wet or dry dog food brands. Available in six mouthwatering flavors and a variety of bag sizes, there's something to suit every doggy's tastebuds.
Luna & Me Puppy Power Patties
Best raw dog food for puppies
Frozen or dried: Frozen | Dog life stage: Puppy | For small, medium or large dogs: Any breed | Top ingredients : 90% Chicken & Bone, Beef Liver, Beef Heart
Ideal for first time dog owners
No grains
Best suited for working dogs
Luna & Me has a fantastic backstory. Founded by a nutritionist who also happened to be a butcher's daughter and a farmer's granddaughter, she has fed her own dogs on a raw diet for her entire life.
If you're just about to get a puppy and are contemplating starting them out on a raw food diet right from the beginning, these Luna & Me Puppy Power Patties are a great way to ease yourself in.
As they're so easy to serve up, there's little fuss and you should also find there's no waste.
They come in conveniently shaped patties which are quick to thaw, so there's less time waiting (and taking up room in your fridge).
They are best suited to working dogs, so if you have a less active breed, then they might not be quite as suitable – always double check with your vet, and if in doubt you can always give the Luna & Me team a call.
The patties are made from all-natural ingredients, with no cheap fillers or "meal" to bulk it out. As these are for growing puppies who need extra nutrients, there are also carefully chosen superfoods with antioxidants, vitamins and minerals too.
The ingredients are sourced locally, while the packaging has also been designed to be environmentally friendly as well.
You can order just a few patties to get you started, but you'll find the better value comes from bulk buying – should you do that, you'll need to make sure you have plenty of freezer space.
Natural Instinct Natural Chicken
Frozen or dried: Frozen | Dog life stage: All | For small, medium or large dogs: All | Top ingredients: British chicken with bone (80%), Carrot, Apple, Butternut Squash
Easy to portion
Locally sourced ingredients
Requires freezer space
Natural Instinct is a name that come up several times when we asked dog owners for their recommendations.
The chicken recipe is particular popular, but there is plenty of other choice – one dog owner told us that the tripe recipe was quite "aromatic", so it might not be suitable for those with sensitive noses.
A partner of Natural Instinct, a Canine Specialist and Animal Behaviourist, Kirsten Dillon, said, "As a dog trainer and behaviourist I will always recommend that a dog is fed on a complete raw diet.
Raw food has no additives and preservatives, so I can be sure that these are not contributing factors, as we know for sure additives can act the same way in dogs as they do in children."
The ingredients in Natural Instinct are made from human-grade ingredients, with this particular meal option featuring 80% chicken with bone. As with most raw foods, it is frozen – but one of the things we love about Natural Instinct is that it comes in a variety of portion sizes (250g, 500g or 1kg).
If you have a small to medium dog, that will really help to reduce wastage, as you can just defrost exactly what you need, as you need it.
This is another popular brand that you'll likely find in many different pet shops and online retailers, so you don't necessarily need to stock up in huge quantities if you don't have the freezer space – though you will find it's better value for money if you can buy in bulk. Overall, Natural Instinct is a great-value offering, though.
Pure Brilliant Beef
Best raw dog food for those with low storage space
Frozen or dried: Dried | Dog life stage: All | For small, medium or large dogs: All | Top ingredients: Beef and Beef Liver (50%), Parsnip, Carrot, Celery
No need for freezer space
Small amount makes a large meal
Expensive
One of the most inconvenient things about raw feeding, compared with standard feeding, is that you'll generally need a lot of freezer space to accommodate all that raw food.
If you have a small house, or you like to travel with your dog, it might not be possible to do that. That's where foods like Pure Brilliant come in. This uses freeze drying to keep the food fresh, without requiring any freezer space.
The trade off is that it can be more expensive to feed your dog in this way, as you're paying for the convenience. If you only have a small dog, the difference in price might be quite minimal, but for those with larger dogs it could become a bigger problem.
A small 2kg box of Brilliant Beef makes 8kg of fresh food, so not only does it not require masses of freezer space, it also shouldn't take up too much room in your cupboard either. You can also buy this food in a variety of pet shops, as well as online, so if your stocks are running low, it shouldn't be hard to restock.
This food is grain and potato free, and also has added superfood ingredients. It scores well with dog owners who say that they have fussy pooches, especially those with various meat intolerances (such as to chicken).
How to choose the best raw dog food
There are lots of different options out there when it comes to the best raw dog foods. Before you consider any of them, you should double check it's the right decision.
Dr Jessica May, UK lead vet at video vet service FirstVet, says, "You should also consider checking in with a vet about any big changes you have planned for your dog's diet, to make sure the one you are choosing is right for them."
Storage space
The first thing you'll likely want to consider is how much storage space you have for the food. Lots of dog owners tell us that they have had to invest in a separate freezer to house their dog's food – that won't be a possibility for every dog owner.
If it isn't, look for raw food that comes in smaller quantities, portion-controlled packaging or freeze-dried food that can be stored in a cupboard. You'll likely pay a small premium for the convenience, but if you want to go down the raw feeding route it's worth it. That leads us on to the next thing to consider – your budget.
Budget
Raw feeding at first seems like an expensive way to go, but since most dogs tend to need less raw food than the equivalent "standard" food, you might find out it works out cheaper than you think. Most dog food websites have calculators to help you figure out the affordability of their products.
Ingredients
Next up – it's ingredients. Always pay attention to which ingredients are in your chosen food – it can help you to identify any intolerances (and of course, any preferences).
Availability
Finally, ease of availability or deliverer should also be considered. If you should find yourself running low, being able to pick up your chosen brand from the local pet store may elevate it above harder to find or bespoke brands – but if you are quite an organised person, it'll be less of a worry.
Amy Davies is a writer and photographer with more than ten years' experience working in the media. She lives with her miniature dachshund, Lola, a rescue dog who is very much the boss.
Get the best advice, tips and top tech for your beloved Pets
Thank you for signing up to Petsradar. You will receive a verification email shortly.
There was a problem. Please refresh the page and try again.