Best durable dog toys: Tough toys they can't destroy
By Amy Davies
The best durable dog toys are strong enough to withstand even the most destructive of chewers
Included in this guide:
1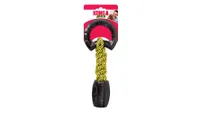 Kong
Jaxx Braided Toy
2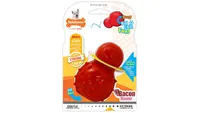 Nylabone
Stuffable Rubber Cone
3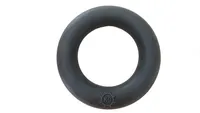 Monster
K9 Ultra-Durable Chew Toy
4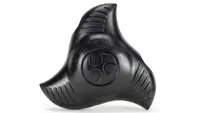 PetSafe
Squeak 'n Treat Ninja Star
5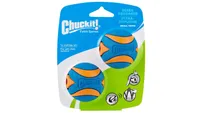 ChuckIt
Ultra Squeaker
6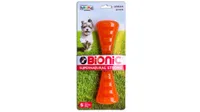 Outward
Hound Bionic Stick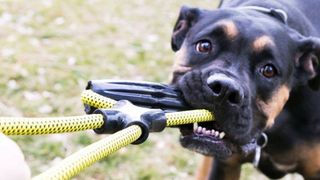 (Image credit: Kong)
If you have a dog that loves to chew the life out of anything it can get its teeth on, then the best durable dog toys are an investment you won't regret. Tough and durable, they'll hold up under even the most aggressive of chewing attacks and offer hours of mental and physical stimulation for your precious pooch.
While our guide to the best dog toys has a great selection of fun playthings to keep your pup amused, many of them are designed for light to moderate chewers and may not give you the longevity you're after if you have a pet with a persistent pair of teeth.
Choosing durable dog toys that have been specially designed to go the distance will ensure you're not having to replace your canine companion's collection every five minutes. They're also a great choice for soothing separation anxiety and easing tooth pain, not to mention being fantastic boredom busters.
When choosing from amongst the best dog chew toys, there are a few things to consider. Look for toys that are made from industrial-strength rubber to ensure they last and have a think about what you're most likely going to be using it for. Some work best just as chew toys, while others can also be used for games of fetch and tug of war. For a mental challenge, dog toys that can be stuffed with treats can help make playtimes fun and enriching.
Whatever option you decide to go for, our picks of the best durable dog toys have got you covered.
PetsRadar's pick of the best durable dog toys
Best overall durable toy: Kong Jaxx Braided Toy
Best for value: Nylabone Stuffable Rubber Cone
Best indestructible dog toy: Monster K9 Ultra-Durable Chew Toy
Best durable dog toy for treats: PetSafe Squeak 'n Treat Ninja Star
Best durable dog toy for fetch: ChuckIt Ultra Squeaker
Best for stick-chewers: Outward Hound Bionic Stick
Kong Jaxx Braided Toy
Material: Rubber, rope | Can be used with treats?: No | Size options : L | Other uses?: Tug, fetch
Very durable
Multiple uses
Easy to grip
Not best for smaller dogs
Kong has become a name synonymous with good-quality tough and durable toys. It makes a whole range of different sturdy options, so there's bound to be something from them that suits your dog's needs.
We've picked this one because as well as being great for chewing, it also doubles up for other kinds of play. With a grip handle at the top of the toy, you can use it for tug of war type games with your dog, and you can also throw it for fetch games. The bright yellow of the rope section and black of the rubber makes it easy to spot the toy against green grass and on the beach.
Dogs will love the mix of textures that the toy provides, with a firm rubber section for strong chewing, and a rope section to provide extra mental stimulation. The toy comes without a squeaker, which is a bonus if you want to enjoy some (relatively) quiet play.
The toy is best designed for larger dogs with bigger jaws, especially if you want to play tug or fetch with the toy. Smaller dogs may also get some benefit from it, especially in terms of simple chewing of the rubber section only.
This is a relatively low priced option for a durable Kong toy, making it excellent value for money. Some have reported that dogs which are extremely destructive can break up the handle - so it's worth making sure you supervise your dog when they are playing with this toy to make sure no choking hazards are presented.
Nylabone Stuffable Rubber Cone
Material: Rubber | Can be used with treats?: Yes | Size options: S,M, L | Other uses?: Fetch
Can be filled with treats
Variety of sizes
Promotes good dental health
Treat hole quite large
If you like the idea of toys that you can stuff treats into, but have been put off by higher prices, the Nylabone Stuffable Rubber Cone is a great alternative, and is still a brand you can trust.
Nylabone has been making dog toys since 1955, and has a range of chew-friendly options. This one is for "strong" chewers, but if you have a super-destructive dog, you can even go one higher to "extreme chewers". We've found that this one lasts pretty well with a fairly destructive dog, and most users seem to report the same.
The cone is flavored like bacon, so that will immediately grab your dog's attention, and is also hollow so you can stuff it with treats. The hole is relatively large, so you may need to find larger treats in order for them not to fall out immediately, or you can stuff it with softer treats such as cream cheese and peanut butter. You can also freeze the toy when it is stuffed to make it last even longer.
Another excellent feature of this toy is the raised nubs, which work a bit like a toothbrush for your dog - so while it is giving the toy a good old chew, it's also helping to clean their teeth - an added bonus.
You can also use the toy in a game of fetch. The toy bounces and rolls unpredictably on harder surfaces, which should keep your pup entertained for longer than a standard ball, too. It is available in three different sizes so you can match it best to your dog.
Monster K9 Ultra-Durable Chew Toy
Best indestructible dog toy
Material: Rubber | Can be used with treats: No | Size options: One size | Other uses: Chew, fetch, tug of war
Lifetime guarantee
Industrial-strength rubber
Versatile
Expensive
Monster K9 is so confident that this toy is indestructible that it comes with a lifetime replacement guarantee so you can part with your pennies with confidence. Tested on aggressive chewers, this natural industrial-strength rubber ring has been engineered to be as strong and as durable as possible, holding up under even the fiercest of teeth.
Measuring 6.5-inches wide and with a 1.25-inch diameter, the classic ring shape makes it ideal for chewing, fetching, and tug of war. We love that it's 100% safe and non-toxic, and unlike many toys that are made from plastic or nylon, it won't shatter or splinter, so there's no risk to your dog's teeth and gums.
We love the satisfaction guarantee that comes with this product, so if end up among the 1% of customers who have had to return the ring because it didn't hold up to their canines crazed chewing, the crew at Monster K9 will happily replace it or refund you - and they'll even cover the shipping costs!
PetSafe Squeak 'n Treat Ninja Star
Material: Rubber | Can be used with treats?: Yes | Size options: : S,M, L | Other uses?: Fetch
Can be filled with treats
Easy to clean
Variety of sizes
Strong smell
Here's a toy which can be filled with treats to really hold your dog's attention. The Ninja Star has a design which means that treats can be released at customizable rates - so if you want playtime to last a bit longer (or a bit shorter) then you are able to do that. Note that once you adjust the dispenser prongs, you can't readjust them. You could also try using this toy at dinner time for dogs that tend to rush their food.
Inside the Ninja star is a squeaker, which will also hold your dog's attention, but it is well-protected, which should make it very hard to destroy. There's no stuffing or fabric for your dog to leave behind should they get to the squeaker, either.
If you have a dog that generally destroys softer toys, this is a great option to go for. It's similar to Kong toys, so if you've already tried and liked those, then you should find this a similar experience. Most users report that it withstands strong chewing very well.
One downside that has been reported is the strong vanilla smell that the rubber has been infused with. Some find it a little overpowering, and recommend keeping the toy on a balcony or in the garden.
On the plus side, the Ninja Star can be popped into the top drawer of the dishwasher when you need to give it a clean - it's recommended you do that fairly regularly if you're going to use it with treats or kibble to keep it fresh and sanitized.
ChuckIt Ultra Squeaker
Material: Rubber | Can be used with treats?: No | Size options: : S,M, L | Other uses?: Fetch
Super durable
Exciting squeak noise
Floats
Squeaker can be pierced
If you have a dog that loves to play fetch, but you're tired of them coming back with destroyed tennis balls or other standard dog balls, you have to give ChuckIt a try.
This well-established brand makes a range of different dog balls made from super durable rubber that seem to withstand even prolonged chewing from the strongest and most determined of dogs.
We've picked the Ultra Squeaker balls because they come with the added benefit of a super-loud squeaker (which your dog will probably love more than you), which seems to keep dogs interested for longer. It should be noted that even though the exterior of the ball is very tough, the squeaker seems to be able to be pierced by some canny dogs.
Another reason we love these balls is the variety of sizes that they come in. It can be easy for smaller dogs to be overwhelmed by traditional tennis balls, whereas the small size of these fits perfectly in their jaws for more enjoyable fetch games. On the flipside, if you've got a very large dog, the larger option will suit them well.
More great features include the fact that the ball will float in water, useful for playing on the beach or in a river and so on, while the strong rubber material bounces high and unpredictably to keep them entertained for longer.
If you've got a pile of tatty, destroyed, and misshapen dog balls lurking about your house thanks to a super-destroyer, we can't recommend giving ChuckIt a go highly enough.
Outward Hound Bionic Stick
Material: Rubber | Can be used with treats?: Yes | Size options: : S,M, L | Other uses?: Fetch
Super durable
Can be used with treats
Safe alternative to sticks
Fairly high price
Many dogs love chasing and playing with sticks, but they can be quite dangerous. They splinter easily, and can even impale your dog if they land in an awkward position. So, if you've got a canine who is obsessed with sticks and loves a chew, you can't go far wrong with this fun alternative.
The Outward Hound Bionic Stick is designed for super tough chewers, and is made from very strong material. You can use it inside or out, with three bright eye-catching colors to help make it easy to spot when playing fetch with it on grass or in fields. It also floats, so it's the ideal toy to take with you to the beach or river for dogs who love the water.
Unlike most other dog bones or sticks, this has two small compartments which you can fill with treats - either whole ones or softer treats like peanut butter. This will keep your dog's attention for longer and is a healthy way to give them treats without overfeeding - your dog can spend a long time trying to retrieve just one reward.
Happily, the toy is also easy to clean. You can pop it in the dishwasher when it needs freshening up - a particularly good idea if you're going to be using it with food or treats.
Tough chewers will love the malleable texture of the bone, which seems to last very well even with the toughest of chewers. Most users report it lasting them a very long time with barely any marks, indentations, or breakages.
The only real downside to this toy is its relatively high asking price; however, if it outlasts other much cheaper toys, then it's easy to consider it good value for money.
How to choose the best durable toy
Many manufacturers claim that their toys are durable and long-lasting, but that is definitely truer for some than it is for others.
When looking for durable toys, look for those which are made from strong materials, such as rubber. If you prefer softer toys, but still want them to be durable, look for materials such as canvas, and check to see whether the stitching has been reinforced.
Only you will know how strong a chewer your dog is, so unfortunately it might be a case of trial and error with a lot of durable tough toys. However, it can pay to look at user reviews to see if you can spot any similar breeds to your own to compare it against.
Don't be tempted to go for cheaper toys to save money if your dog is particularly destructive. It's likely that they will simply destroy the toy very quickly, and you'll end up having to buy another one very soon. That said, there are some excellent value options if you have a moderate chewer - over time you will learn your dog's needs.
Finally, it's important to remember that no toy is truly indestructible. Always keep a close eye on your dog when it is playing with a new toy until you can be sure how strong it is and how well it will last.
Amy Davies is a writer and photographer with more than ten years' experience working in the media. She lives with her miniature dachshund, Lola, a rescue dog who is very much the boss.
Get the best advice, tips and top tech for your beloved Pets
Thank you for signing up to Petsradar. You will receive a verification email shortly.
There was a problem. Please refresh the page and try again.