Best rope dog toys: Great for fetching, chewing and tug of war
Discover the best rope dog toys to keep your pooch occupied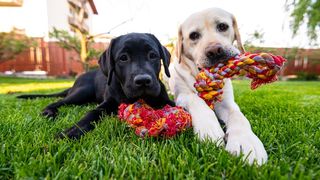 (Image credit: Getty)
To buy the best rope dog toys on the market, look no further than our handy buying guide. It may come as a little bit of a surprise to discover that there's quite a bit to think about when shopping around for rope toys, perhaps even more so than when shopping for the best dog toys.
First of all, you may be thinking, why rope toys above anything else? The simple answer is: compromise. A rope toy is a great combination of being tough enough to give your dog something to get their teeth into, while also not being quite as hard as bones and super tough as durable dog toys – so they get the best of both worlds, without risking damage to any sensitive teeth and gums.
The material is also fun to play with, not only for a dog to play with by itself, but also if you want to engage in a bit of tug of war, an excellent way to bond with your canine pal.
It's worth noting that there needs to be some caution exercised when playing with rope toys. Strands which will fall off naturally during the chewing and tugging process should be picked up as soon as you can - you don't want your dog to swallow them and cause painful (and potentially expensive) problems.
You can look out for toys which have been designed to be tougher than others, but there's still no guarantee that there won't be any debris. You shouldn't worry too much, but always try to keep an eye on them, especially younger and smaller dogs.
PetsRadar's pick of the best rope dog toys
Why you can trust PetsRadar Our expert reviewers spend hours testing and comparing products and services so you can choose the best for you. Find out more about how we test.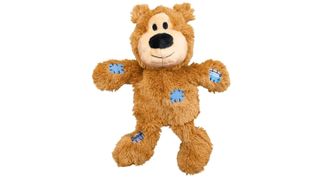 Kong Wild Knots Bear Dog Toy
Best overall rope dog toy
Specifications
Size:
Small / Medium / Large
Suitable for dog size?:
Small - large
Reasons to buy
+
Cute
+
Less mess
+
Range of sizes
Kong is pretty much the go-to name when it comes to high-quality dog toys - especially those that you want to last a bit longer than five minutes.
The Wild Knots bear toy features an interior skeleton which is made from rope, giving your four-legged friend all the satisfaction of a chewy rope toy to get their teeth into. The exterior plush is designed to be durable, while there's minimal stuffing to make a mess if they do manage to rip through the outside.
We think a big bonus is just how cute the WildKnots bear is - it'd make a good present for anybody just getting their first puppy, and it's also great that it's available in a range of colors and sizes, so you can match it perfectly to your canine pal. If you don't fancy the bear option, Kong also makes Wild Knots in other designs too, such as a flamingo, dragon, fox or lion.
If you go for the medium/large option, it's quite a good toy for playing tug with your dog - or for your dog to play with another dog. There's a squeaker inside too, which most dogs will also go a little bit crazy for.
It's definitely worth watching your dog while playing with a Kong WildKnots toy - although durable, they're not completely indestructible and if the dog figures out how to get the stuffing out, it likely won't be long until the rope "skeleton" comes with it.
This toy is also one of the more expensive in our round-up. However, as with so many things you do get what you pay for - most say that this toy outlasts other similarly designed toys, so you're less likely to be forking out for replacements with any regularity.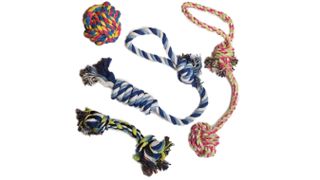 Frisco Small to Medium Assorted Dog Toys
Best rope dog toy set
Specifications
Suitable for dog size?:
Small to medium
Dental cleaning:
Good for teething puppies
Reasons to buy
+
Great value
+
Assortment of toys/variety to play with
+
Ideal for tugging and fetch
Reasons to avoid
-
Not best for super-chewers
If you've got a dog which gets easily bored, this multipack of rope toys not only represents excellent value, but also gives them several different options to choose from depending on mood.
There's a ball which can be used for throwing and fetching, but there's also a variety of more traditional / classic rope designs, primed and ready for a good old game of tug of war.
Dogs should love the texture of these toys, and puppies especially can benefit from giving them a chew while they are teething (remembering that they should always be supervised when doing so).
The set is particularly designed for small to medium dog breeds, but if you have a large (or extra-large) dog, then Frisco makes other toys for different sized dogs. These toys should be ideal for puppies from most breeds, too.
With their bright colors and variety of designs, they'd also make a good gift for anybody who has just got a new dog.
Although dogs will enjoy chewing on toys like this, this particular set is not recommended for ultra-destructive dogs / heavy chewers, as it probably won't stand up to that kind of activity. On the plus side, as it doesn't have any squeakers or stuffing, it's a good choice for pups that like to create a mess.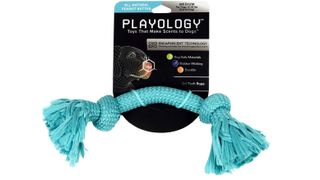 Playology Dri-Tech Rope Dog Toy
Best heavy-duty rope dog toy
Specifications
Size:
Small / Medium / Large
Suitable for dog size?:
All
Reasons to buy
+
Durable
+
Scented
+
Variety of colors and flavors
If you've got a hound who really likes to get their teeth stuck into a dog toy, this Playology toy is specifically designed for them.
Made from tear-resistant fibers, it features a double knotted design along with "slobber-wicking" performance to make it last as a long as possible.
The toy is ideal for moderate to heavy chewing dogs, being made from naturally resilient non-toxic BPA-, phthalate- and lead-free fibers. It's stronger and safer than normal cotton fibers, and is also dishwasher safe - so you can chuck it in there to give it a freshen up whenever you need.
Another bonus point here - especially if you've got a dog which is particularly driven by food / scent - is that the toys are available in a variety of different flavors, including peanut butter, chicken and beef. The flavor is embedded directly into the material of the toy, so it shouldn't wash away with either cleaning or your dog's slobber - bear in mind that you might not be able to smell it after a while, but your dog's better senses almost certainly will.
If you're not completely satisfied with the toy, Playology commits to always being on hand to answer any queries or complaints - providing you with a refund or replacement if anything goes wrong. The toy is a little bit more expensive than other similar options, but with such a durable construction - and the promise of a replacement - it's arguably better value for money than something cheaper.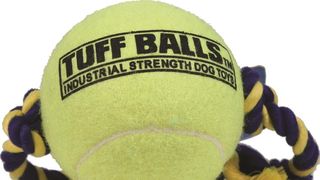 Petsport USA Mega Tuff Ball Tug Dog Toy
Best combination rope dog toy
Specifications
Material:
Rope, rubber, polyester
Suitable for dog size?:
Small - Large
Suitable for age:
Adult dogs onwards
Reasons to buy
+
Combination toy
+
Reasonably tough
Reasons to avoid
-
Larger size quite expensive
-
Very strong chewers might break the ball
If you've got a dog which loves to play tug, but also loves to fetch, buying a combination toy is a good way to save money with an all-purpose product. The combination of ball and rope should keep dogs who get bored easily quite happy, with a mixture of textures to hold their interest.
The ball part is made from extra-thick natural rubber and covered in non-abrasive polyester, which shouldn't damage your dog's teeth or gums if they chew it. Although it's fairly tough, some who own very strong / destructive dogs have reported that the ball can be broken quite quickly.
Having the rope attached to the ball makes it ideal for playing tug, either just you and the dog, or between two dogs. The thick knot at the end of the rope helps you to get a good grip on the toy for a really strong play session.
Available in two different sizes, you've got the option to match the right size to your type of dog. Bigger and stronger dogs would benefit from the larger options, while those with small to medium dogs can get away with the smaller (and cheaper) option, which represents much better value.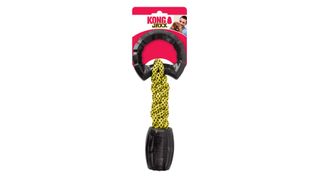 Kong Jaxx Braided Tug Dog Toy
Best heavy weighted rope dog toy
Specifications
Suitable for dog size?:
Large
Reasons to buy
+
Heavily weighted for throwing
+
Well suited for large dogs
+
Good for tug
Another option from the well-known Kong brand is the Jaxx Braided tug dog toy. This one is particularly well-suited to larger dogs who really like to put their toys through the ringer.
It's also weighted at one end, so it's ideal for throwing around, or for the dog to throw up in the air themselves. The rubber sections of the toy are strong and sturdy, while the rope is tough but also flexible enough for satisfying chewing. The two different textures also help to keep your dog's interest where they might get bored of other toys.
The grip at the end of the toy makes it easy to hold for playing rigorous games of tug with, as well as being easy to throw long distances.
Although this is a toy which is designed to be super strong, some have reported that the thinnest part of the rubber - the handle - might not withstand abuse from super destructive dogs, so it's always worth supervising your dog while they play with a toy like this.
For a Kong toy, especially a durable one, this is a good value item, too. It's best suited to larger dogs thanks to its large size and weight, smaller dogs are likely to be a little overwhelmed by it.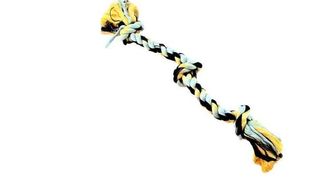 Mammoth Flossy Chews Cottonblend Rope Tug
Best rope dog toy for all breeds
Specifications
Material:
Cotton blend rope
Size:
X-Small, Small, Medium, X-Large
Suitable for dog size?:
All breeds
Dental cleaning:
Fibers floss teeth
Reasons to buy
+
Simple design
+
Range of sizes
+
Good price
Reasons to avoid
-
Can fray quite easily with strong chewers
If you're looking for simplicity in design, then this toy by Mammoth is a great option. There's not a huge amount to describe here, as it's simply a rope with a couple of knots in and frayed ends. The variety in textures and surfaces should keep your dog entertained - and the fibers even work as a sort of dental floss when they chew it.
You can use the toy for throwing and fetching, as well as for games of tug, and although it's not as durable as some of the others mentioned in this round up, it should still last well for those who are not super destructive dogs.
Another good positive of this toy is that it comes in a range of sizes. It starts at extra small for tiny dogs and puppies, and goes all the way up to extra large for bigger breeds. All but the extra large version are available at very attractive prices.
A toy like this should definitely be played with under close supervision, as the fibers can quite easily become dislodged and swallowed by your dog - something that should be avoided as much as possible.
How to choose the best rope dog toy
Rope dog toys are a common choice for lots of pet owners. They are versatile, provide lots of different textures and sensation for your pet and generally create less mess than soft stuffed toys or even rubber toys. They also generally don't come with squeakers, so if you've got a manic chewer and would like some peace, they're a good option.
The type of rope dog toy you choose will largely depend on the type of dog you've got. If you've got one which likes to engage in tug of war games, look for one which makes it easy to play that - such as by including a handle, or grip end for you (or another dog) to get hold of while playing.
If your dog is particularly destructive and loves a good chew, look out for rope toys which promise to be long lasting. No toy is completely indestructible, but some definitely last longer than others - generally it's a case of "buy cheap, buy twice", so if you can splash a little more cash, you'll usually get something sturdier and more durable.
Lastly, you could also look out for rope toys which provide some other kind of play - such as by including a ball attached to them, or take the shape of a bear or other animal, to be used as a comfort toy. That way, you get two toys for the price of one.
Get the best advice, tips and top tech for your beloved Pets
Amy Davies is a freelance writer and photographer with over 15 years experience. She has a degree in journalism from Cardiff University and has written about a huge variety of topics over the years. These days she mostly specialises in technology and pets, writing across a number of different titles including TechRadar, Stuff, Expert Reviews, T3, Digital Camera World, and of course PetsRadar. She lives in Cardiff with her dog, Lola, a rescue miniature dachshund.