Best kitten food 2022 to fuel and satisfy your cat as it grows
Our guide to the best kitten food is vet-approved and ticks all the boxes from healthy kibble options to nutritious and delicious wet cat food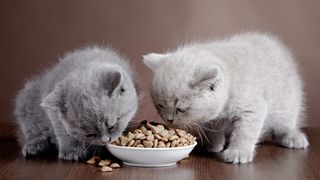 (Image credit: Getty)
The best kitten food should be at the top of your shopping list if you own a kitten or are about to welcome one into your home. Making sure your kitten has all the essential components to grow and develop is a must. Your cat's food, alongside sleep and play, will be a key factor in its development.

The best kitten foods do differ slightly from the best cat food, so bear this in mind while deciding on the right meals for your kitty. Since your baby cat is still growing, it will need to consume certain ingredients to support this such as minerals and vitamins. You may have heard people debating over whether the best wet cat food or the best dry cat food is better for our feline friends. Both have their pros and cons but as long as either is made from quality ingredients and features in our vet-approved list below, your kitten is fine to get its paws on some.
We've got expert advice on what are the best kitten foods from Dr Diana Hasler, a trained and practicing veterinarian who has individually commented on each entry below to share why they're safe for your little moggy.
We also heard from Jo Woodnutt, a qualified vet with an abundance of knowledge on helpful queries such as what nutrients kittens need, can they really eat wet or dry food, and helpful things to look out for when deciding on the best food for your fur baby. All will be answered below so keep reading to clue yourself up with important kitty knowledge…