Best kitten food: We'll help you give your young cat the best nutritional start
Give your kitten the best start in life by choosing the best kitten food to ensure they thrive and grow into a healthy adult.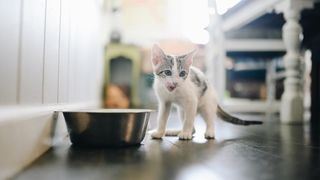 (Image credit: Getty)
It's always exciting when a new kitten joins the family, and we want to make sure they get a healthy start in life. The best kitten food will provide the right nutrition, minerals, vitamins, fat and protein to support their bones, muscle growth and teeth. Young cats will benefit from such an enriched diet in the same way that puppies benefit from the best puppy food to help them thrive. 
It's common for kittens to have been weaned from their mother's milk and onto solid food before they join your home, so it's important to stick to the same kind of food they are used to. Not only will it prevent their developing tummies from becoming upset but our fussy furballs prefer consistency in the food they eat. 
So what can you feed your kitten? Do you prefer to feed your kitten dry kibble, wet food or a combination of both? Whichever you decide, each type of food is formulated to be perfectly balanced, so your kitten will still be getting all the right nutrients either way. 
If you opt for dry food, it's more convenient as you can leave food out all day for kittens to come back to without it spoiling. However, kittens may prefer the soft texture of wet food which is more fresh, but can go bad quickly if you leave it out all day. In addition, wet food provides moisture so young cats will be getting more water content in their diet compared to dry food. Of course, always leave water out for kittens throughout the day.
As well as providing your furball with the best kitten food to help them grow strong and healthy, you also need to keep them active with the best kitten toys. Not only will this keep them fit and entertained but is great for bonding with owners. 
Once your kitten reaches the age of around 12-months-old, they will be old enough to dine on the best cat food for adult cats but in the meantime, let's find out the best, delicious kitten meals they can enjoy now.
PetsRadar's pick of the best kitten food
Royal Canin Kitten
Item Form: Wet (Gravy) | Protein: 11% min | Fat: 3% min | Moisture: 80% max
Thin slices make it easy for young kittens to eat
Excellent protein, fat, and carbohydrate ratio
Antioxidants boost immune system
High price point for a staple diet
If you're desperate to make sure that you new four-legged friend has a balanced and nutritious diet, it's hard to look past Royal Canin's Kitten food. 
Royal Canin is a hugely respected cat food brand, earning praise from owners and veterinarians alike for its specialist formulas. It may be a little pricier per can than others on this list, but there's little substitute for knowing that you've got your kitty some quality dinner from a trusted brand. 
The ratio of proteins to fat and carbohydrates, and other essential nutrients, in Royal Canin's Kitten food is perfectly set up to deliver everything a growing kitten needs. This means that unless you've found yourself a fussy little fluff ball who craves a bit more variety, Royal Canin can easily be your kittens-only food. Though it's useful to note that Royal Canin's dry kitten food is formulated to complement the wet stuff so you can add a bit of crunch to your little one's diet.
The meat comes in gravy (which can be a bit messy), and is deliberately sliced small and thin to make it easier on tiny mouths transitioning to solid food.
Of course, we do have to return to that price point, a kitten will need to be going through three or four of these cans a day to get everything they need. That might mean it's a little much for some people to keep as a staple diet – it is worth noting that Royal Canin is often prescribed for kittens with digestive issues though. So, as long as you manage it properly, Royal Canin Kitten food could work well as part of a regular rotation. 
IAMS Proactive Health
Item Form: Dry | Protein: 31% min | Fat: 21% min | Moisture: 10% max
Omega-3 DHA promotes brain development
Natural fiber and prebiotics
Taurine promotes strong vision
Contains animal by-products
Dry foods often work out on the cheaper side when it comes to cat and kitten foods, because you get so much of it in a pack. IAMS Proactive Health dry kitten food is well priced even among its direct competitors.
Affordability is IAMS whole thing. They've got a reputation for putting together solid, nutritionally strong pet food at a price that won't put a strain on your wallet. This is not different.
The nutrition profile here is strong, with taurine to help develop your kitten's vision, natural fibers and prebiotics for digestion, omega-3 DHA for promoting brain development and Vitamin E for boosting immune systems. 
Kittens seem to be big fans of IAMS Proactive Health's taste but some pet owners might take issue with how the product is made. With the inclusion of animal by-products some people may have ethical concerns. 
This food isn't grain-free, and while a small amount grain as part of a well-rounded diet shouldn't be problem, it's worth baring in mind for cat parents. It's also worth noting that while this product does claim to be free of fillers (foods that bulk up a product while adding little nutritional value), corn grain and whole grain sorghum are ingredients that many consider to be fillers. 
Of course, that doesn't take away from the fact that IAMS is a very popular and well-trusted brand. If those issues don't affect you, then in IAMS Proactive Health you have a well-rounded, nutritious dry kitten food at a very reasonable price.
Hill's Science Diet Kitten
Best kitten food for sensitive stomachs
Item Form: Dry | Protein: 33% min | Fat: 19% min | Moisture: 8% max
High-quality proteins
Vet recommended
DHA from fish oil supports brain development
Some kittens might find it a bit bland
There may be some steel-stomached felines out there, but in our experience most cats and kittens have delicate digestive systems. If you have a fur baby with a particularly sensitive tummy, or just want to play it safe, Hill's Science Diet Kitten is likely your best option.
Hill's is the number one recommended brand by veterinarians and their foods are often prescribed for cats and kittens struggling with sickness or less than ideal bowel movements. Their formulas are developed by a team of vets, food scientists, and nutritionists with the aim of keeping your fur babies healthy; on the nutritional front you know you're going to be picking up a quality product.
The Science Diet for kittens is stuffed full of high-quality proteins, DHA, vitamins, minerals, amino acids, and antioxidants to give your kitten everything it needs to grow up big and strong. While it also features no artificial preservatives, flavors, or dyes.
In fact, this food's nutritional value is so high that it's often recommended not just for kittens, but for adult cats that are pregnant, nursing, or have other health needs. The kibble is small enough for little mouths, though we've seen some things written online that mention that it might be a bit too hard to crunch for some cats. 
Its other most-cited criticism is that it may be a bit bland for some kittens. It's possible that the nutrition-focused blend might be lacking in some other ingredients that make food look or smell exciting to kitties. Although any experienced cat owner will know that regardless of whether it tastes great, is good for them or they liked it yesterday, sometimes cats just turn their nose up.
Nature's Variety Instinct Original Kitten
Item Form: Dry | Protein: 42.5% min | Fat: 22.5% min | Moisture: 9% max
100% natural ingredients
Made without grain, potato, corn, wheat, soy, by-product meats, artificial colors, or preservatives
Made with cage-free chickens
Not enough moisture for kittens
It's sometimes difficult to know what's actually in the foods we feed our four-legged friends. Foods that make it easy for us are always welcome; Nature's Variety's commitment to raw ingredients make their Instinct Original Kitten dry kibble super easy to understand.
The Instinct range from Nature's Variety is committed to 100% natural ingredients, although it might be easier to demonstrate the Original Kitten lines commitment to nutrition by first telling you what's not in it. This dry kibble is grain free and contains no soy, wheat, corn, potato, by-product meals, artificial preservatives, or colors. 
81% of this kibble comes from real animal ingredients and oils, which puts its protein content at a whopping 42.5% and fat at 22%. That's exactly what a calorie-hungry kitten needs. The food includes taurine, DHA, and probiotics for promoting everything from healthy brain and vision development to nice soft fur.
The remaining 19% of the product is made up from vegetables, fruits, and what Instinct calls 'other wholesome ingredients, and while some have criticized the product for including ingredients like carrots, deeming them unnecessary, the kibbles nutritional profile is very strong.
Given this food's raw and natural ideology, we think we'd be remiss in not mentioning that Instinct have had to issue recalls on their food twice for potential salmonella. The last of these coming in 2015 after a confirmed FDA test, though we have no reason to believe this is likely to happen again.
As with most dry cat foods, Instinct Original Kitten isn't going to give your kitten all the water it needs, while a good cat house will feature some water sources for your feline, you may want to think about pairing this with a wet food rather than as your kitten's sole diet.
Applaws Tuna Wet Kitten Food
Item Form: Wet (broth) | Protein: 13.5% min | Fat: 2% min | Moisture: 82.4% max
Dolphin-friendly tuna
High in protein
No artificial additives
Not nutritionally complete
You could be forgiven for being skeptical when a brand claims to supply everything your kitten needs – most of them are doing that, after all. Refreshingly, Applaws isn't one of them. Instead, it has built its reputation on creating fresh tasty meals that are designed be part of a well-rounded diet, rather than a staple of it.
Applaws' whole brand is centered around using simple ingredients that haven't been tampered with, using human-grade meat with no artificial flavors, colors, or preservatives. Indeed, very little of anything is added. For example, the Applaws Kitten Tuna Fillet in Broth had just three ingredients; tuna fillet, fish broth, and rice. This way, you're left in no doubt as to exactly what you're getting.
While this is all great, like we said previously, this isn't a staple, so you shouldn't be providing it in every meal. It simply doesn't provide everything your kitten should be consuming as part of a balanced diet, so this high-protein tin should be treated as a gourmet treat rather than something to be included with absolutely every meal.
Moreover, this additional treat doesn't come cheap, and you'll find that the cost mounts up with every 24 cans you buy – quite a lot more than is normally the case with many other brands, in fact. Regardless, what you're getting for this is a protein-rich gourmet experience for your kitten, and there's nothing wrong with treating them once in a while. As long as you only dish these out once a day at most, you'll get plenty of longevity out of it, and your mini cats will definitely thank you for it.
Purina Pro Plan Kitten Favorites
Item Form: Wet (Pate) | Protein: 12-13% min | Fat: 5-6% min | Moisture: 76.5% max
Made with real poultry and fish
3 meaty flavors
DHA for brain and vision development
Larger meat chunks
Many kitten food brands these days tend to stick to one or two products that they identify as the best things you should be feeding your little meow machine. This is a great approach that allows a consumer to know, pretty much, exactly what they're getting – but for the little ones, it can get a bit samey. Purina's Prop Plan Kitten Favorites variety pack has 3 flavors to choose from. Variety is the spice of life after all.
The three flavors, Chicken & Liver, Ocean Whitefish & Tuna, and Salmon & Oceanfish are made with real poultry and fish as the number one ingredient. They add taurine for eyesight and DHA for brain development, as well as a blend of vitamins and nutrients to develop a healthy immune system. 
There is a slight difference in protein and fat between the chicken and fish flavors – with the Chicken & Liver having slightly less protein and slightly more fat – but all within what works for healthy kitten growth. 
We have read that some people have had trouble with larger meat chunks in the pate, meaning their kittens struggle or give up. Not all kittens have a problem with larger chunks, but if yours do, this might be one to wait until they're a little bigger. 
Lastly we'll point out the perennial problem with variety packs, you may end up with a flavor your kitten doesn't like. This will happen to us all at some point but sometimes kittens don't react well to the unfamiliar, so either try introducing the flavor again slowly with another or find yourself a fellow cat parent to swap foods with. Either way, the benefit of a variety pack is that you wont be wasting the whole case.
How to choose the best kitten food
When choosing the best kitten food, there are several things you need to think about. 
Firstly, nutrition. You want to make sure you're hitting the right protein to fat ratio, and getting enough of both. For dry food you want to be hitting more than 30% in protein content and 15-20% in fat. For wet foods you ideally want between 10-15% for protein and around 3-6% for fat. 
You may want to be more aware of foods with high grain content, while the debate rages about exactly how bad grain are for cats, they can be an indicator that a food is full of filler or high in difficult to digest carbohydrates, rather than all the more preferable ingredients for a kittens development. 
When it comes to intolerances and allergies, it's actually fish, chicken beef and dairy products that are the most common in felines. So while you should expect to see a little bit of a digestive reaction to any new food, if it goes on too long you may want to investigate further.
Ideally, you'll pick out a mix of dry and wet woods. While dry food can be more cost effective and easier to manage, it won't provide the moisture your cat needs to stay hydrated. If you're going dry only, make sure your house is full of water sources for your cat to find, though they'll need to be refreshed daily.
Lastly, the best kitten foods will recommend a transition period when switching. This will avoid most cases of digestive distress which, if prolonged, can be dangerous to kittens. Take a week, and slowly introduce the new food alongside the old to allow their systems to get used to it. Of course, if your kitten seems to be experiencing problems, or you're worried that they may have a food sensitivity or other health problem, consult your vet.
Get the best advice, tips and top tech for your beloved Pets
Thank you for signing up to Petsradar. You will receive a verification email shortly.
There was a problem. Please refresh the page and try again.