The best cat puzzle feeder: keep your cat busy with an enriching snack experience
By Alex Cox
How to buy the best cat puzzle feeders to add stimulation and food enrichment to your cat's routine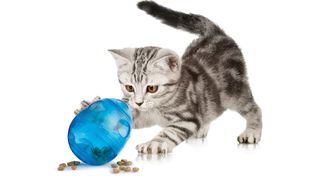 (Image credit: Catit)
The best cat puzzle feeder won't just offer entertainment for your feline friend: they can also have a massive positive benefit on a cat's mental well being. If you need any more convincing read nine reasons to use a cat puzzle feeder toy  written by one of our expert in-house vets. Cats might seem independent and aloof, but they're clever creatures that require interaction and both physical and mental stimulation. What better way to enhance their day-to-day lives than to mix food and play?
It's all about enrichment. Activating those hunting instincts or simply adding a little more fun to your cat's life may be enough to discourage less desirable aspects of their behaviour. If there's unwanted scratching going on, fighting between different cats in your household, or even more extreme behaviour like middening, it might be time to ask the question "is your cat bored?" - and you may find that a toy filled with treats is a lot more attractive to them than even one of the best cats toys that's not offering food.
We've picked out six very different cat cat puzzle feeders, each of which helps trigger those instincts in different ways. Whether it's hunting and digging for food, foraging for the last scraps of a full meal, or solving a surprisingly complex puzzle to get at their treats, there are options available.
Best overall cat puzzle feeder
Catit Senses 2.0 Food Tree
Fill them up with a tree full of treats
Materials: BPA-free plastic | Weight: 1.18 kg | Colour: White and transparent green **Dishwasher safe:** No
Lots of interaction
Variable skill levels
Big enough for a full meal
May cause a little mess
It's fair to say that we spoil cats when we offer our services as their butlers, hand delivering them delicious food at meal times with no effort required from them. Perhaps, some think, we're literally spoiling them; as domesticated as that fluffy creature curled up on your lap may be, their base instincts are to hunt for their food. This clever contraption gives them the chance to do just that. 
You scatter treats throughout a three-tiered maze, each tier of which is surrounded by a number of handily paw-sized (but not face-sized) holes. This forces them to work for their snack, either hooking it out through those holes or pushing it through the internal gaps all the way down to the bottom tier, which drops it into the generously-sized dish below. If your cat finds it a little easy you can also adjust the difficulty by narrowing the gaps between each tier, with three settings on offer.
The Senses 2.0 Food Tree is sized to be compatible with the rest of Catit's Senses range, so you can snake (for instance) a ball track around it for some extra fun. It has been upgraded from the previous version, with the main fix being a big boost in stability provided by a wide base, so there's basically no way most domestic cats can knock this over. Catit even suggests putting a ball directly inside the Tree for a little extra bat-it-around enjoyment when snack time's done with – or you can use this to slow down the speed at which they eat their dry food dinner.
One final lovely touch: the box turns into a spaceship for your cat. That is clever, and it's adorable.
Best budget cat puzzle feeder
Legendog Cat Food Ball
The mouse it's okay to chase around the house
Materials: Plastic | Weight: 40g | Colour: White or pink, transparent | Dishwasher safe: Unknown
Fun to bat around
Dispenses slowly
Bargain price
May not be tough enough for some
When developing good habits in your cats, slow feeding should probably be high on the list. This is particularly true of dry food which, if excitedly inhaled rather than gently eaten, could in rare circumstances pose a choking hazard, or lead your cat to overgorge themselves and upset their stomachs. Although Legendog's mouse-shaped feeder is good for keeping them interested with a tasty treat or two, it's feasible for dispensing their daily dry food allowance, too, as long as each kibble is smaller than 15mm. 
It's undoubtedly going to be attractive to some cats, either those excited by cartoonish representations of mice or those who can't resist the sight or scent of food. The Legendog Cat Food Ball has small openings which slowly trickle out food as they play; they're going to need to work hard, though, because the weighted base causes the toy to stand back up on its own, like a Weeble. Just be prepared, if you're using it in your lounge, for a little food to end up under your sofa. If your cat really takes a liking to it, they may attack it somewhat feverishly – though we suppose hooking those stray treats out offers them an extra challenge.
One note, though: these may be slightly better suited to kittens than full-grown cats, as they're a little smaller than you'd think. The screw-on head, too, can tend to be a little loose, so be prepared for all of the contents to spill out at once if your cat is particularly rough or dextrous.
Best cat puzzle feeder for smart cats 
Trixie Brain Mover
For those felines with a PHD in finding treats
Materials: Plastic | Weight: 599g | Colour: Pink and white | Dishwasher safe: Yes
Loads of tasks
A real intelligence test
Long-term interest
Takes a while to fill
Many cat puzzles aren't really very puzzling. They're more cat annoyers, designed primarily to frustrate your cat and slow them down rather than to actually encourage them to use their brains in any meaningful way. But not all cat puzzles are created equal: if you have a particularly intelligent feline, the Trixie Brain Mover seems like a great way to get their synapses firing. 
It's a surprisingly large device which includes four different tasks, each of which they'll need to figure out in order to get at the goodies nestled in the golf ball-sized dishes within. There are two dish-covering balls included that can be batted away, there's a lever which needs to be pulled forwards to slide out a compartment, a drawer that must be hooked open using the string loop on front, and a set of sliding covers over three dishes, with two on each row making getting at the middle dish particularly tricky.
There's just about enough capacity in here for a decent dry food meal, if that's the way you want to use it. And it may just be: some users say that their cats seem to love the Brain Mover even after they've already memorised the solutions to the puzzles, so even if it only takes them a couple of minutes to get everything out rather than half an hour, this might just be a great way to slow down dinner time.
 Best cat puzzle feeder for wet food
Lickimat Felix
Stimulate their dental health as well as their brains
Materials: Food grade TPR | Weight: 80g | Colour: Turquoise, Green or Orange | Dishwasher safe: No
Mimics predatory feeding
Good for digestive health
Allows crouching while eating
Low surface area
Cats can, at the best of times, have slight issues with eating their main meal. Whether it's the bowl irritating their whiskers, the tendency to wolf down a little too much in one sitting (which definitely isn't a trait reserved for dogs, as any cat owner with vomit-stained carpets can attest to) or just a general disinterest in the specific way you've served up their dinner, it'll be up to you to work out what's wrong and fix it. 
The Lickimat range might be the answer. It allows you to ditch the bowl and spread out their food over a wide area to encourage them to slow down a little, and the textured mat, full of interesting nooks and crannies, forces them to work for their meal. This causes them to generate saliva, which helps with dental health, and it activates those wild feeding instincts which should help to keep them interested. Great for tiny treats, or for dishing up their wet food, raw food, a little salmon – whatever you fancy. Bear in mind, though, that the surface area isn't huge so you may need to spread everything over a few different Lickimats; you can also pick up the Casper, which has a slightly different design, to mix things up further.
Note that if you have a cat that's prone to chewing or gnawing things, you'll likely want to steer more in the direction of the Lickimat Tuff, which is made a lot stronger to ensure they're not going to snack on the dish rather than the food itself.
Best cat puzzle feeder for curious cats
Catit Senses 2.0 Digger
Let them fish around for their treats – or even a toy
Materials: BPA-free plastic, silicone | Weight: 600g | Colour: White, transparent green and grey | Dishwasher safe: No
Plenty of ways to configure 
Keeps them guessing
Variable difficulty
Likely to cause a mess
Paws are useful little things, and cats are naturally inquisitive creatures; with Catit's clever Digger toy, both of these factors come into play. It comprises of six tubes of varying widths and lengths, each with a rounded bottom, that slot into matching divots on the white base. Simply scatter a few treats on the sloped front of the base to get them interested, pop a few more morsels into the green tubes, and your cats can get stuck in, hooking out the treats which (all being well) will trickle down into the dished portion where they can then be snaffled up.
You don't actually need to use the tubes, if you'd rather challenge your cat a little less: they can be removed, and treats put directly in the divots instead. It's all easily washable, very stimulating, and sized to work with the rest of the Senses 2.0 range – though we'd only suggest you buy this knowing a couple of caveats beforehand.
First, some cats seem to have worked out that the green tubes are removable, and if your particular pet is clever enough to pull the tube out with its teeth and pour the treats out on the floor, this likely won't have the desired effect. By the same count, more feverish clawing is likely to make a mess if you're using this to offer up more than a few kibbles at a time. There's a mat included which surrounds the bowl, so it won't be too catastrophic, but it's worth bearing in mind.
Best cat puzzle feeder for evil geniuses
Trixie Turn Around
They were working in the lab, late one day...
Materials: Plastic | Weight: 526g | Colour: White, transparent red | Dishwasher safe: Unknown
Should be infuriating
Staged difficulty
Invariably messy
Easy to knock over
Their megalomania tends to show without any help, but how about unleashing the mad scientist in your cat? Trixie's Turn Around does look a little like it belongs in a lab, and it requires more than a little feline intelligence to get the most out of it. The three test tube-like cylinders on top are where the treats go, and it's up to your cat to turn them so they'll spill out – all being well, they'll drop onto the rounded spikes on the surface below, further hampering their attempts to get at their food.
This is a tiered toy, meaning you'll want to make it more difficult as time goes on. Start by leaving the lids off of the tubes, so your cat figures out that they'll need to turn it over to release the goods; then start adding the lids, which makes that task much more difficult. There are different lids with different hole sizes, so it's sure to keep their interest for a while.
The Turn Around (also listed as the Trixie Mad Scientist in some places) is more a fun toy than a serious feeder. It's possible for a cat to knock it over, though if the lids are on this will just infuriate them rather than offering up all of the treats at once. Its dispensing method is also (naturally) going to make a huge mess, at least until all of the treats have been snaffled up off the floor.
How to choose the best cat puzzle feeder
Choosing the right cat treat toy for your household is going to depend on the number of cats you have around and the way they typically like to play. If you have multiple cats, a toy which leans more towards a single animal – like, for instance, the Trixie Brain Mover – might not suit. The cleverest of your clowder is going to end up with the lion's share of the treats. There are toys which better suit multiple cat households; the Catit Food Tree, for example, has plenty of room for multiple paws to reach inside, and the Digger positively encourages a bit of teamwork.
Although we're looking to add enrichment and stimulation to their lives here, do bear in mind that cats which don't have the drive to fight their way through a puzzle may not get on too well with more complex toys. Sometimes you may be better served picking up a Lickimat or two, and offering up their food in a slightly different way. They'll get that enrichment without even realising they're doing something different. 
Even if you do pick up something which is more explicitly a puzzle, staged learning is an important factor to prevent rejection. Teach them that there are treats inside (and that they're possible to extract) by at first making it easy – they'll then be more inclined to solve the more difficult versions.
Get the best advice, tips and top tech for your beloved Pets
Thank you for signing up to Petsradar. You will receive a verification email shortly.
There was a problem. Please refresh the page and try again.