Best wet cat food 2022: Delicious meaty feasts for your kitty
Packed full of moisture, the best wet cat food will ensure your kitty stays hydrated while providing a nutrient-dense, flavor-filled meal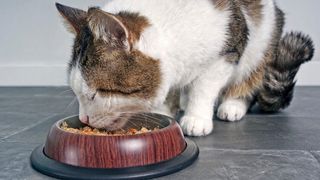 (Image credit: Getty)
When it comes to the best wet cat food, you'll find a range of nutritious options lining the grocery store shelves with delicious flavors to keep even the fussiest feline furkid happy.
Some of the best cat food that money can buy, wet food has everything your kitty needs to thrive. But, with so many options on the market these days, how do you know which one is right for your foodie fur baby?
Before we get into what to look for, you may be aware of the ongoing debate surrounding wet food and the best dry cat food in terms of which one is superior. The truth is, there's no right or wrong answer here. Both options have their pros and cons but ultimately, as long as you're giving kitty a healthy, balanced diet then you won't go far wrong.
While dry cat food has a crunchy texture that most kitty's go crazy for and an abrasive outer shell that acts like a toothbrush, sweeping away plaque and tartar while your feline friend chews, wet food has plenty of advantages that make it well worth considering.
For starters, it's extremely high in moisture, and staying well hydrated is necessary for keeping the kidneys and urinary tract functioning in tip-top condition. It also has a soft texture that makes it ideal for senior cats or any kitty with dental issues who may find chewing challenging or painful.
When shopping for a wet cat food, look for one from a reputable brand that contains high-quality ingredients and is nutritionally complete and balanced. Because cats have greater protein needs than dogs, you'll also want to choose a formula that has a minimum protein of 6.5 g/100 kcal for adult cats and 7.5 g/100 kcal for pregnant and nursing cats and kittens. Make sure it also contains taurine, which is critical for healthy vision, digestion and heart function.
With all of that that in mind, then, we take a look at the best wet cat food currently available in 2022...