Best dry cat food 2023 including premium and healthy kibble options
The best dry cat food should fill your cat up with healthy and nutritiously rich ingredients. So read our vet-approved roundup of the top kibbles and treat your cat to a winning diet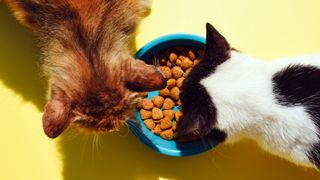 (Image credit: Getty)
It shouldn't be hard finding the best dry cat food but unfortunately, it can be. The kibble market is choc-a-bloc with so many products claiming to be better than the others.
But in our guide to the best dry cat food we invite you to take a step away from the chaos and instead, we'll run you through a deep dive into a select collection of products we think are worth your money and your kitty's food bowl.
We couldn't do this without consulting experts in the pet industry. As you get into the nitty-gritty details of our roundup you'll meet Dr Diana Hasler who is a qualified vet with extensive experience working with cats and their dietary requirements. Meanwhile, Dr Joanna Woodnutt who is also a trained vet answers some of the most commonly asked questions about feline nutrition such as, which is better out of wet or dry cat food? Perhaps you've landed here because you aren't sure if the best wet cat food is actually better than dry food or if you should combine both into your kitty's diet. Woodnutt has applied her top veterinary knowledge to queries like this to make sure you can find the best dry cat food diet for your pet.
Without further ado, let's get into the guide. Each entry goes through key specs including, weight, flavors, calorie content, protein content, and fat content, and offers an informative summary of why we've selected it as a top option for your feline friends.
Expert opinion in this guide is provided by:
Expert opinion in this guide is provided by:
Dr. Diana Hasler BVM&S MRCVS
Dr. Diana Hasler graduated with distinction from the University of Edinburgh Royal (Dick) School of Veterinary Studies in 2018. She has experience working as a small animal veterinarian in general practice, where she has treated many dogs, cats, rabbits, and rodents.
Dr Joanna Woodnutt qualified as a veterinarian from the University of Nottingham where she then went on to practice companion animal medicine in the Midlands. She really took to the consulting side of things and helping clients with medical problems such as dermatology, behaviour and nutrition - anything that involved helping clients understand their pets better.
PetsRadar's pick of the best dry cat food
Why you can trust PetsRadar Our expert reviewers spend hours testing and comparing products and services so you can choose the best for you. Find out more about how we test.
Rachael Ray Nutrish Indoor Complete Chicken with Lentils & Salmon Recipe Natural Dry Food
Best overall dry cat food
Specifications
Weight:
3lbs, 6lbs, 14lbs
Reasons to buy
+
Made from real chicken
+
Good for metabolism
+
Grain-free
+
No artificial flavors or colorings
Founded by the eponymous celebrity chef, the Rachael Ray Nutrish brand is well-known for its natural ingredients and nutritional benefits. It is therefore no surprise that this chicken-based, dry cat food option is a bestseller, and popular among cat owners to boot.
This particular brand uses real US farm-raised chicken free from poultry by-products. Full of Omega-6 fatty acids – not to mention protein – your cat's skin and coat will be guaranteed a healthy shine should you choose to purchase it.
Moreover, it's grain-free, which effectively reduces any risk of allergies for your cat. Further reducing this risk is the fact that this contains a number of natural ingredients, such as brewers rice, corn gluten meal, as well as dried ground peas to contribute on the carbohydrate front. Added vitamins and minerals aid your cat's digestion and overall health, and there are no artificial fillers.
The small pieces of kibble make it easier to chew and digest, and the crisp and crunch texture is kinder to cats' teeth, also ensuring that they are kept clean. Many owners praised it for making great treats when training their kitties, too!
However, it should be mentioned that the recipe does contain corn gluten meal, which could be a potential allergen for your cat. So if your cat does suffer from corn allergies, this is probably not the one for you. Also, bear in mind that the formula is quite high in carbohydrates, so you'd need to keep track if your cat starts getting tubby!
Overall, this is the ultimate in dry cat food that provides natural flavors, nutrition, and bags of protein, as well as representing good value for money compared to other premium cat food brands. And with a winning formula created by cat nutritionists, you can only expect the best balance of flavor and nutrition for your feline friend.
9 Lives Daily Essentials with Chicken, Beef & Salmon Flavor Dry Cat Food
Best budget dry cat food
Specifications
Weight:
3.15lb, 12lbs, 20lbs and 28lbs
Flavors:
Chicken, beef, salmon
Reasons to buy
+
Nutritionally complete and balanced
+
Good for those on a budget
+
Low-fat formula
Reasons to avoid
-
Contains common allergens
It's not hard to see why this kibble is proving such a hit amongst pet parents with its large bags, delicious recipes, and affordable price - it ticks all the boxes for most feline furkids and their owners.
Offering 100% complete and balanced nutrition, each tasty and crunchy bite of kibble contains all the nourishment your cat needs to thrive. Omega 3 fatty acids help promote healthy skin and a shiny coat, there's taurine for heart and vision health, and plenty of protein to help build and maintain strong muscles.
Granted, it's not going to suit every kitty and the low price does mean you get ingredients thrown into the mix that you won't find in other more high-end brands, like corn, wheat, and soy. So if you have a furkid with a sensitive digestive system or allergies, it might be best to steer clear of this one.
But if allergies aren't an issue with your cat and you're looking for a tasty formula that won't break the bank, this kibble from 9 Lives offers solid nutrition and outstanding value for money.
Stella & Chewy's Freeze-Dried Raw Cat Dinner Morsels
Best premium dry cat food
Specifications
Weight:
0.2lbs, 0.5lbs, 1.1lbs
Reasons to buy
+
Protein-packed
+
Organic ingredients
+
Includes taurine
Reasons to avoid
-
Expensive
-
Probably not great as a whole meal
Another product that's made almost entirely from something that probably wouldn't traditionally be described as kibble (in this case, dried rabbit), this will nonetheless have plenty of appeal for many cats.
As those of you who have cats who like to bring in the occasional woodland creature will testify, cats like the taste of raw meat, and this is the next best thing, especially if your cat dwells indoors.
Packed with taurine, this also includes taurine for vital organ enrichment.
Proudly boasting organic credentials, this is free from grain, gluten, and any other artificial preservatives you care to name.
However, you need to be careful when considering whether it's the right thing to feed your cat with – some don't too well with raw meat diets, even if you only intend to use this as a meal topper.
Regardless, if you want to feel like you're doing the environment a good turn, this could be something to go for.
Purina Beyond Simply Grain Free
Best grain-free dry cat food
Specifications
Weight:
3lbs, 5lbs, 11lbs, 16lbs
Reasons to buy
+
Real meat
+
High protein
+
Limited ingredients
If you're looking for a high-quality kibble with a limited ingredient list that's free from many known allergens, then look no further than this popular formula from Purina.
High in protein, with real chicken as the first ingredient, this gluten-free and grain-free kibble comes packed with natural probiotics for a healthy digestive system, making it ideal for cats with sensitive stomachs.
With no corn, wheat, soy, poultry by-product meal, or artificial colors, flavors or preservatives, it's gentle on the digestive system but comes packed with nutrition. Featuring taurine for heart and vision health, zinc for a robust immune system, and calcium for strong bones, this kibble has everything your kitty needs and none of what they don't.
It's more expensive than other kibbles, that's for sure, but if you're looking for a clean and limited ingredient list that's free from a lot of the nasties found in inexpensive brands and has a rich and meaty taste your kitty will love, this option from Purina is well worth a try.
Best dry cat food for older cats
Specifications
Weight:
5lbs, 6lbs, 9.5lbs, 11lbs, 12lbs
Reasons to buy
+
Packed with real chicken
+
BLUE'S 'LifeSource Bits' of vitamins and minerals
+
Grain-free
Reasons to avoid
-
Slightly more expensive than other brands
-
Only sold in the US
As your feline friend gets older, there are some things to consider. Firstly, their metabolism starts to slow down, as they no longer get as much exercise. As a result, they need fewer calories in their meals, and smaller portions. Another worry with older cats is they may develop specific health problems and not be eating as well as they should be. To care for your senior cat, you would need to tailor their diet to ensure optimum health and a longer life.
The Blue Buffalo formula has been enriched with its special, LifeSource bits (a unique blend of vitamins, minerals, and superfoods), and made with the best natural ingredients.
The first ingredient is real salmon. It's also loaded with antioxidant-rich superfoods to support immunity, Omega-3 for a healthy skin and coat, taurine for vision and heart health, and essential amino acids to fuel all their fun activities. Plus, its fiber blend helps maintain healthy digestion, and is kind to tummies. There are never any grains, gluten, wheat, or by-products. It has the added benefit of having more than 75% moisture content that will help your feline pal stay hydrated much longer.
Cats seem to love this brand, and enjoy the flavors, although a few owners have mentioned the kibble being too small for their older cats, causing them to drop out of their mouths. Others have stated that it has helped to alleviate existing stomach problems, and vomiting from other brands. And many have praised the formula for making their feline friend's coat super soft and shiny.
Bear in mind that a few owners mentioned that it made their cats sick after eating; however this could be due to an undiagnosed allergy.
Compared to similar brands, prices are expensive. The brand is also only sold in the US which means you'll need to order online if you live outside of the US. However, with all the nutritional benefits, you wouldn't mind paying a little bit more for quality.
Royal Canin Hairball Care
Best dry cat food for preventing hairballs
Reasons to buy
+
Special blend of dietary fibers helps prevent vomiting and hairballs
+
High protein and fat content
+
Reduces plaque buildup
Royal Canin Hairball Care is a specialist food that aims to provide a superior source of nutrition for cats who have a tendency to cough things up. As such, its formula claims to move hairballs on through the body and out of the stomach, rather than all over your floor surfaces.
To do this it uses a blend of insoluble dietary fibres which sweep through the stomach and into the bowels, meaning hairballs are excreted as opposed to being vomited up. They also help stimulate good digestion and the increased absorption of nutrients.
In addition, Royal Canin Hairball Care's balance of dietary fibres includes psyllium along with other minerals that will aid the digestive health of your cat beyond just preventing hairballs. This includes benefits like a healthier coat and better teeth to name just two.
It seems to be fairly successful at achieving its aim too, with numerous owners of long haired cats leaving glowing reviews that report a noticeable reduction in hairballs. Although some reviewers remarked that it cost more than standard food, most stated they would remain using it despite the extra cost due to its effectiveness.
Hill's Science Diet Adult Sensitive Stomach And Skin Chicken Dry Cat Food
Best dry cat food for digestive issues
Specifications
Available sizes:
3.5lbs, 7lbs,15.5lbs
Reasons to buy
+
High in prebiotic fiber
+
Easy to digest
+
Vet recommended
If your kitty struggles with regular digestive upsets then this gentle formula that's been specially designed for sensitive stomachs could be the perfect solution. With high levels of prebiotic fiber to fuel beneficial gut bacteria and support a balanced microbiome, this kibble is highly digestible for optimal nutrient absorption.
With plenty of Vitamin E and Omega-6 fatty acids, this nourishing formula is also ideal for cats with skin or coat issues. Plus, according to the Research in Veterinary Science journal, Vitamin E is beneficial for a cat's immune systems. Designed to help promote and maintain healthy skin and lustrous fur, the soothing blend of ingredients will have your kitty looking their best in no time.
We love that this recipe has recently undergone an overhaul, making real chicken the number one ingredient and introducing a proven antioxidant blend of vitamins and minerals to strengthen your cat's immune system.
Instinct Limited Ingredient Diet
Best simple-ingredient dry cat food
Reasons to buy
+
Simple ingredient list
+
Free from many known allergens
+
Raw coated kibble
With a clean and limited ingredient list that contains only one animal protein and one vegetable, this formula from Instinct is ideal for cats with food sensitivities. Made with farm-raised rabbit or turkey, this nutrient-rich and easily digestible kibble provides all the essential amino acids your kitty needs to thrive.
Made without grain, dairy, eggs, chicken, beef, fish, sweet potato, potato, chickpeas, corn, wheat, soy, artificial colors or preservatives, this kibble eliminates all of the common allergens that can prove difficult for kitties with delicate digestive systems and yet it still contains high levels of Omegas and antioxidants for a healthy skin, coat, and immune system.
Perhaps the most unique thing about this formula is that it's the first raw-coated kibble, where every piece is coated in freeze-dried raw rabbit or turkey for extra nutrition and taste. Minimally processed and made with only the highest quality ingredients, this protein-packed kibble is well worth a try.
Solid Gold Let's Stay In Grain-Free Indoor Formula Dry Cat Food
Best dry cat food for indoor cats
Specifications
Available sizes:
3lb, 6lb, 12lb
Reasons to buy
+
Prevents hairballs
+
Probiotics for gut health
+
Real meat
Reasons to avoid
-
Limited range of flavors
If your feline furkid spends the bulk of their time indoors and you're looking for a formula that will meet their unique needs and nourish them from the inside out, this kibble from Solid Gold is well worth considering.
Crafted specifically with indoor cats in mind, it features fermentable fiber and probiotics to aid digestion, improve gut health and prevent the formation of hairballs.
It also contains a powerful superfood blend that includes ingredients like pumpkin, almonds, lentils and broccoli to ensure your kitty gets all the vitamins and minerals they need to stay healthy.
Containing 100% real salmon as the first ingredient, this formula is grain and gluten free and comes packed with omega fatty acids to support skin, coat and immune health.
Ziwi Peak Air-Dried Mackerel & Lamb Recipe Cat Food
Best hypoallergenic dry cat food
Specifications
Flavor:
Beef, Chicken, Lamb, Mackerel & Lamb
Reasons to buy
+
Made from healthy ingredients
+
High in protein and low in carbs
+
Environmentally sustainable
Reasons to avoid
-
High-protein diet might not be suitable for all cats
Offering its customers a taste of New Zealand, this product presents a twist on conventional kibble by being made from dried meat.
There are a number of different types on offer – this product is mackerel and lamb, – such as beef, chicken, and venison – giving you a choice of high-end products to feed your cat with.
As you would expect from an all-meat product, the protein percentage is very high. This is ideal for hypoallergenic cats, but might not be to all felines' tastes, especially those with kidney disorders.
There is also a 'superfood' twist; being cold-washed in Green Tripe, New Zealand Green Mussels, and Organic Kelp, it claims to support healthy weight, less shedding, and joint health. Taurine is also included to support brain and heart health.
While this product is inevitably more expensive than other products due to its composition, the health benefits are undeniable. If you're reluctant to give your cat an all-meat diet, why not use it as a topper on their existing meals?
How to choose the best dry cat food
Finding the right dry cat food to suit your feline friend can be challenging. If you're not sure which is the best dry cat food for your kitty, there are a few important things to consider when purchasing.
Age: First, consider your cat's age. Dry cat foods are often formulated and specifically designed for the age and size of your kitty. So whether you have older or younger cats, you'll need a formula to provide the right amount of nourishment.
Protein and fat sources: Look for quality first ingredients such as real chicken, lamb, turkey, salmon, and tuna, which are all rich in protein. Chicken liver and heart are both rich in taurine, an amino acid that humans produce but cats cannot. Generally, focus on foods that contain calcium, fats, and essential vitamins. And try to avoid those with artificial fillers designed to make your cat feel full, and lack any nutritional value.
Dietary restrictions: Consider your cat's dietary restrictions, needs, or conditions, such as allergies or weight issues. There are some dry cat food brands tailored to specific dietary needs to help maintain optimal health.
Value for money: Cost and value for money are other factors, as cat food can often be expensive. Choose a suitable quality brand within your budget and avoid the latest expensive trends. Of course, you need to consider your cat's tastes and preferences as to what they like and dislike. Whether they prefer chicken or tuna, or large or smaller-sized kibbles, this will influence what you purchase. Plus it will make your beloved cat more happy, healthy, and content in the long run!
How much dry cat food should I feed my cat?
As a rule of thumb, you should always be checking the product packaging guidelines for how much of it you should feed to your cat as this can depend on their weight and build. But you are safest to consult a vet on this if you want to feel extra confident that your moggy is being fed the right amount and that the food fits your pet's unique dietary requirements. A vet will also be able to advise on a good wet-to-dry food ratio for your cat's diet.
Is dry cat food better than wet?
Woodnutt tells us that both wet and dry food can provide complete nutrition for your cat, and either is a suitable choice.
"However," she says, "A wild cat's diet is about 80% moisture, and this means they don't need to drink much. Our domestic cats retain this low thirst drive, even when being fed a dry diet that's just 10% moisture. This could theoretically lead to problems, and it's true that dry diets are sometimes associated with obesity and urinary tract disease."
"Nonetheless, dry food has the benefit of being easier to leave down or hide in puzzle feeders, and some dry foods benefit dental health. For this reason, I advise that cats are fed a combination of wet and dry food, with the majority being wet food," Woodnutt advises. Dry food should be a high-quality dental diet in order to get the best benefits for dental health.
Is dry cat food good for your cat's dental health?
Woodnutt says that it's a myth that dry food in general is good for dental health – there's no solid evidence that either type of food is better or worse for your cat's teeth. However, some diets have been developed that are specifically designed to be better for the teeth.
"These 'dental diets' are dry cat foods that have been designed to break in such a way as to 'clean' the teeth. They may also include ingredients that prevent the formation of tartar. A list of the dry diets that have proven themselves to be better for the teeth can be found on the Veterinary Oral Health Council website," notes Woodnutt.
Does dry cat food go stale?
As you should with any food for your pet, check the "best by" date on the packaging because the answer to this is yes. Often the product packaging will also recommend how best to store the cat food to help it keep fresher for longer. The packaging is made to help keep the food fresh but sealing it properly after use and not leaving it out in the sun or somewhere particularly warm in your home will avoid it spoiling.
Get the best advice, tips and top tech for your beloved Pets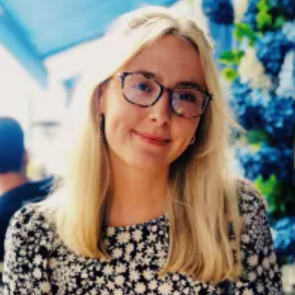 Jessica is Staff Writer at PetsRadar who joined the team after spending over a year writing for the brand's sister site, Fit&Well. She is an avid dog spotter whilst out for her weekly runs and brings to the team a passion for creating informative and helpful digital content, which she has been putting to practice since graduating with a degree in Magazine Journalism in 2021.