Best dry cat food 2022: premium kibble for your feline friends
Look no further for the best dry cat food than our detailed roundup of some top nutritious and tasty kibble for your kitty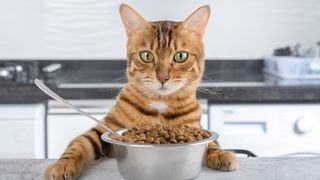 (Image credit: Getty)
Finding the best dry cat food for your little furry companion can be tricky, especially when there are so many options on the market. You have probably landed here on PetsRadar because you want to make sure your cat can thrive off a nutritious and delicious balanced diet but want to know which kibble ticks these boxes. This is where our roundup of many of the top contenders will come in handy for you.
You may previously have checked out our guide to the best cat food and decided you just want to explore dry food options for your cat as opposed to buying some of the best wet cat food. Views and opinions of pet owners and pet professionals such as vets differ on the dry food vs wet food debate. Wet food is packed with moisture, so it's more hydrating for your cat, and plays a helpful role in keeping your feline friend's kidneys and urinary tract in healthy and working order. But wet food can be messier and sadly doesn't have as long expiry dates as dry food does.
This is where the best dry cat foods are useful, plus, they are rich in healthy nutrients and properties for your cat so you can't go wrong. Of course, you will want to ensure you are buying a high-quality option, not only will this probably be more satisfying for your cat's taste buds but will also be high in beneficial ingredients such as protein. Many offer their own healthy twists and include additional ingredients such as the Solid Gold Let's Stay In Grain-Free Indoor Formula Dry Cat Food, which contains healthy probiotics to aid your cat's gut health.
Top-rated dry cat foods are also less messy to handle than wet food, especially if your kitty is a bit on the messier side when they muzzle into their bowl and you can leave the food out for prolonged periods.
So, if you're sold on dry food being the best match for your cat, keep on reading to discover all of our options.