Best dry cat food: Quality kibble for all kitties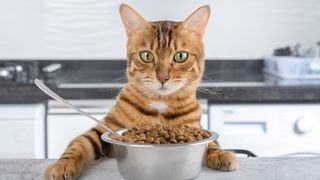 (Image credit: Getty)
The best dry cat food provides a fuss-free way of feeding your pet and it comes with a large number of benefits. Aside from ensuring your cat can get a tasty treat throughout the day, there is little mess to clean up afterwards. Kibble can also be kept out all day without spoiling and it's suggested that it's great for helping to keep a cat's teeth free of plaque and tartar too.
Although the best wet cat food offers an abundance of moisture – something largely absent in dry food – so long as you provide your kitty with a plentiful supply of water, you can help ensure your pet is being refreshed. A bowl of water is usually sufficient but investing in one of the best pet water fountains is preferable because your cat will benefit from a clean, free-flowing supply.
Assuming you're providing water, there really are few downsides to quality kibble. Yes, wet food is better for cats who have trouble chewing but dry food still offers a balanced formula that is nutritionally complete. You can also buy kibble in different shapes and sizes, some of which are easier to chew. Most kibble is small, however, which means they can be popped in an automatic pet feeder for greater convenience.
Here we take a look at the best dry cat food on the market in 2022 and, as with best dry dog food, there is no harm in mixing it with wet food for the best of both worlds. If you are looking to change cat food completely, though, transition it safely by reading our guide.
Expert opinion in this guide is provided by:
Expert opinion in this guide is provided by:
Dr. Diana Hasler BVM&S MRCVS
Dr. Diana Hasler (opens in new tab) graduated with distinction from the University of Edinburgh Royal (Dick) School of Veterinary Studies in 2018. She has experience working as a small animal veterinarian in general practice, where she has treated many dogs, cats, rabbits, and rodents.
PetsRadar's pick of the best dry cat food
Rachael Ray Nutrish Indoor Complete Chicken with Lentils & Salmon Recipe Natural Dry Food
Best overall dry cat food
Reasons to buy
+
Made from real US farm-raised chicken and chicken meal
+
Reasonable price
+
Grain-free
+
No artificial flavors or colorings
Reasons to avoid
-
Heavy on carbohydrates
-
Cats may be prone to gaining weight
Founded by the eponymous celebrity chef, the Rachael Ray Nutrish brand is well-known for its natural ingredients and nutritional benefits. It is therefore no surprise that this chicken-based, dry cat food option is a bestseller, and popular among cat owners to boot.
This particular brand uses real US farm-raised chicken free from poultry by-products. Full of Omega-6 fatty acids – not to mention protein – your cat's skin and coat will be guaranteed a healthy shine should you choose to purchase it.
Moreover, it's grain-free, which effectively reduces any risk of allergies for your cat. Further reducing this risk is the fact that this contains a number of natural ingredients, such as brewers rice, corn gluten meal, as well as dried ground peas to contribute on the carbohydrate front. Added vitamins and minerals aid your cat's digestion and overall health, and there are no artificial fillers.
The small pieces of kibble make it easier to chew and digest, and the crisp and crunch texture is kinder to cats' teeth, also ensuring that they are kept clean. Many owners praised it for making great treats when training their kitties, too!
However, it should be mentioned that the recipe does contain corn gluten meal, which could be a potential allergen for your cat. So if your cat does suffer from corn allergies, this is probably not the one for you. Also, bear in mind that the formula is quite high in carbohydrates, so you'd need to keep track if your cat starts getting tubby!
Overall, this is the ultimate in dry cat food that provides natural flavors, nutrition, and bags of protein, as well as representing good value for money compared to other premium cat food brands. And with a winning formula created by cat nutritionists, you can only expect the best balance of flavor and nutrition for your feline friend.
9 Lives Daily Essentials with Chicken, Beef & Salmon Flavor Dry Cat Food
Best budget dry cat food
Specifications
Weight:
3.15lb, 12lbs, 20lbs and 28lbs
Flavors:
Chicken, beef, salmon
Reasons to buy
+
Nutritionally complete and balanced
+
Good for those on a budget
+
Low-fat formula
Reasons to avoid
-
Contains common allergens
It's not hard to see why this kibble is proving such a hit amongst pet parents with its large bags, delicious recipes, and affordable price - it ticks all the boxes for most feline furkids and their owners.
Offering 100% complete and balanced nutrition, each tasty and crunchy bite of kibble contains all the nourishment your cat needs to thrive. Omega 3 fatty acids help promote healthy skin and a shiny coat, there's taurine for heart and vision health, and plenty of protein to help build and maintain strong muscles.
Granted, it's not going to suit every kitty and the low price does mean you get ingredients thrown into the mix that you won't find in other more high-end brands, like corn, wheat, and soy. So if you have a furkid with a sensitive digestive system or allergies, it might be best to steer clear of this one.
But if allergies aren't an issue with your cat and you're looking for a tasty formula that won't break the bank, this kibble from 9 Lives offers solid nutrition and outstanding value for money.
Purina Beyond Simply Grain Free
Best grain-free dry cat food
Specifications
Weight:
5lb and 16lb bags
Flavors:
Chicken and fish
Reasons to buy
+
Real meat
+
High protein
+
Limited ingredients
If you're looking for a high-quality kibble with a limited ingredient list that's free from many known allergens, then look no further than this popular formula from Purina.
High in protein, with real chicken as the first ingredient, this gluten-free and grain-free kibble comes packed with natural probiotics for a healthy digestive system, making it ideal for cats with sensitive stomachs.
With no corn, wheat, soy, poultry by-product meal, or artificial colors, flavors or preservatives, it's gentle on the digestive system but comes packed with nutrition. Featuring taurine for heart and vision health, zinc for a robust immune system, and calcium for strong bones, this kibble has everything your kitty needs and none of what they don't.
It's more expensive than other kibbles, that's for sure, but if you're looking for a clean and limited ingredient list that's free from a lot of the nasties found in inexpensive brands and has a rich and meaty taste your kitty will love, this option from Purina is well worth a try.
Blue Buffalo Weight Control Chicken & Brown Rice Recipe Adult Dry Cat Food
Best for weight management
Reasons to buy
+
Natural ingredients
+
Deboned chicken with no meat by-products
+
No adverse effect on cat behavior
Reasons to avoid
-
Bit more expensive
-
Can upset sensitive stomachs
If your cat tends to overeat on those lovely treats and is looking rather plump, Blue Buffalo Weight Control is the best choice to help slim them down.
Blue Wilderness is a product of the US-based Blue Buffalo company, known for making premium-quality pet foods featuring real meat, fruit, and vegetables. The main feature is the real deboned chicken with no meat by-products. The special formula is packed with whole grains and garden vegetables, as well as having carefully balanced calories to help your kittie maintain a healthy weight.
Since older cats develop difficulty chewing, the small pieces of food make it easy to gobble up, and the key thing is they contain hardly any fat.
Priced at around $21.98 (£15.49) for a 7lb bag, it is slightly costly. However, this can be overlooked if it means a more nutritious and calorie-controlled diet for your pet.
While it may be tricky to know straight away of its affect on weight loss, many owners have stated their cats' have felt lighter within a couple of months. Some owners have even said their kittie seems more energetic, running and playing more, while their coats have a lovely glossy shine.
Bear in mind, some cats may have trouble digesting the food at first, so it's advisable to monitor portions. Overall, this is a healthy, filler-free, low carb meal for your food-loving kitty.
IAMS Proactive Health Kitten Dry Cat Food
Best dry kitten food
Reasons to buy
+
Formulated for the needs of kittens
+
No harmful additives and fillers
+
High level of protein and essential Omega-3
Reasons to avoid
-
Risk of cats shedding
-
Risk of vomiting after meal
When you have little kittens at home, you'd want to take extra care on the meals that you give them. Younger cats especially can be prone to much sensitivity, so it's important to find the right food that is formulated for the needs of your kitten.
One of the top brands on the market today is IAMS, and it comes highly recommended by vets. Its special formula is created for 1-12 months old or younger kittens that may need to build stronger immune systems. This is also to avoid the risk of different diseases they may develop as they grow.
Packed with all the healthy benefits for a young one, it has prebiotics and pulp to support their developing digestive systems. It contains Omega-3 to aid with healthy brain development and to promote healthy skin and shiny coat. And its high protein and essential minerals help to build strong muscles and bones. This quality formula is essentially designed to help your kitten thrive, and also suitable for pregnant and lactating feline friends.
Kittens really enjoy the flavors, and we liked the fact that the kibbles are small, making it much easier to eat and digest. Another bonus is the kibble soaks up water fast for those kittens that need softer food.
Bear in mind the formula contains corn, so keep an eye out if your kitten may have a potential corn allergy.
Overall, this is packed with all the healthy nutrients to give your young cat the best start in life, and a delicious treat.
Best dry food for older cats
Reasons to buy
+
Packed with real salmon
+
BLUE'S 'LifeSource Bits' of vitamins and minerals
+
Grain-free
Reasons to avoid
-
Slightly more expensive than other brands
-
Only sold in the US
As your feline friend gets older, there are some things to consider. Firstly, their metabolism starts to slow down, as they no longer get as much exercise. As a result, they need fewer calories in their meals, and smaller portions. Another worry with older cats is they may develop specific health problems and not be eating as well as they should be. To care for your senior cat, you would need to tailor their diet to ensure optimum health and a longer life.
The Blue Buffalo formula has been enriched with its special, LifeSource bits (a unique blend of vitamins, minerals, and superfoods), and made with the best natural ingredients.
The first ingredient is real salmon. It's also loaded with antioxidant-rich superfoods to support immunity, Omega-3 for a healthy skin and coat, taurine for vision and heart health, and essential amino acids to fuel all their fun activities. Plus, its fiber blend helps maintain healthy digestion, and is kind to tummies. There are never any grains, gluten, wheat, or by-products. It has the added benefit of having more than 75% moisture content that will help your feline pal stay hydrated much longer.
Cats seem to love this brand, and enjoy the flavors, although a few owners have mentioned the kibble being too small for their older cats, causing them to drop out of their mouths. Others have stated that it has helped to alleviate existing stomach problems, and vomiting from other brands. And many have praised the formula for making their feline friend's coat super soft and shiny.
Bear in mind that a few owners mentioned that it made their cats sick after eating; however this could be due to an undiagnosed allergy.
Compared to similar brands, prices are expensive. The brand is also only sold in the US which means you'll need to order online if you live outside of the US. However, with all the nutritional benefits, you wouldn't mind paying a little bit more for quality.
Royal Canin Hairball Care
Best for preventing hairballs
Reasons to buy
+
Special blend of dietary fibers helps prevent vomiting and hairballs
+
High protein and fat content
+
Reduces plaque buildup
Royal Canin Hairball Care is a specialist food that aims to provide a superior source of nutrition for cats who have a tendency to cough things up. As such, its formula claims to move hairballs on through the body and out of the stomach, rather than all over your floor surfaces.
To do this it uses a blend of insoluble dietary fibres which sweep through the stomach and into the bowels, meaning hairballs are excreted as opposed to being vomited up. They also help stimulate good digestion and the increased absorption of nutrients.
In addition, Royal Canin Hairball Care's balance of dietary fibres includes psyllium along with other minerals that will aid the digestive health of your cat beyond just preventing hairballs. This includes benefits like a healthier coat and better teeth to name just two.
It seems to be fairly successful at achieving its aim too, with numerous owners of long haired cats leaving glowing reviews that report a noticeable reduction in hairballs. Although some reviewers remarked that it cost more than standard food, most stated they would remain using it despite the extra cost due to its effectiveness.
Hill's Science Diet Adult Sensitive Stomach And Skin Chicken Dry Cat Food
Best dry cat food for digestive issues
Specifications
Available sizes:
3.5lb, 7lbs, 15.5lbs
Reasons to buy
+
High in prebiotic fiber
+
Easy to digest
+
Vet recommended
If your kitty struggles with regular digestive upsets then this gentle formula that's been specially designed for sensitive stomachs could be the perfect solution. With high levels of prebiotic fiber to fuel beneficial gut bacteria and support a balanced microbiome, this kibble is highly digestible for optimal nutrient absorption.
With plenty of Vitamin E and Omega-6 fatty acids, this nourishing formula is also ideal for cats with skin or coat issues. Designed to help promote and maintain healthy skin and lustrous fur, the soothing blend of ingredients will have your kitty looking their best in no time.
We love that this recipe has recently undergone an overhaul, making real chicken the number one ingredient and introducing a proven antioxidant blend of vitamins and minerals to strengthen your cat's immune system.
Instinct Limited Ingredient Diet
Best simple-ingredient dry cat food
Specifications
Available sizes:
4.5lb and 10lb
Flavors:
Rabbit, salmon, turkey
Reasons to buy
+
Simple ingredient list
+
Free from many known allergens
+
Raw coated kibble
With a clean and limited ingredient list that contains only one animal protein and one vegetable, this formula from Instinct is ideal for cats with food sensitivities. Made with farm-raised rabbit or turkey, this nutrient-rich and easily digestible kibble provides all the essential amino acids your kitty needs to thrive.
Made without grain, dairy, eggs, chicken, beef, fish, sweet potato, potato, chickpeas, corn, wheat, soy, artificial colors or preservatives, this kibble eliminates all of the common allergens that can prove difficult for kitties with delicate digestive systems and yet it still contains high levels of Omegas and antioxidants for a healthy skin, coat, and immune system.
Perhaps the most unique thing about this formula is that it's the first raw-coated kibble, where every piece is coated in freeze-dried raw rabbit or turkey for extra nutrition and taste. Minimally processed and made with only the highest quality ingredients, this protein-packed kibble is well worth a try.
Solid Gold Let's Stay In Grain-Free Indoor Formula Dry Cat Food
Best indoor cat food
Specifications
Available sizes:
3lb, 6lb, 12lb
Reasons to buy
+
Prevents hairballs
+
Probiotics for gut health
+
Real meat
Reasons to avoid
-
Limited range of flavors
If your feline furkid spends the bulk of their time indoors and you're looking for a formula that will meet their unique needs and nourish them from the inside out, this kibble from Solid Gold is well worth considering.
Crafted specifically with indoor cats in mind, it features fermentable fiber and probiotics to aid digestion, improve gut health and prevent the formation of hairballs.
It also contains a powerful superfood blend that includes ingredients like pumpkin, almonds, lentils and broccoli to ensure your kitty gets all the vitamins and minerals they need to stay healthy.
Containing 100% real salmon as the first ingredient, this formula is grain and gluten free and comes packed with omega fatty acids to support skin, coat and immune health.
Hill's Prescription Diet k/d Kidney Care
Best for kidney health
Reasons to buy
+
Formulated for kidney health
+
Includes lean muscle support
+
Stimulates a cat's appetite
Reasons to avoid
-
You need vet authorization
Feeding a cat nothing but kibble isn't generally good for a kitty's health – cats need a daily supply of moisture to keep their kidneys in good shape so a bowl of water is essential. The same is true when buying this dry cat food. You will still need to ensure your cat is enjoying a regular intake of water which will also help avoid urinary tract problems.
Yet Hill's nutritionists and veterinarians have produced a very special kibble that will improve the life of a cat who has lost some kidney function or is at risk of doing so. This is something that can happen to all of our feline friends when they age so managing the problem through nutrition is something that seriously needs to be considered.
It works by reducing the workload placed on a cat's kidneys so that they are better able to function effectively. At the same time, this cool kibble will build and maintain muscle mass. Indeed, it has been designed to stimulate a cat's appetite so that a moggy eats more and enjoys extra calories. At the same time, the meals control phosphorus and they are low on sodium, high in amino acids and L-carnitine. They are also enriched with omega-3s from fish oil making the kibble as healthy and helpful as it can be.
To buy this dry cat food, however, you will need a prescription from your vet. Yes, it means there's a bit of extra admin involved in obtaining it but the result will be worth the slight inconvenience. Once you have authorization, you can keep ordering automatically the kibble for as long as it allows.
Whiskas 1+ Complete Dry Cat Food
Best for easy availability
Specifications
Available sizes:
825g, 2kg, 7kg
Flavors:
Chicken, Duck and Turkey, Tuna, Salmon, Lamb
Reasons to buy
+
Brand has stood the test of time
+
Complete and balanced
+
Full of vitamins and minerals
Reasons to avoid
-
Cereals listed as main ingredient
Sometimes you can search high and low for new kitty food when an age-old solution is staring you right in the face. In many ways, that's the case with Whiskas – a brand of cat food that dates back to 1936 which means it has stood the test of time, becoming one of the most reliable and well-purchased cat products on the market.
But is that just out of habit? In the UK, the company behind the meals used to say that eight out of 10 cats prefer Whiskas. It had to change that to eight out of 10 cat owners and yet, judging by the number of positive reviews out there, it could actually be more than that! Certainly, in our experience, this dry food does go down well. The bites are crunchy on the outside but soft within and kitties seem to wolf them down.
Whiskas' dry cat food is also great value for money, in this case serving a complete and balanced chicken meal that includes Omega 7 and Zinc for a healthy skin and coat and vitamin A for strong vision. The product also claims to help support the urinary tract although we'd still advise putting out a bowl of water at the very least. Our main concern is that cereals are the main ingredient and there are fewer nutrients like protein but that doesn't make it any kind of danger and it remains a top choice.
Purina Fancy Feast Dry Cat Food
Best for fussy felines
Specifications
Available sizes:
3lb - 160z bags
Flavors:
Filet Mignon, Chicken & Turkey, Ocean Fish & Salmon
Calories:
476 calories per cup
Reasons to buy
+
Great for fussy eaters
+
Enticing flavors
+
Small kibble size
Reasons to avoid
-
Greedy cats liable to put on excess weight
-
Bad smelling
If your cat won't eat dry food and is on the fussy side when it comes to eating generally, then it's worth taking a look at the Purina Fancy Feast Dry Cat Food range.
Available in a multitude of tantalizing kitty flavors, including Filet Mignon, Ocean Fish & Salmon and Chicken & Turkey it's almost like a gourmet meal in cat land, featuring small morsels of deliciousness that has even the fussiest of felines salivating.
Be aware, however, that Purina Fancy Feast Dry Cat Food has on occasion been described as the 'McDonalds' of the cat food industry; it's almost too tasty that you might find your eager cat gobbling it up without a second thought and heading to the vets a lot heavier than last time they embraced their carrier so it's worth comparing the nutritional values of it with similar brands if your cat isn't so selective with their grub.
It is a lifesaver for multiple pet owners who find their cat turns their nose up at other foods, however, but you might find yourself wondering why it's so enticing to kitties, especially with the strong smelling scent that wafts from the bag.
Crave with Protein from Chicken & Salmon
Best dry cat food for protein
Specifications
Available sizes:
3lb - 10lb bags
Flavors:
Chicken & Salmon
Calories:
379 calories per cup
Reasons to buy
+
High in quality protein
+
No artificial ingredients
+
Chicken is number one ingredient
Reasons to avoid
-
Contains a moderate amount of carbs
Crave's selling point is that it taps into a cat's wildcat instinct for food eaten by their ancestors. To that end, it offers an abundance of animal protein which the manufacturer says will provide the nutrients needed for a strong and healthy cat. In this case, the protein comes from chicken and salmon, with the former being the very first ingredient (salmon being a little further down the list).
Made without grain and with no corn, wheat or soy, the meals offer a minimum of 40% high protein. There's no chicken by-product meal or any artificial flavors, colors or preservatives. Your cat should gain a lot of energy from this food, ensuring they're at their playful best. It should also help a cat to become lean and enjoy a strong immune system.
That said, it does contain a moderate amount of carbs and some protein is also provided by plants. But the food appears to go down really well with kitties and since the pieces are small, they're easily digested. All the ingredients are sourced in the United States too which helps in terms of freshness and quality.
How to choose the best dry cat food
Finding the right dry cat food to suit your feline friend can be challenging. If you're not sure which is the best dry cat food for your kitty, there are a few important things to consider when purchasing.
Age
First, consider your cat's age. Dry cat foods are often formulated and specifically designed for the age and size of your kitty. So whether you have older or younger cats, you'll need a formula to provide the right amount of nourishment.
Protein and fat sources
Look for quality first ingredients such as real chicken, lamb, turkey, salmon and tuna, which are all rich in protein. Chicken liver and heart are both rich in taurine, an amino acid that humans produce but cats cannot. Generally, focus on foods that contain calcium, fats and essential vitamins. And try to avoid those with artificial fillers designed to make your cat feel full, and lack any nutritional value.
Dietary restrictions
Consider your cat's dietary restrictions, needs or conditions, such as allergies or weight issues. There are some dry cat food brands tailored to specific dietary needs to help maintain optimal health. Cost and value for money is another factor, as cat food can often be expensive.
Value for money
Cost and value for money is another factor, as cat food can often be expensive. Choose a suitable quality brand within your budget and avoid the latest expensive trends. Of course, you need to consider your cat's tastes and preferences as to what they like and dislike. Whether they prefer chicken or tuna, or large or smaller-sized kibbles, this will influence what you purchase. Plus it will make your beloved cat more happy, healthy and content in the long run!
Is dry cat food better than wet?
Both dry cat food and wet cat food have pros and cons. The benefits of dry cat food includes convenience, ease of use and its typically cheaper cost.
One of the drawbacks to dry is that it does not provide the same moisture content as its wet counterpart. Felines on a dry cat food diet should have access to a constant supply of water, so pet owners often consider adding a pets drinking fountain to their home.
Dry cat food does, however, provide a handy addition to a food puzzle dispenser and can also be a very efficient way to provide calories in thin cats with food volume limitations. Wet cat food, on the other hand, can be more expensive but can be beneficial in cats prone to lower urinary tract disease, constipation and that are overweight.
During routine check-ups, you can ask for a nutritional evaluation from a vet, including diet history and a body condition score, if you're not sure which is best for your feline. Our round up of the best wet cat food or our guide to the best cat food overall can offer some tasty alternatives.