Best raw cat food 2023 for your feline friend
The best raw cat food delivers on protein and flavor, but you'll want to follow safe feeding practices for this diet to ensure you and your kitty stay healthy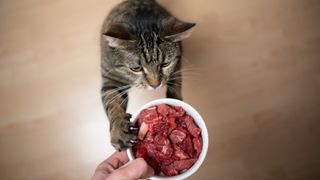 (Image credit: Getty Images)
When it comes to the best raw cat food, there's certainly been a flurry of new products hitting the shelves in recent years with some of the biggest brands on the market wanting to meet the growing needs of the health-conscious pet parent.
With the benefits of raw cat food listing everything from a shinier coat and healthier skin to increased energy levels and firmer stools, it's not hard to see why some people are choosing to move away from the traditional best dry cat food and wet food options in favor of feeding their feline friend a raw diet.
However, respected vet, Dr. Joanna Woodnutt, says it's important to exercise caution when it comes to changing cat food - especially when it comes to raw food. "Raw diets for cats are not generally recommended by most vets. This is because there's no scientific evidence of benefits, and there's lots of evidence of risk both to your cat, and to people that come into contact with them."
If after exploring the benefits and risks, you're keen to move forward with a raw food diet, you'll find this guide helpful in providing you with a roundup of the highest quality products currently available. Alongside that, Dr. Woodnutt shares her thoughts on the potential drawbacks of a raw food diet and provides some tips on how you can feed your kitty raw food while minimizing the risks to your health.
After graduating as a veterinarian from the University of Nottingham, Dr Joanna Woodnutt went on to practice companion animal medicine in the Midlands, UK. Dr Woodnutt is specifically interested in consulting and helping her clients understand their pets better, whether it's around medical problems such as dermatology, behavior, and nutrition.
Stella and Chewy's Freeze-Dried raw cat food
Best overall raw cat food
Specifications
Flavours:
Chicken, Duck, Rabbit, Salmon and Chicken, Cod and Salmon, Turkey
Reasons to buy
+
Good introduction to raw cat food
+
Very ethically sourced
+
Plenty of nutritional benefits
WHAT CAT OWNERS SAY
With 4.3 stars on Amazon, many pet parents say that this is their fur friends favorite food. Praising the quality and how gentle it is on the digestive system, the one drawback appears to be the price, with many reviewers noting that they find it too expensive to feed their cat on a regular basis.
One of the overwhelming favorites when it comes to the best raw cat food is Stella and Chewy, as this company makes excellent freeze-dried raw food, in a wide variety of flavors. As with most raw cat food, Stella and Chewy is keen to point out that there are no added ingredients like hormones, filler, or preservatives – the meat they serve is processed, but not overly so. It's rich in protein, which is perfect for cats, and seems to be widely loved if the wealth of positive user reviews are to be believed.
Stella and Chewy also prides itself on producing cat food from responsibly sourced meat and fish, and that its ingredients are gluten free, which can be an issue for cats with certain dietary problems. There are plenty of claims about the health benefits of Stella and Chewy's food, and the credentials are good: the guaranteed list of ingredients and percentages meet AAFCO guidelines, and the preparation method is recognized by both the FDA and the USDA, so you're less likely to get contaminants than any other brand.
If you're looking for ethically sourced raw cat food that actually has the nutritional value to benefit you kitty, this is easily one of the best out there. The wide range of flavors means you should be able to find something your cat enjoys too. The only downside is the price – this is not cheap food, although it compares well to some of the premium, specialized diet food from other manufacturers.
Purebites Freeze-Dried Raw Cat Treats
Best budget raw cat food
Specifications
Flavors:
Chicken, Duck, Tuna, Salmon, Shrimp, Minnow
Reasons to buy
+
Plenty of options
+
Widely loved
+
An easy way to introduce food into your cat's diet
WHAT CAT OWNERS SAY
A huge hit with their feline friends, cat owners say they need to hide the bag to stop their cats digging in to these treats when they're not looking! With 4.5 stars on Amazon, this product is well regarded, however, one thing people aren't so keen on is how many crumbs these bags often contain.
If you just want to use raw food as a treat, and a way to lightly supplement your cat's diet, then treats are a great option. Purebites makes some excellent treats, and they come in a wide range of flavors. If your cat likes seafood, then there are plenty of fish options, including shrimp and minnow (not something you see every day). As with most other raw food, these treats are free from grains, and good for cats with allergies, as they contain few ingredients that would inflame these kinds of issues.
At around $4 per bag, these cat treats are pretty expensive, but it's an affordable way to get raw meat and fish into your cat's diet, and prevent them from eating too much and getting sick. While Purebites says that these treats are hypoallergenic, implying that they are suitable for cats on restricted diets, we think it's best to check with your veterinarian before feeding them to kitty, if they are on a severely restricted diet.
Purebites get excellent user reviews across the whole range of treats, which means they are loved by cats across the country. The most popular flavor does seem to be chicken, but this is often the case for cat food. At $4 per bag, it's worth trying with your cat.
Instinct Raw Boost Mixers
Best multi-purpose raw cat food
Reasons to buy
+
Great for use as a treat or topper
+
No artificial ingredients
+
Minimally processed
Reasons to avoid
-
Some cats may find these treats too hard
WHAT CAT OWNERS SAY
Awarding this product 4.4 stars on Amazon, reviewers say that their cats find these treats addictive and describe them as being a great addition to their diet. While there are plenty of positive comments, people do say that the texture can be variable, with some packets being crumbly and others hard.
The alternative to a pure, raw diet is toppers. These are freeze-dried raw ingredients that can be mixed in with (or placed on top of) regular food, to supplement your cat's diet. So they're getting the benefits of raw meat and fish with the added vitamins and minerals that dry food brings. At the top of the list of toppers is Instinct's Raw Boost Mixers.
You can buy this in chicken and rabbit flavors, and there's also a special formula for both digestive health, and skin and coat maintenance. The meat used here is minimally processed, and is boosted with vegetables that are produced to non-GMO standards. While it doesn't quite have the same ethical standards as Stella and Chewy, Instinct is still at the top-end of responsible cat food.
If you want to go full raw diet, Instinct does do a bag of pure, raw, freeze-dried chicken pieces. It comes highly recommended by users, but we think Instinct's range is far better for the toppers, which are a better way to introduce raw food into your cat's diet, and retain the benefits of other food types. And, let's not forget, toppers can be used as treats too!
Orijen Grain Free Freeze-Dried Cat Food
Best premium raw cat food
Reasons to buy
+
High quality ingredients
+
Great for skin and coat health
+
Helps support digestion
WHAT CAT OWNERS SAY
With an impressive 4.6 stars on Amazon, people praise the freshness and high quality of this product stating that it seems to have boosted their cat's overall health and happiness. The one downside? The smell, which pet parents describe as being quite strong to the human nose!
If you're looking for a raw cat food that covers a variety of bases, then Orijen's grain free mix is a great choice. Orijen uses what it calls the 'whole prey' approach, which means it mixes in a variety of raw meats, and guarantees that the first five ingredients into every batch of its cat food are animals or fish, before adding fruits and vegetables for other nutritional benefits. Orijen claims that the recipe is 90% meat, 10% other.
This means that the flavor stays consistent, which is important for many cats, but it does limit choice – your kitty will either eat this, or it won't. Of course it isn't filled out with grain, or that would defeat the point of it being natural, raw cat food. What it does have, as an added bonus, is a coating of freeze-dried liver to retain the kibble shape, and appeal to your cat's sense of taste.
This is one of the highest rated cat foods across a number of pet food retailers, and has an impressive score of 4.6 stars on Chewy – making it seem pretty close to one of the best raw cat foods. It does seem that the range of meat and fish ingredients (which, amusingly, one reader review described as disgusting) appeal to a wide range of cats, as many people recommend it for picky eaters.
Vital Essentials Freeze-Dried Cat Treats
Best raw cat food for picky eaters
Specifications
Flavors:
Minnow, chicken hearts, chicken, chicken giblets, rabbit, Ahi tuna, duck liver, salmon
Reasons to buy
+
No fillers
+
Suitable for gluten-free and grain-free diets
+
Rich in vitamins
Reasons to avoid
-
Small packet for the price
WHAT CAT OWNERS SAY
Described as being wonderful for picky eaters, these treats are a huge hit with cats and reviewers seem happy with the high level of protein and quality ingredients they contain. However, people do mention that they feel the small bags are overpriced.
For anyone who wants to get as close to possible with their raw cat food, then Vital Essentials does an excellent range of treats which are – essentially – exactly what they say. The minnow treats are actual freeze-dried minnows. The chicken hearts are actual freeze-dried hearts. While the rabbit bites aren't recognizable… you get the general idea. If ever you were uncertain about the ingredients in your cat's raw food, these treats from Vital should set your mind at ease.
As these are pretty much all protein and natural ingredients, they're suitable for gluten-free and grain-free diets. While they won't give your cat all the nutrients it needs, they are a great accompaniment to some of the best dried cat food out there, which will happily give your kitty all it needs to stay healthy.
At over $5 per bag, these treats are very premium, but you're getting raw cat food in its purest form. We'd recommend them for already healthy cats, looking for a better class of treat, but can't say they're the ideal basis for a balanced diet.
Best raw cat food: FAQs
How to introduce the best raw cat food into your cat's diet
If you decide to switch your cat over to raw food, you absolutely shouldn't just make a straight swap, even if it is the best raw cat food. Cats' digestive systems are surprisingly delicate, and any change in their food should be introduced over the course of a couple of weeks, as you phase out the old cat food and introduce the new. We suggest starting with a very small amount of raw food – perhaps 10-15% of the cat's daily food intake – before slowly building up the quantity. If your cat is sick, or refuses to eat the raw food after a couple of days, it's a good idea to stop, or speak to your veterinarian about whether or not a raw diet is a good idea for your kitty.
We've seen numerous user reviews online claiming that their cats were sick after trying raw food. This could be because the regular food was substituted immediately, instead of being slowly removed and replaced with the raw. Equally, some cats simply don't like raw, or their stomachs' won't tolerate it, despite the natural ingredients present. As with anything cat related, it usually comes down to the specific cat, and what one mog loves…another simply won't enjoy at all, even if it's the best raw cat food you can find.
Is a raw diet good for cats?
"Raw diets for cats are not generally recommended by most vets," says Dr. Woodnutt. "This is because there's no scientific evidence of benefits, and there's lots of evidence of risk both to your cat, and to people that come into contact with them."
According to Dr. Woodnutt, there are two main reasons that most vets tend to steer clear of raw food diets:
1. "Raw cat food can carry bacteria like Salmonella and E.coli that can cause illness in your cat. However, they can also shed these bacteria – while appearing well – in their feces, and spread it to their fur in their saliva. This means that anybody in contact with these cats could also become ill, especially if they have a weakened immune system (such as children or elderly people)."
2. "Raw diets may not be complete. One study compared two litters of kittens – one being fed raw rabbit and the other a normal cooked cat diet – and it had to end early due to the litter being fed the rabbit developing fatal heart problems. Raw diets are often created by small, 'boutique' pet food companies that may not have the experience or regulatory oversight to create a healthy balanced diet."
While people tend to rave about raw food diets for their cats, Dr. Woodnutt advises caution.
"Weighing against this huge evidence of risk is the fact that there have been no demonstrated benefits to feeding a raw food over a cooked one. People claim lots of benefits to raw diets that simply aren't proven in the literature. Many of these benefits are likely just down to the high-protein diet, or the change in protein type."
Safety tips for feeding your cat a raw food diet
When it comes to feeding your feline friend raw food, Dr. Woodnutt says there are some steps you can take to minimize the risks, both to their health and to yours.
"If pet parents decide they really want to feed a raw diet to their pets they should ensure the following:
All cat food bowls, preparation areas, fridge space, and litter trays should be treated as if they have been holding raw chicken. That means careful sanitising and handwashing procedures.
Your cat's fur could be carrying bacteria that could cause food borne illness - The cat should not be allowed into contact with people with compromised immune systems, including children and elderly people. You should wash your hands carefully after touching your cat and before eating.
All raw food should be shipped and stored as recommended by the manufacturer – that means making sure it arrives properly frozen, and defrosting it overnight in the fridge, not in a warm place.
It's best to buy raw food from a large company that claims to be AAFCO or FEDIAF 'complete and balanced' and has excellent procedures for checking each batch of food for food hygiene problems. Don't just buy a 'butcher's mix' from the local pet shop as it won't be balanced and could cause serious harm."
Get the best advice, tips and top tech for your beloved Pets
Andy is an online Editor-in-Chief, a photographer, and a cat owner of 25 years. He has owned many types of cat, rescuing some and adopting others from kittens. He currently lives with Pickle, a tortie, who loves to play with Christmas wrapping bows and eat flowers.