Soup for cats is the perfect warming treat to feed your feline friend this winter
Nourish your furkid from the inside out with soup for cats. These wholesome and hearty recipes are sure to have them licking their lips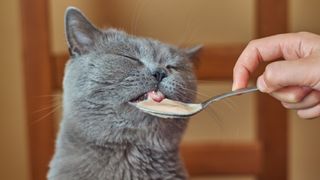 (Image credit: Getty Images)
Who knew you could make soup for cats? While it may sound strange, soup can be a delicious and nutritious way to add more variety to your moggy's mealtimes. Alongside the best cat food, soup is also a great option for feline furkids who struggle to get enough fluid into them throughout the day.
Soup for cats is a relatively new phenomenon, but when you think about it, it makes sense. Cats have refined tastes and picky palettes, which can lead them to get bored quickly if they're eating the same meal day in and day out. Varying what you put in the cat food bowl works wonders for piquing their interest, and helps make mealtimes more enjoyable.
We don't recommend giving soup to kittens, but for adult and senior cats, a low-sodium broth or soup can be a beneficial addition to their diet. Older cats with dental issues may find it particularly appealing, as it's easy to ingest, and doesn't put any pressure on their teeth or gums. Soup is also great for keeping the kidneys and urinary tract healthy.
Brands like Purina are now making soup for cats, so you can easily pick up a pouch, but if you'd prefer to make your own, here are a few of our favorite healthy recipes.
Note: Please do not use any onion or garlic in any soup that you make for cats, as this can be harmful to them. You'll also want to avoid salt and pepper. For more info, read Five human foods that are poisonous to cats
1. Homemade chicken soup
Prep time: 5 minutes
Cook time: 90 minutes
Materials
Ingredients
Water
2 chicken legs with skin and bone
1 carrot
1 stalk of celery
Instructions
Finely chop carrot and celery.
Fill a pot with water, and add vegetables and chicken legs.
Bring to the boil, and let simmer for 90 minutes.
Fill mason jars or freeze in ice cube trays for easy one portion serves.
Refrigerate for up to seven days or freeze for six months.
Tip: Serve a single small portion (¼ cup) on its own or mix with canned or raw food
2. Beef and vegetable broth
Prep time: 5 minutes
Cook time: 24 hours
Ingredients
Beef bones
Water
2 teaspoons of apple cider vinegar or lemon juice per gallon of water
A mix of cat-friendly vegetables, such as carrots, beans, and peas
Instructions
Place the beef bones in a pot and cover with water.
Add two teaspoons of apple cider vinegar or lemon juice per gallon of water. This will help the bones to break down and release their minerals.
Stir in your choice of chopped vegetables.
Simmer on a low heat until all the meat residue has fallen off the bones.
Remove meat and vegetables.
Let the bones simmer for another 20 hours.
When cooking time is up, skim off the fat, and remove and discard all bones. Let the broth cool completely before freezing.
Tip: In the warmer months you can serve broth popsicles straight out of ice cube trays for a refreshing treat. Alternatively, why not try spooning the broth over the best dry cat food to add some moisture?
3. Catnip soup
Prep time: 5 minutes
Cook time: 5 minutes
Ingredients
1 cup of prepared chicken soup from recipe 1
3 tablespoons of dried or fresh catnip
Instructions
Heat the chicken soup on the stove until it's gently simmering.
Add the catnip, and let it infuse until it has given the soup a greenish tinge.
Cool to drinking temperature, and serve ¼ cup of the soup in a shallow bowl, or pour over wet or dry cat food.
Store the remainder of the soup in the refrigerator
What are the benefits of cat soup?
Cat soup that has been made from animal bones offers a ton of healthy and wholesome benefits to your kitty. Here are just a few:
1. Detoxifies the liver
Beef and chicken broths are rich in an amino acid called glycine, which helps remove toxins stored in the liver.
2. Promotes healthy joints
Bone broth has high amounts of collagen, a type of protein that helps protect your cats bones, joints, and cartilage. It's also rich in glucosamine and chondroitin, two compounds often found in supplements taken by humans with arthritis. Older cats with arthritis, or any cat with weak bones, will benefit from consuming cat soup.
3. Aids digestion
Collagen can also help strengthen the lining of your cats intestinal lining and digestive tract, preventing the bacteria from undigested food from seeping into the blood stream.
4. Improves the immune system
Bone broths contain marrow, which helps transport oxygen to your cats cells, increasing their resistance to illness.
5. Boosts nutrition
Full of nutrients, and tasty too, cat soup is also easily digestible, making it ideal for cats with sensitivities, or those who are unwell.
Kathryn is a freelance writer who has spent the past two years dividing her writing time between her two great loves - pets and health and wellness. When she's not busy crafting the perfect sentence for her features, buying guides and news pieces, she can be found hanging out with one very mischievous Cocker Spaniel, drinking copious amounts of Jasmine tea and attempting to set numerous world records for the longest ever FaceTime calls with her family back home in NZ.