Best cat food 2023 for keeping your kitty healthy
The best cat food comes packed with all the flavor and nutrients your kitty needs to stay healthy and happy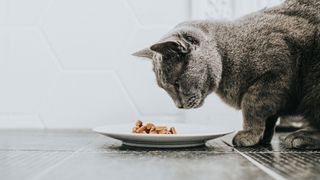 (Image credit: Getty)
Selecting the best cat food for your feline friend is one of the most important decisions you'll make as a pet parent when it comes to ensuring they stay fit and well. Thankfully, regardless of whether you opt for the best wet cat food or the best dry cat food, your cat will get all the nutrients and vitamins they need to thrive.
It's important to note that wet and dry cat food each have their own pros and cons, so it's worth considering these before deciding on which formula is worthy of a spot in your cat's food bowl. While wet food can be messy, it's easier to chew and comes packed full of fluid, making it ideal for cats that don't drink as much as they should. On the other hand, if your cat won't eat wet food, dry food is great for dental health and doesn't spoil as quickly.
When it comes to selecting a cat food for your feline friend, Dr Sarah Merrett, a Central Veterinary Officer for Cats Protection says it's always best to feed your kitty a reputable cat food which has everything they need to stay healthy. She also recommends opting for a product that has been labelled 'complete' as opposed to 'complimentary.
"We would advise feeding a complete food as these provide all the necessary nutrients, in the right balance, so that no other food needs to be added. Complementary foods are the types of food items given in addition to a complete diet, treats and food toppers are examples."
Below, you'll find our roundup of the best cat food currently lining the shelves, including budget buys and more premium picks. Dr. Merrett also weighs in further on how to choose the best formula for your fur friend and what ingredients are the healthiest. Let's take a look...
Sarah Merrett graduated from the Royal Veterinary College in 2005 and has experience in both charity and private practice, most recently working only with cats in a feline-specific clinic. She is an RCVS Advanced Practitioner in Feline Medicine.
The best cat food you can buy right now
Why you can trust PetsRadar Our expert reviewers spend hours testing and comparing products and services so you can choose the best for you. Find out more about how we test.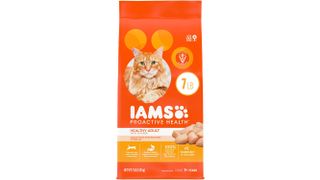 Best overall cat food
Specifications
Servings per box (based on a large cat):
44+
Reasons to buy
+
Good source of omega-3 fatty acids
+
Natural animal protein
+
100% complete and balanced nutrition
Reasons to avoid
-
Contains several forms of corn, which is an allergen for some cats
WHAT CAT OWNERS SAY
With an outstanding 4.8 stars on Amazon, pet parents are raving about this product, describing it as fresh, healthy and of great quality. While a few reviewers note that their cat's wouldn't touch this kibble, that appears to be down to personal taste preferences and not a reflection of the product itself.
With excellent reviews everywhere from Amazon to Chewy, Iams' reputation as a brand that delivers on quality and can be trusted makes it an obvious choice in a marketplace with plenty of competition.
Containing chicken as the number one ingredient, and not being accompanied by any nasty fillers or additives, Iams is a triumph with pet parents and cats alike. The complete and balanced formulas will meet all of your cat's nutrition needs, containing doses of omega-3 to keep their coat shiny, and prebiotics and beet pulp in order to help along the digestion process.
Crunchy kibble is something that cats can't get enough of, which is handy in this case, as it has been specially formulated with the correct blend of vitamins and minerals to ensure that good dental health is maintained.
This also means that you're bound to find something that meets your cat's specific needs among their product range, with everything from hairball control and urinary tract health to healthy digestion and weight management options being targeted.
The Proactive range is probably our pick, especially in the US. Its products are backed by veterinarians, meaning that you can rest assured that your cat's food will be of the highest quality.
However, while we have a lot of positive things to say about Iams, its products certainly aren't immune to criticism. For example, some of the formulas are higher in carbohydrates than what we would ideally like to see, which isn't great for cats with more sedentary lifestyles. Moreover, the presence of several forms of corn may be an issue for cats with allergies or sensitive digestive systems.
Regardless, with so many cats giving it their mew of approval, it's definitely our recommended first choice for cats.

For more information, read our Iams Proactive Health Adult Dry Food review.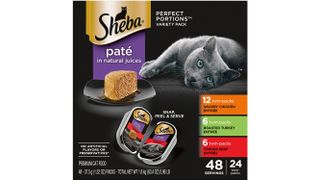 Sheba Perfect Portions Paté Wet Cat Food Tray Variety Packs
Best budget cat food
Specifications
Servings per box (based on a large cat):
24
Reasons to buy
+
Contains a number of flavor options
+
Reasonably high level of protein
+
No grains or corn
Reasons to avoid
-
Packs can be difficult and messy to open
WHAT CAT OWNERS SAY
Describing the price of this wet food as 'unbeatable', people rave about the convenient portion sizes that reduce waste and how quickly their cat's gobble these dishes down. With a rating of 4.7 on Amazon, the one frequently cited drawback is the packets that the food comes in, with many describing them as difficult to open.
Sheba has long been a trusted brand for the best cat food, and so it continues to be the case with its Perfect Portions variety pack.
This product comes with a number of different flavors: savory chicken, roasted turkey, and tender beef. The trays are easy to open, and designed to be eaten out of, saving you from having to use bowls or plates.
The ingredients come with the finest quality protein, and the fish is sustainably sourced, giving your conscience some peace of mind.
While no grains or corn are used as ingredients, this doesn't rule out the possibility of some trace products making it through during the manufacturing process. Even so, it's good to know.
One quibble is that the price appears to have gone up a fair amount during the last few months, and since the portion sizes aren't the biggest, they could set you back a bit. Even so, there's a lot to like about these variety packs.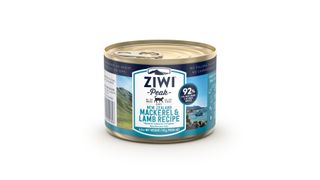 Ziwi Peak Wet Mackerel and Lamb
Best premium cat food
Specifications
Servings per box (based on a large cat):
12
Main ingredient:
Mackerel
Reasons to buy
+
Limited ingredients – no additives, fillers or carrageenan
+
Free range and sustainable farming practices
+
92% raw meat, organs and bone
Reasons to avoid
-
Expensive if used as staple diet
WHAT CAT OWNERS SAY
Raving about the premium quality of this wet food, reviewers love the clean ingredient list and how great it is for cats with allergies. What they don't love so much? The cost. With many saying the big price tag makes this nutritious dish too expensive to feed their cat on a regular basis.
If you're wanting to treat your cat to a Michelin-starred dining experience then look no further than Ziwi Peak, a New Zealand-based company that's quickly making a name for itself as one of the top cat food manufactures in the world.
It's not hard to see why: made with 92% fresh meat, organs, bone, and seafood, all of its ingredients are human-grade, free-range, sustainably-caught and sourced within New Zealand using ethical farming and fishing practices.
If your little feline fur baby is prone to shooting you wistful and longing glances each time you sit down to try and enjoy your dinner, then you'll be relieved to know that you can say goodbye to all that guilt-tripping. Your cat will love this meaty and moisture-rich meal that will leave them feeling less like a cat and more like a human.
This formula offers great peace of mind for you as a cat parent, as no animal by-products, additives or fillers make it into the Ziwi Peak range. It is also free of controversial ingredients such as carrageenan and guar gum, which have the potential to impair nutrient absorption.
While there is a lot to love about this premium product, price may be a factor here. It's an expensive option if you have multiple cats or are wanting it to form the main part of your cat's diet. It also contains a small percentage of green-lipped mussels, which not all cats enjoy – this is reflected in the less-favorable consumer reviews, so we would recommend trialling this before committing to buying in bulk.
However, if your cat isn't averse to the taste, the addition of green-lipped mussels provides glucosamine and chondroitin, vital for healthy joints. The range also features chelated minerals for maximum nutrient absorption.
All in all, this high-quality, nutrient-dense range is cat food at its best.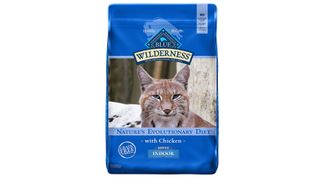 Blue Wilderness High Protein Grain Free Natural Adult Indoor Dry Cat Food
Best grain-free formula
Specifications
Servings per box (based on a large cat):
10+
Reasons to buy
+
High-quality proteins
+
Rich in antioxidants, vitamins, and minerals
+
Great for weight-management
WHAT CAT OWNERS SAY
Awarding this product a solid 4.7 stars on Amazon, pet parents say that their cat's 'inhale this food' and describe it as being a winning choice for usually picky eaters. While the quality is excellent, people once again do cite the expensive cost as being a big drawback.
If you're looking for a tasty and nourishing recipe with everything your cat needs and none of what they don't, then this high-quality formula from Blue Wilderness is well worth considering.
Granted, it's a little more expensive than many other products on the market, but you get what you pay for with only the best real meats, healthy complex carbs and plenty of fruits and vegetables to provide a powerful hit of antioxidants, vitamins and minerals.
Designed for indoor cats, this grain-free kibble helps protect against the weight gain that can often plague sedentary cats and being gentle on the digestive system, it's ideal for kitties with stomach issues or allergies.
Featuring Blue's exclusive LifeSource Bits, designed by veterinarians, this is a balanced recipe with a precise blend of all the nutrients your kitty needs to aid muscle development, keep their skin and coat healthy, and their immune system firing on all cylinders.
With a minimum of 38% protein, 16% fat, and 6% fiber, this kibble will keep your cat feeling full and is available in 2lb, 5lb, and 11lb bags.
For more information, read our Blue Wilderness High Protein Dry Cat Food review.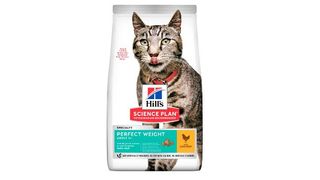 Hill's Science Plan Perfect Weight Adult Cat Food
Best cat food for weight management
Reasons to buy
+
Only natural ingredients
+
No corn wheat or soy
+
No artificial flavors or preservatives
Reasons to avoid
-
More expensive than their other formulas
WHAT CAT OWNERS SAY
Always a popular choice, reviewers have given this product a very respectable 4.7 stars on Amazon with many saying their cat's are healthier and happier than ever since starting on this kibble. A few cat owners do note that this formula caused digestive disturbances in their feline friends, so we recommend transitioning slowly to give their body time to adjust.
It's not only humans who suffer from middle-aged spread, so if you've been noticing there's more of your cat to love than usual then feeding them food that helps control their weight may be a sensible option. And a much healthier one for your kitty.
This calorie-controlled food from Blue Buffalo is based on their normal cat food with a more carefully balanced formula to help your cat achieve and maintain a healthy weight. Made from all natural ingredients including deboned chicken, whole grains and vegetables, it provides a mix of protein and calories that's designed to get your cat tipping the scales in a more favorable direction while keeping them full.
With 30% protein, only 10% fat and no artificial colours or preservatives, this kibble is designed to give your cat everything it needs to thrive and survive. This is helped by the addition of Blue Buffalo's LifeSource Bits – a blend of apples, blackberries, blueberries, cranberries, pomegranate, pumpkin and spinach designed by holistic veterinarians and animal nutritionists. They contain omega-3 and omega-6 fatty acids as well as the antioxidants and vitamins needed to support your furry friend's immune system and promote a shiny, healthy skin and coat.
This all-natural cat kibble made without poultry by-product meals is more expensive than their other formulas, so it may make your wallet thinner too, but compared to potential vet bills caused by the potential complications caused by cat obesity it may be a sensible investment in the long run. Not to mention how much better your fur baby will feel not having to carry around those excess pounds.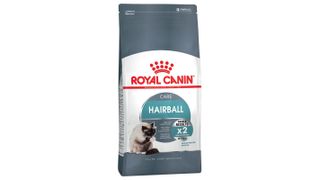 Best cat food for hairballs
Specifications
Servings per box (based on a large cat):
12+
Reasons to buy
+
Veterinarian approved
+
Special blend of dietary fibers helps prevent vomiting and hairballs
+
High protein and fat content
WHAT CAT OWNERS SAY
Describing this product as a 'godsend' for long-haired cats, this popular formula averages 4.8 stars on Amazon with many people saying their feline friends are close to hairball-free since starting on this kibble. Quality doesn't come cheap though, with some reviewers wincing at the cost.
If you've ever heard your cat making that dreaded retching noise in another room then you're familiar with the mad dash to find them and get them outside before they bring up a hairball all over your carpet!
While you might think that owning a cat means you're destined to spend time up to your elbows in warm water scrubbing hairball residue off your floors, you'll be delighted to know that Royal Canin has come to the rescue with a formula that helps move hairballs through the stomach and into the gastrointestinal tract, where they can't be regurgitated.
What makes this product so special is its blend of insoluble and dietary fibers. The former acts as your cat's very own internal brush, sweeping the hairballs through the body and into the bowel, while the latter makes sure all the nutrients are fully absorbed, keeping your furry friend's skin and hair healthy.
The combination of fatty acids and fibers means that this blend has anti-inflammatory properties, making it a great choice if your cat suffers from digestive issues. It also includes nutrients to prevent tartar buildup on teeth, which contributes to dental health.
We love this product for its effectiveness in preventing hairballs and because it comes from Royal Canin, a brand with a reputation for delivering high-quality products that keep cats healthy. However, it does contain wheat and corn, so if you don't want those in your cat's diet then you'll want to give this product a miss. It's also more expensive than some of the other hairball-prevention cat foods on the market, so this is also worth considering if price is a factor.
However, if those things don't bother you then this is a great choice that allows your cat to groom themselves to their heart's content without you having to worry about cleaning up after them.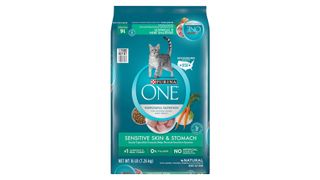 Purina ONE Sensitive Skin & Stomach Dry Cat Food
Best for sensitive stomachs
Specifications
Servings per box (based on a large cat):
32+
Reasons to buy
+
Easily digestible food
+
Contains real turkey
+
Helps sensitive skin
Reasons to avoid
-
A bit more expensive than some
WHAT CAT OWNERS SAY
With 4.8 stars on Amazon, people praise how great this kibble is on reducing digestive distress and eliminating uncomfortable symptoms such as diarrhea and vomiting. However, several reviewers note that the kibble has quite a strong odour which some cats don't like.
The Purina One range is designed to add complete nutrition to a cat's daily diet and the manufacturer promises to only use natural, high quality ingredients, all of which are included purely for their dietary purpose.
It means you're not getting fillers here and, because there are different formulas to suit the specific needs of different cats, you can be sure that you're supporting your feline's health concerns: this one, for example, being tailored for cats which have sensitive stomachs and skin.
The main ingredient of this dry food is real turkey and it's supplemented by chicken by-product meal, thereby ensuring a plentiful supply of protein. Indeed, your cat will get 36 grams of protein per cup here, which is more than enough to support a healthy heart and provide the building block of his or her nutrition.
The food also includes wholesome grains for energy as well as real carrots and peas. Vitamin D is provided naturally by beef fat. It's little wonder that a lot of vets will recommend Purina One because it's premium food, for sure. Not only will it give your cat a totally balanced diet, it should help them to stop vomiting and scratching. Many owners who have tried it, says it certainly does the trick.
How? Well, it's been created to be easily digestible so it shouldn't upset your feline's stomach (although a very small number of owners claim their cat had diarrhoea after eating it). Vitamins E and A will support your cat's immune system and the omega-5 fatty acids, vitamins and minerals support healthy skin and coat. The crunchy kibble works wonders on your cat's teeth too.
The main downside is that it's a little more expensive than some other dry food but you generally get what you pay for.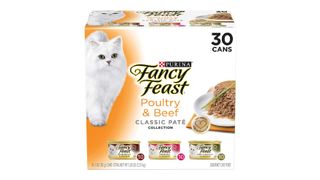 Purina Fancy Feast Classic Paté Collection
Best paté-style cat food
Specifications
Servings per box (based on a large cat):
30
Main ingredient:
Beef, chicken or turkey
Reasons to buy
+
Pleasing texture
+
Grain-free
+
Inexpensive
Reasons to avoid
-
Set flavors may not all be enjoyed by your cat
WHAT CAT OWNERS SAY
With the perfect portion sizes and packed full of flavor that their cat's love, even picky eaters seem to love these dishes which has seen pet parents give them 4.7 stars on Amazon. However, some reviewers note that the price seems to have shot up in recent months which has made these tins a little less affordable than they once were.
Patés can be a moreish choice for felines. Typically moisture packed and with a smooth tempting texture, Purina Fancy Feast offers a great selection. If you're looking to stock up on your cat's food in advance, you can't go wrong with picking up the classic collection, a compilation of 30 cans in total featuring meaty flavors so your feline friends will never get bored.
The pack features turkey, beef and chicken (10 each) as its primary protein sources and there's a generous helping of vitamins and minerals to help her along the way too. Tucked behind Purina Fancy Feast's luxe packaging is Vitamins B-1, B-7, B-9, B-5, B-6, D-3, and Vitamin E. It's low carb and grain-free too.
If you have a particularly fussy feline, the soft texture and enticing flavors may tempt them to eat and the price tag shouldn't be too hard to swallow. Main drawback here though is that some cats may not enjoy all three flavors which may leave a few cans in the box left behind so you may wish to try out singular cans first with your feline.
The best cat food: FAQs
How to choose the best cat food
According to The Journal of Experimental Biology, healthy cats regulate the amount of protein, carbohydrate, and fat they eat and, given the choice, they would choose a diet similar to their natural prey.
Many meals will contain more than 30% protein from an animal source, whether fish or meat, and that is in line with recommendations from the Association of American Feed Control Officials. Cats also need a low-carb diet, with studies – such as one published in the journal Veterinary Sciences – showing domestic cats will naturally select food that is low in carbohydrates.
"It is important to choose a food suitable for the cat's life stage, whether that's a kitten, adult, or senior cat," Dr Merrett adds. "There are also prescription diets available, which can help with certain illnesses or health conditions, these should only be used under veterinary direction.
You can, of course, give a cat both wet and dry food but, if you're solely feeling kibble, ensure you provide plenty of water – preferably dispensed by the best water fountains. Take age into account too – opt for the best kitten food, for example if your feline friend is still young – and be aware of known allergies, sensitivities, and medical conditions such as inappropriate urination or soft stools. One thing's for sure, never be afraid to seek veterinary advice.
Does the quality of cat food matter?
Yes, the quality of cat food does matter. Just as you wouldn't eat junk food every day (at least we hope you wouldn't), it's important to give your cat quality ingredients. In doing so, you will ensure they are getting the nutrients and vitamins needed for energy and growth. You can also prevent cats from becoming seriously ill.
"Cats have specific nutritional requirements, including a higher need for dietary protein than many other animals," says Dr Merrett. "Within the wide range of complete diets available to buy, there will be differences in texture, consistency, and also in nutritional content.
"Complete foods should meet a minimum requirement of protein, but diets will vary in their protein content, there will also be other ingredients added which will be of various qualities. It is worth discussing the individual needs of your cat further with your vet, in order to choose the optimum diet for them."
What ingredients are the healthiest for cats?
According to a survey by premium pet food brand Lily's Kitchen, 64% of cat owners do not know what they're looking for in the ingredients for the best cat food. In general, though, a meal high in meat – whether wet or dry – is crucial and it's a good idea to avoid meals that are packed with fillers such as bone meal, flavorings, and grains.
"Cats are obligate carnivores, which means they need meat to stay healthy and thrive," says Dr Merrett. "Their digestive system hasn't adapted to eating a plant-based diet and there are certain nutrients, such as the amino acid taurine, that they can only get from meat. For this reason, we would not recommend feeding your cat a vegan or vegetarian diet."