The best cat food: From the best budget buys to the finest in feline dining
Get your kitty meowing for more with this selection of the best cat food to suit every preference, taste and budget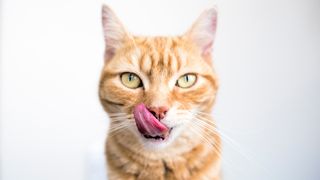 (Image credit: Getty Images)
The best cat food needs to be highly nutritious, to keep your cat healthy, yet tasty enough to stop them seeking out dinners elsewhere. Also it pays to bear in mind that our feline pals can be fussy when it comes to food, and with so many different brands of cat food out there, finding one that suits your budget and your cat is no easy task. It's also important to factor in your cat's age and dietary requirements when making the choice.
Similar to the best dog food, cat food comes in both wet and dry formulas. The best dry cat foods have a crunchy texture to chew on which does a great job of keeping your kitty's teeth clean by sweeping away plaque and tartar. Dry food is convenient as it can be left out for long periods of time for your feline friend to return to without it going bad.  
On the other hand, the best wet cat food has a softer texture, that usually comes in the form of pâté or thin cuts of meat in gravy. These formulas are ideal for older cats who may have trouble chewing hard kibble or for cats with dental issues.  Wet cat food is generally rich in moisture which offers extra fluid for cats who don't drink enough water.
Whether you choose wet or dry options, check out our top picks of the best cat food from some of the most reputable brands around.  So you can guarantee a nutritious and delicious meal that will keep your felines coming back for more! 
PetRadar's pick of the best cat food
Available online: Yes | Item form: Dry | Amazon Star Rating: 4.8
Good source of omega-3 fatty acids
High-quality, natural animal protein 
100% complete and balanced nutrition
Contains several forms of corn, which is an allergen for some cats
With stellar reviews everywhere from Amazon to Chewy, Iams' reputation as a trusted brand that always delivers on quality makes it a standout choice in a crowded marketplace.
Made from real animal protein as the number one ingredient, and with no nasty fillers or additives, Iams is a winner with both pet parents and cats alike. The complete and balanced formulas meet all of your cat's nutrition needs, with healthy doses of omega-3 to keep their coat shiny, and prebiotics and beet pulp to aid with digestion.
Cats love the crunchy kibble, which is great news as it's been specially formulated with the right blend of vitamins and minerals to ensure good dental health. The extensive range also means you're bound to find something that meets your cat's specific needs, with everything from hairball control and urinary tract health to healthy digestion and weight management options.
The Proactive range is best if you're in the US, but in the UK we prefer the Vitality range. Both are nutritious and complete products that are veterinarian backed, meaning you have expert assurance that what you're putting in your cat's body is of the highest-quality.
While Iams is the clear front-runner when it comes to providing reputable nutrition that recognizes there's no one-size-fits-all approach to cat food, its products aren't completely flawless.
Some of the formulas are higher in carbohydrates than we'd like to see, which isn't great if you have a cat whose idea of exercise is an 18-hour siesta marathon, and the inclusion of several forms of corn may be an issue for cats with allergies or sensitive digestive systems.
While Iams hasn't quite earned its halo in cat nutrition just yet, with so many cats giving it the paws up it's definitely our recommended place to start.

For more information, read our Iams Proactive Health Adult Dry Food review.
Applaws Multipack Fish Selection in Broth
Available online: Yes | Item form: Wet | Amazon star rating: 4.5 | 100% natural: Yes
Only includes human-grade ingredients
High percentage of protein
Free of meat by-products, additives and preservatives
May not be suitable for sedentary cats due to the higher carbohydrate content
If you're looking for a nutritionally sound product that's both kind to your feline fur baby and your bank balance, then Applaws is well worth a try.
Unlike some of the other more affordable products on the market, Applaws doesn't compromise on quality by adding in animal by-products, additives and preservatives to bring down the price. The company understands how important your cat's health and wellbeing is and so only 100% natural, human-grade ingredients are used. 
Opening up a tin from the Applaws fish selection range is a bit like taking a trip to the seaside – you'll be greeted with that ocean-fresh fish smell that cats go crazy for. The only other ingredients to make the cut are broth and rice, which means you can rest assured that your cat isn't ingesting any questionable or potentially harmful ingredients.
We love Applaws for fussy cats who can smell the fake stuff a mile away, and the limited ingredients and often single-protein formulas are great for cats with digestive issues or food intolerances.
If you have a sedentary cat, though, bear in mind that the addition of rice pushes up the carbohydrate content, so if your cat isn't very active or is overweight, then you may want to avoid or limit this product. It also doesn't include any vitamins or minerals, so we wouldn't advise having it as your cat's sole diet, unless you also provide your cat with supplements. 
Overall we love this high-quality, affordable range, and we're pretty sure your cat will too.
Ziwi Peak Wet Mackerel and Lamb
Available online: Yes | Item form: Wet | Amazon star rating: 4.2
Limited ingredients – no additives, fillers or carrageenan 
Free range and sustainable farming practices
92% raw meat, organs and bone
Expensive if used as staple diet
If you're wanting to treat your cat to a Michelin-starred dining experience then look no further than Ziwi Peak, a New Zealand-based company that's quickly making a name for itself as one of the top cat food manufactures in the world.
It's not hard to see why: made with 92% fresh meat, organs, bone, and seafood, all of its ingredients are human-grade, free-range, sustainably-caught and sourced within New Zealand using ethical farming and fishing practices.
If your little feline fur baby is prone to shooting you wistful and longing glances each time you sit down to try and enjoy your dinner, then you'll be relieved to know that you can say goodbye to all that guilt-tripping. Your cat will love this meaty and moisture-rich meal that will leave them feeling less like a cat and more like a human.
This formula offers great peace of mind for you as a cat parent, as no animal by-products, additives or fillers make it into the Ziwi Peak range. It is also free of controversial ingredients such as carrageenan and guar gum, which have the potential to impair nutrient absorption.
While there is a lot to love about this premium product, price may be a factor here. It's an expensive option if you have multiple cats or are wanting it to form the main part of your cat's diet. It also contains a small percentage of green-lipped mussels, which not all cats enjoy – this is reflected in the less-favorable consumer reviews, so we would recommend trialling this before committing to buying in bulk.
However, if your cat isn't averse to the taste, the addition of green-lipped mussels provides glucosamine and chondroitin, vital for healthy joints. The range also features chelated minerals for maximum nutrient absorption.
All in all, this high-quality, nutrient-dense range is cat food at its best.
Wellness CORE Dry Cat Food Grain-Free, Ocean Salmon & Tuna
Available online: Yes | Item form: Dry | Amazon star rating: 4.8
Naturally hypo-allergenic
Pre and probiotics, vitamin A and B combined with essential minerals
All natural ingredients
Bad odour
Cats may be prone to weight gain
If you're after a premium, grain-free cat food, this dry kibble offers all the nutrition for a balanced diet. With all-natural ingredients, it is wheat free, gluten free and egg free with no artificial flavours, colors or preservatives. 
The formula's number one ingredient is fresh fish, which provides a high protein level of 38-44%, and coupled with Omega 3 fatty acids, will guarantee your feline pal maintains a shiny coat and healthy skin. This naturally-balanced meal is ideal for cats with allergies or a sensitive tummy. Cats and their owners alike seem to love this nutritious and tasty kibble, and it isn't any wonder that it's so popular. The only downside seems to be the slight odour the kibble has, but this doesn't seem a major issue. 
Bear in mind, due to the high protein content, your cat may be prone to gaining weight. So it's advisable for portions to be monitored, especially for felines with weight-management issues. For such a premium, grain-free formula, it is reasonably priced, so you're getting more value for money in the long-term. 
Best for weight management
Available online: Yes | Item form: Dry | Amazon star rating: 4.7 | Backed by scientific research: Yes
Proven effective
Only natural ingredients
100% satisfaction guarantee
Veterinarian approved
The large kibble makes it unsuitable for cats with dental problems
If you've been noticing that there's a little bit more of your feline companion to love these days then this formula from the crew at Hill's Science Plan might be just what your cat needs to tip the scales back in a more favorable direction.
You'll be relieved to know that the dreaded middle-age spread doesn't just affect us humans – cats are also prone to packing on a few extra pounds as they get older and less active. However, it doesn't need to be a cause for concern with this product, which is focused on helping cats shed weight in a fast and effective way.
In a 10-week study, over 70% of cats lost weight when fed this food as instructed. With only high-quality, natural ingredients making the list, such as real chicken, lamb or salmon, your cat will have no clue that their tasty meal is actually a weight-loss weapon in disguise!
At just 300 calories a cup, this high-protein kibble helps your cat become lean while still retaining muscle. 
And the benefits don't just stop with your cat. With a 100% satisfaction guarantee, you can try this bag risk-free, meaning you have everything to gain, while your cat, with any luck, has everything to lose.
Keep in mind that the large kibble isn't ideal for cats with dental problems, and the formula does contain gluten, which may not be suitable for cats with particular dietary requirements. If neither of these two things are an issue for your feline, then this is a fantastic product that can help your cat lose weight and improve their quality of life.
Available online: Yes | Item form: Dry | Amazon star rating: 4.7
Veterinarian approved
Special blend of dietary fibers helps prevent vomiting and hairballs
High protein and fat content
Reduces plaque buildup 
Contains wheat and corn
If you've ever heard your cat making that dreaded retching noise in another room then you're familiar with the mad dash to find them and get them outside before they bring up a hairball all over your carpet! 
While you might think that owning a cat means you're destined to spend time up to your elbows in warm water scrubbing hairball residue off your floors, you'll be delighted to know that Royal Canin has come to the rescue with a formula that helps move hairballs through the stomach and into the gastrointestinal tract, where they can't be regurgitated.
What makes this product so special is its blend of insoluble and dietary fibers. The former acts as your cat's very own internal brush, sweeping the hairballs through the body and into the bowel, while the latter makes sure all the nutrients are fully absorbed, keeping your furry friend's skin and hair healthy. 
The combination of fatty acids and fibers means that this blend has anti-inflammatory properties, making it a great choice if your cat suffers from digestive issues. It also includes nutrients to prevent tartar buildup on teeth, which contributes to dental health.
We love this product for its effectiveness in preventing hairballs and because it comes from Royal Canin, a brand with a reputation for delivering high-quality products that keep cats healthy. However, it does contain wheat and corn, so if you don't want those in your cat's diet then you'll want to give this product a miss. It's also more expensive than some of the other hairball-prevention cat foods on the market, so this is also worth considering if price is a factor.
However, if those things don't bother you then this is a great choice that allows your cat to groom themselves to their heart's content without you having to worry about cleaning up after them.
How to choose the best cat food
As a cat parent your precious fur baby is likely a much loved member of your family, so it goes without saying that you want to keep them happy and healthy for as long as possible. 
Feeding them a high-quality, nutritious diet is one of the best ways you can do that, but with so much choice available trying to decide on the best option can be confusing and more than a little headache-inducing!
The good news is that it doesn't have to be. Just like humans, every cat is unique and so focusing on your cat's individual needs is the best way to ensure that you're fueling their body with exactly what they need to thrive.
All cats need high-quality proteins for lean-muscle growth, omega-3 and 6 fats to keep their skin and coat healthy, fiber to support digestive health, a range of vitamins and minerals, and plenty of water. However, your cat's age, activity level, metabolism, and health issues are key areas to consider. 
Older and more sedentary cats will have different dietary needs to younger and more active cats. Likewise, those with specific health issues, such as allergies and food sensitivities, digestive or urinary tract issues, or weight problems, will require a different diet to otherwise healthy cats. 
Ingredients and budget are two other factors that are worth considering. Think about what you feel comfortable including in your cat's diet. Potential allergens such as corn, soy, wheat, and gluten can be problematic for some cats, as can artificial colours, flavors and preservatives. 
Price may also be a factor, and while it's true that the more expensive brands on the market tend to be higher quality, our budget option featured in this guide is there to show you that there are choices available that are kind to your wallet while not compromising your cat's health. 
Remember that one size doesn't fit all, and your cat's dietary needs will be determined by their activity levels, weight, and overall health. Always check with your veterinarian to ensure you're feeding the four-legged members of your family the most appropriate diet for their specific requirements.
You can find out more about specific types of in our round up of the best wet cat food and the best dry cat food.
Get the best advice, tips and top tech for your beloved Pets
Thank you for signing up to Petsradar. You will receive a verification email shortly.
There was a problem. Please refresh the page and try again.