Is wet food bad for cats? A vet's view
If you've been thinking about feeding your cat wet food, you might be asking yourself the question "Is wet food bad for cats?" Check out these pros and cons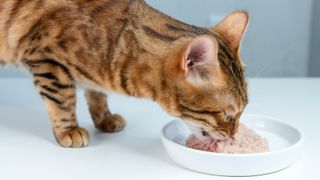 (Image credit: Getty Images)
If you've been thinking about switching to a wet food diet for your cat, you may be wondering "is wet food bad for cats?" The good news is that the best wet cat food is actually quite healthy and there are several advantages to feeding this type of diet to your pet. However, there are some disadvantages to feeding wet food instead of dry food. Before you make the switch, make sure you know the differences between wet food and dry and how switching the diet may impact your cat's health. Read on to learn all about wet food diets and how this type of food may benefit your cat.
Benefits of wet food for cats
There are several benefits to feeding wet food to your cat. One of the biggest benefits is that wet food has a very high moisture content, making it the best cat food when it comes to helping your cat stay hydrated. This is especially important for senior cats and those with certain medical conditions, such as kidney disease or urinary problems. It can be difficult to convince a cat to drink more water, so transitioning to a canned food diet is an easy way to increase your cat's daily water intake and improve overall hydration.
In addition to being high in moisture, wet food diets also tend to be lower in calories than an equal volume of dry cat food. Wet food diets are also higher in protein and lower in carbohydrates than dry food diets, which can help to maintain a lean body mass. For cats that need to lose weight, a wet food diet can be particularly helpful in this process.
Disadvantages of wet food for cats
The biggest disadvantage to feeding wet food to your cat is that it is messy and requires more clean up compared to the best dry cat food. Wet food also should not be left out for long periods of time as it will quickly spoil and begin to grow bacteria, which is unhealthy and unappetizing for your cat. After opening a can of wet food, it should not sit out for more than 20 minutes before being refrigerated.
Because wet food is lower in calories than dry food, you'll also need to feed more of it to make up your cat's daily calorie intake. This can quickly become more expensive than feeding dry food, which is why many pet owners choose to feed some dry in addition to wet food.
Does wet food cause dental disease?
A common misconception is that dry food is better for a cat's teeth than wet food. We now know that this is not the case! Unless you are feeding a prescription veterinary dental diet, the type of food you provide for your cat has little to no impact on his or her teeth. The propensity to develop dental disease is influenced far more by factors such as genetics, conformation, and your home dental care routine. The best way to prevent dental disease for your cat is by brushing his or her teeth daily. This practice removes food particles and prevents plaque buildup. If you are unable to brush your cat's teeth daily, doing so at least a few times a week is still beneficial.
Is wet food too rich for cats?
Another common misconception is that wet food is "too rich" and will cause an upset stomach or diarrhea if fed to your cat. While there are certainly some cats who may not be able to tolerate certain wet foods due to food allergies, inflammatory bowel disease, or other gastrointestinal illnesses, in general wet food is easily digestible for most cats.
If you're concerned about your cat's ability to tolerate a wet food diet, start slowly and offer only small amounts of wet food at a time until you have had a chance to see how your cat reacts to it. If your cat's stools are normal and there has been no change in his or her appetite or energy level, then it is okay to gradually offer larger portions of wet food until you reach your desired portion size.
How to choose a wet cat food
There are many factors to consider when choosing a wet food for your cat. First, you'll need to find a wet food that is appropriate for your cat's species and life stage. Check the back of the can for the AAFCO Statement (US) or the Statutory Statement (UK) which should say something like "for the maintenance of adult cats" or "for growing kittens".
You'll also want to ensure that the wet food you choose is from a reputable company, which you can do by utilizing the World Small Animal Veterinary Association's guidelines on selecting pet foods (opens in new tab) or by asking your veterinarian for a product recommendation. For more information on how to select a pet food, you can learn how to read a pet food label or check out the recommendations from board certified veterinary nutritionists (opens in new tab).
Dr. Elizabeth Racine is a small animal general practice veterinarian covering all things pet health and wellness. Her special interests include veterinary behavior, nutrition, and internal medicine. As a freelance writer, Dr. Racine has written content for major companies in the industry such as the American Kennel Club, Merck Animal Health, Bayer PetBasics, Elanco, and CareCredit. In her free time, Dr. Racine enjoys playing trampoline dodgeball, hiking with her beagle Dasher, and spending time with her three mischievous cats. Dr. Racine can be found at www.theveterinarywriter.com (opens in new tab) and at https://www.linkedin.com/in/eracinedvm/ (opens in new tab)