Best automatic pet feeder: Dish out the right amount of food at the right time
By Alex Cox
The best automatic pet feeders will make sure your furkid never misses a meal
Included in this guide:
1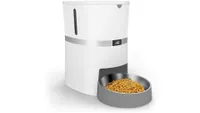 HoneyGuaridan
A36 Automatic Pet Feeder
2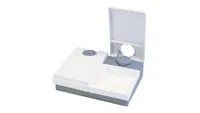 Cat
Mate C20
3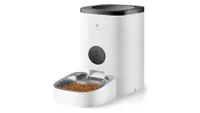 PETLIBRO
Automatic Pet Feeder
4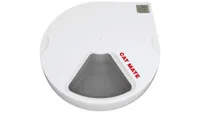 Cat
Mate C500
5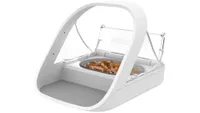 SureFeed
Microchip Automatic Pet Feeder
6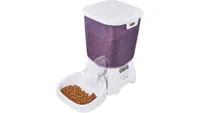 Cat
Mate C3000
7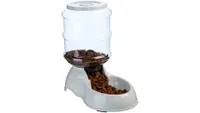 AmazonBasics
Self-Dispensing Gravity Pet Feeder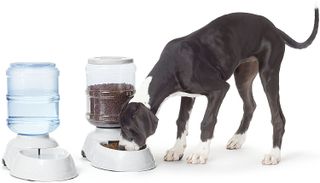 (Image credit: Amazon)
There's nothing our furkids love more than prompt mealtimes, and thanks to the best automatic pet feeders you can let them fill their tummies without having to lift a finger.
An automatic pet feeder is a great way of preventing those unwanted early morning wake-up calls and alongside scheduling food to be released at certain times throughout the day, you can also control portion sizes - great if you have a furkid whose stomach doesn't have an off switch!
Capable of dishing out both the best dog food and the best cat food, automatic pet feeders are a great option if you're out a lot during the day or are often away overnight. Easy to program, they offer great peace of mind for both you and your pet that a delicious and nutritious meal is always available.
Automatic pet feeders run the gamut from simple budget options to more expensive and sophisticated WiFi pet feeders. Most hold dry kibble, but there are also a few options on the market that will hold wet food and some will even dispense treats in much the same way as the best pet cameras.
When looking for a pet feeder, choose one that has a sturdy design that can't be easily tipped over and is easy to program and clean. Smaller hoppers work well for cats and small dogs while a larger capacity hopper is ideal for bigger dogs. Check to see how many meals can be programmed within a 24 hour period and whether it comes with adjustable portion sizes.
Now that you know a little more about the best automatic pet feeders, let's take a peek inside this year's hottest models.
PetsRadar's pick of the best automatic pet feeders
HoneyGuaridan A36 Automatic Pet Feeder
Best overall automatic pet feeder
Material: Plastic, stainless steel | Daily meals: Up to six | Battery life: Not stated | Battery Type: 4 x D cells | Dishwasher safe: Yes (bowl) | Suitable for: Cats, small dogs, rabbits
Great looking design
Clever feeding schedule
Anti-tamper lid
Dry food only
The technology in this automated feeder is absolutely on point. Excessive, even. It's packed with a laundry list of gimmicks that really should make it the most effective thing going as long as everything works together in harmony.
Powered either by four batteries or the included AC adapter, you can configure it for up to six individual feeds per day, with configurable portion amounts for each – meaning it can dish out both main meals and snacks, or just six full meals for particularly hungry pets or to quell those night-time pestering sessions.
There's an anti-tamper locking lid to keep curious cats out and food fresh. The controls are on the lid, rather than the lower side of the base, which makes it easier to change its settings. The screw-feed motor is backed up by a block sensor, so if your food happens to jam up it will invert its direction to free up the jam.
If your pet isn't particularly hungry, the Automatic Pet Feeder won't waste its time dishing any more food up; there's an infrared sensor built in that can tell when the bowl is full. You can even record a short audio message, calling your pets to dinner, which is played automatically at every feed. That's probably a good idea if you're feeding cats, as the default is a bark sound.
The 3.8l capacity could be a little on the low side, depending on the pet you're planning to feed; on the other hand, it could be perfect for regular dispensing of rabbit pellets or covering feeding duties for a night or two away.
Cat Mate C20
A simple two-portion feeder that won't break the bank
Material: Plastic | Daily meals: 1-2 | Battery life: Not stated | Battery Type: 1 x AA | Dishwasher safe: Yes | Suitable for: Cats, small dogs
Affordable
Simple to operate
Vague timer
No battery indicator
This is wonderfully cheap, but we should mention that it does come with a couple of pretty big downsides. The timer is imprecise, so if your pet has one eye on the clock (as many seem to do, somehow) they'll probably get a little grumpy about their meal being five minutes too late.
It's also battery-powered, and while you can see when the timer's running there's no indicator to tell you when those batteries are running low. You'll probably want to have some rechargeables on hand and switch them out on a regular basis just to make sure nobody inadvertently goes hungry. It also quietly ticks, which may or may not be an issue depending on your sensitivity to such things.
Those niggles aside, there's a lot to love about the C20. It packs in two full portions of wet or dry food, securely stashed below the two lids. Each portion gets its own timer, and there's no need to fiddle with any tiny buttons or LCD screens; just twist the timer to say how far in the future you want dinner time to be and you're set. There's a lot of value in simplicity, particularly for those who don't get on too well with technology.
Beyond its ticking, there's no huge noise to worry about. The lids open with a subtle sound, rather than the sort of buzz or whirr that could put off more timid cats.
Given that you can set the timers for up to 48 hours in the future, you (or, at least, your fussy pets) will be grateful for the included ice pack, which keeps wet food fresher than it would otherwise have been. Be careful to place it on the inside of the bowl, as it's not quite wide enough to cover the edges. If you're more interested in doling out portions of dry food, this is fine for that too. The lids and bowls can be removed for cleaning, and you can throw them in the dishwasher without worry.
PETLIBRO Automatic Pet Feeder
Best automatic pet feeder with WiFi
Material: Plastic, stainless steel | Daily meals: Up to four | Dual power supply: Yes | Battery Type: 3 x D cells | Dishwasher safe: Yes (bowl) | Suitable for: Cats, small dogs
Record 10s voice message
Dual power supply
WiFi remote feeding
No treat dispenser
Known for their high-quality pet feeders, we're loving this new version from PETLIBRO that's WiFi-enabled so you can ensure your furkids tummy is full no matter where you are.
Use the PETLIBRO app to remote feed your pet and track how much they've eaten. Set the time and portion amount you want the feeder to dish out and record a 10s message to call your furbaby to their bowl when it's mealtime.
The feeder has a lovely and clear LCD screen that lets you enter your pet's weight, age, and activity level, and has a 4L capacity that can dish out up to four meals a day in as many as nine portions per meal - great if you have a pet who eats with too much gusto or has digestive issues that require eating at a slower pace.
With a detachable design and a stainless steel bowl, this feeder is extremely easy to clean and the double power supply offers great peace of mind, with the batteries kicking in if there's a power outage. There's also an inbuilt desiccant box to keep your pets kibble fresher for longer.
Best automatic wet food feeder
Material: Plastic | Daily meals: Up to five | Battery life: One year | Battery Type: 3 x AA | Dishwasher safe: Yes | Suitable for: Cats, small dogs
Digital timer
Suitable for wet or dry food
Audio message could calm lonely pets
Limited timer options
The concept here is simple: place a portion of wet or dry food into each of the five segments of the Cat Mate C500's rotating bowl, set the timer, and it'll spin up a meal for your pet at the designated time while playing a ten-second audio clip. It uses a digital timer, so there's no awkward clockwork to deal with.
The top panel and bowl assembly creates a fairly good seal, keeping wet food that was dished up some time ago relatively fresh, and Cat Mate also includes two specially-shaped ice packs which install beneath the bowl, helping to improve freshness for up to a day. When it's time to clean, the top section and bowl can both go in the dishwasher.
If you're clever, you can set it to feed anywhere from four automated times in a single day (there's always one bowl open, so the first feed will be when you fill it), twice a day over two days, or once a day over four. It's perfect for cats who are most active (and hungry) at night: being able to offer up 3am wet food so they don't claw you awake holds a whole lot of value. If you're feeding over the course of several days, freezing the food to be eaten later should help with its eventual freshness; that's a pain, but...
We have no doubt that the fact that this feeder can contain inaccessible wet food will be infuriating for some pets, and while Cat Mate claims it's as tamper-resistant as possible, you'll certainly want to save it for those who won't bat it around too violently. For cats who are able to be patient, it will be a real treat.
If you need a smaller version, check out the Cat Mate C300, the exact same concept but with three bowls instead.
Best microchip automatic pet feeder
Material: Plastic | Daily meals: N/A | Battery life: 6 months | Battery Type: 4 x C cells | Dishwasher safe: No | Suitable for: Cats, small dogs
Selective feeding for specific cats
Keeps wet food fresh
Suitable for wet food
Clever cats might defeat it
This one is all about solving a problem. If you have one cat who's not getting enough food because the other cats in your household are more brave, greedy or pushy at mealtimes, you can code this feeder to only allow that one cat to access the food within. If one cat is on a special diet and the others aren't, lock the whole machine down by giving each of them their own Microchip Automatic Pet Feeder. If the dog's constantly snacking on the cat's kibbles? You get the idea.
It works in much the same way as parent company SureFlap's microchip pet flaps: your pet sticks their head in, a reader checks their chip, and it opens if the correct pet is detected. Here it's not a simple case of unlocking, though, as the door covering the food bowl actively opens up while they remain in the vicinity, and automatically shuts a couple of seconds after they've left the bowl.
It's tough enough that the wrong pet won't be able to claw their way in, which is a great positive, but some users have reported that particularly canny cats have discovered a workaround. Pushing into the detecting halo once the door has opened, and barging the correct pet out of the way, leaves the food open for devouring because once the microchip reading is done the Automatic Pet Feeder is only concerned with proximity. That may not be the case for your pets, but it's certainly worth keeping an eye on dinner time.
There's one more little benefit even if you only have one cat: the SureFeed Microchip Automatic Pet Feeder is suitable for both dry and wet food, with enough capacity for two pouches of the latter. If your pet is more of a nibbler than a gorger it can automatically cover that wet food, stopping the smell and keeping it a little fresher throughout the day.
Cat Mate C3000
Best automatic pet feeder for dry food
Material: Plastic | Daily meals: Up to three | Battery life: Approximately 6 months | Battery Type: 4 x C cells | Dishwasher safe: Yes | Suitable for: Cats, small dogs
Easy to clean
Visible food levels
Mountable
Quite noisy
This feeder is relatively similar to the HoneyGuaridan Automatic Pet Feeder, though as it's from a more established brand you may find a little more peace of mind by going in this direction.
Program in up to three daily feeding times, tell the unit how many feed portions (approximately 10g each) you'd like dispensed at each of those feeds, fill up the fairly large hopper, and you're all set. The Cat Mate C3000 uses a combination of gravity and a turning auger to pull the exact amount out and drop it into the included food dish. The delivery mechanism isn't the quietest, although the noise can act as something of a Pavlovian dinner bell for mealtimes.
If you're switching brands of dry food you may wish to alter the number of portions being dispensed. Kibbles up to 16mm in diameter aren't a problem, but the C3000's screw-fed mechanism (and the lower packing density of larger three-dimensional shapes) means a size up is likely to change the dispensed amount somewhat; it doesn't weigh the food so much as count how many turns of the screw it takes.
We've heard from at least one owner that their cat was savvy enough to claw the lid off the food hopper, although this seems to be an isolated incident, and it appears to be a fairly secure lid. Just bear this in mind if you're leaving it at home with a particularly mischievous kitty. The Pet Safe C3000 can also be screwed to a board if you're worried about more enthusiastic eaters knocking it over.
AmazonBasics Self-Dispensing Gravity Pet Feeder
Best automatic pet feeder for simplicity
Material: Plastic | Daily meals: N/A | Battery life: N/A | Battery Type: N/A | Dishwasher safe: No | Suitable for: Some cats
Cheap and easy
Ready supply of food
Easy to clean
Won't suit over-eaters
Sometimes the solution to a problem isn't to throw technology at it, it's more an Occam's Razor type situation where the simplest answer is the one that works best. If, and only if, your pet is a happy grazer and can regulate their own overeating, Amazon's cheap-and-cheerful feeder might be all you need.
You simply fill up the generously-sized screw-top hopper with dry food, and gravity causes it to trickle down into the bowl. As your pet eats, the consumed food makes way for more to be released. There's nothing more to it than that. The AmazonBasics Self-Dispensing Gravity Pet Feeder is easily disassembled for hand cleaning, and (beyond the office water dispenser-styled hopper) doesn't look too shabby, with handy cut-outs on the bottom to make it easy to lift.
This certainly won't suit every animal. We doubt most dogs would get on well with it; the dogs in our life would do their best to get through its entire contents in one session and feel sorry for themselves afterwards. We'd probably avoid it for rabbits, too, as 'unlimited food' doesn't really match the proportion of pellets they're supposed to have in their diet. Take-it-or-leave-it cats, though? Go right ahead. They'll love it, and you'll love not having to fill their bowls as often.
Some users have reported irregular-shaped food getting stuck on its way out; a particularly hungry pet will likely solve that problem for you, and there's a lot less to go wrong than there is on mechanical feeders. However, it's worth bearing in mind if you're planning to fill up and head out for a couple of days.
How to choose the best automatic pet feeder
Look for an automatic feeder that is built well, because persistent pets, left alone, may well attempt to gain access to future portions by force. For wet food in particular you'll also want something with a good seal, to keep that food fresh between portions.
Consider your usual scheduled feeds and any changes you might like to make to those. If your pet is regularly bothering you for food at night, an automated feeder might give you an extra hour or two in bed. If your pet needs regular small portions, an automatic feeder with a timer that can cover that schedule is essential.
If you're leaving your pet on their own, reliability is key. Something that doesn't get jammed up, and something with reliable power and a long battery life, makes the difference between a happy pet and a hungry one.
There are a host of other factors to consider when buying an automatic pet feeder, too, not least of which is your specific pet. They're generally not suitable for larger dogs, for example. They may also not be useful for especially picky cats: if yours won't eat unless the food has been forked out of the packet in a particular artisanal manner, forget trying to get them to eat something which has been out for a day, however fresh your automated feeder keeps it.
Alex is a freelance writer, editor and sub editor specialising in entertainment and technology; he is a father of two, and owned by three increasingly grumpy cats. Somehow he has been doing this for 24 years, and it's still fun.
Get the best advice, tips and top tech for your beloved Pets
Thank you for signing up to Petsradar. You will receive a verification email shortly.
There was a problem. Please refresh the page and try again.