Best anti-vomit bowls for cats 2023
Say goodbye to discomfort and mess with the best anti vomit bowls for cats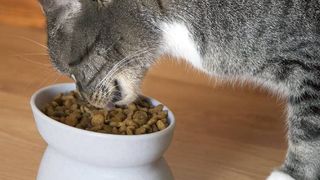 (Image credit: Kitty City)
It's quite common for cats to vomit occasionally, and if they're otherwise well and it tends to happen after they've hastily guzzled their food down, it's unlikely there's anything wrong with their health.
However, if your feline friend is a regular vomiter, it's something you'll want to get under control, for their sake and to save your carpets! If that's the case, using an anti-vomit bowl rather than one of the standard best cat food bowls might be the answer. Luckily, you're in the right place.
In practice I've seen cats vomit for lots of reasons, including having a gastrointestinal infection, a gut obstruction, or a food allergy; but healthy cats also vomit because they eat too quickly or because their posture while they're eating causes pressure on their stomach and means that food has to travel against gravity on its way to their stomach.
The best anti-vomit bowls for cats work by slowing down your cat's eating or encouraging them to eat in a more upright position. Even the quickest eaters will be forced to slow the pace if they have to extract food from a three-dimensional pattern of grooves or holes, and combining a slow or puzzle feeder with an elevated or tilted bowl means you're more likely to get maximum success.
There's a range of anti-vomit cat bowl options below selected by the PetsRadar team that you can peruse at your leisure before getting some more insight from myself and fellow vet, Dr. Joanna Woodnutt.
PetsRadar's pick of the best anti-vomit bowls for cats
Why you can trust PetsRadar Our expert reviewers spend hours testing and comparing products and services so you can choose the best for you. Find out more about how we test.
Y YHY Cat Bowl Anti Vomiting
Best overall anti-vomit bowl for cats
Reasons to buy
+
Three sizes
+
Dishwasher-safe
+
Stable design
What buyers say
Buyers expressed praise for the sturdiness of this anti-vomit bowl and how easy it is to clean. One person claims this food bowl has helped prevent her rescue cats from spewing and recommended this to a friend who tells them they also have had success feeding their cats with this model. Some reviewers said the cute image on the bowl fades after some time but these are repeat buyers so they clearly benefitted from the practicality of this YHY bowl enough to let this slide. Overall, it scores 4.4 stars out of five on Amazon.
No cat owner wants to be cleaning up cat vomit if they can help it. So any bowl that can sort out the problem is a big plus. This ceramic pet-safe bowl from Y YHY is a simple straightforward solution for kittens and most cats. It follows the elevated bowl design that is popular with the vast majority of anti-vomit bowls for cats.
The integrated design features a tilted bowl that pushes the food towards the bottom, making it easy for your fur friend to eat the contents and help with their digestion. Ideal for most cats, it can also be used as a water bowl, just make sure you refill it regularly. The wide base provides a stable stand for the bowl and ensures it won't tip over and get food – or water – everywhere.
The Y YHY bowl comes in two sizes making it suitable for kittens, cats, and even puppies if you have a shared pet home. The smaller 5-inch bowl sits two inches off the ground at the front and 3.6 inches at the back giving a natural neck position for easy eating. Plenty of room for a portion of food for a smaller cat or kitten.
The large 7.2-inch bowl follows very much the same pattern as its smaller companion but it's further off the floor and has a bigger capacity, room enough for one big portion that should easily last the day. It sits 3.3 inches off the ground at the front and 5.1 inches at the back.
Both sizes are easy to clean, dishwasher-safe, and come in a serene Lake Blue or contemporary grey as well as white – perfect for every home and decor.
Kitty City Raised Cat Food Bowl Collection
Best budget anti-vomit bowl for cats
Reasons to buy
+
Lightweight
+
Inexpensive
+
Two bowls
What buyers say
Scoring a generous 4.6 out of five stars on Amazon with buyers highlighting various positives including, how comfortable their cats look eating out of these bowls, less food is left stuck in the bowl and success stories of cats who have stopped spewing since eating from this product. Since they don't come with a stand and are lightweight, buyers do say they move around a lot while being eaten from but the issue is easily fixed with a non-stick mat. Some also say the bowls are a little smaller but you are getting two in the bundle, which is already handy.
On the lookout for a basic raised bowl set that won't break the bank? Then this two-piece set could be just the ticket. It's inexpensive and is a great starting point, especially if you've never ventured into the world of anti-vomit bowls for cats before. If it doesn't work for your feline friend then you won't have spent a fortune.
So what's included in the basic set? You get two molded pet-safe plastic bowls that are lightweight thanks to their hollow base. The modern pedestal design comes in two contemporary colors – white and grey – and holds 6.5oz which will be more than enough to provide food and water for most cats. The oval design is whisker-friendly and angled so that the front of the bowl gives easy access to your kitty cat.
If your furkid is feeling extra hungry you could even fill both bowls with cat food and when one is empty, clean and fill with water. The bowl's material makes them easy to clean. A quick wash in the warm soapy water in the sink will do the job, but they are dishwasher safe, so you can simply pop them in the top rack for a sparkling clean and germ-free finish.
The downside to the standalone bowls is they aren't non-slip and food and water can spill onto the floor. You can deal with these problems with an upgrade to include an 8 x 10 75 inches non-skid mat. And with raised edges, any spills will struggle to reach the floor. Happy cat, clean floor – what more could you want?
FUKUMARU Elevated Cat Ceramic Bowls
Best ceramic set of anti-vomit bowls for cats
Specifications
Material:
Ceramic, Bamboo
Reasons to buy
+
Stylish
+
Generous capacity
+
Food grade ceramic bowls
What buyers say
With buyer reviews deeming this set of anti-vomit food bowls 'the best purchase I have made this year' and that they looked 'exactly like the picture' it's no surprise they gained 4.7 out of 5 stars on Amazon. Users delight in the fact that the anti-vomit bowls are the perfect height and angle for their pets and the model is super easy to assemble. Some warned that you need to be careful if you use the additional bowl for water as this is tilted as well so it will be susceptible to spillages. They also said the bowls are positioned close together which can be a little cozy when two cats are using the bowls.
When looking for an anti-vomit bowl for your cat you want something that is safe and practical for your fur friend. But, how about something that looks good in your home at the same time? Well, this is exactly what you get with this stylish two-bowl feeder design from Fukumaru.
A black metal frame is combined with a stylish bamboo holder and a couple of white food-grade ceramic bowls. Be warned you will need to assemble the feeder, but don't panic because assembly is really simple and quick. A packet of screws is included so you just need a screwdriver and a spare minute or two to put it together.
The bamboo bowl holder stands 3.7 inches off the ground at the front and adds another 1.2 inches at the back creating an ideal 15-degree angle for the bowls. The combination of height and angle is a great eating position, especially for average-sized cats, but still suitable for kittens and larger cats thanks to its 9oz bowl capacity. So if your kitty likes a big portion of its favorite food then these 1.7-inch deep bowls provide enough room to keep them happy and well-fed.
You won't be able to get quite as much water in the bowl due to the tilt of the frame, so make sure not to overfill. The bamboo holder is durable and strong and is coated with varnish to help waterproof it, but the less water it sees the better. While the bowls are easy to clean and dishwasher safe, don't put the bamboo in the dishwasher. If you do it won't last long, just give it a wipe and keep it dry as much as possible.
PETKIT CYBERTAIL Elevated Cat Bowl
Best stainless steel option
Specifications
Material:
Stainless steel and plastic
Reasons to buy
+
Sophisticated design
+
Bowls are dishwasher safe
+
Solid and durable
Reasons to avoid
-
Bowls aren't replaceable
What buyers say
Although some buyers commented on their dislike for the plastic base underneath the bowls expressing concern for how sturdy the overall structure is most feedback was extremely positive for this anti-vomit bowl set. This Petkit model scored 4.5 out of five stars on Amazon with buyers pleased with the results of using one with their cats. One cat parent said how this elevated product proved more effective for preventing her cats from vomiting than a slow feeder did.
Stylish, solid and dishwasher-safe, these stainless steel bowls from PETKIT not only look the part, they'll go the distance too. Featuring two food-grade stainless steel bowls, each with around a 2 cup capacity, the 0/15° tilt offers a more comfortable eating position, reducing the strain on the neck and body.
With a deep and wide shape to prevent whisker fatigue and rounded edges to make it easier for your feline friend to access their food, these bowls also come with a slightly inclined surface to prevent food spilling and the rubberised grips on the bottom ensure the feeding station remains firmly in place.
The only downside to this offering by PETKIT is that there's currently no option to purchase replaceable bowls, which means that although the bowls are dishwasher safe, you'll likely end up hand washing them every day to ensure they're clean and ready for the next meal.
Biubiucat Elevated Cat Slow Feeder Bowl
Best anti-vomit slow feeder
Reasons to buy
+
Height can be changed, growing with your cat
+
Suitable for multiple cats
Reasons to avoid
-
Small, especially water dish
What buyers say
This entry scored 4.4 out of five stars on Amazon with many buyers confirming in the reviews section that their cats' eating had slowed down and this aided their digestion to prevent vomiting. Some say the bowl is a tad on the small side but this is most likely like this for a reason, to prevent overconsumption in a small space of time.
The concept of an anti-vomit cat bowl shouldn't just be about putting your cat in a situation where vomiting is less likely to happen; it should be about getting them into good habits.
This is where the slow feeder comes in handy, with the ridges making dry cat food that little bit harder for cats to pick out.
Aside from this, this bowl contains all the typical characteristics of an anti-vomit cat bowl: it's elevated, with the height being changeable according to your cat's height, and there's a tray to collect any accidental spillage. The ABS material also makes it easier to clean.
If there's one complaint, it's that the bowls are a tad small, especially the water bowl. This might need regular refilling, especially on hot days.
Other than that though, there's a lot to applaud about this offering from Biubiucat.
Super Design Slanted Bowl for Dogs and Cats
Best anti-vomit food bowl for no spillages
Specifications
Material:
Stainless Steel Melamine
Color:
Black (available in multiple colors)
Reasons to buy
+
Wide range of colors to choose from
+
Protects the neck and spine
+
Arc design prevents food overflow
Reasons to avoid
-
Sizes run on the small side
What buyers say
Buyers recommend the effectiveness of this feeder for its angle that is great for digestion and helping with 'no more vomiting'. Some expressed that they expected the bowl to be a little bigger but this is a recurring theme in the reviews of most anti-vomit feeders so is more of a design feature rather than a flaw. Overall, most buyers were pleased with their purchase and the no vomiting results. In total, the item scored 4.4 out of five stars on Amazon.
With an ergonomic 15 degree tilted design, this anti-vomit cat bowl will help to keep your feline friends neck and spine in a more natural eating position, reducing the risk of uncomfortable symptoms like bloating and indigestion.
The tilt of the bowl makes it easier for your pet to reach their food and and the high rounded arc design minimises the risk of food ending up all over the floor. Stable and non-slip, both the melamine stand and the stainless steel bowl are dishwasher safe, making cleaning up a breeze.
Available in a range of fantastic colors, from bright and bold to classic and neutral, this bowl also comes in a selection of sizes ranging from a small 0.5 cup capacity bowl all the way through to an XL option that can hold 4 cups of food.
After graduating as a veterinarian from the University of Nottingham, Dr Joanna Woodnutt went on to practice companion animal medicine in the Midlands, UK. Dr Woodnutt is specifically interested in consulting and helping her clients understand their pets better, whether it's around medical problems such as dermatology, behavior, and nutrition.
What makes a good anti-vomit cat food bowl?
Vet, Joanna Woodnutt notes, "Since the causes of vomiting after eating aren't completely understood, the types of anti-vomit cat bowl that might work for your cat may vary. There's no scientific evidence that any cat food bowls can prevent vomiting, but there are a few things that might work for your cat."
She explains, bowls that are designed to slow your cat's eating down may help reduce 'scarf and barf' in cats – when a cat vomits after eating too quickly. These bowls might have ridges that make it harder to get large mouthfuls of food or may take the form of a puzzle feeder.
Other anti-vomit food bowls are raised. This is so that gravity can help the food make it all the way down the gullet to the stomach, where it may be less likely to come up again. Again, there's no evidence that these work, and you might find your cat picks the food out and then places it on the floor before eating it.
The best anti-vomit bowl for your cat will depend on several factors, here's a few things to consider...
Elevation
Although there is a lack of scientific evidence behind the effectiveness of anti vomit food bowls for cats, many pet owners have had positive experiences with this particular design of food bowl, as we've outlined in the user review sections above.
If you've scrolled through the reviews section of any anti-vomit food bowl products online, you will have noticed many small dog owners, especially bulldog owners, purchase this type of feeder for their canines. This is because they are prone to unfortunate digestion problems such as GDV in dogs (gastric dilatation volvulus) or bloat. Cats experience digestion issues of their own, hence why anti-vomit bowls are a no-brainer for many feline parents.
Standard cat food bowls sit flat on a surface whereas an anti-vomit food bowl sits elevated off the floor. Cats often look more comfortable when eating from an elevated bowl than if they have to strain their neck into a bowl to retrieve their meals and this elevated position can help aid digestion.
Tilt
Once you find a food bowl for your cat that's elevated off the floor, you should look for a design that also features a tilt. The two features combined allow your cat to strut right up to their feeder and chomp down their meals with ease. If you happen to notice your cat frequently leaves food behind in their bowl, this could be because they struggle to reach deeper inside - a tilted bowl can prevent this. This will only work if the level of elevation is compatible with the size of your cat so it is neither too high nor too low for ease of eating.
Whisker friendly
The construction behind most of the best anti-vomit bowls for cats is that they are shallow and wide for easy access. Why? First of all, like we said above it's a more comfortable way for cats to access their food, helping to avoid neck strain. Secondly, it can help prevent something known as whisker fatigue in cats.
Whisker fatigue may occur when your cat feels like they've been overstimulated from touching certain surfaces. If they're repeatedly having to plant their face in a food bowl to retrieve their food and this bowl is narrow and deep, their whiskers will hit off the side of the bowl and cause discomfort.
This is where elevated and tilted bowls come in handy. Whether or not whisker fatigue is a real issue for your moggy, an anti-vomit food bowl is a great way to increase your cat's comfort while they eat.
Hygienic
This last feature is something we humans like: cleanliness. We like to know things like how our food is prepped and how clean the plates and surfaces they are served on are. Your cat deserves a clean eating environment as well.
The bowl you opt for will be the one your cat eats out of every day so take time looking for one that won't gather old bits of food or bacteria in any parts of the design. Also, consider what will be most convenient for you to clean. Is it dishwasher-safe? What material is it made from? The plastic anti-vomit cat food bowls are superbly priced and often are fairly simple to wipe clean but ones made from nonporous materials like ceramic or stainless steel tend to be more hygienic overall.
What are the benefits of using an anti vomit cat bowl?
The benefits of using an anti-vomit cat bowl aren't purely related to cleaning and keeping your carpets in good condition. Using an anti-vomit cat bowl will also reduce the risk of inflammation of the stomach (gastritis) or esophagus (esophagitis), prevent tooth erosion due to acidic vomit, and promote a more stable appetite and weight. So, while not every cat needs an anti-vomit cat bowl, many cats will benefit, even if you hadn't previously noticed a significant problem.
Do all cats need an anti-vomit cat bowl?
Anti-vomit cat bowls encourage slower eating and promote better digestion, reducing gastrointestinal upset signs and often improving gut health. Therefore, while not every cat needs an anti-vomit cat bowl, many cats will benefit, even if they don't vomit regularly.
Why trust us? You can read up on how we test, review and rate products on PetsRadar.
Get the best advice, tips and top tech for your beloved Pets
Dr Hannah Godfrey is a small animal vet who graduated from the Royal Veterinary College in 2011 and began work straight away at a busy mixed practice. Initially, she treated all species, but focussed on small animals from 2014. She has a passion for soft tissue surgery, ultrasound, and canine and feline dentistry, having completed additional training in these areas.