Best kitten treats: Reward your young feline in style
The best kitten treats are the purrfect way to show your fur baby some love and reward good behavior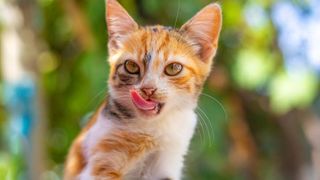 (Image credit: Getty Images)
If you're looking to show your furkid some love, our pick of the best kitten treats are sure to please. These mini morsels of tasty goodness can be used to help your kitten learn the ropes and know what's expected of them in the home, or you can use them during playtime by putting a treat at the end of a piece of string and watch them go wild!
Although there's certainly plenty of choice out there, just like the best cat treats for adult felines, you'll need to ensure your cat's diet is balanced and be careful not to overly treat your tiny ball of fluff.
You'll want to treat them no more than two or three times a week, and instead opt for a diet of the best kitten food to give your young feline all the nutrients they need to thrive. Another way to think about it is that a treat should form no more than 10% of your kitten's daily calorie intake, instead you should trust that the kitten food you've chosen will be giving them all the vitamins, minerals and antioxidants they need to grow up big and strong.
Every kitten is different when it comes to which type of treat they prefer. Your first thought may be to purchase soft, lickable treats, which are certainly a great option, but kittens can also eat small, dry treats too. Did you know that crunchy bites helps clean their teeth and stops the build-up of tartar for fresher breath which can only be a good thing for both owner and cat!
Whether you're looking for purr-fect pastes or beneficial bites for your feline friend, our guide to the best kitten treats will help steer you in the right direction.
PetsRadar's pick of the best kitten treats
Why you can trust PetsRadar Our expert reviewers spend hours testing and comparing products and services so you can choose the best for you. Find out more about how we test.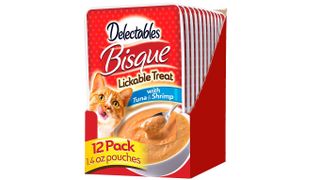 Hartz Delectables Bisque Lickable Wet Cat Treats
Best overall kitten treats
Specifications
Flavor:
Tuna & Chicken, Tuna
Reasons to buy
+
Tasty lickable treats
+
Real meat and fish
+
No by-products
+
No added preservatives
+
Large 1.4oz tubes
Reasons to avoid
-
Not grain-free
-
Only two flavors
When it comes to treats, you want to give your cute kitten something special. They don't want a plain, boring treat, they want something that gets their tastebuds dancing. And, these tasty gourmet wet treats could be the ideal flavor fest.
Not only do they provide a juicy tempting treat, but you can hand feed your cute kitty and quickly establish a bond with them at the same time. The next time you rip open the squeezable treat, they'll be at your side in flash.
They are specially formulated for kittens that have just finished weaning right through to a year old. The treats are nutritionally complete and provide plenty of vitamins and minerals that will support their growth across 12 months.
Made with real meat and fish, there are only two flavors to choose from. There's a smooth thick Chicken and Tuna sauce, or if it's just fish you want, you can get your hands on Tuna. You won't find any fillers, by-products, or added preservatives, but there is wheat gluten in the recipe, so it isn't completely grain-free.
To help your kitten love these treats even more, they come in 1.4oz tubes that are bigger than most lickable wet treats. As an example, the other choice in this buying guide – Catit Creamy Lickable Cat Treats – only comes in 0.5oz tubes, so your kitten will be getting more of the tasty goodness. We're pretty sure that will make them happy.
The beauty of the Delectables range is that their treats grow with your kitten. If your kitten loves them, you can keep treating them with a treat they love. Once they get past 12 months old, switch to the Bisque recipe for adult cats and there are even specially formulated recipes for senior cats as well. You and your cat could have a friend for life.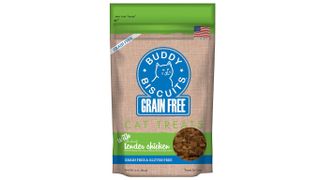 Buddy Biscuits Grain-Free Cat Treats
Best budget kitten treats
Specifications
Flavor:
Chicken, Tuna, Turkey & Cheddar
Reasons to buy
+
Inexpensive
+
No artificial colors or flavors
+
Grain-free
+
Gluten-free
Reasons to avoid
-
Contains a lot of flours
If you have a cute kitten that gets an upset stomach on a regular basis, it could be that they are sensitive to grains such as wheat, corn, and rice. Or they could be intolerant to gluten. These ingredients can make your fur friend's life a misery and if you think that is the reason, you will definitely want to try out these grain and gluten-free treats.
Real meat is the first ingredient in these soft snacks, making them easy to chew and an ideal introduction to treats for your little kitten. But be warned, inexpensive treats typically use less of the main ingredient and bulk it out with grains – that's not the case here – or flours, such as potato, which you will find in this treat.
Chickpea flour and tapioca starch are also near the top of the ingredients list. These are typically fine for most kittens but often dilute the flavor. What you won't find included in the recipe are soy, eggs, artificial flavors, colors, or by-products, which is a bonus.
Stored in a resealable bag for freshness, these USA-made treats are available in popular flavor choices, with chicken for the meat fiends and tuna for the fish lovers. Mixing it up a little is Turkey & Cheddar, which your kitten might love or hate. But with the chicken treats being the best for price in this guide, it's always worth trying them. They're delivered to your door and if your kitten loves them you'll be saving yourself a few dollars.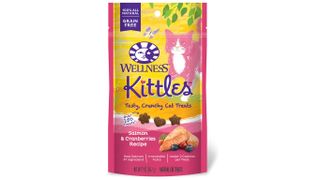 Wellness Kittles Grain-Free Salmon & Cranberries Recipe Crunchy Cat Treats
Best natural kitten treats
Specifications
Flavor:
Salmon, Chicken, Tuna
Reasons to buy
+
Natural ingredients
+
Real meat/fish
+
Grain-free
+
Good for teeth
The wellness, happiness, and health of your cute kitty is a top priority for any cat owner, and choosing a well-balanced natural tasty treat will go a long way to making sure this happens. Created by nutritionists and veterinarians, the recipe for these sweet-smelling snacks provides a balance that will help sustain your pet's well-being.
To start with, you won't find any artificial preservatives, colors, or flavors in these crunchy cat treats, it's natural all the way here. The number one ingredient is real fish or meat – you can choose from three popular pet flavors in salmon, chicken, or tasty tuna. Salmon and tuna are both are naturally omega-rich sources of protein that are great for the health of your kitty's skin and will help give them a shiny coat. Chicken is slightly different but is a naturally lean source of protein and fatty acid – great for maintaining a healthy immune system.
Keeping the top quality ingredients company are cranberries and blueberries, which you won't find in any of the other treats in this guide. Cranberries are rich in vitamin C and a natural source of tannins, which help prevent harmful bacteria from thriving in the gut. Blueberries are not only sweet and tasty they are also rich in vitamin A and C, potassium, and fiber, which provide valuable antioxidants.
Plus, there's no grain, wheat, corn, soy, or meat by-products, which makes these treats great for kittens with a sensitive stomach, allergies, and those who like great-tasting snacks. It's also free from Carageenan – a seaweed extract that is banned in some countries. While a lot of kitten foods don't contain it, it's always worth checking the ingredients list.
And, there's still more. At only two calories a treat, you won't need to worry about over-feeding your feline friend. As an added bonus, their crunchy bite helps clean their teeth and stops the build-up of tartar for fresher breath.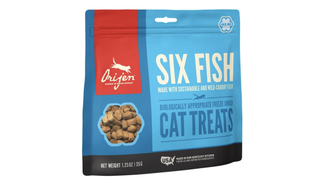 ORIJEN Freeze Dried Cat Treats
Best freeze-dried kitten treats
Reasons to buy
+
Nutrient-dense
+
Fish is the only ingredient
+
High in protein
Reasons to avoid
-
More expensive than other treats on the market
For a nutrient-dense treat that contains only fish and nothing else, this offering from Orijen is hard to go past. With six different fish freeze-dried and with no other additions, these treats are healthy, natural and have a delicious flavor your kitten will love.
Made using sustainable wild-caught fish, the treats are gently freeze-dried to preserve their natural goodness, meaning they're rich in a wide variety of vitamins, minerals and antioxidants. They're also incredibly high in Omega 3 and 6 fatty acids, great for nourish your young ones skin and coat.
At 55% protein and 15% fat, these are great treats for kittens when given in moderation and because they contain no grains, fillers or artificial colors or preservatives, they're gentle on the digestive tract. This is exactly the kind of food your kitten's ancestors would have eaten in the wild, making these a delicious and nutritious treat for your little one.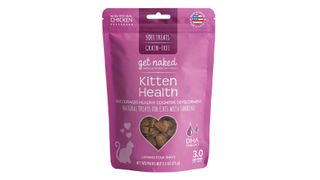 Get Naked 1 Pouch Kitten Health Soft Treats
Best soft kitten treats
Reasons to buy
+
Natural ingredients
+
Grain-free
+
Includes Omega 3 and 6
+
Good for healthy skin
Natural and nutritious is a great starting point for any tasty treat that you want to give your growing kitten and this is exactly what you get with these snacks from Get Naked. Touted as simple and honest pet treats, the ingredients list reinforces this message.
Made from all-natural ingredients, the recipe includes natural flavors and sweet potatoes along with essential omega 3 and 6, taurine, and little else apart from flaxseed and some natural preservatives. For pets with sensitive stomachs or allergies, the treats are also grain-free. A great combination that will help with your kitten's growth and nutritional needs.
Sweet potatoes provide plenty of fiber, which will help your kitty's digestive system while omega 3 and 6 are good for their skin. They help give a shiny coat, go some way to help with less shedding of fur, and support good skin health.
The taurine in the treats provides plenty of benefits and is great for your kitten's all-round general health. It contributes towards good vision, helps with digestion and heart muscle function, and goes a long way to maintaining a healthy immune system. All good stuff that any growing kitten deserves.
Alongside the healthy and nutritional goodness, your feline friend will get a taste that they love – chicken. Made with real chicken and natural chicken flavor, the tasty soft treats are great for weight control too, with each treat being only three calories. And, if you follow the manufacturer's recommendation of two treats a day, your kitten gets the goodness it needs without you worrying about them gaining too much weight.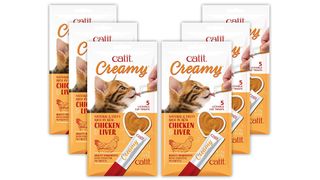 Catit Creamy Lickable Cat Treat
Best lickable kitten treats
Specifications
Flavor:
Chicken & Liver, Salmon, Tuna
Reasons to buy
+
Grain-free
+
Individual tubes
+
No artificial preservative or flavors
If you want to get up and close and personal when giving your kitten a treat then these lovable lickable special snacks are definitely something that you are your feline fur baby will enjoy. A rich, creamy puree comes packaged in its own half-ounce squeezable tube. All you need to do is tear off the top and hand-feed your kitten small portions of the puree to get them purring.
Even if you don't have the time to hand-feed them, they can still get their daily treat by simply putting it on a plate. It also makes a great accompaniment for dry food. Squeeze a tube on top of your kitten's favorite food to give them a double culinary delight.
The manufacturers recommend that your feline friend should have no more than three treats a day. So you could try all three options to mix it up and add a little extra interest to meal and treat time. But, ideally, kittens should stick to one a day.
There's no doubt that you and your kitten will love the interaction you get from hand-feeding, but your pet puss will love the flavor even more. There are three flavors to get the juices flowing – Chicken & Liver, Salmon, and Tuna. And you won't find any artificial flavors or colors on the ingredients list.
To keep the treats extra healthy – and ideal for kittens who may have a sensitive stomach – they are grain-free and don't include soy. If you find that your kitten loves these creamy treats, you might want to invest in a large 30 tube pack. The smaller packs of 12 won't even last for two weeks if you give them one, or more, daily.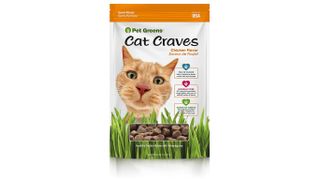 Pet Greens Semi-Moist Cat Craves Treats
Best wheatgrass kitten treats
Specifications
Flavor:
Tuna, Salmon, Chicken, Turkey & Duck
Reasons to buy
+
Nutrient-rich wheatgrass
+
All-natural ingredients
+
Four flavors
+
Helps with hairballs
If your cute little kitten doesn't like to venture outside often, then these tasty treats can go a long way to helping them get a little bit of the outdoors indoors. How? Included in the long list of all-natural ingredients is wheatgrass.
Kittens love to chew grass, but you rarely find a lush green lawn inside your house, so these treats provide a healthy green alternative to outdoor grasses. They also help stop your indoor fur friend from trying to chew your houseplants.
The addition of nutrient-rich wheatgrass, which is packed packed with chlorophyll, antioxidants, vitamins, minerals, enzymes, amino acids, and proteins, has plenty of health benefits for your growing kitten. It provides natural green fiber, which helps support digestive health and as an added bonus helps relieve hairballs.
So, there will be a lot less of those unpleasant choking sounds and slimy balls of hair left around your home. Plus, it boosts your kitty's immune system and contributes to healthy eyes, skin, and coat. But it's not just all about the wheatgrass. The treats do not contain wheat gluten, corn, or soy and you won't find any artificial colors, flavors, or animal by-products, but they are not grain-free.
On the flavor front, the bite-size chewy semi-moist treats come in the ever-popular tuna, made with real tuna, and another fishy favorite – salmon. For a more meaty snack, there is the number one choice of chicken along with the more exotic Turkey and Duck – all available in 3oz packs.
If your cute kitty is loving the wheatgrass, you can even get your hands on self grow kits to produce your own, or for a more instant shot of grassy goodness, get the pre-grown product delivered straight to your door.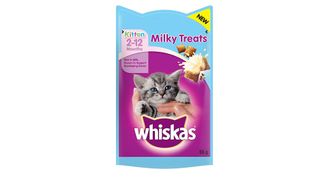 Whiskas Kitten Milky Treats
Best milk-based kitten treat
Specifications
Type:
Dried outside, soft inside
Reasons to buy
+
Rich in calcium
+
Dual texture
+
Added vitamins and minerals
+
Good for weaning
Reasons to avoid
-
Only suitable for kittens aged between 2 and 12 months
Suitable for kittens aged between 2 to 12 months, Whiskas Kitten Milky Treats offers your felines a dual taste experience. Whilst the outside is crunchy, and can help convince kittens to transfer to dry food and off liquid milk, the inside is soft and milky. They're particularly perfect for young kittens who have been weaned off milk by their breeder and are looking to settle into their new home by providing a comforting milky taste.
Rich in calcium, Whiskas look to also provide additional vitamins and minerals that help with your kitten's development.
Although the treats are designed to be small enough to be consumed by kittens, one drawback is that the treats sadly aren't designed for felines who are younger than 2 months; some pet parents look to crush the treats down to feed to smaller felines, but it would be convenient to have alternative sizes for all stages.
How to choose the best kitten treats
When choosing any treats for a kitten, you need to be thinking of the nutritional value that they offer. Kittens are baby cats and need to be fed the right diet to make sure that they grow up as strong and healthy as possible. Feeding a kitten a treat that is a poor supplement to their everyday dinner is not the way forward.
The first thing to consider is the recipe. Make sure that you take a look at the ingredients list. Typically, the more natural ingredients you find in the line-up the better. To kick off you should try treats with plenty of real meat or fish in. If the main ingredient is either of these that is a good sign.
Also try those with no added preservatives, colors, fillers, and meat or fish by-products. Cheaper treats generally have less real ingredients and more filler such as flours and grains. Some cats are sensitive or intolerant to grains, so if your cat seems to be struggling with a treat, try a grain-free option to see if it makes any difference.
Should treats be wet or dry, soft or hard? Wet treats are usually more tasty and natural, soft treats are easy to chew, so good for young kittens, Dry lasts longer and is great for their dental hygiene. Try what seems best for you and your cat and if this doesn't work try something different.