Best self-cleaning cat litter boxes: Cleaning up after your cat just got easier
Say goodbye to that pooper scooper with the self-cleaning cat litter boxes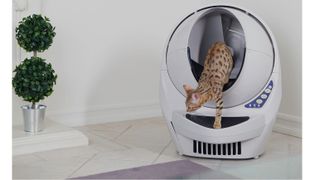 (Image credit: Litter-Robot III)
Did you know that there was such a thing as self-cleaning cat litter boxes? Just imagine how much nicer it would be not having to reach for the pooper scooper to dig out your feline's business every time they visit the litter tray! 
Thanks to advances in technology, scooping could soon be a thing of the past. Self-cleaning cat litter boxes truly are the pet toilets you never knew you needed! 
Litter trays are key to keeping your kitty happy. Felines are known for being quite particular with their toilet habits, so if it isn't clean every time they visit, they may soon look for somewhere else to go (and no one wants to have to move all of the furniture around to find out what's causing that foul smell). 
When looking for the most suitable cat litter tray, you've got to ensure it's the right shape, size, and depth for your pet. With automatic self-cleaning boxes, it's important to also take into consideration the toilet's overall size, how easy it is to set-up, and the way in which your fur babies' business is removed. 
Let's take a look at some of the top self-cleaning cat litter trays currently available. 
PetRadar's pick of the best self-cleaning litter boxes
Best overall self-cleaning cat litter tray
Size: 27.9" (length), 16" (height), 11.2" (width) | Waste removal: It uses disposable trays that are removed and replaced when full | Special features: Uses crystal litter instead of traditional clumping litter, which performs five times better at absorbing and dehydrating your cat's waste
Automatic rake works to remove the waste
The crystal litter traps those nasty odors
The detachable hood minimises spillage and splatters
Pricier than a traditional plastic litter tray
Assembly required
The PetSafe ScoopFree Ultra Self Cleaning Cat Litter Box is a sophisticated piece of kit that doesn't come with a hefty price tag compared to some of the other robot feline toilets. It features a robotic rake that combs through the crystal litter, disposing of any solid with one fine sweep. 
This technologically-equipped litter box also monitors your cat's toilet habits and can also be programmed to automatically sweep the litter into a compartment underneath either five, 10, or 20 minutes after your pet has left their business behind. 
The benefit of using crystal litter instead of the traditional clumping litter is that it quickly absorbs moisture and dehydrates solid waste, which helps to banish nasty odors. Plus, crystals don't stick to your favourite feline's paws, so there won't be a trail of litter surrounding the entrance to the box.
Once the tray below is full, simply remove it from the box and cover it with the lid before throwing it away. Now, this may seem incredibly convenient but it isn't all that environmentally friendly.
Many customers have passed comment on how well the litter box hides their cats smells - "It's actually a very good bit of equipment. I definitely notice the room smelling better after the self cleaning thing goes through the cleaning cycle. Also, being able to see how often the cat has used the litter tray is useful."
However, it's not all smelling roses for everyone. Several unhappy cat owners mentioned how their pet's poop can get stuck in the rake, which resulted in having to clean it more frequently than they had hoped. Another disappointed user explained how "the replacement trays are way too expensive and don't last anywhere near what I was told".
PetSafe Simply Clean Self-Cleaning Automatic Cat Litter Box
Best budget self-cleaning cat litter tray
Size: 26" (length), 10" (height), 15.5" (width) | Waste removal: There is a box unit to the side for users to place a bag inside for easy removal | Special features: The self-cleaning bowl rotates automatically every hour
Suitable for cats weighing up to 15lbs
Continuously swept
Manufacturers claim that it won't disturb you with the noise of the motor
Does not come with a cover or hood
The plastic gears have stopped working for some
The PetSafe Simply Clean Self-Cleaning Automatic Litter Box works by rotating the tray in a circular, horizontal motion, so that the poop comes to the rake (as opposed to the previous litter box in which the rake pushes the poop along to the receptacle). 
It's programmed to perform a full rotation every hour to remove the waste and sift the litter using its quiet, slow-moving conveyor system.
Since the waste is swept into an enclosed bin, it reduces the possibility of lingering pongs that would arise from a traditional, non-moving litter tray. 
Unfortunately, like many self-cleaning cat litter trays, the PetSafe Simply Clean litter box doesn't come with any type of cover or hood, so isn't ideal for cats who like to bury or hide their business by flicking litter everywhere. 
One customer explained how, despite some motor issues, they love their litter box - "I have two of these litter boxes and love that I do not have to scoop, the box does it for me!... Due to the constant running of the motor on this box, I recommend putting it on a timer so it lasts longer. My timer is set to go off every two hours... I have five cats and having two boxes works great!"
For some users, the motor issues unfortunately occurred too frequently and resulted in a lot of time and money spent on repairing them. "I have four of these - cost a fortune because the motors keep breaking. The wall is not high enough to protect litter from going under the bowl," one disgruntled customer complained.
Best looking self-cleaning cat litter tray
Size: 26.7" (length), 29.2" (height), 24.1" (width) | Waste removal: Any type of garbage bag can be used to line the draw below the litter box | Special features: An app that tells you when it needs emptying and also monitors your cat's toilet habits should they change and require medical attention
Suitable for use with any type of cat litter
Tells owners through an app when it needs emptying
Uses regular kitchen garbage bags
Pricey for a cat toilet
Isn't suitable for cats weighing less than 5lbs
Quite a large unit
The Litter-Robot 3 Automatic Self-Cleaning Litter Box helps keep your kitty's restroom feeling fresh every time your pet comes to visit. 
This robotic litter box works by 360° rotation (once your furry friend has left the chamber of course), sifting out any solids that have been deposited and dropping them into the drawer below. Its unique cleaning method helps to reduce litter usage and the carbon filter helps reduce any lingering odors. 
Unlike some self-cleaning cat litter boxes, the Litter-Robot 3 works with numerous types of litter such as clumping or scoopable clay litter, as well as pearls or crystals. Just like the bags required to line the tray, there's no need to buy the most expensive option to get the job done.
One of the most inviting features with this litter box is the app that can provide you with information such as how full the waste tray is or how often your cat visits, which comes in really handy if there is a sudden change in their habits that you need to be aware of.
"Does exactly what I need it to do, which is reduce how often I need to clean the litter box", explained one happy customer who also went on to say, "If your cat gets very enthusiastic about burying their waste then I really recommend the optional fence accessory, because without it I did have a few flying poop incidents from one cat." 
Although some customers weren't as delighted, not realising quite how big and indiscreet the litter box is - "the machine itself is also GIGANTIC and takes up so much space. I wanted it to be out of sight as much as possible, so I put it in the bathroom in the finished lower level, but it's so big the bathroom door won't shut."
LavvieBot S Robotic Litter Box
Most sophisticated self-cleaning cat litter tray
Size: 22.9" (length), 27.7" (height), 19.5" (width) | Waste removal: There is a waste drawer at the front of the unit that requires emptying every two to three weeks | Special features: Unlike other self-cleaning litter boxes, this one automatically refills the litter so that you don't have to
Helps maintain indoor air quality with a natural gel deodoriser
Only needs cleaning every two to three weeks (based on one cat household)
Very quiet to run
One of the most expensive on the market
Not suitable for naturally large breeds such as Savannah cats and Main Coons
The LavvieBot S Robotic Litter Box features a rotating rake that pushes your cat's waste through an automatically opened flap, which leads to the receptacle drawer at the front of the unit. 
After your feline's poop has been removed by the separator, the machine refills the litter from its 6.5L extra storage giving your pampered pet a fresh bed every time. 
Measuring at 26.5dB, this robo-litter box is quieter than an office or a running car, and is likened to being louder than the sound of rustling leaves. That's pretty quiet don't you think?
This litter tray wouldn't be all singing and all dancing without an app to go with it. The PurrSong app allows users to monitor waste and litter levels, keep track of who is using the litter box and for how long, and ease the worry of forgetting by allowing one-click litter ordering.
The manufacturer recommends that standard clumping litter is used for this self-cleaning litter box and even though the waste drawer can fit a standard plastic bag, the manufacturer also encourages the use of their own waste bags to avoid the machine getting confused with how full the container is. 
The LavvieBot hasn't been widely available yet, so there aren't many user reviews to use for a broad consensus on it.
How to choose the best self-cleaning litter box
Cats make for such wonderful pets - they're soft, playful, affectionate and fairly self-sufficient. Whether they're small or large breeds, their mischievous antics will have you laughing (or crying) in minutes. However, despite all of the delights they bring to your life, one of the not-so-glamorous sides of being a cat owner involves reaching for the pooper scooper!
That's where the self-cleaning cat litter boxes come in as they do all the dirty work for you!
Thankfully, technology has allowed feline owners around the world to say goodbye to one of the most unpleasant chores that come with being a cat parent. Whether you hate scooping or simply don't have enough time in the day, these automatic cat litter boxes can turn out to be well worth the money. 
When choosing the right self-cleaning cat litter box for you, it's important to take into consideration the following factors:
Size of the complete unit
Whether it has a hood (if your feline loves to flick after visiting)
How the waste is removed and disposed of
The sound it makes during cleaning
If it has the ability to reduce odor
The type of litter and bags it requires
Get the best advice, tips and top tech for your beloved Pets
Thank you for signing up to Petsradar. You will receive a verification email shortly.
There was a problem. Please refresh the page and try again.