13 ingenious ways to hide the litter box
Hide your cat's litter box in plain sight with these creative hacks that are both functional and fashionable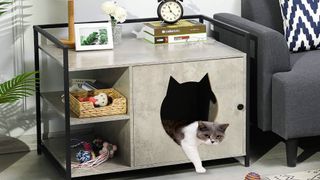 (Image credit: MSmask)
If you have a feline furkid, then it's likely you've considered ways to hide the litter box at some point. As much as we adore the feline members of our family, there are certainly some downsides to being a pet parent.
They may be convenient, but when placed inside your home, litter boxes aren't without their drawbacks. While filling your kitty's designated toilet space with the best cat litter can certainly help make your life easier on the cleaning up front, that doesn't solve the problem of having this essential yet unsightly piece of kit on display.
Thankfully, there are some super creative folk out there who have come up with all sorts of brilliant ways that you can hide your cat's litter box and pretty up your home all in one go. Whether you have one of the best self cleaning cat litter boxes or have chosen to go with a standard option, there's plenty of options when it comes to concealing the place where your moggy does their business.
From wine crates and wicker chests to making over your existing furniture, you're going to love these ingenious ways to hide your kitty's litter box and keep your living spaces looking lovely.
1. Use up those wine crates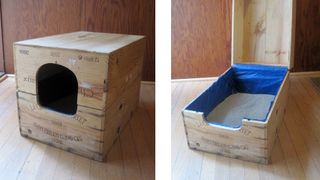 If you're a lover of all things vino-related, then chances are you might have the odd wine crate lying about that you've been wondering what to do with. Well, wonder know more because it turns out that wine crates are brilliant when it comes to concealing litter boxes.
We're loving this great version from the gang at Apartment Therapy who show you how you can upcycle those old wine cases by attaching two crates with a hinge. You can then use a staple gun to attach a plastic lining to make the cubby waterproof before popping your cat's litter box inside.
2. Makeover a wicker chest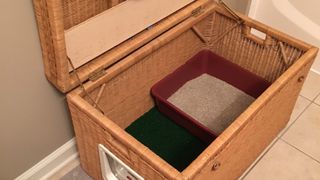 There's something oh-so chic about the country living look and now you can bring a touch of it into your home with this stylish wicker chest hiding space. This is a great project for DIY beginners because it's so easy to create - just secure some plywood or artificial turf to the bottom of a wicker chest to create a solid floor, add in a cat door for access and you're good to go!
Don't worry if you don't have a wicker chest on hand or aren't able to get access to one, this works just as well with any trunk, bin or box that you can install a cat flap into, so just use whatever you have on hand. Check out this great example over at Imgur for ideas on how to create your own version.
3. Upcycle old pallets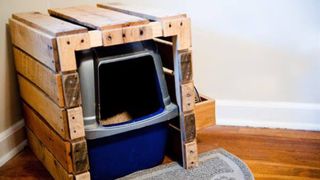 Fancy something a little more rustic? Why not hide your cat's litter box inside wooden pallets. Not only is this a great inexpensive option but it's easy to build and looks fantastic.
We love this one from 99 Pallets because it comes with a cool built-in scoop holster that will help you keep all the litter box kit together. Customize the layout and dimensions to suit your home.
4. Opt for a multi-functional cat house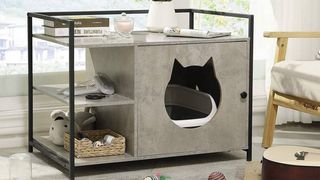 If you're like us and the thought of any kind of DIY makes you break out into a cold sweat, then why not purchase a multi-functional cat house that doubles up as a litter box concealer?
Our favorite option is the MSmask Large Cat Litter Box enclosure with its beautifully elegant appearance and stable design that can accommodate loads of up to 160lbs - more than enough for your cat, their litter box and other accessories.
The top shelf will comfortably fit one of the best cat beds, making it a fantastic all-in-one piece of kit, and it's easy to clean - simply wipe it over with a damp cloth.
5. Give your existing furniture a makeover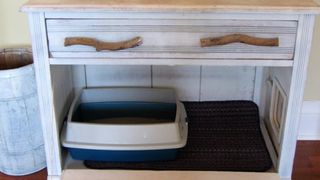 Save money and revamp a piece of existing furniture to make the perfect cave for your cat's litter box. Choose one with lots of interior space and remove a couple of the drawers and create a hinged door to make it easy for you to get the litter box out to clean. Then attach a cat flap to the side for your furkid to use to get in and out and voila, the perfect litter box hiding space.
For some creative inspiration, check out this stunning example from Recaptured Charm with step-by-step instructions that you can easily follow at home. Although, a little word of warning - make this and we're pretty confident that all your friends and family are going to want you to create one for them too, so proceed with caution!
6. Hide it under the sink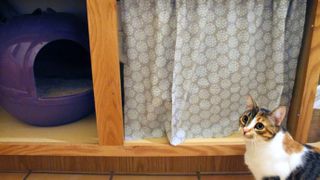 For people whose under-sink bathroom space isn't cluttered with cleaning or toiletry products, this clever idea by Letters from the Kennel proves it's a great place to tuck away a litter box and keep it out of sight. It does mean losing some storage space, but if you don't mind that, it's an option well worth considering.
We wouldn't recommend cutting into your vanity, after all, you might want the flexibility of being able to convert it back to its original purpose, but if you remove the doors you can easily fix a curtain in place and then pop the doors back on if you decide to place the litter box elsewhere down the line.
7. Build a custom kitty litter box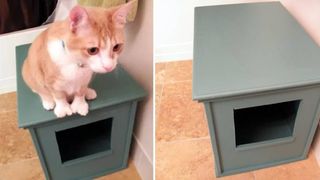 If nothing makes you happier than the thought of a day spent surrounded by MDF boards, a nail gun, and Gorilla glue, then boy oh boy do we have the perfect project for you!
Lindsay over at A Design Story created a custom litter box for her little cat Tebow, who was born with an extra toe on each of his front paws which makes him utterly adorable but means he created a bit of a mess each time he used his litter box.
Instead of shelling out and buying a piece of litter box furniture, Lindsay decided to make one that she could customize to suit Tebow's needs and paint to suit her home décor. Head on over to her blog where you can get all the instructions on how to make your own version.
8. Hide it in a set of drawers
A genius DIY for any pet owner on a budget, this clever idea from TikToker John Crowley involves heading to your local Target and picking up a set of storage drawers.
Then simply cut into the bottom using a sharp craft knife to create space for your kitty's litter. You can even pop a vase of flowers on top to make it look like any other set of drawers you'd find in the home. Genius!
Find full instructions for the project here.
9. Get a litter box that looks like a houseplant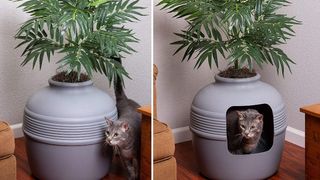 There are quite a few litterboxes that look like houseplants available on Amazon, like this one from Good Pet Stuff that features an artificial plant coming out of the top. It even has decorative moss to look more realistic.
This pot, made from durable polypropylene, however, is actually a litter box - it has an opening on one side that will let kitty have access to the litter box. Simply turn it around to look like a real plant pot, while your feline sneaks in the back.
10. Add curtains to a console table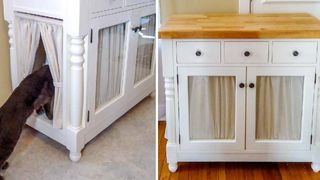 Saws on Skates details a great way to turn a cabinet/console table into a hidden litter box spot. All you need to do is take a piece of furniture like an island or a console table - something that has a low shelf with open sides. If they have closed sides, you may be able to remove one side in order to tuck the litter box away in there.
Saws on Skates added adorable doors to an open kitchen island, then hung curtains all along the inside and on the open side, tucking a litter box away behind the curtain. What's behind curtain number one? A secret kitty poo palace!
11. Put it in a wardrobe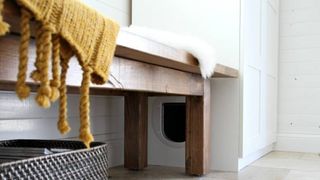 Similarly, if you have a wardrobe cabinet in your house, House Tweaking details how you can hide a litter box in there. Simply remove everything on the bottom shelf, get a kitty door, and drill a hole big enough to install it in the side of the wardrobe. Put the litter box on the bottom shelf and tada, cat access to a private bathroom.
12. Cat door on top of a cabinet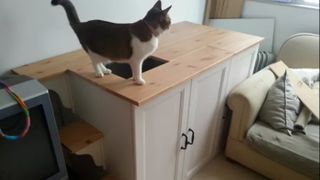 To mix things up a bit, you could always have the entry point for the litter tray at the top of the piece of furniture.
In this offering seen on IKEA Hackers, this both gives the benefit of not taking up any additional room in the living room, and hopefully means they won't drag litter out of the tray.
13. Behind frosted glass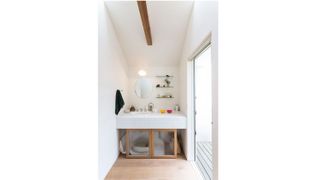 Alternatively, this design from DigsDigs provides an intriguing option set apart from what we've seen elsewhere in this list. Visually it's quite an interesting twist on other designs, and looks easy enough to assemble.
Get the best advice, tips and top tech for your beloved Pets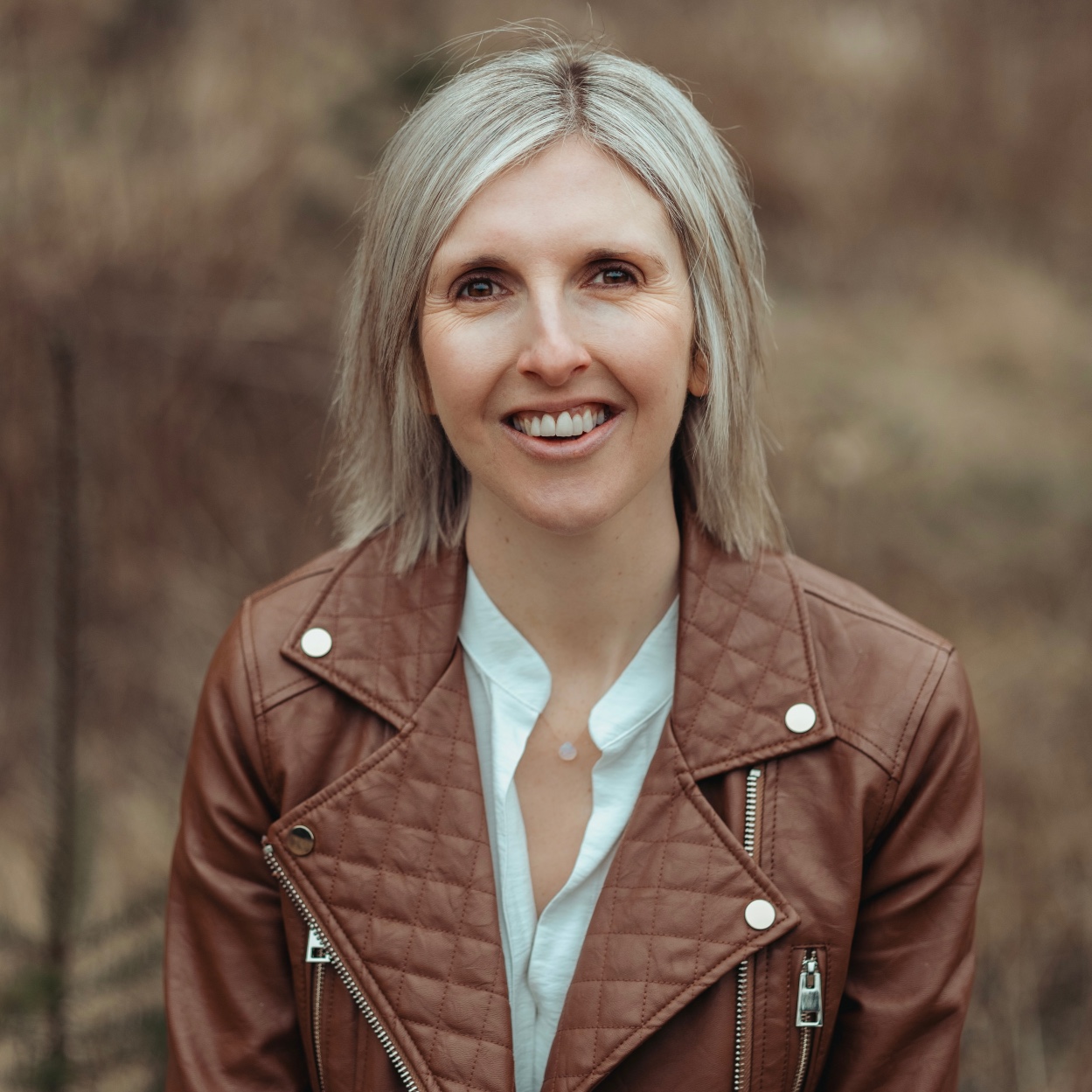 Kathryn is a freelance writer who has been a member of the PetsRadar family since it launched in 2020. Highly experienced in her field, she's driven by a desire to provide pet parents with accurate, timely, and informative content that enables them to provide their fur friends with everything they need to thrive. Kathryn works closely with vets and trainers to ensure all articles offer the most up-to-date information across a range of pet-related fields, from insights into health and behavior issues to tips on products and training. When she's not busy crafting the perfect sentence for her features, buying guides and news pieces, she can be found hanging out with her family (which includes one super sassy cat), drinking copious amounts of Jasmine tea and reading all the books.