Best cat litter box: Get the best bathroom for your feline friend
Choose the best cat litter box to keep your pet puss clean and happy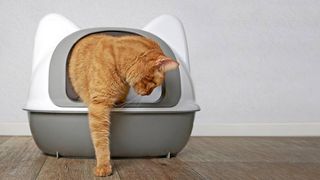 (Image credit: Getty Images)
Our feline friends love to keep clean; the best cat litter boxes ensure that your fur baby has a safe, secure and sanitary place to do their business, whilst giving us pet parents peace of mind that our cat is not soiling surfaces around the home.
But you need to make sure that you're getting a cat litter box that suits you and your fur friends needs. You might think that cat litter boxes are all the same but there are a host of different types to choose from.
You might want to keep it simple with a high-sided tray that you fill, spot clean and empty quickly and easily. These are typically the budget friendly option and likely to be replaced more often, so make sure you get one that's recyclable and environmentally-friendly.
However, you might want something that keeps 99% of the litter hidden in the box and gives your cat some privacy. A covered litter tray is the top choice here, but there's options here - dome, top entry or one disguised as a plant pot so no-one knows it's even a litter box. Or how about a stress-free starter kit that comes with everything a pet parent needs?
Whatever you want, this buying guide is here to help you make sure that you pick the best cat litter box for you and your cat. Be sure to read our guides on the best self-cleaning litter boxes and best cat litter for further guidance on setting up your cat's litter box area.
PetsRadar's pick of the best cat litter boxes
Why you can trust PetsRadar Our expert reviewers spend hours testing and comparing products and services so you can choose the best for you. Find out more about how we test.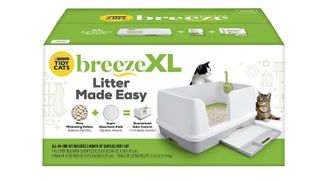 Purina Tidy Cats Breeze Cat Litter Box System Starter Kit
Best overall cat litter box
Size: XL | Color: White and green | Weight: 3.5 pounds | Material: Plastic | Style: High-sided
Everything you need in one package
Smart design for access
Tall sides
Good for all cats
Extra cost of absorbent pads
Need a cat litter box but no idea where to start? Eliminate the worry and get everything you need in this cat litter system starter kit.
So what's included in the set? As you might expect you get a cat litter box, but you also get a scoop, one pack of four cat pads and two bags of 3.5 pound litter pellets. When you open the box you are ready to go and keep going with enough refills to last at least a month.
Measuring 19.15 x 29.25 x 15.25 inches this XL model is ideal for adult cats, smaller cats and kittens, giving them plenty of room to manoeuvre. The design means that there is easy access to the litter box thanks to a contoured cut-out.
But thanks to some smart thinking, its placement means that your pet puss will typically manoeuvre itself so it's not spraying cat litter in the direction of the access point. The high sides are tall enough to stop almost all the litter making its way outside of the tray, keeping the surrounding areas clean, and less work for you to do.
Where the real action takes place is in the bottom of the box. An integrated slide out tray allows you to add super absorbent pads that sit beneath the floor and work in tandem with supplied pellets. Urine heads to the bottom of the tray and into the pads for great odor control for around a week. The pellets keep solid on top for easy removal with the included scoop. The only downside is the extra cost of the pads that need replacing every week. But you do get a less smelly litter box.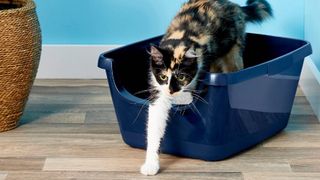 Frisco High Sided Cat Litter Box
Best budget cat litter box
Size: M, L, XL | Color: Navy Blue, Gray | Weight: N/A | Material: Plastic | Style: High-sided
Budget friendly
Easy to clean open top design
Different sizes
Recyclable
Two colors
Step in design can see litter get on the floor
If you want a simple, no nonsense cat litter box solution at a budget-friendly price then this high-sided tray range from Frisco is definitely one for your shopping list.
Made from high-quality plastic, the litter box is BPA-free and can be recycled when it's time for the old litter box to be replaced with a fresh new one. So eco-minded pet parents won't need to feel guilty when getting rid of it.
The front wall of the litter box features a step-in design for easy access to the litter box while the high sides help make sure that most litter and cat spray stays in the box and doesn't make it outside onto the floor. But if your cat does decide to do its business at the open end you might get a lot of litter outside the box.
In terms of design there isn't much to this simple and straightforward litter box. It's deep enough to get an ample layer of cat litter and large enough to fit most adult cats. And to match your home décor you can choose from Navy Blue or Gray.
The medium sized model measures 18 x 15.2 x 8.5 inches, so make sure you measure your pet puss before you buy. There a whole host of other sizes going up to 23 and 24-inch extra large sizes. Ideal if you have a large cat or simply want to give your fur friend more room when doing their daily business.
Its open top design means that it's quick and easy to dispose of dirty litter. Then all you need to do is give it a quick rinse and wipe, leave to dry and refill ready for the next visit.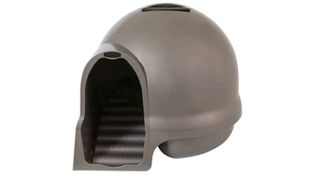 PETMATE Dome Clean Step Cat Litter Box
Best dome-style cat litter box
Size: Large | Color: Brushed Nickel, Pearl White, Titanium | Weight: 6.8 pounds | Material: Plastic | Style: Covered
Smart design stops litter getting out
Charcoal filter to reduce odors
Ideal for all size cats
Integrated carry handle
Not lightweight
Welcome to the litter dome. This cat litter box takes the concept to the next level and not only brings a stylish exterior but a smart interior and some privacy for your pet puss. Available in three colors, you can choose from Brushed Nickel or Pearl White - which are both matt finishes - or Titanium which has a classy reflective gloss finish, each a subtle combination of colors that will help blend in with your home décor.
But don't be fooled into thinking this is a small litter box, it's deceptively large measuring 22.5 x 22.5 x 19 inches. So you won't be able to hide it away in a corner. But its ample proportions make it suitable for all size cats, and an integrated handle makes it easy to move.
Made from a strong durable plastic, the Dome is a two piece litter box with a few added extras. Unclipping the top of the litter box reveals a deep round litter tray with the highest side being the step. Combined with the top section it helps ensure that no - or very little - litter will ever make it out of the dome.
To help reduce the chances of any litter creeping outside of the litter box the ramp contains litter scatters. These help remove litter from your cat's paws as they walk out, further minimizing the chances of litter getting out of the dome. The design of the litter box helps disperse odors, but the addition of a charcoal filter captures a lot of the smell so you don't have to put up with them.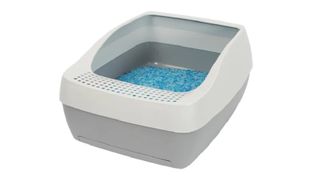 ScoopFree Deluxe Crystal Litter Box System
Best odor-free cat litter box
Size: 19.25 x 15.5 x 9-inch | Color: Gray | Weight: 11.5 pounds | Material: Plastic | Style: Open top
Crystal litter absorbs odors
Good size for adult cats
Scoop, litter and pees pads included
High sides with lip to capture litter
Not ideal for kittens and cats with mobility issues
Fed up with the smell of your cat's pee and poop wafting through your home? Most pet parents would love a cat litter box that stays odor-free for longer and that's what you get with this open top design.
Measuring 19.25 x 15.5 x 9-inch, this large sized rectangular tray is the right size for all adult cats. A lack of any real access point means its nine inch sides may prove to be an obstacle for kittens and cats with mobility issues, but are great for helping make sure that any litter stays mostly in the tray. An overhanging lip around the litter box helps any litter bounce back into the tray.
The front is slightly lower than the back meaning that cats are more likely to dig and spray litter towards this part of the box. To compensate, a larger perforated area looks to catch litter and solids. But it's the specialist litter, bottom of the litter box and absorbent pads that combine to help keep those unpleasant odors away for as long as possible.
The bright blue PetSafe Premium Crystal Litter - one bag is included and lasts up to a month - helps absorb urine and dehydrates any solids to help keep the smell down. A scoop is included - with its own hanging hook - so you can remove solids on a daily basis.
Any urine that isn't captured by the litter falls through the fine holes in the floor and is absorbed by the easy to replace pee pads that sit in a slide out tray. These last for around a month before they need replacing and add extra to the general maintenance costs.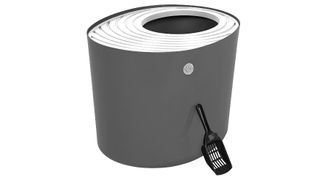 IRIS Top Entry Cat Litter Box
Best top entry cat litter box
Size: 20 x 16 x 14 inches | Color: Gray | Weight: 4.6 pounds | Material: Plastic | Style: Top entry
Keeps litter in the box
Grooved lid to remove litter from paws
Ample entrance hole
Easy to clean
Not ideal for cats with mobility issues
If you want a litter box that is designed to keep the waste where it should be - inside the box - then this top entry option is a good choice. A simple and straightforward design, this litter box is much like a bucket with a lid. But it's better looking than a bucket with its contemporary gray finish and it's the ideal combination to contain your cat's litter every time they pay a visit to the toilet. So you get style and substance.
Made from BPA free plastic the litter box measures a substantial 20 x 16 x 14 inches on the inside. It's a little bigger on the outside, but at 14 inches high your cat will need to be able to jump onto the lid before they can even get into the litter box. If you have a cat with mobility issues or a kitten, they may well struggle to use it, so you'll be better off looking at alternative options in this guide.
The snap on lid makes sure that it's secure - and doesn't flip up when your pet puss jumps on it. The entrance hole measures 9 x 10.5 inches, plenty big enough for all size cats to get in and out of without a struggle. The lid has a set of aesthetic grooves to stop your pet puss slipping. A more functional use is that they help remove litter stuck to their paws before they jump off the lid, helping keep the surrounding area clean.
You get a cat litter scoop for daily spot cleaning and the easy to remove lid makes it easy to empty any dirty litter straight in the bin and get rid of unwanted odors.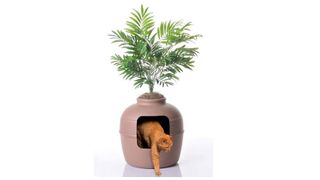 Good Pet Stuff Hidden Litter Litter Box
Best hidden cat litter box
Size: 20 x 19.75 inches | Color: Brown, Gray | Weight: 6 pounds | Material: Plastic | Style: Hidden
Disguised as as plant pot
Can hide entrance
Covered litter tray
Large capacity
Might want to change fake plant
Not ideal for kittens
Don't want your cat's litter box on display, but don't have anywhere to hide it? Then this cleverly disguised cat litter box from Good Pet stuff could be the perfect solution. Designed and styled like a large clay plant pot, this litter box can happily sit in any corner of your home and no-one will ever know why your cat keeps disappearing behind the plant pot.
A two piece litter box it is made from durable polypropylene and comes in two colors to help match your walls and furniture. You can choose from a natural brown clay colour or contemporary gray. If neither of these colors match your color scheme you can paint the pot for the perfect match.
Measuring 19 x 19 x 20 inches the top and bottom fit together to create a litter tray ideal for adult and large cats. A cut in both halves of the pot creates an entrance that gives easy access to the litter box.
The bottom is where you add your fur friend's litter. There's no pads or a raised floor, just a straightforward litter box, but you can get plenty of littler in there. Alternatively, you can add a litter tray for easier cleaning.
The top section's grooves fit neatly into the bottom section to create a solid and secure fit. Just make sure to line up the entrance. A filter and fake plant sit in the top of the upper section. This helps eliminate odors and create the illusion of a real plant pot, especially if you hide the entrance. The fake plant and decorative moss do their job, but it's easy to upgrade with a better fake plant and a different surround like stone to add a more personal and homely touch.
How to choose the best cat litter box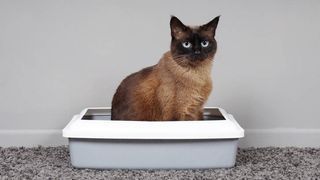 Get the right size
It is essential that you get the right size litter box for your cat. You don't want your fur friend having to step outside their tray or squeeze into a tight small space that makes them uncomfortable. As a general rule a litter box should have enough room for your pet puss to move around in and a little bit extra.
Bigger is typically better. It should be at least the length of your cat - from nose to tip of tail extended - and as wide as your cat without their tail extended. This will give them enough room to sit down comfortably and help ensure that they don't step in their business from earlier.
Do I need tall sides?
An open-sided litter box needs tall sides to stop the litter - and your fur friends business - being thrown out of the tray. The less mess, the less you have to clean up. If you have a large cat or a cat that likes to spray their litter around you will need taller sides. Also check the height of the entrance.
You may have tall sides but a low entrance which can let litter out. But if you have a small cat or a cat with mobility issues you need to think about how they get in and out of a high-sided tray.
What type should I buy?
All the options included in this guide do a good job, but it's very much a matter of what suits your needs. If you don't want to spend a huge amount on a cat litter box a simple high-sided tray is a good choice. But, if you're happy to spend a little more, try a covered cat litter box. These give your cat some privacy and help keep litter in the box. A similar alternative is the top entry covered cat box.
This helps keep all litter in the box but isn't a good choice for less agile or older cats. You can try an automatic, self-cleaning litter box, but these are expensive and effectively do the same job, but you won't have to do as much cleaning.
Get the best advice, tips and top tech for your beloved Pets
Steve Jenkins is a freelance content creator and long-time journalist with more than 20 years in the industry. He has written for numerous titles covering tech to pets, with his latest faithful hound always by his side. When not walking his dog, or discussing who's best - cats or dogs? Loud guitars, AFC Bournemouth, Photoshop, and trying to save the world take up the rest of this time.