Best pet food containers 2023: Keep kibble fresh and tasty
The best pet food containers ensure your furbaby's food remains fresh, secure and easy to store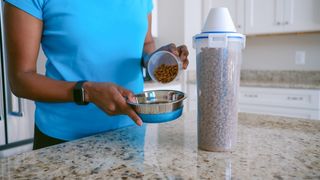 (Image credit: Getty)
While investing in the best pet food containers may not seem like the most exciting of purchases, they can certainly make your life a whole lot easier, offering a neat, tidy and practical way to keep the best dry cat food and dog food fresher for longer.
Containers do a brilliant job of extending the life of kibble, limiting its exposure to air to ensure it doesn't spoil. This is important because you likely spend a substantial amount of money each year providing your fur friend with high quality nutrition, so the last thing you want to do is have to throw it into the bin because it's gone stale and they refuse to eat it.
Thankfully, a good pet food container can help reduce this kind of wastage and help save you money in the long run. They're also a brilliant choice if you have a greedy dog or cat who is constantly trying to raid their unsealed kibble bag for a snack whenever your back is turned.
Decanting kibble bags into pet food containers means the food is easier to store as well. You're unlikely to place a large bag of food on the kitchen counter-top but you can easily do that with a container. You can also place one next to the best automatic pet feeders for convenience and place the rest of the kibble in the garage or a cupboard.
To help you find the best pet food container for your beloved bundle of fluff, we've rounded up all of our favorite options below, with a range of designs to suit every home. Let's take a look....
PetsRadar's pick of the best pet food containers
Why you can trust PetsRadar Our expert reviewers spend hours testing and comparing products and services so you can choose the best for you. Find out more about how we test.
IRIS Airtight Food Storage Container With Scoop
Best overall pet food container
Specifications
Dimensions:
16.5 x 10.8 x 18.6 inches
Reasons to buy
+
Large capacity
+
Comes with wheels
+
Airtight
Reasons to avoid
-
Takes up plenty of space
When it comes to the best overall pet container the IRIS airtight storage pet food container ticks a lot of boxes for us. It's a versatile piece of storage consisting of one large airtight container on wheels with a smaller container that stacks on top. This means you can store two different types of dry food in one unit that's easy to move around, particularly handy if you want to keep your container hidden in a pantry and only bring it out at feeding time. And these containers can store a lot of food, so they get heavy, meaning the wheels are a very useful addition (they are detachable though, so if you don't need your bin to move, you don't have to add the wheels).
Made of strong food-safe, BPA-free plastic, with airtight hinged lids with snaplocks to keep the food fresh and your pets out, this is well designed piece of kit. The larger bin holds 33 quarts or up to 25 pounds of kibble, while the smaller bin which sits on top holds 12 quarts or up to 10 pounds – perfect for treats. Or, if you have a cat and a dog, you could store your pooch's food in one, and you kitty's food in the other. It also comes with a large, graduated scoop included which lets you measure out your furry friend's food from 1/2 cup up to 2-cup portions.
As it only comes with one scoop, you may want to consider getting another to prevent contaminating the different foods, but this is a minor quibble.
The stackable design means you can get the most storage in the minimum space – but it is large so if space is limited it's worth checking if it will fit where you want to keep it before making the purchase. Overall, though, the IRIS airtight container and scoop combo is practical, space-saving, and robust, and it comes in 9 colors too, so you are bound to find one to match your home's décor.
Best budget pet food container
Specifications
Dimensions:
12.5 x 14.5 x 16.25 inches (25lb version)
Reasons to buy
+
Large, simple design
+
Inexpensive
+
Has wheels
While pet food containers are far from the most designed and sleek accessories, the Van Ness pet food storage box is very, very utilitarian. It's like a Doctor Who villain from the '70s, that somehow stores dog food. Okay, all joking aside, this is a great container even if it isn't a looker. You can get it in a range of sizes, from 5lb to 50lb, but we recommend the 25lb unless you have several large dogs.
It's very simple - there are wheels on the underside at the front and back, so you can wheel it to your dog's feeding area (handy if it's full and heavy). The lid opens right up from the front with an easy catch mechanism, exposing a large area from which to scoop your dog's kibble while they dance around you excitedly. The lid seals airtight, and remains so for years. While this lid is easy to open, it can't be forced by pets or smaller kids (although - fair warning - older children will be able to access it) and it snaps shut satisfyingly.
The plastic that Van Ness uses has been approved as safe by the US Food and Drug Administration, so you know it won't leak harmful chemicals or colorants into your dog's food. Most of the more popular containers are, but it always pays to check. It's cheap too, and you get a lot of dog food storage for your money.
Bergen Wall-Mounted Container
Best premium pet food container
Specifications
Dimensions:
15.75 x 11.25 x 26.13 inches
Reasons to buy
+
Saves on floor space
+
Very sturdy
Reasons to avoid
-
You have to wall-mount it
-
Tough to regulate food dispensing
If you're feeling brave, and want to save floor space, try the Bergen Wall-Mounted pet food container. It has a large capacity and you mount it to the wall yourself, using the metal plate provided - a little like hanging a TV in your living room. It's easy enough to install, and has a decent 40lb capacity, so you won't need to fill it too often. Kibbles can be poured into the top, and you dispense them at the bottom via a handle.
There are big pros and cons that come with a wall-mounted dispenser. Obvious advantages include space saving and the fact that rodents can't burrow underneath it or chew it, so you know you can keep it completely pest and insect free. It is airtight too, so moisture shouldn't seep in either, and you won't get any coming up from the ground either if your floor is cold or prone to damp. If you struggle with bending down to scoop from a regular pet food container this can save your back or knees too. The downside is that you have to mount it and do a damn good job, because it's heavy when full. You'll also need to get confident with dispensing via the handle, which does take some getting used to. You'll likely spill and overfill bowls until you work out how fast the food actually comes out.
While you can detach it from the wall easily enough, it's tougher to clean because of this. And while it's well-enough made, you will need to replace it with the exact same model if parts do break down beyond repair. Overall, we like the idea of a wall-mounted pet container, but it's really up to you to decide whether the space and convenience benefits are worth the effort of installing it.
IRIS Airtight Cat Food Container
Best pet food container for cats
Specifications
Dimensions:
13.8 x 8.3 x 14.8 inches
Reasons to buy
+
Easily stored
+
Well priced
+
Made of safe plastic
The smaller, 12.5lb pet food container from IRIS is perfect for keeping cat food fresh. It's small, compact, and can be stored in a cupboard or on a standard shelf. It's designed to be a similar size to a cereal box and can be stored alongside all kinds of similar-shaped items. The container itself is made out of safe, BPA-free plastic, and is sturdy enough to withstand being dropped, should you trip over kitty during feeding time.
One downside noted by many users is that this IRIS container does have a distinct smell of plastic when you first purchase it, so we recommend thorough washing before putting any food in there, and perhaps being prepared to throw out a first load of kibbles a little sooner than expected, to get rid of the smell.
The lid is airtight and fits the tub well. It has a handy clip that allows you to lift off the lid and break the seal, giving you a large area for either scooping or pouring food directly into your waiting cat's bowl. We always recommend a scoop if your cat is on any kind of diet, and we note that at the top of this storage container is a wider rim with enough space to fit a scoop, even when it's near-filled. It's also relatively inexpensive for such a reliable container. Obviously, you can go cheaper with an off-brand item, but we think this is a good price for the quality you get.
Pission Pet Food Container With Measuring Cup
Best pet food container for those on measured diets
Specifications
Dimensions:
5.91 x 3.54 x 8.66 inches
Reasons to buy
+
Comes with measuring cup
+
Easy to store
+
Handy shape to grip
If your pet is on medication you'll know how tough it can be to regulate their diet. The Pission pet food container with measuring cup helps with this, as it integrates a feeding cup that you can use to measure the exact amount of kibbles your cat or dog is getting. This means you don't need a separate measuring cup, and therefore it saves you money and comes as a single storage option.
The Pission pet food container has all the other features you'd expect to see in a top-rated piece of pet equipment. It's made of safe plastic, which can be recycled when you eventually decide to dispose of it, and it is airtight when you've clipped the lid on. The measuring cup sits on the top of the lid, and fits nicely, so it won't rattle or fall off when you store it. We like the shape of the container too, as it has grooves at the rear, making it easier to grip when you're pouring food into a bowl or the cup.
It's well priced too. The only issue is that it's smaller than some other containers, so you can't fit as much kibble in there and may have to decant into it several times per bag. It comes in a variety of colors, and for some reason these cost a little more than the plain white one. All the containers are see-through, so you know how much kibble is left in there, and when it's time to top-up.
Best exterior pet food container
Specifications
Dimensions:
21 x 12 x 17 inches
Reasons to buy
+
Easily stackable
+
Handy screw-lid
+
Large capacity
We appreciate the name of the Gamma2 Vittles Vault, purely because it makes some attempt to make food storage sound exciting. We also appreciate the sturdy build quality here, and the fact it maximizes your space when it comes to storing dog food. The Vittles pet food containers can easily be stacked too, which means the only limit to the amount of food you can store is the height of your ceiling.
The Vittles is so hardy that you can store it outside too, as the weather is unlikely to penetrate the circular, sealed lid that sits on the front of the container. The airtight seal on the Gamma2 is really impressive too, and you're unlikely to get any moisture or other particles inside the container, which - again - makes it perfect for exterior storage if that's what you need. The plastic is BPA free, and is FDA approved, so you know it won't degrade and leak any harmful chemicals into pooch's kibble.
We like that it's stackable but, while there are handles for moving the container, this is a static solution for storing food. You bring the bowl to the container with the Gamma2, and not the other way around. It entirely depends what your particular situation is here, and you may not want to move your food around much. The Gamma2 Vittles Vault comes in 40lb and 60lb sizes so is perfect for mass storage too. No extra colors, though, and the design is one you either love or you don't.
Morezi Pet Food and Treats Containers
Best pet food container set
Specifications
Dimensions:
9 x 6.1 x 6.1 inches
Reasons to buy
+
Rustic farmhouse look
+
Sturdy design
+
Tight fitting lid
We're loving this super stylish pet food container set from Morezi which comes with your choice of cat or dog written across the front. The perfect addition to any countertop or pantry, these containers come in two different sizes so you can store both kibble and treats.
Made from metal with tight-fitting lids that come fitted with easy-grip handles, these containers have a nice sturdy feel and a retro-farmhouse look. Small enough to be portable but large enough to hold 3lbs of kibble and 2lbs of treats, they're far more durable than their plastic counterparts and will last for years.
Available in a choice of black, gray, and white, they come with a handy matching scoop and the square design and spacious interiors make them a breeze to keep clean. They're definitely smaller than some other containers out there, so they may not be suitable for owners of large pets, and the paint may chip over time, but we think that just adds to the charm!
Overall, this is a great set that's well-made, has a delightfully vintage look, and offers great value for money.
SUT Pink Dog Food Storage Container
Best versatile pet food container
Specifications
Dimensions:
17.9"L x 12.7"W x 14.7"H
Reasons to buy
+
Can be large or small
+
Easy to fold and unfold
+
Contains wheels
Reasons to avoid
-
Costs more than buying two different sized boxes
There's no point in having a large container if you don't have much food inside it. Likewise, it's pointless having a small container if you have a big bag of kibble to decant. So what do you do? Buy containers of different sizes or go for a collapsible box that can be easily resized to suit your current requirements?
With this container, you can go large or small thanks to a folding material which just requires you to push or pull. In either case, you can fit a secure lid which comes with an easy-access door. This is air-tight to prevent food from drying out, allowing you to store as much as 30lbs of food without worry.
The container also comes with a scoop and since it's made from BPA-free plastic, you rest assured that it's non-toxic. You don't need to fret about the container becoming heavy either. There are wheels on the bottom for easy moving. It's about as versatile and well-thought out as a container can be.
How to choose the best pet food container
Selecting the best pet food container really comes down to the space you're working with, and the pet you have. Smaller spaces and smaller pets will require less space, but you may want something a little larger so that you can store several months' worth of food in a single place. Equally, larger pets may require more food, so you should look for a pet food container that's big and stackable, unless space really isn't an issue. Certain pet food containers can be stored outside but you need to be confident that they are sturdy enough to withstand the elements, and their airtight seal is strong enough to not degrade quickly.
In terms of materials, we would always suggest plastic, and always recommend that you check it is PBA-free and comes with some kind of assurance from a government agency. While you're unlikely to get chemicals leaking into your pet's food, it just isn't worth the risk, and while you may save a few bucks on a cheaper container… you'll spend big when it comes to veterinarian bills if your dog or cat does get sick.
If you want metal, always make sure that you're storing it in a cool, dry area (because few come with airtight seals) and that you get a steel container with no harmful chemicals or elements that can rust. Rusted iron or lead in your pet's food really, really isn't good for them. Metal bins are often more attractive and expensive, so be sure they suit your practical needs when you buy one.
Get the best advice, tips and top tech for your beloved Pets
Andy is an online Editor-in-Chief, a photographer, and a cat owner of 25 years. He has owned many types of cat, rescuing some and adopting others from kittens. He currently lives with Pickle, a tortie, who loves to play with Christmas wrapping bows and eat flowers.