Five rawhide alternatives for dogs with pros and cons
Looking for some tasty rawhide alternatives for dogs? We asked a vet to share their thoughts on everything from bones to antlers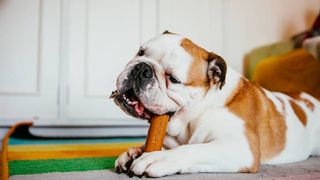 (Image credit: Getty Images)
Searching for rawhide alternatives for dogs is likely high on your priority list if you've been reading up on the potential dangers of this product and are looking for something safer for your canine companion to chew on.
Made from the inner soft hide or skin of an animal, rawhide is one of the longest lasting dog chews available on the market. Because of this, many pet parents initially opt for rawhide because it's great at keeping aggressive chewers occupied for hours at a time.
The issue is that while rawhide is designed to break down into tiny, soft pieces, strong chewers will often be able to break off large chunks. These bigger pieces of rawhide can present a choking hazard, result in damage to the teeth, mouth or gums, and may even cause life-threatening intestinal blockages if swallowed.
While vets recognize a dog's innate need to chew, the risks associated with consuming rawhide have led most to advocate for the use of safer options. To help you find the right product for your pup, we spoke to Dr. Joanna Woodnutt who shared her thoughts on five possible rawhide alternatives.
Dr Joanna Woodnutt graduated as a veterinarian from the University of Nottingham in the United Kingdom in 2016 and went on to practice companion animal medicine in the Midlands. She quickly developed a love of consulting and helping clients with medical problems such as dermatology, behavior, and nutrition. Dr Woodnutt now lives in the Channel Islands with her husband Ian, their daughter, and their terrier Pixie.
1. Antlers
Exactly as the name suggests, antlers are pieces of deer or elk antler that have been cleaned and treated to make them into a rawhide alternative for dogs.
They're very hard, so can be good for extreme or aggressive chewers as they can last for several months. They're made of bone and have a slightly rough texture that's great for cleaning your pooch's teeth. Antlers for dogs are also a low-calorie option as unlike rawhide they contain no fat.
On the flip side, because they are so very hard, they can cause dental problems such as broken teeth. If your dog bites off a piece and swallows it, it can cause intestinal blockages or even punctures, which is why the majority of vets do not recommend antlers for dogs.
"Most vets agree that antlers are not a good chew for dogs," says Woodnutt. "They are too hard, risking broken teeth. Many vets, myself included, have seen 'slab fractures' - where a large chewing tooth from the back of the mouth shatters – in dogs who chew antlers."
Antlers shouldn't be given to very young or elderly dogs so they can cause too much pressure on teeth and jaws. If you do want to give your dog antlers, make sure you're there to keep an eye on them and that you dispose of the chew if it starts to look like a hazard.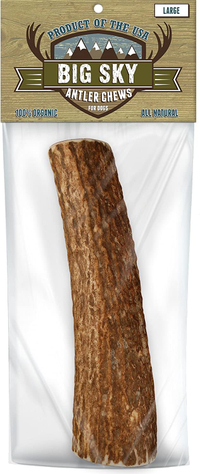 Big Sky Antler Chew, Large
100% organic, naturally shed antler collected from the Rocky Mountains. 8 x 1 x 1.25 inches; 3.2 ounces, suitable for large breeds
Reasons to buy: Long lasting, all natural product
Reasons to avoid: May cause damage to teeth or guts if pieces are swallowed
2. Bones
Can dogs eat bones? Bones may sound a tempting rawhide alternative for dogs - after all, they're 100% natural, can often be obtained cheaply or for free and that's what dogs would eat in the wild, right? In reality, feeding your dog bones can be a controversial subject.
Some dogs eat them with no ill effects whatsoever, while others have problems. Small bones such as chicken bones can splinter and cause internal issues. Larger bones such as pig or cow may not splinter in the same way, but if your dog manages to gnaw off a piece and swallow it there's a chance of a much bigger blockage.
Raw bones can also be sources of bacteria, while cooked bones are more brittle and likely to splinter. To be on the safe side, some veterinarians don't advise feeding bones at all and recommend safer alternatives.
"While some vets consider bones are too hard for dog's teeth, risking painful broken teeth, there's no denying that dogs love them," Woodnutt says. "If you are going to feed bones to your dog, it's essential you understand the risks and manage them properly. Choose the right bones, and remove them if your dog shatters them, as the bits can be sharp. Many bones are fed raw – don't forget that, like raw food, this poses a risk to your household – handle raw bones carefully and don't let your dog eat them where young children may be playing."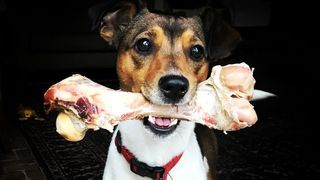 3. Beefhide
Beefhide and rawhide are the same thing, right? Well, not quite. While all beefhide is rawhide, not all rawhide is beefhide. Rawhide can be made from a range of animal skins including horse, buffalo and pig while beefhide is always made from cows.
Some owners prefer beefhide as they know exactly what their dogs are getting. Beefhide isn't necessarily any better for your dog, though, and comes with the same pros and cons.
It can cause digestive upsets and vomiting and is also quite fattening – worth bearing in mind if you're watching your pooch's weight. Fairly new to the market are fish skin chews, which have advantages over rawhide. The rough texture is a great canine toothbrush, and they're much easier to digest when swallowed.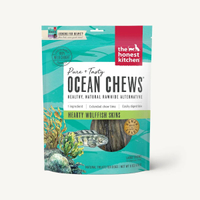 The Honest Kitchen Ocean Chews Fish Skins
9 inch pressed, dried cod skin, suitable for medium to large breeds.
Reasons to buy: Easily digestible, medium lasting
Reasons to avoid: Very strong smell
4. Dental chews
As we've already seen, softer chews tend to be safer for your dog. They're less likely to splinter and are more digestible and less likely to cause damage if they do. "Dental chews have the advantage that they've been carefully tested to be safe for dogs," explains Woodnutt. "Accepting allergies and intolerances, dental chews are safe to chew and swallow, as they can be digested. However, they can be calorific, so it's important to check your dog's calorie allowances and make sure they aren't eating too much. They also don't last very long, meaning your dog may not satisfy their full urge to chew."
When it comes to the best dental chews for dogs, there are plenty out there, but make sure you choose one that's an appropriate size for your pooch. Chews with an irregular shape can be more beneficial in helping to clean your dog's teeth – there are even some on the market shaped like toothbrushes! These chews tend not to last as long as they're softer, so if your dog is an energetic chomper then take a look at our guide to longest lasting dog chews for more ideas.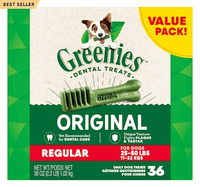 Greenies Original Regular Natural Dog Dental Care Chews
8 inches, suitable for medium breeds. A full range of size options are available.
Reasons to buy: Easily digestible, helps to freshen breath
Reasons to avoid: Not long lasting
5. Chew toys
As already explained, the act of chewing is beneficial to your dog in itself. It causes the production of saliva, which helps wash bacteria away from the teeth. The repetitive act of chewing also releases serotonin, the so-called 'happy hormone', which can help aid stress. As long as he's getting a healthy and balanced diet, though, your dog doesn't need any extra nutrients from chewing. That means that a chew toy will give him the same benefits as an edible chew, as well as being safer.
"Chew toys, usually made from rubber, are often a good option," Woodnutt says. "Again, they've been perfected to be as safe as possible, and there are varying shapes of toy and hardnesses of the rubber to take into account different chew styles. Most vets agree that a stuffed Kong-type toy is the safest chew toy for dogs as it satisfies the chewing urge while protecting the teeth. Some dogs won't enjoy the feeling of rubber and would prefer something harder."
If you have a very 'chewy' dog from whom no piece of furniture is safe, then a purpose-made chew toy could be the way to go and makes a great alternative to rawhide. Take a look at our guide to the best dog chew toys and choose one that's appropriate for the size of dog and tough enough to last.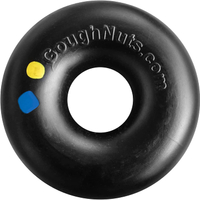 Goughnuts Durable Rubber Toy Dog Chew Toy Ring
A full range of size options is available for different breeds. Made from high grade rubber.
Reasons to buy: Long lasting, safe, comes with a lifetime replacement guarantee
Reasons to avoid: Pricey
Have a heavy chewer on your hands? Check out our vet's guide to safe dog chews for aggressive chewers.
Get the best advice, tips and top tech for your beloved Pets
Sara is a freelance journalist and copywriter of many years' experience with a lifelong love of animals. She's written for a range of magazines and websites on subjects varying from pet care to travel. A horse rider since the age of five, she's currently a full time pet slave to horse Blue and gorgeous, goofy English Springer Spaniel Olly. Adorable Olly has a huge sense of adventure and no sense of direction, keeping Sara on her toes.