Best dental chews for dogs: Keep your pup's teeth in top shape
Our picks of the best dental chews for dogs to keep your hound's breath fresh and pearly whites in good health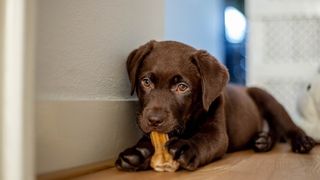 (Image credit: Getty Images)
Feeding your pooch one of best dental chews for dogs can offer them a tasty treat that has the added bonus of cleaning their teeth and freshening their breath. A dental chew can help prevent issues us humans fight with a toothbrush and toothpaste such as plaque formation.
Dental chews are best used just after your pooch has had their dinner as they help scrape away food particles that have attached themselves to their teeth and gums and in doing so, will keep your dog's mouth healthy and prevent bad breath.
When it comes to picking the best dental chews for your dog, there are plenty of options to choose from. When making your decision, take into consideration the size and age of your dog. The size of your dog will dictate how large a chew your dog will need – the larger the dog, the larger the chew required! Bumps and divots are going to be more effective in cleaning teeth because they'll be more abrasive.
The shape of the chew is also important. The more bumps and divots mean they are more effective in cleaning teeth, but they'll be more abrasive. You also need to be careful about leaving dogs with certain chews for too long, as they might start to wear away the enamel. You can, however, use dog chews sparingly as a replacement for dog treats – reward your dog for good behavior while keeping them healthy!
With all that in mind, here's our picks of the best dental chews for dogs in 2022, taking into account budgets and breed, as well as plant-based and vet-approved options.
PetsRadar's pick of the best dental chews for dogs
Why you can trust PetsRadar Our expert reviewers spend hours testing and comparing products and services so you can choose the best for you. Find out more about how we test.
Purina Pro Plan Veterinary Diets Dental Chewz
Best overall dental chew for dogs
Specifications
Accreditation:
Veterinary Oral Health Council Seal of Approval
Main ingredient:
Beef hide
Reasons to buy
+
Long-lasting
+
Suitable for all breeds
+
Proven to break down tartar
Reasons to avoid
-
Chews not a consistent size
These low-in-fat, high-in-protein beef-hide chews come complete with the seal of approval from the Veterinary Oral Health Council. Widely recommended by vets due to their accreditation, giving your dog two Dental Chewz per day is proven to significantly reduce and break down tartar, freshening breath and helping to keep the gums healthy.
Purina's Dental Chewz are suitable for dogs of all sizes. Smaller breeds can safely be given a full chew; however, some owners may opt to cut them down into smaller pieces.
As these chews are made from natural beef hide, there is a variety of size and thickness within each package, so you don't get the same consistency as with other standard-sized products. Sold by weight, the number of treats may also vary from pack to pack.
The texture of Dental Chewz sets them apart from competitors. Unlike alternatives such as Pedigree Dentastix, Purina's chews aren't specially ridged or shaped to reach between the teeth. However, as the beef hide softens, it gently clings to the contours of the teeth, providing a thorough, deep clean.
The more malleable texture also keeps dogs chewing for longer than others which are more easily snapped and crunched, prolonging the cleaning process. In addition, a longer-lasting chew helps to curb any destructive behaviour, keeping your dog occupied and satisfying the chewing instinct.
While rawhide can get stuck in the digestive tract and should be removed from use once thoroughly chewed, beef hide is digestible, so your dog can safely chomp on, and swallow, Dental Chewz without any digestive issues. Its broad appeal, effectiveness and accreditation easily earn these chews the best overall spot.
Best budget dental chew for dogs
Specifications
Bulk boxes available:
Yes
Scientifically proven:
Yes
Reasons to buy
+
X shape reaches between the teeth
+
Developed by vets
+
Market leader
+
Affordable
Reasons to avoid
-
Don't last long
-
Contain cereals
Pedigree Dentastix are a market leader, widely available in supermarkets and online. A familiar and trusted brand for many dog owners, these chews are a popular go-to, not least for their budget-friendly price.
Developed with insight from Waltham Centre for Pet Nutrition and known for their distinctive X shape, Dentastix are designed to get between your dog's teeth into those hard-to-read areas.
Thanks to their special structure and abrasive surface, these chews are scientifically proven to reduce tartar build-up by up to 80%.
Dentastix represent great value for money, whether you opt for a smaller pack or buy in bulk for further savings. A box of 28 or even 56 chews can cost the same as a pack of 6-10 chews from a higher end manufacturer such as Lily's Kitchen or Greenies, making for big savings when feeding one per day.
Pedigree's popular chews have no artificial colors or flavors, are low in fat and include no added sugar. However, they are cereal-based, which makes them unsuitable for some dogs with allergies and intolerances.
Additionally, the ingredients lack clarity, listing "derivatives of vegetable origin" and "meat and animal derivatives," which some owners who are particularly ingredient-conscious may find off-putting. However, Dentastix are the best-selling dental chew on Amazon and come recommended by vets.
Another string to the Dentastix bow is the huge variety on offer. Your dog has a choice of traditional meaty flavors or green tea and eucalyptus oil-infused chews for fresher breath.
There are also options for small, medium and large dogs, all at a similarly competitive price. This is the obvious choice for a tasty, effective dental chew at a great price.
Blue Buffalo Dental Bones Natural Adult Dental Chew Dog Treats
Best dental chews for large dogs
Reasons to buy
+
Wholesome ingredients
+
Gentle on the digestive system
+
Free from corn, wheat, and soy
Reasons to avoid
-
Red color can stain paws
With the same high quality that you've come to expect from Blue Buffalo, these dental chews are the ideal shape and texture for optimal oral health. Helping to clean teeth and maintain healthy gums, these chews also contain parsley to freshen the breath.
Full of wholesome ingredients, including blueberries and peas to aid in digestion, these tasty treats are free from chicken by-products, wheat, corn and soy as well as artificial colors and preservatives, making them a great choice for dog's with sensitive stomachs.
Available in a range of sizes, the large size is ideal for dogs over 50lbs and will give them something to really sink their teeth into. Each chew contains 7.5% protein and 12% fiber, making them a great filling snack.
Virbac CET VEGGIEDENT FR3SH Tartar Control Chews for Dogs
Best dental chews for tartar control
Reasons to buy
+
Supports proper digestion
+
Freshens breath
+
VOHC approved
They may not be the cheapest dental chews on the market but these sticks from Virbac are by far one of the most effective and they come backed by the VOHC for extra peace of mind.
Designed to freshen the breath over both the short and long term, these plant based chews effectively reduce plaque and tartar with their unique Z shape that allows them to reach front to back and everywhere in between.
The chews come packed full of a prebiotic known to promote a balanced and healthy gut flora and are gluten free and easy to digest. They contain no artificial ingredients or chemicals and are moderate in calories.
Lily's Kitchen Woofbrush Dental Chew
Best dental chew for older dogs
Specifications
Different sizes available:
Yes
Reasons to buy
+
Softer texture for senior teeth
+
Natural, botanical ingredients
+
Developed by vets
The Lily's Kitchen Woofbrush is different to other chews in a number of ways. Made from botanical ingredients including algae, fennel, coconut oil, green tea extract, and parsley, it's designed as a healthy option for a thorough clean and breath freshening.
The "chewy bubbly texture" of the Woofbrush makes it much easier to chew than its crunchy counterparts, ideal for senior dogs who may have more sensitive teeth.
As well as making for a more comfortable experience, the softer composition also means this chew reaches right down to the gumline, helping to fight plaque and keep gums in tip top condition.
A premium pet food brand, Lily's Kitchen works with vets to formulate each product and undertakes vigorous nutritional testing. As such, these dental chews are a more expensive choice and if feeding the recommended one chew per day, the cost can add up.
The rise in price is, however, reflected in quality and very high-scoring buyer reviews on Feefo. While chosen for quality, the more unusual ingredients mean the taste will likely be unfamiliar to dogs who are more used to meaty flavors.
Feeding trials and reviews show that the unique mix of ingredients is popular with dogs, but Lily's Kitchen does provide free samples for those who are unsure if it's right for their pet.
The natural, grain-free ingredients are also designed to be easily digestible, and the Woofbrush is part of the product range recommended for senior dogs of 8 years and older.
While a pricier choice, the careful development and unique texture of these chews make them a super choice for senior dogs who need something a little more gentle on the palette.
Greenies Original Petite Dog Treat
Best dental chew for smaller dogs
Specifications
Accreditation:
Veterinary Oral Health Council, European Veterinary Dental Society
Different sizes available:
Yes
Reasons to buy
+
Sized for smaller dogs
+
Soluble ingredients for easy digestion
+
Regularly on offer
Reasons to avoid
-
Dogs should be monitored while eating
If a dental chew is too big, a small dog could struggle to get purchase on it, meaning it doesn't reach the right places and doesn't give that thorough clean you want.
While some chews can be cut to a smaller size, many will simply break into pieces, so it's important to choose a properly sized dental chew that will be truly effective in cleaning your dog's teeth.
Greenies Original Petite Dog Treats are specially formulated for dogs between 7 and 11 kgs (there's a 'Teenie' option available for dogs who weigh between 2 and 7 kgs too).
At 55 calories per treat, they are a balanced mix of protein, fat, fibre, vitamins and minerals, and one per day is enough to keep your dog's teeth clean and breath fresh.
Certified as meeting the standards of the Association of American Feed Control Officials for nutrient profiles in dog food – the leading standard in the pet food industry in – the ingredients are designed to be highly soluble and therefore easily digestible.
However, Greenies advises that owners should monitor dogs while using their chews so as not to swallow any larger pieces that may cause a choking hazard. This advice is echoed by user reviews and vets.
Shaped like a toothbrush, the bumps and ridges, along with the slightly chewy texture, work to scrub away at plaque and tartar, getting down into the gumline for a deep clean that doesn't damage the enamel.
If your dog needs something a little more manageable in size, this is the chew for them.
Whimzees Natural Dental Dog Chews
Best dental chew for sensitive stomachs
Specifications
Artificial ingredients:
0
Different sizes available:
Yes
Reasons to buy
+
Vegetarian
+
Grain-free
+
Gluten-free
+
Low in fat
If your dog has allergies, intolerances, or digestive sensitivities, the right dental chew can be hard to find, but Whimzees come to the rescue with their natural dental dog chews.
Covering all bases, their chews are vegetarian, grain-free, gluten-free, GMO-free and have no artificial colors or flavors. They're also made from just a small handful of clearly labelled ingredients, so you know exactly what your dog is getting, ideal when there are specific dietary requirements to work around.
Grain-free chews can help to ease digestive issues and skin complaints, and a gluten-free option can help with gluten-related allergies such as itchy skin, ear infections, and stomach upsets that, while rare, can be very distressing.
A slightly harder chew than others, they're long-lasting but may not be suitable for older dogs with more sensitive teeth. Whimzees chews are available in a range of sizes from XS to XL and in a variety of shapes, from ridged sticks, to playful alligators and toothbrushes, with variety packs available to keep your dog interested and entertained.
Designed with plenty of bumps and ridges, they not only remove plaque and tartar build up but also massage the gums for increased blood flow.
As well as being available in different sizes to suit your dog's weight, Whimzees chews are shaped to be gripped between the paws, so your pup can get a good hold for easy chewing.
These chews are a more expensive choice than some, but are reported to be two times more effective than their leading competitor, so this is a great choice for dogs with more sensitive systems who need a bit of extra care and attention when it comes to their diet, and their dental routine.
Click here to read our round up of 5 dog treats for sensitive stomachs.
Best re-usable dental chew
Specifications
Material:
Food-grade nylon
Different sizes available:
Yes
Reasons to buy
+
Lasts for months
+
Reusable
+
Patented design
+
Flavored with real food products
Reasons to avoid
-
Cannot be used in households with nut allergies
-
May be damaged if correct size is not used
Whether your dog is on a diet and you need to cut down on treats, or you're looking to save on the regular cost of edible dental chews, a reusable option is a great alternative.
While most treats last a matter of minutes, or hours if they're a little tougher, the Benebone Dental Chew Toy can last for months.
They come in four sizes, from XS to L, so you can choose the correct chew to suit your dog's weight and breed. Do take care to pick the correct size as a strong chewer can cause damage to a smaller product, meaning it won't have the same, long-lasting effect. However, if you choose the right size, the strong nylon material can stand up to some tough chomping for weeks on end.
A choice of real bacon, chicken and peanut flavouring keep dogs coming back for another taste, the patented ridges working to remove plaque and stimulate the gums. And the ergonomic curved shape naturally fits the mouth comfortably and makes it easy for paws to get a good grip.
Be aware, a previous version with larger holes became stuck over the jaw in a small number of instances, so it's important to ensure you buy the new, safely updated design. Check the design against the official images on the Benebone website to keep your companion safe and, like any chew, remove it once it shows signs of heavy wear.
If you need something long-lasting that will withstand even the most enthusiastic of chewers, the Benebone chew is the ideal choice.
Zuke's Dental Chew Dog Treats
Best veggie-based dental chew for dogs
Specifications
Free from:
Corn, soy, wheat, artificial flavors and preservatives
Flavors :
Apple or carrot
Reasons to buy
+
Gentle on the digestive system
+
High-quality ingredients
+
Free from many known allergens
Reasons to avoid
-
Not suitable for aggressive chewers
Take the natural path to cleaner and brighter teeth with these veggie-based dental chews that come packed full of peas and spinach with a crisp and fresh apple base. Free from hard-to-digest tapioca and cellulose, these chews contain easily digestible ingredients that are gentle on the stomach.
Available in a choice of three sizes, these chews are ideal for toy, regular, and large breeds, and there's also a carrot recipe if you want to add some variety to your dog's diet and prevent boredom. The addition of vitamin E helps fight oxidative damage and contributes to a healthy immune system, heart, and skin.
Containing no corn, wheat, soy, artificial colors, or flavors, these chews are made from only the highest-quality ingredients and come in a resealable pouch for freshness. With a unique texture that cleans even the hardest-to-reach places and plenty of alfalfa, parsley, and fennel to freshen the breath, these dog chews make for a healthy and delicious treat.
YuCALM one-a-day Medium Chewies For Dogs
Best calming dental chew
Reasons to buy
+
Proven to help reduce stress and anxiety
+
Can be used by dogs of all ages
+
Only one a day needs to be used
Dogs suffering from stress and anxiety seems to be an increasingly prevalent occurrence. This can manifest itself in a number of different behaviors, such as acting nervously around humans they're unfamiliar with.
YuCALM from Lintbells aims to help alleviate this anxiety, providing a one-a-day chew that has calming effects. Contained within the chews are protein hydrolysates which produce serotonin (also known as the 'happy hormone') and in turn produce a sense of calm.
Lemon balm gives them a bit of flavor, with Natural GABA, L-Arginine and L- Tryptophan also adding to the taste.
Judging by the popularity of this product – the packaging proudly states that over 1.5 million dogs have been helped – most dog owners will agree.
Inevitably, they don't always have an effect, however, judging by some of the user reviews on Amazon. Regardless, there are enough positive reports (4 out 5 at the last count) to reassure us of its general effectiveness.
How to choose the best dental chew for your dog
Dental chews are as individual as your dog, so while it may be tempting to grab the first item on the shelf, it's important to take the time to choose the right one that suits your best friend's needs.
Consider your dog's dietary requirements and ensure the ingredients, nutrients, flavours and even calorie count will work within their current routine. Size is another important factor, too big and your dog will struggle to get a grip; too small and it will not be effective in providing that thorough clean you're looking for.
Sensitive stomachs should always come into the equation, and, in particular, look out for grain-free options and natural, highly soluble ingredients that are easily digested. Equally, consider your dog's current dental health before thinking about how to improve it.
If they have sore gums or weakened teeth, opt for a softer chew, but if they're a heavy chewer, try something tougher that will last longer and really reach between the teeth and down to the gums. By considering these details, you can be sure that the dental chew you buy will do everything you need it to while keeping your dog's oral health in tip top shape.
Get the best advice, tips and top tech for your beloved Pets