Best pet insurance: Ensure your animal companion has proper protection
By Amy Davies
Choosing the best pet insurance doesn't need to be daunting. Check out our selection of some of the top providers.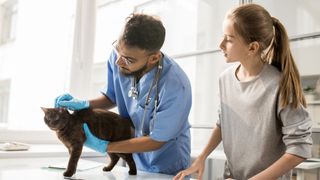 (Image credit: Getty Images)
Ensuring you have the best pet insurance for your animal is essential for their health and wellbeing. Vet bills can become incredibly expensive, even for something that seems quite small. Throughout their lifetime, it is likely that your pet may need a visit to the vet at some point, and having appropriate cover can help ease the burden of an unexpected bill.
While you don't have to get pet insurance, it can give you peace of mind that your pet is covered no matter what. The best pet insurance will allow you to pay upfront or spread the cost into monthly payments that are manageable, and your beloved pet will have help to hand should they need it at any time. If you're still unsure if you need pet insurance, take a read of our vet's guide on reasons to get your pet insured.
The type of pet insurance you opt for will depend entirely on the pet you have and their needs. It is important not to just go with the cheapest quote you see, as often there can be many exclusions to the policy or small print that might mean your pet isn't covered in certain situations.
Sometimes different breeds cost more than others, and if your pet has an existing health condition, this will need to be factored in too. Be sure to read through the terms and conditions thoroughly before committing to any policy.
In some instances, pet insurance can also cover dental care, liability cover, and more, so if this is something you think you'd benefit from, be sure to ask the insurer about these. Before you begin looking, check out our guide on things to look out for when shopping for the best policy.
We've done some research for you and picked out some of the best pet insurance providers on the market, to help you make a tricky decision that little bit easier…
PetsRadar's pick of the best pet insurance
Best overall pet insurance
Type of animal: Dogs, cats | Level of cover: £15,000 | 'Lifetime' cover: Yes **Covers pre-existing conditions?** Yes | Pay monthly option available: Yes | Covers dental: Yes
Extremely comprehensive cover
Access to video vet service
Covers pre-existing conditions
Can be expensive for young, healthy pets
One name that comes up time and time again when speaking to pet owners about top insurance is Bought By Many.
The 'complete' option is described as the UK's most comprehensive pet cover – so it's safe to say you won't get much more from an insurance policy elsewhere.
An annual vet fee limit of £15,000 should suit almost any breed, and as a 'lifetime' policy, you'll also be covered for any condition that occurs after you take out the policy, so long as you renew annually. The good news is that Bought By Many also covers pre-existing conditions that have ended more than two years ago, while you can also quote for more recent conditions (so long as the treatment ended more than three months ago).
Access to a 24/7 video vet, included in the cost of your policy, adds peace of mind should you want a second opinion, and can avoid pricey trips to the actual vet for minor problems that can be easily solved.
The downside of such a comprehensive policy is the price. This is not a cheap monthly cost, so owners of young and otherwise healthy dogs will almost certainly be able to find cheaper options elsewhere. However, other owners tell us that the policy price tends to stay roughly the same throughout the lifetime of the animal, whereas other policies may be cheap at first, but may increase dramatically once you've needed to make a claim.
PetPlan
Type of animal: Dogs, cats, rabbits, exotic | Level of cover: up to £12,000 | 'Lifetime' cover: Yes **Covers pre-existing conditions?** No | Pay monthly option available: Yes | Covers dental: Yes
Covers many types of animals
Multi-pet discounts available
No penalties for claiming
Can be expensive
Pre-existing conditions not included as standard
Another popular name in the pet insurance industry is PetPlan, who have been recommended to us by multiple pet owners. They've also won several awards over the years, so you can feel secure in the knowledge that you should be getting good service from this company.
PetPlan is a great option for lots of different types of pet owners, but particularly if you've got more than one animal, as you'll get a multi-pet discount.
According to PetPlan, 98% of claims are paid out, and it even has the backing of the "SuperVet", Noel Fitzpatrick. PetPlan offers "Covered For Life" policies, which means that should your pet require treatment for ongoing problems, they'll be covered so long as your cover is continuous. That can be really important if they develop an expensive problem.
You can choose the level of cover you get here, and that will determine the price you pay. If you can afford it, it's always worth going for the highest level of cover you can – vet bills can quickly mount up.
As another comprehensive policy, it's not particularly cheap. However, you do need to consider the value that a comprehensive policy brings with it, should the worst happen and you need repeated expensive trips to the vets. You can check out our full review of Pet Plan here.
Waggel
Type of animal: Dogs, cats | Level of cover: up to £10,000 | 'Lifetime' cover: Yes **Covers pre-existing conditions?** No | Pay monthly option available: Yes | Covers dental: Yes
Access to video vet
Easy-to-use smartphone app
Discounts for related products
Doesn't cover pre-existing conditions
Dental fees limited
One of the newest pet insurance companies on the market, Waggel promises to be as transparent as possible to make pet insurance simple.
Getting a quote is easy, and you can adjust the amount of cover you require in order to get the best value quote. If you've got a young or healthy dog, you might want to consider a relatively low amount of cover (say £2000), and benefit from cheaper premiums. If you can afford to pay a little more, you can choose a higher level of coverage – we'd always advise you to get the highest level of cover you can.
Waggel has a smartphone app with a 'dashboard' for following any claims you've made. You'll be able to track the progress of your claim so you know exactly when a payment is made.
If you don't need to make a claim – which hopefully you won't – you can still take advantage of plenty of member benefits, including money off food, free behavioral consultations and access to a 24/7 video vet (one of only a handful of companies in the UK to offer such a service).
Finally, a nice touch is that Waggel supports charities, donating on your behalf from unclaimed premiums.
Animal Friends
Best for multiple conditions
Type of animal: Dogs, cats | Level of cover: up to £6,000 per condition | 'Lifetime' cover: Yes **Covers pre-existing conditions?** No | Pay monthly option available: Yes | Covers dental: No
Free vet video consultations
Cover limit per condition
Donates to charity
Dental fees excluded
Can be expensive if you make a claim
Animal Friends is another insurer that has been mentioned several times by dog owners. It's a well-liked company that trades off its ethical stance, annually donating money to charity. It has more than 20 years of experience and has won multiple awards.
Like some of the others mentioned in this round-up, you get access to a free video vet, which can save you an expensive trip to a standard vet (especially out of hours) and help give you peace of mind.
Unlike most policies, Animal Friends give you the option to cover your pet on a "per condition" basis. You can choose up to £6000 cover per condition, with no limit on how many different conditions you can claim for per year – if your pet develops a number of different problems throughout the year, this can be seriously helpful. The limit resets annually, so long as the cover is kept active. Your vet is also able to claim online on your behalf, which can save time and stress.
Animal Friends does not cover any pre-existing conditions, so if you've previously claimed that is something to be aware of. Some also tell us that once you've claimed, or the pet reaches a certain age, Animal Friends policies tend to get very expensive – but that is common among many insurers.
Tesco Pet Insurance Premier
A comprehensive policy from the supermarket giant
Type of animal: Dogs, cats | Level of cover: up to £10,000 | 'Lifetime' cover: Yes **Covers pre-existing conditions?** No | Pay monthly option available: Yes | Covers dental: Yes
Free vet video consultations
Covers dental fees
Highly rated by independent experts
Must use "preferred referral network" vets
A household name, not everyone is aware that Tesco also provides a wide range of financial services. Several pet-lovers we spoke to insure their pets with Tesco and have had good experiences when it comes to claiming and renewal prices.
This is another policy that comes complete with access to a 24/7 vet helpline who can give you advice on whether you need to visit an actual vet or not. This can be particularly helpful out of hours when vets charge a premium (and consultation fees won't be covered by your premium).
Up to £10,000 worth of cover is available, which renews each year that the policy is active. There are different types of cover available, including the popular 'Lifetime' which is more expensive, but we'd recommend it as it protects you against recurring illnesses. If you're on a tight budget, you can also look at "Extra", "Standard" and "Accident & Injury" cover.
Dental cover is included, but pre-existing conditions won't be covered. It's also worth noting that Tesco requires you to use vets in its preferred referral network – if you use anyone outside of it, you will be liable for the first £200 of the vet bill yourself, in addition to your policy excess.
More Than Pet Insurance
A high level of cover with discounts for existing customers
Type of animal: Dogs, cats | Level of cover: up to £12,000 | 'Lifetime' cover: Yes **Covers pre-existing conditions?** No | Pay monthly option available: Yes | Covers dental: Yes
Vet 24/7 careline
Covers dental fees
Discounts if you already have other insurance
Must use "preferred referral network" vet
Excess increases when pet turns 9
MoreThan is a trusted name in the insurance sector, and the same can be said for its pet insurance policies. You get up to £12,000 worth of cover with its 'Premier' option (also known as Lifetime).
If your budget is more restricted, you could also consider either reducing the amount of cover you have (a £4000 option is available) or go for one of the even cheaper options such as 'Classic' and 'Accident Only' – just make sure you're aware of the limitations and exclusions that the policy provides.
Like some other providers, you have access to a 24/7 phone line to answer queries and concerns about your pet without necessarily having to visit your vet in person. Like Tesco, MoreThan requires you to use a vet within the preferred referral network, or be liable for the first £200 of the vet bill. Most people will find a vet in the network relatively close by, but it's something to consider.
If you have an older dog, the price of the policy will increase, and you will also find that the excess (the amount of the claim you're required to contribute yourself) will also increase.
Those who already have existing policies with MoreThan (such as Home or Car insurance) can claim a discount, while new customers also get 25% off.
How to choose the best pet insurance
Pet insurance is not a legal requirement, but it's highly recommended since vet bills can easily rack up to the thousands if the worst happens.
Choosing the right policy can be overwhelming though, as you'll want to make sure you've got the best possible cover for your pet.
We would always recommend that you do as much research as possible and check the small print of any policy you're considering buying.
'Lifetime' cover is always worth considering since any illnesses or conditions that develop with your pet will be covered (so long as you renew the policy). It can be more expensive on a monthly basis, but it could save you a small fortune if you need it down the line.
Existing conditions can be covered by some insurers, but it's rare. Some will cover pre-existing conditions so long as the treatment ended some time ago. If your pet has been treated before, think seriously before switching insurance companies and always double-check with any new insurer if anything is excluded.
You should always check to see if dental cover is included too. Some include it as standard, while others exclude it. Those that do include it may have a limit on the amount they will pay out.
It's also worth looking out for those that offer a phone line for advice, or better yet, a video service. Small concerns that can be addressed over the phone can save you a pricey midnight trip to the vet, for example.
Finally, have a look at how much 'liability' cover you get. That is, how much your insurer will pay out if your dog damages somebody else's property or injures another animal or person.
If your pet is suffering from a long-term issue and you're struggling to find a policy that will cover it, take a look at our guide to the best pet insurance for pre-existing conditions for some suggestions.
Get the best advice, tips and top tech for your beloved Pets
Thank you for signing up to Petsradar. You will receive a verification email shortly.
There was a problem. Please refresh the page and try again.