If you're looking for a comprehensive pet insurance provider, then Bought By Many is the one to go for. It gives you very high-level cover, includes dental fees and lets you cover older conditions that other policies simply won't budge on. You'll pay a little more for your premiums, but the value you get is great.
Pros
+

Up to £15,000 cover

+

Older pre-existing conditions can be covered

+

Dental is included
Why you can trust PetsRadar Our expert reviewers spend hours testing and comparing products and services so you can choose the best for you. Find out more about how we test.
There are several insurance options offered by this company, but the Bought By Many Complete Pet Insurance policy is the most comprehensive in the UK.
With it, you'll get £15,000 worth of cover should your pet need it - and remember although that sounds like a lot, vet bills can quickly stack up in the case of serious problems.
You also get a range of other benefits including dental cover, £6,000 for loss or theft, and usefully - unlike most other insurance policies, pre-existing conditions can be covered, so long as treatment ended two or more years ago.
With unlimited video vet calls available 24/7, you may also find you save money on expensive emergency trips to your actual vet, too.
All of these benefits make it easy to recommend the Bought By Many Complete insurance policy in our Find the best pet insurance guide, too.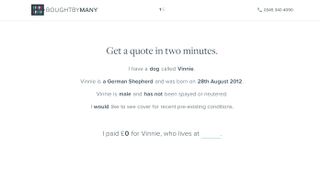 Bought By Many Complete Pet Insurance: Features
Bought By Many is available for both cats and dogs. The complete option is a comprehensive policy which includes a range of benefits. If you're on a tighter budget, you could also look at the "Zero-Excess" options, as well as the "MoneyBack" options which give you a portion of your policy premium back if you don't claim.
If you've got a young dog or cat, or are about to get a puppy or kitten, then Bought By Many also has a policy specifically for young animals. It will fix the price throughout the life of your pet, which could avoid pricey premiums down the line.
In this piece, however, we're looking at the "Complete" option. With this you get £15,000 worth of cover for your pet, should you need it. The amount will reset every year, so long as you keep your policy active.
Bought By Many is not known for its cheapness, but considering what you get for your money, it can be considered good value. It's hard to say how much a policy will cost since there are so many variables. The policy premium price will depend on the age of your pet, any underlying health conditions they have, the type of breed it is, and even where you live.
To bring the price of the premium down, you can opt to pay a larger excess when searching for a quote. This is something to consider if you think it's unlikely that your pet will need any treatment (such as if they're still quite young), but you should always make sure you have the excess amount accessible in a savings account or similar.
Other features of the Complete option include access to 24/7 Video Vet calls to help give you peace of mind, dental cover, cover if your pet goes missing or gets stolen, emergency minding and for the death of your pet.
Getting a quote is quick and easy on the site and should take less than two minutes. In the event of a claim, everything is handled online, and they can even pay your vet directly.
Bought By Many Complete Pet Insurance: User reviews
Over the years, Bought By Many has received plenty of awards and is currently rated as "5 stars" by independent insurance experts Defaqto.
Defaqto ratings are updated annually, with thorough market research which leads to very high standards. The ratings are always published on its website, so you can check that the rating you see on financial websites is accurate. According to the Defaqto website, each policy is analysed using between 30 and 100 different features and benefits, with each policy then scored against those features and given a rating between 1 and 5.
When it comes to customer reviews, TrustPilot gives it a rating of 4/5. The majority of the reviews fall into the "excellent" category, with many users describing excellent customer service, particularly when it comes to making a claim. Lots of people praised the "no fuss" or "efficient" approach of the company when handling a claim.
Several people also refer to the fact that Bought By Many will pay the vet directly if you need them to, rather than paying out and claiming back. If you don't have easy access to a large amount of savings, that can quite literally be a life-saving feature.
One criticism that is frequently levelled at the company is the pricing structure, especially when it comes to renewals. Some find that the price increase is too high - that's not particularly unusual for most insurance companies, though, so you'll likely find that wherever you go. If you're worried about premiums increasing, choosing the "fixed" option from Bought By Many (if your pet is under two) can help with that problem.
Should you buy the Bought By Many Complete Pet Insurance?
There's a huge amount of choice on the market when it comes to buying the best pet insurance. Unlike with many other products in life, saving the most amount of money possible with your premiums shouldn't be at the forefront of your mind.
If you can afford to spend a little bit more on pet insurance, a comprehensive policy like the Bought By Many Complete option will give you the peace of mind that should something go wrong, you'll be completely covered. You may pay more for your premiums, but it could save you thousands should you need it in a crisis.
You should always do as much research as possible when considering an insurance policy, but Bought By Many easily gets a recommendation due to its completeness and comprehensive cover.
Amy Davies is a freelance writer and photographer with over 15 years experience. She has a degree in journalism from Cardiff University and has written about a huge variety of topics over the years. These days she mostly specialises in technology and pets, writing across a number of different titles including TechRadar, Stuff, Expert Reviews, T3, Digital Camera World, and of course PetsRadar. She lives in Cardiff with her dog, Lola, a rescue miniature dachshund.