Seven reasons to get your pet insured with the best policy possible – a vet's view
Thinking of insuring your pet? Find out what vets think about getting your pet insured.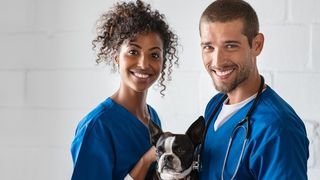 (Image credit: Getty Images)
Vet bills can be expensive, and getting your pet insured is the best way to make sure you have the money you need to treat them if the worst happens.
People often ask if vets insure their pets. The answer is yes. In fact, a recent informal poll of vets on Facebook asked whether vets had their pets insured – and of the 1797 vets who responded, a whopping 80% said yes.
However, only 57% of dogs and 38% of cats are thought to be insured overall, according to the latest PDSA Pet Wellbeing report.
If you want more information on finding the best deal, our buying guide will help you find the best pet insurance.
Author profile
Dr Joanna Woodnutt is an experienced vet with an interest in companion animals. She recently left full-time practice to work as a relief vet and write articles about pets.
So, vets clearly believe that insurance is important for the health and wellbeing of their pets. And, if you ask vets which companies they use to get their pets insured, you'll notice the same names come up again and again.
What do we know that you don't? Let's take a little look at why you should insure your pet, and with the best insurance possible.
1. They cover the condition for life
The best pet insurers don't limit the length of time you can claim for a condition, but many insurers do. This can lure pet parents into thinking they have insurance, only to find after 12 months of pay-outs that the company will no longer cover that condition.
Whilst this isn't too bad for one-off events like surgery to remove an embedded grass seed, for pets that develop a lifelong condition like heart disease, skin disease or diabetes, this can leave owners with a lot of bills to pay once the year is up. The best pet insurance will cover the same condition year in, year out.
2. They have large insurance caps
One trick that some insurance companies like to use is that they provide cheap insurance, but have low amounts of cover. This is an easy trap to fall into – £500 sounds like a lot of cover if you don't know any differently, but it doesn't go far if your pet becomes ill. You should look out for insurance that has cover of £4000-£7000 per year for a cat or small dog, and £7000-12000 for a larger dog.
Think that sounds like way too much? An operation to remove a foreign body is likely to cost £1500-2500, a long hospital stay for a bad bout of pancreatitis could set you back £600-1500, hip replacements cost £3500-7000 per hip. A case of spinal pain usually starts with x-rays, costing £500-1000, but if an MRI is needed this is likely to cost £2500-3000 on top.
If spinal surgery is needed, it will easily use up anything left of a £4000 insurance cap, and leave you paying for the rest on your own. Choose an insurer who offers a decent payout to make sure your pet is fully protected if the worst happens.
3. They cover a greater range of things
Most insurance policies cover for illness and injury (although some cheap ones are injury-only) and some give you third-party liability if your dog was to cause a car accident or bite somebody.
But that's where many insurance policies end. The best pet insurance is the type that gives you other cover, too. Cover for hydrotherapy, alternative therapies, visiting a dog behaviorist and many other things may be included in your insurance – so it's a good idea to take a look at what else they pay out for when looking for the best pet insurance.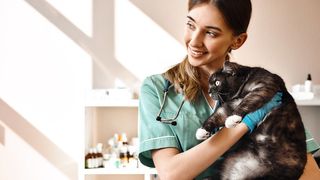 4. Good insurers pay out
Pet insurance is expensive, and there's nothing more annoying than watching that money fly out of your bank account, but the insurance company not paying out when you need it. It's worth knowing that the better (and usually more expensive) insurance companies tend to be less resistant to paying out.
So whilst it can seem like a good deal to get a cheap insurance policy, read the small print and some online reviews before making your decision – it may be a false economy and end up costing you more if they decide not to pay out. The best pet insurers have good reviews from grateful people saying they had a no-quibble payout.
5. Your vet might work with them directly
Some vets will do a 'direct claim' for expensive bills – meaning they'll leave the amount on your clinic account and claim it from your insurance directly, so you don't pay anything on the day and aren't temporarily out of pocket whilst the paperwork is sorted out.
Most vets will only do this for insurance companies that they trust and for large bills. The best pet insurance companies – the ones that pay out on time, every time – are the ones your vet will be most likely to do direct claims with.
6. It can be hard to switch insurers
DO YOU NEED PET INSURANCE?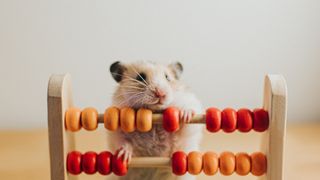 There's no NHS for pets. Veterinary care can be eye-wateringly expensive and most pets will need treatment for an illness or injury at some point in their life. It's difficult to think about your animals being hurt or unwell, but you need to ask yourself: what would you do if you were faced with a vet bill for hundreds or thousands of pounds?
It's important to get your insurance right first time wherever possible. Hardly any policies will cover 'pre-existing conditions' – any illness the animal had before you took out insurance with the company.
This applies to switching insurance providers too – whilst you might be insured for vomiting and diarrhea with one company and they've been paying, if you switch to a different company they'll consider the condition pre-existing and won't cover any costs associated with this.
The best way to avoid this trap is to get your insurance choice right the first time. Having said that, some of the better insurers may pay out for a condition if your pet hasn't suffered from it in a while – for instance, they might rule that if your pet goes three years without vomiting and diarrhea they'll consider it to be a new condition next time around, and pay out accordingly.
This is rare, but the policies are out there – check with any insurer you're considering switching to what their rules are.
7. Money available as soon as policy is in place
A lot of people say they're going to set money aside each month instead of taking out insurance, but there's one major problem with this.
My insurance policy is £22 per month. And, after waiting for the two-week exclusion for new illnesses, my dog is insured for £7000. It would take 26 years to save up the £7000 this way – so if she was ever to get seriously ill, I'd be worse off and – more worryingly – may not have the money I need to get her the best treatment.
If you think insurance isn't for you, that's fine, but make sure you have a plan to cover £5000 of unexpected bills from the day you get your dog. The best pet insurance will give you a decent amount of cover and make it immediately available, although a word of warning – most have a 14-day wait when you're not allowed to claim.
Getting your pets insured
So, getting your pets insured is an important part of pet ownership. And whilst not every policy will be right for every person and every pet, doing your research when you're finding a pet insurance policy is essential.
You should look for one that has an established relationship with your vet – not only is this a sign that they pay out reliably, but it also means that you might not be left temporarily out of pocket.
You should also try to find an insurance that has a large upper limit and covers a wide range of things to make sure your pet insurance will cover you when you need it, no matter what.
Get the best advice, tips and top tech for your beloved Pets
After graduating as a veterinarian from the University of Nottingham, Dr Joanna Woodnutt went on to practice companion animal medicine in the Midlands. She quickly developed a love of consulting and helping clients with medical problems such as dermatology, behaviour and nutrition - anything that involved helping clients understand their pets better. Jo started writing about pet health in 2017, realising that it meant she could help even more pet parents. Since then, she has written for countless online and print publications and is a regular contributor for Edition Dog Magazine. Jo now lives in the Channel Islands with her husband Ian and terrier Pixie, and they are expecting their first child very soon.