How to get cheaper pet insurance
Want cheaper pet insurance but aren't sure how to go about getting it? We have everything you need to know right here!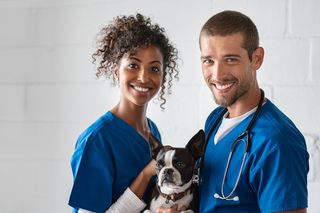 (Image credit: Getty Images)
Shopping for cheaper pet insurance is likely high on your to-do list right now given that most of us are feeling the pinch with our daily living expenses increasing across the board. And the good news is, you can absolutely continue to ensure you're able to afford treatment for your pet as and when they need it while keeping those monthly premiums down.
One of the most common reasons for paying more for policies than we need to is that we're often simply not aware of the tricks of the trade that could help us get ourselves a better deal. While it's true that the best pet insurance can be expensive, there are also policies that will still provide you with the cover you need without breaking the bank.
Comparing pet insurance plans throughly before purchasing, enrolling your pet as a puppy or kitten (as opposed to waiting until they get older), increasing your deductibles or lowering your reimbursement rate, reducing the maximum annual coverage limit, and considering an accident-only policy are all options for keeping costs down.
Insurance costs will also differ depending on whether you own a dog or a cat, how old your pet is, and whether your fur baby has any pre-existing medical conditions. Below, you'll find a range of helpful information that will help you shop around for cheaper pet insurance while still making sure the policy you choose has everything you need.
Shop around for cheaper pet insurance
When it comes to finding cheaper pet insurance, there's no escaping it - you're going to need to curl up on the couch with a coffee and invest some time in shopping around. While it can cost you a few hours in the short term, it has the potential to save you some serious pennies in the long run.
While at first glance all insurance providers may look like they offer the same thing, there are often key differences based on health factors, the age and breed of your pet, and even the area in which you live in. The ABI suggests vet charges in rural areas, for example, are often significantly lower than those in urban areas, and this lower cost will be reflected in premiums. Keep stuff like that in mind when looking into pet insurance.
And don't worry, you won't need to trawl through every company website and create a complicated spreadsheet in order to compare policies and prices. Thankfully, there are some great companies out there who have done all of that for you, making it easier than ever to find a great deal.
In the UK check out GoCompare and Money Supermarket, while Pet Insurance Review is a great way to compare policies in the US and Canada. Oftentimes, comparison websites take a little commission, and may offer unique deals you won't find elsewhere.
Once you've found a deal that offers the coverage you're looking for at a price you can afford, speak directly to the insurance company to see if they'll beat the price you've found. If you already have pet insurance, switching providers can often net you a hefty new customer discount and first year discounts are often available if you're insuring your little one for the first time.
If you've found what seems like a good rate, do be sure to perform your due diligence. Do you really get the same coverage that your current policy offers? Will it leave you liable for a greater excess or expensive vets fees if there's something it doesn't cover? Read the fine print throughly to know what you're signing on for.
Take a risk
Rolling the dice isn't for all of us, but if you're comfortable taking a bit more of a gamble, you'll find opting for an accident-only policy far cheaper than a policy that offers lifetime coverage. And with a lifetime policy, you'll pay less if you choose a lower level of coverage - so, for example, opting for a $2,000 annual limit instead of a $10,000 one.
There are also slightly more expensive pet insurance policies with a maximum benefit, which offer a pre-set payout limit over the course of the policy; if your vets fees or medicine costs exceed that maximum, you're on your own, but you'll likely find that premiums are fixed for that pet's lifetime.
The middle ground is a time-limited pet insurance policy. You sign up, typically for a period of twelve months, and receive coverage that's typically cheaper than lifetime policies. Generally, though, you'll also see slightly lower limits in terms of vets fees or medicine costs, and you'll be left to renegotiate a new policy after the set period has ended.
These do cover more ground than accident-only policies, so you'll get a lot more peace of mind. But as your pet ages you may find a fixed-term policy to be something of a false economy, certainly if your pet develops a chronic condition and the price rockets up. Lifetime policies typically continue to pay out for poorly pets; if you're looking to save money, think of the long term.
Look for special deals for cheaper pet insurance
If you're with an insurance provider but come across a cheaper deal elsewhere, don't be afraid to speak to your current insurer to see if they're able to offer you a comparable rate - most companies will be happy to do so if it means they get to keep your business.
Another great way of getting a cheap deal is to keep your eye out for policies that offer you a discount if you enrol multiple pets. These multi-pet plans can save you more than you might think, with Direct Line in the UK, for example, offering a 12.5% discount on multi-pet policies purchased online. You'll also find similar discounts available to you if you live in the US, with the ASPCA offering a 10% discount for eligible multiple pets.
You'll also find that some insurance companies offer a few weeks of free insurance to pet parents who have adopted a dog or cat from a recognised animal rescue shelter. Embrace Pet Insurance is just one example of a provider who extends discounts of up to 20% to owners who have chosen to adopt.
Buy pet insurance right away
Enrolling your fur friend from the puppy or kitten stage is going to cost you a lot less than if you wait until they're older. That's because when your furkid is young, they're less likely to have developed any health issues. As your pet ages, they may go onto develop a medical condition, and if you haven't already insured them, you'll like find it very difficult to then get coverage.
If you haven't insured your pet before and they have developed health issues that are making it challenging for you to find a policy that will cover them, don't worry. Our guide to the best pet insurance for pre-existing conditions will help make the search easier for you.
Be honest
While pet insurance can feel like a huge drain on your financial resources, when you compare that to potentially having to shell out if your dog accidentally injures someone or their property, or develops an illness that requires costly medical treatment, you're likely saving yourself money in the long run.
That being said, there are plenty of ways you can keep costs down, including shopping around for cheaper pet insurance, playing around with different coverage options, opting for a multi-pet policy if you have more than one fur baby, and choosing to adopt a pet rather than buy one.
Finally, a serious note: don't be tempted to skirt around difficult questions from your insurer in the hopes of tricking them into giving you a better deal. It's a good way to cost yourself a good chunk of money if you need to make a claim for something you've omitted when setting up the policy. Not to mention the non-monetary price you could have to pay for committing insurance fraud.
Get the best advice, tips and top tech for your beloved Pets
Alex is a freelance writer, editor and sub editor specialising in entertainment and technology; he is a father of two, and owned by three increasingly grumpy cats. Somehow he has been doing this for 24 years, and it's still fun. He specialises in technology-related subjects, with a focus on smart home and gadgets and is a regular contributor to T3.com, TechRadar, PC Gamer, and more.