How to get cheaper pet insurance: Lower insurance costs for all of your pets
By Alex Cox
How to get a cheaper pet insurance deal, the right coverage, and insure your entire pet family for less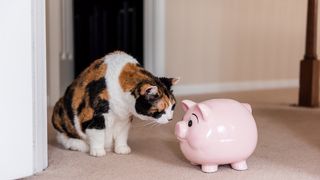 (Image credit: Getty Images)
Pet insurance is vitally important; getting good cheaper pet insurance, doubly so. Petplan's US claims data suggests a $1,000+ vet bill is issued every six seconds, so without the best pet insurance, you could be left massively out of pocket. 
But if the insurance itself is costing you an arm and a furry leg, it's time to do the work and find cheaper pet insurance. 
As with any type of insurance, there's no flat rate for pet insurance. Pet insurance for cats will cost a different amount to pet insurance for dogs, and the price for pet insurance from one provider could be wildly different from the insurance offered by another. 
But there are a host of factors, beyond your specific pet, that it may pay to consider if you're looking to get a better deal on cheaper pet insurance. You can find more information on pet insurance deals in our Find the best pet insurance guide.
Shop around
The first, most obvious step, is to look at your options. If you've ever bought insurance before, this is probably rather obvious: simply switching to a different insurer may significantly lower your pet insurance premiums.
Different insurers focus on different health factors, different pets, breeds, ages or geographical areas. The ABI suggests vets charges in rural areas, for example, are often significantly lower than those in urban areas, and this lower cost will be reflected in premiums. Note that we are not suggesting you move house to get cheaper pet insurance. That would be silly.
There are plenty of price comparison websites which will help you find a good deal. In the UK, look at the likes of GoCompare, Money Supermarket and their like; Pet Insurance Review enables you to compare per insurance policies in the US and Canada. Do bear in mind that comparison websites take a little commission, and often offer unique deals you won't find elsewhere – for better or for worse. 
If you find a good deal on a comparison website, further your research by checking with the insurer directly to see if you might be offered an even better rate. Switching insurers may net you a hefty new customer discount – useful if you're moving a lifetime or multi-pet policy. You may also be able to find first year discounts, if you're happy to bounce around year-on-year.
If you've found what seems like a good rate, do be sure to perform your due diligence. Do you really get the same coverage that your current policy offers? Will it leave you liable for a greater excess or expensive vets fees if there's something it doesn't cover?
Assume the risk
If you're okay with a little more risk, great savings can be found by switching your pet insurance policy to a lower level of coverage. Insurers tend to offer a dizzying array of different pet policy types. 
Petplan UK, for example, has three levels of lifetime cover, the highest of which can cover up to £12,000 in yearly costs. These are perfect for getting puppies and kittens established, but they're not the only option; Petplan also offers, for example, a vastly cheaper accident-only policy.
Just be aware that Petplan also states 90% of its claims are for health conditions rather than accident or injury, so fees stemming from the former will be on you.
There are also slightly more expensive pet insurance policies with a maximum benefit, which offer a pre-set payout limit over the course of the policy; if your vets fees or medicine costs exceed that maximum, you're on your own, but you'll likely find that premiums are fixed for that pet's lifetime.
The middle ground is a time-limited pet insurance policy. You sign up, typically for a period of twelve months, and receive coverage that's typically cheaper than lifetime policies. Generally, though, you'll also see slightly lower limits in terms of vets fees or medicine costs, and you'll be left to renegotiate a new policy after the set period has ended.
These do cover more ground than accident-only policies, so you'll get a lot more peace of mind. But as your pet ages you may find a fixed-term policy to be something of a false economy, certainly if your pet develops a chronic condition and the price rockets up. Lifetime policies typically continue to pay out for poorly pets; if you're looking to save money, think of the long term.
Look for special deals
If you are struggling with insurance fees on a lifetime policy and have found a better deal elsewhere, don't be afraid to contact your current insurer to see if they might be able to offer a comparable rate. There's wiggle room in everything, and (depending on your pet) your insurer may be more interested in giving you a discount than losing your business entirely.
Look for multi-pet deals, too. If you have multiple individual policies with a single insurer, there is a chance that combining those policies together may offer you a better deal. Direct Line, for instance, offers a 12.5% discount on multi-pet policies purchased online. 
Even if you don't save money, consolidating pet insurance policies means they're all paid at the same time, and you can typically tack new pets on as they arrive in your home.
Adopting a pet from a recognized rescue can mean dealing with pre-existing health conditions, and pushing through some tough times as they get settled. For a little help, look for charitable policies which might get you some coverage for nothing in exchange for your noble act. 
Some companies, notably PetPlan and Agria in the UK, partner with certain charities and large-scale rescues to offer a few weeks' free insurance while you're getting everything lined up.
You may also be able to find heavily discounted policies for rescue pets, if you look carefully. Relatively new UK provider Bought By Many, for example, is able to broker cut-price More Than policies which could save you up to 39.25%.
Be honest
Insurance isn't cheap. But it's cheaper than the alternative, and once you've balanced up your pets' needs and the cost over time, it's not hard to find the best pet insurance deal for you. 
Finally, a serious note: don't be tempted to skirt around difficult questions from your insurer in the hopes of tricking them into giving you a better deal. It's a good way to cost yourself a good chunk of money if you need to make a claim for something you've omitted when setting up the policy. Not to mention the non-monetary price you could have to pay for committing insurance fraud. 
If in doubt, you can consult our guide to the Best pet insurance for pre-existing conditions.
Get the best advice, tips and top tech for your beloved Pets
Thank you for signing up to Petsradar. You will receive a verification email shortly.
There was a problem. Please refresh the page and try again.