Get the best equine insurance: Protect the biggest friend in your life
We've rounded up the best equine insurance policies in the UK for companions, hackers, and top-level eventers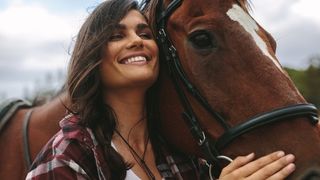 (Image credit: Getty)
The importance of getting the best equine insurance that you can afford can't be overstated. Horses are wonderful animals and a privilege to own, but talk to any horse owner and they will tell you how expensive they are. An old horse joke is that you should cover yourself in mud, stub your toe and then rip up £50 notes in gale-force wind and rain to get an idea of the reality of horse ownership.
It is not quite as bad as that, but vet bills can be eye-watering. It is possible to run up a bill for thousands of pounds over a single incident, but get the right insurance for you and it can buy you peace of mind for just a few pounds a month.
The good news is there is a lot of choice out there for horse owners, and policies to suit every budget and discipline, whether your horse is a happy hacker or a top-level show jumper.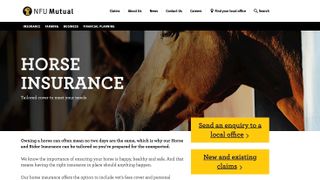 1. NFU Mutual: Best for personal service
NFU Mutual offers cover and a strong personal service
Trustpilot rating: 2.2 | Telephone: Yes | Online: Yes
Public liability can be increased from £2.5 million to £10 million
Insures for legal costs of up to £50,000
Offers holiday cancellation fees up to £1,000
Hard to compare policy quotes online with other insurers
NFU Mutual is not offering policies that vary wildly from other horse insurers – what it is offering is a personal service. If you are the kind of person who wants to deal with a human being rather than conducting business online, this is the service for you. It would probably suit a large equine business better than a single horse owner, where animals worth more than £20,000 need to be insured, with animals that travel outside the country for competitions and whose insurance needs might fluctuate over the year.
NFU Mutual has 300 offices in the UK, guarantee no cancellation, mid-term or direct debit fees, and if you want to make changes to your policy before the term is up, it will not charge administration fees. That is perfect for a large business with a string of competing horses and animals in training, and might need to make changes to policy, depending on how competing and training is progressing, or on clients' needs.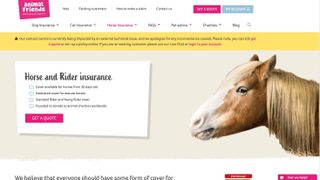 2. Animal Friends horse insurance: Best budget horse insurance
Animal Friends offers policies that can be customized
Trustpilot rating: 4.4 | Telephone: Yes | Online: Yes
Founded as an ethical insurer that donates to animal charities worldwide
Will cover equines as young as 30 days old in standard policy
You can customize your policy according to your budget
Public liability will not come with the most basic policy
Animals Friends is targeting the budget end of the market by letting you build your insurance policy as if it is made of Lego. The most basic package is for veterinary fees and complementary treatments. Anything else you wish to insure, such as your tack, horsebox, public liability, or insuring your horse for death, straying or loss of use can be added on for an additional fee. So if there are features you feel you would not get the benefit from, you don't have to pay for them. For instance, if you choose to keep your tack at home, it would be covered by your house insurance.
While other insurers have a maximum level of veterinary fees you are allowed to claim for over one instance (normally £5,000), Animal Friends allows you to choose the maximum level of veterinary fees you are insured for: £2,000, £4,000 or £6,000.
A unique selling point of Animal Friends is that, if you like your insurer to have a heart, the company was founded with the sole aim of providing pet insurance as a means to help support animal-welfare charities. To date it has donated over £4 million to over 300 animal welfare charities across seven continents.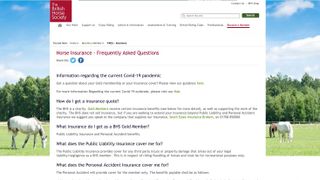 3. BHS insurance: Best for owners of multiple horses
The British Horse Society offers rider and public liability Insurance
Trustpilot rating: N/A | Telephone: Yes | Online: Yes
Public liability up to £30 million
Personal accident up to £10,000
Numerous helplines available on subjects from feeding to legal
No cover available for veterinary fees, tack, or death or loss of use of horse
The British Horse Society's offering is very different from anything else available, but it is worth mentioning if you own more than two horses and find yourself on a budget. The BHS is not a traditional insurer: it is an equine charity, and the money you spend with them goes back into education, welfare and maintaining the bridal way network in the UK. It offers the best public liability insurance of all the insurers mentioned here, and you buy your policy when you purchase Gold membership of the BHS.
The best thing about the policy is that it applies to every animal you own, not just one, so for £75 a year, ALL your animals are covered for public liability, whether you own five or 20. However, veterinary fees, tack, etc. are not available at all with the BHS, and it is advisable to 'self-insure' in this case, which means having a savings account purely for vet fees.
If you go by the standard maximum fees insured in other policies, you would need savings of about £5,000 to cover large, unexpected bills. It is a risk, but if you have healthy horses that don't tend to be accident-prone, it could save you money to have a 50/50 approach of an insurance policy and a savings account. Insurance policies are underwritten by SEIB.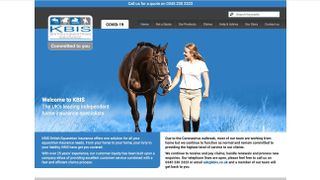 4. KBIS horse insurance: Best all-round insurer
KBIS horse insurance offers a huge range to suit every budget
Trustpilot rating: N/A | Telephone: Yes | Online: Yes
Offers standalone vet fee insurance
Has insurance for horses valued at over £20,000
Offers breakdown cover for horseboxes
Specialist cover needed for animals younger than 90 days
KBIS offers the widest range of policies of all the insurers mentioned. At the very top end of the scale, it has a specialist policy for sports horses valued at over £20,000 that also covers them while competing abroad. All animals named on the policy will be covered by KBIS while competing in Western Europe and while in transit (including aviation).
At the other end of the scale it offers much cheaper horse insurance, including public liability only (insures you for up to £5 million) and it also offers a unique product it calls Catastrophe Cover. Catastrophe Cover can be purchased as a standalone policy for £300 a year and covers vet fees up to a maximum of £7,500. The cover is for accidental, external injuries only, plus three life-saving veterinary procedures, including the dreaded colic surgery.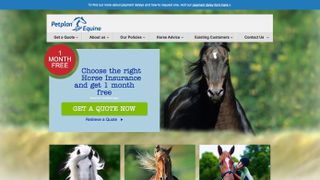 5. Petplan horse insurance: Best for non-veterinary cover
Petplan horse insurance is perfect for people who want to insure for non-veterinary treatment
Trustpilot rating: 4.5 | Telephone: Yes | Online: Yes
Offers a cheaper accident-only vet fee policy
If you buy your policy online you get one month free
Cut-off for older horses on basic policies is 17
Petplan is one of the most famous horse-insurance providers and has a huge customer base. The chances are, if you have a dog or a cat, you are already an existing customer. Petplan's offering is perfect for anyone who wants to insure their horse for non-veterinary treatments as well as traditional vet services. The company does not limit the amount spent on treatments such as physiotherapy, acupuncture and specialist farriery, as long as it's within the maximum vet fee limit quoted on the policy (£5,000). Petplan will also pay up to the maximum vet fee insured for diagnostic treatment.
Veterinary science has changed a lot over the last 20 years, and vets will now work hand in hand with complementary therapists. They are professionals who, like your vet, have spent many years training, and their fees are not cheap. Complementary therapy can sometimes account for half of the bill for one incident, so it is worth considering. Diagnostic medicine has also made huge leaps and can make the difference between a horse being treated and going on to have a full life or being put to sleep, but the equipment being used in such treatments comes with a big price tag.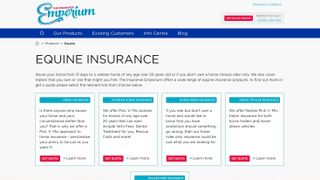 6. E&L horse insurance: Best for flexibility
E&L horse insurance offers flexibility for policy holders
Trustpilot rating: 1.8 | Telephone: Yes | Online: Yes
Offers lunar monthly policy that can be cancelled any time without penalty
Offers a range of policies, from essential to premier
Charges an additional premium if horse competes at higher levels
E&L is not very exciting and does not differ from the basic policies offered by other insurers. The most basic policy it offers covers public liability and insures against death, theft or straying, which means you would have to self-insure for vet fees. Policy pricing on all levels is also dependent on what you and your horse compete at – anyone competing beyond riding club ability, or showing and dressage, will find an additional premium on their policy.
However, the lunar monthly policy means that should your circumstances change or you find you need to sell your horse, you can cancel your insurance policy at any time without penalty. The company also offers discounts of up to 35 percent if you book online.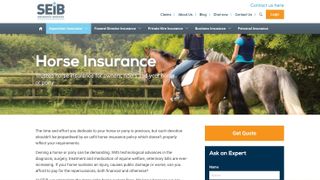 7. SEIB horse insurance: Best for use alongside BHS cover
SEIB horse insurance also works with BHS
Trustpilot rating: N/A | Telephone: Yes | Online: Yes
Offers up to £7,500 for colic surgery
Cover for death, theft and straying included in every policy
Covers horseboxes and trailers, and offers breakdown service
Only offers between 60 to 75 percent of market value for loss of use
SEIB is one of the oldest lenders in the country. It has a good track record and a well-established customer base. Five percent of SEIB's commissions are donated to the BHS, and the company works closely with the BHS on education and welfare.
If the thought of colic is what keeps you up at night, then SEIB, along with KBIS, has specialist colic insurance that offers a higher maximum vet bill than for other treatments. Colic surgery is one of the most expensive treatments there is, and colic one of the most common ailments.
You can get cheaper access to scaled-down SEIB policies through Harry Hall. The equestrian clothing retailer is now offering low-cost insurance, including colic surgery, through a membership scheme, and all policies are underwritten by SEIB. Cover starts at £75 per year for vet fees insurance ,and the policy covers up to two horses with no upper age limit. You do not need to get a quote, you just sign up online to become a Harry Hall One Club member and you get access to insurance. However, you are not getting the same policy as you would direct from SEIB: for instance, vet fees have a maximum capped at £1,500 per incident, so check the small print!
How to choose a policy
Why you can trust PetsRadar Our expert reviewers spend hours testing and comparing products and services so you can choose the best for you. Find out more about how we test.
There is a lot to consider when choosing a policy if you are at the lower end of the market, as most horse owners are. You need to decide what the most important areas you want insurance to cover are. Do you keep your tack in the house? Do you not own your own trailer or horse box? In this case, you don't need insurance for these items.
Whether or not you compete and in what discipline will also affect how much your policy costs per annum. Be realistic! When I got my first horse, I was very excited and thought we would be out show jumping in a few weeks. The reality was a lot of hacking and low-level showing while we got to know each other. Had I insured for my daydreams and not the reality it would have cost me a lot of money.
But the one piece of insurance I would urge every horse owner to buy, even if your horse is a field ornament, is public liability. Horses are big flight animals that tend to pulverize everything that gets in their way when they run in a blind panic. Even just a grumpy kick at a car that passes too close can be expensive. Put public liability at the top of your shopping list and protect your family's finances.
Get the best advice, tips and top tech for your beloved Pets