Best riding boots: Long or short, find the pair that suits you best
Here's a great selection of some of the best riding boots to choose from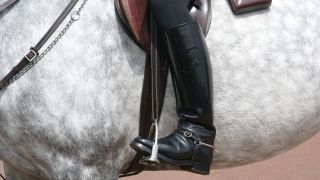 (Image credit: javier Arnau from Pixabay )
Finding the best riding boots can be trickier than finding the best riding jackets unless you have time to visit lots of tack shops and try on all the riding boots you've been recommended, plus read through all the online product descriptions to work out what the benefits of a four-layered footbed and hidden elasticated panel are.
To help you make your choice, we've rounded up a great selection of long and short boots for competition, everyday wear, and winter riding. From the plain and simple to the extravagantly styled, we've searched through them all.
The best riding boots are made with high-quality materials, and are designed to keep you comfortable while performing at your best. They might seem expensive when you first begin your search, but if you wear them regularly, you can't put a price on boots that fit you like a glove, and keep your feet cool in the summer and warm in the winter. When you've found a brand and style you like and fits you well, you won't be able to imagine how you ever rode without them, so check out these suggestions to help you get started.
1. Ariat Heritage Contour II Field Zip Tall Riding Boot: Best overall riding boots
Why you can trust PetsRadar Our expert reviewers spend hours testing and comparing products and services so you can choose the best for you. Find out more about how we test.
Ariat Heritage Contour II Field Zip Tall Riding Boot
A great option for competition boots that aren't too smart for daily wear
Specifications
Smallest adult size:
US 5.5
Largest adult size:
US 11
Reasons to buy
+
Good fit
+
Lots of size options
+
Lots of technical features
These elegant boots are crafted with a premium full-grain leather upper and a full leather lining. The design and fit of these boots make them ideal for competition and everyday schooling, as you'll be able to feel your horse through them really well. There are also plenty of advanced technological features incorporated into the design for superior performance and lasting comfort. The 4LR inner sole provides extra support and cushioning, while the updated Duratread outer sole features tested traction zones. These boots also have a moisture-wicking sock liner, so there won't be a sweaty foot in sight.
The full-length elasticated panel at the rear of the boot is discreet, which helps to keep the boots looking really smart. The YKK zip is secured with a zip keeper to prevent slipping, and this is covered with a poppered fastening. An elastic gusset on the inside of the knee provides extra stretch, and the boots have a flattering fit at the ankle – the contouring means no sagging or bagging in this area, which is a common complaint with long boots. The elasticated laces add detailing while providing flexibility, and there is also a spur rest on either side of the heel.
If you choose the correct size, riders who wear these boots report a really good fit, which is partly down to the design and features, such as the elastic paneling, but there are also a lot of size options to choose from. The boots are available in US sizes 5.5 to 11, with an option of three heights and six calf widths, meaning there's something for almost every rider – and there's a really handy size guide on the Ariat website, too. It's best to have a rather snug fit at first as the leather will naturally stretch slightly and drop over time.
The Heritage boots are typically at a higher price point, but reviews suggest they're high quality and good value, and last a long time if you look after them. It's best to keep these boots purely for the saddle – they're too good to be wearing around the yard.
2. TuffRider Ladies Starter Front Zip Paddock Boots: Best budget riding boots
TuffRider Ladies Starter Front Zip Paddock Boots
Ideal if you're just starting out in the saddle
Specifications
Smallest adult size:
US 6
Largest adult size:
US 11
Reasons to buy
+
Competitive price
+
Easy to clean
+
Vegan
Reasons to avoid
-
Not as supple as leather
These everyday short boots certainly won't break the bank. They have a traditional look and are pretty simple, but they do have a few nice added extras, including spur rests, elastic side gussets, and detailed toe caps. The main part of the boot is synthetic leather, and the sole is made of rubber – these material swaps make the boots cheaper, so bear in mind that they are unlikely to stand up to other models in terms of quality. They'll still do the job of keeping your feet pretty dry – they just might not look quite as smart, and they might be stiffer. They will, however, be really simple to clean; wipe them with a damp cloth for minimal upkeep.
Some users report black marks on their socks after wearing these boots, so it's best to avoid wearing your favorites, but it also suggests that these boots aren't particularly breathable.
They won't last forever, but they'll do the job if you're not planning on wearing them all day, every day.
This style also comes in children's sizes, and these would be perfect for a young rider who is just getting started.
3. HyLAND Waterford Winter Country Riding Boots: Best winter riding boots
HyLAND Waterford Winter Country Riding Boots
Perfect for wearing on the yard as well as in the saddle
Specifications
Smallest adult size:
US 5
Largest adult size:
US 10
Reasons to buy
+
Great on the yard
+
Keep your feet warm
+
Robust and practical
Reasons to avoid
-
Not suitable for competition
-
Not ideal for schooling
These boots are a different style to the others in this list, leaning more towards a country boot and away from the traditional competition boot style. Overall, this gives a great balance between being more robust and practical for wearing on the yard, as well as doing a good job when you're in the saddle.
These boots do a good job of keeping out the cold and wet – they're lined with a technical fabric, which keeps your feet warm but allows them to breath to prevent sweaty feet, and the outer part is made of a water-repellent oiled leather to keep your feet dry, no matter the weather or terrain. The boots have a full-length YKK zip at the rear, which makes them easy to put on, as well as integrated stretch panels across the back, which provides comfort and flexibility while riding.
Although these boots are lightweight, being a bit chunkier means they are unlikely to be so great for fine schooling work or when riding sharp horses. The sole is strong and hard-wearing, and has an anti-skid grip, which will come in handy on an icy winter's morning.
These boots are available in brown, and in sizes 5 to 10. There are no width variations at the calf, as these boots aren't designed to be as close-fitting as competition boots, but the stretch panels allow for slight variations in width.
4. Mountain Horse Sovereign Field Boot: Best for style
Mountain Horse Sovereign Field Boot
Smart and stylish competition boots
Specifications
Smallest adult size:
US 6
Largest adult size:
US 11
Reasons to buy
+
Three color options
+
Soft leather
+
Also come with boot trees and bag
Reasons to avoid
-
Not every height available in every width
These Mountain Horse boots have a traditional but eye-catching look: and are available in a choice of three colors: black, brown, and dark brown full-grain leather. They have a Spanish-cut top, eyelets with fixed elastic lacing, and a smooth leather lining. There are five calf width variations along with three heights, which cater for a wide range of leg sizes, but it's important to be aware that not every combination of the variations is available.
The boots are designed to offer you a more comfortable dropped-heel position, and have ergonomically designed removable insoles – both great additions for comfort. The high-density sole has a grippy zone and a tempered-steel shank for improved stability when riding and walking, although it's probably best you keep these boots for when you're in the saddle, as they'd be wasted for walking around the yard.
The boots fasten with a long YKK zip at the back, with a zipper keeper at the top to prevent it from slipping, and hidden elastic along each side to ensure a comfortable fit. There is also a protective heel cover, which should help to keep your zip safe from dirt and damage, and a spur rest on each boot.
Wearers report the boots to be soft and easy to break in, which will be a relief to hear if you've experienced stiff boots. They also come with inflatable boot trees and a boot bag to help keep them in the best condition.
5. Ariat Scout Zip Paddock Boots: best budget all-rounder boots
Ariat Scout Zip Paddock Boots
A good-quality pair of short boots that won't break the bank
Specifications
Smallest adult size:
US 5.5
Largest adult size:
US 11
Reasons to buy
+
Simple design
+
Good value
+
Solid reputation
Reasons to avoid
-
No pull tab
-
Only available in black
Ariat is well-known for producing a great range of sought-after riding boots. These paddock boots are one of its simpler styles, but they are so versatile that they are a great all-round option, whether you're a beginner or are returning to the saddle after a break.
These boots have a simple and discreet style with a plain toe cap – they're only available in black, but to most beginners this is unlikely to be an issue. The YKK zip is an antiqued brass color, which gives the boots a smart and stylish look. As with most Ariat styles, the Scout is also available with laces, but the zip provides a quick and simple fastening. It may be even easier if there was a pull tab at the back of the boots.
The Ariat 4LR technology is a four-layered cushioned footbed designed to provide superior comfort and support. The hard-wearing Duratread sole provides a good level of resistance and flexibility, aiding comfort and maximizing the lifespan of your boots. The main part of the boot is made of full-grain leather with a moisture-wicking lining, which should help prevent sweaty feet. The ankle features an elasticated area on each side to aid a comfortable fit.
These are Ariat's budget option short boots, but despite there being no real frills, you can be sure that these are comfortable and will last with good care, as the brand has a fantastic reputation. There is also a matching pair of half chaps that you can purchase to wear with the Scouts.
6. Dublin Holywell Tall Field Boots: Best durable tall boots
Dublin Holywell Tall Field Boots
A good, smart pair of long leather boots
Specifications
Smallest adult size:
US 6
Largest adult size:
US 11
Reasons to buy
+
Smart look
+
Grippy inside leg patch
+
Technical footbed
Reasons to avoid
-
Not so many size variations
These boots are, in many ways, similar to the Ariat Heritage Contour boots but come in at a slightly lower price point. The Holywells have a soft full-grain leather upper and leather lining. The full-length back YKK zip is protected at the top and bottom with poppered tabs, and there is a full-length elastic panel to help provide a perfectly snug fit. These boots have a very similar style to the Ariats, with elastic laces, a contoured fit at the ankle, and a high Spanish-cut top.
How these boots differ, however, is in having a grippy calf patch, which should make the inside of the boots that sit against the horse's side more durable and last longer. The footbed features Dublin's RCS (rider comfort system) – it has cupped heel and arch support, a cushioned layer, and a moisture-control lining – so in theory this should keep your feet comfortable and supported, both in and out of the saddle.
The Dublin website offers a fairly comprehensive boot care guide that explains how best to look after your boots – it's not as simple as just wiping clean, but looking after leather is always worth it.
There are just a few different calf fittings available in these boots – two widths and two heights – which will probably cater for the majority of riders, but not all, so it's worth taking a look at the size guide for these. They are also only available in black.
How to choose the best riding boots
Riding boots can be a big investment, so when you're on the lookout for a new pair, it's important to consider what sort of riding you're doing and whether you'll be wearing them when you're out of the saddle. Even though we've done our best to bring you a good selection, it might not be exactly what you're looking for, so make a list of all your essential and desirable features and capabilities.
If you're an experienced rider, and doing dressage or show jumping on a daily basis, look for a tall, leather competition boot. Give consideration to the style, but if you're not going for a bespoke or made-to-measure fit, be sure the boots provide you with enough comfort and support to perform at your best.
If you're going to be spending hours in the saddle, comfort and fit is really important, so if you have the option of trying them on before you buy, it's definitely worth doing. If you don't change from riding boots to yard boots for doing your yard chores, then a more sturdy and practical riding boot would be a sensible choice, as they'll last a lot longer and be much kinder to your feet – competition boots are designed to be worn in the saddle, not for mucking out or turning out.
Get the best advice, tips and top tech for your beloved Pets