The best horse shampoos: Keep your four-legged friend clean and healthy
Our selection of the best horse shampoos to keep your horse sparkling clean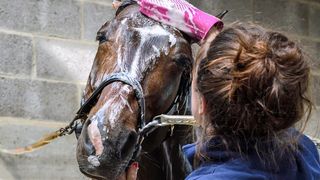 (Image credit: Amazon)
Choosing the best horse shampoos can be quite a tricky task, as there are so many to choose from. While bathing is unlikely to be part of your everyday horse-grooming routine, it's an important part of their regular care. Keeping your horse clean and free of grease will help them maintain a good level of comfort, but a good shampoo is also key to achieving the shine and sparkle that will make your horse stand out and look smart in the ring.
A large number of horse shampoos will be all-rounders – suitable for the majority of horses and pretty efficient when it comes to getting the job done. However, if you're after something more specific, you can find brightening and whitening shampoos that are formulated to help bring out particular colors and keep your horse's gray areas white. There is also a range of options out there for horses with sensitive skin, which are likely to use more natural ingredients. Water-free shampoos are really handy for last-minute touch-ups and in cold weather, while some natural shampoos now come in bar form, which is great if you're trying to make your equestrian life a little more environmentally friendly.
Whatever shampoo you choose, it's important to follow the manufacturer's directions, as this will help you to make the most of your chosen product, use it cost-effectively, and protect your horse from any irritations.
If you want to know which shampoos are best for stain-removing, grays, or sensitive horses, keep reading to find out.
PetsRadar's pick of the best horse shampoos
Why you can trust PetsRadar Our expert reviewers spend hours testing and comparing products and services so you can choose the best for you. Find out more about how we test.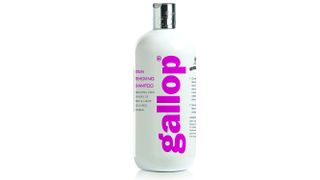 Carr & Day & Martin Gallop stain-removing shampoo
Best overall horse shampoo
Specifications
Largest bottle size:
500ml
Washes per bottle:
5-10 (500ml)
Reasons to buy
+
Super-concentrated
+
Great at removing stubborn stains
+
Enhances coat color
This shampoo is from the well-known and world's oldest horse-care company, Carr & Day & Martin, which has a reputation for producing great-quality horse-care products. The British brand's Gallop range of shampoos includes an option for every horse and situation – and the stain-removing variety is known for being able to remove even the most stubborn stable and grass stains, and whiten the most yellow-tinged tails. The extra-thick, concentrated formula means you get plenty of washes from a bottle, while the purple coloring and stain-removing properties ensure that your horse receives a thorough cleanse.
This shampoo is particularly useful on light-colored horses – who always seem to attract the most dirt – and on problem areas, such as knees and hocks, where stains are often more deeply ingrained. The formula is also gentle enough if you need to repeat the wash on the most stubbornly stained areas. Although it's not a specific brightening or whitening shampoo, it also contains optical brighteners that enhance the natural coat color and sheen.
A larger bottle would be useful, especially if you have a yard full of dirty horses, because with only five to 10 washes per bottle, you'll need to buy a few.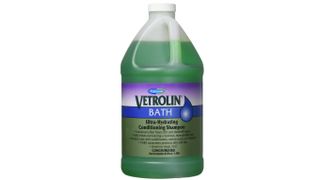 Best budget horse shampoo
Specifications
Largest bottle size:
64oz
Washes per bottle:
16 (32oz)
Reasons to buy
+
Leaves coat feeling soft
+
Protects against pollutants
+
Can also be used on dogs
Reasons to avoid
-
Mixed reviews on the scent
This ultra-hydrating conditioning shampoo produces a rich lather that is highly effective at removing dirt, skin debris, and dandruff, leaving your horse squeaky clean. It contains protein-enriched conditioners that leave the coat feeling soft and looking shiny, as well as ingredients that protect the coat from the sun and hair from environmental pollutants to help prevent bleaching. Shampooing your horse too often, especially with products not specifically made for horses, can strip the coat of its natural oils, so being formulated to hydrate and condition enables this shampoo to reduce the risk of potential negative effects. It also gets great reviews from owners of horses with sensitive skin.
As it's such a concentrated formula, each 32oz bottle can wash up to 16 horses (or 32 horses from the larger 64oz bottle) – a little goes a long way, which is something that is mentioned in the reviews time and time again. Users report great results on their dogs, too. There are mixed reviews when it comes to the shampoo's smell, which is a soft, minty scent – some would prefer it stronger, while others are not so keen. This, of course, is personal preference.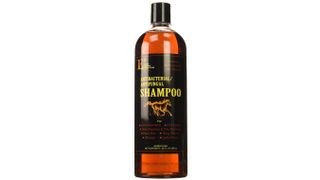 E3 Elite antibacterial/antifungal shampoo
Best medicated shampoo
Specifications
Largest bottle size:
1 gallon
Reasons to buy
+
Antifungal
+
Antibacterial
+
Soothes skin
+
Suitable for many animals
Reasons to avoid
-
No guide for how much to use
This medicated shampoo is specifically formulated for horses. It's antibacterial, antifungal, and fortified with nano vitamins A, C, E and F that are in an easy-to-absorb form, which makes it easier for your horse to reap the benefits. The formula is gentle and soothing, so it's a great option if your horse is feeling a bit itchy or sore but could still do with a bath. A medicated shampoo is especially helpful if a thorough clean is likely to improve your horse's skin condition – the antibacterial and antifungal properties should take care of any nasty things lurking in the coat or on their skin.
Sometimes medicated shampoos don't smell quite as pleasant as a standard shampoo, but many users comment on this product's fresh aroma.
The directions suggest applying this shampoo liberally, so it's hard to comment on the value because, without a measure guide, users will get through it at varying rates. That said, it is available in a large bottle (1 gallon), so it should last you a while.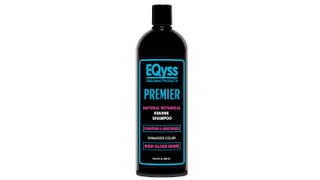 Best natural shampoo
Specifications
Largest bottle size:
1 gallon
Reasons to buy
+
Gentle formula
+
Color-enhancing
+
Natural
+
Cruelty free
This brand claims that you'll notice a difference from the first time you use the shampoo, as it leaves your horse super-shiny. The formula is silicone free, so it leaves the hair completely clean rather than coating the hair, and the natural botanical extracts gently cleanse the coat and intensify the colors. It rinses out quickly and easily, leaving behind no residue, while restoring moisture, balance, and strength to the hairs of the coat, mane, and tail.
As all the ingredients of this shampoo are natural, which is a great thing in itself, you can use it on even the most sensitive horses, safe in the knowledge that there are no harsh soaps or detergents in it. This brand is also known for being cruelty free – a positive that requires no explanation for us as animal lovers. A large number of users report that this shampoo smells fantastic – it has a tropical scent – so should leave your horse smelling extra-fresh.
It's one of the more pricey options on the market, but with such positive reviews it seems that this is a case of you get what you pay for, as there are so many pluses that come with this shampoo.
The small bottle is a handy size for a single horse owner, but you can also opt for a 1 gallon bottle, which is great if you have a few more horses or like to bath your horse regularly. The lid on the smaller bottle has a simple press-down mechanism that's easy to use and will save most spillages.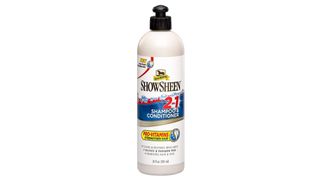 Absorbine ShowSheen 2-in1 shampoo and conditioner
Best conditioning shampoo
Specifications
Largest bottle size:
20oz
Reasons to buy
+
Contains conditioner
+
No-spill bottle
+
Formulated for sensitive skin
Reasons to avoid
-
Only available in a small bottle
You don't find many two-in-one shampoo and conditioners for horses, but they eliminate the need for separate washes, as it cleans and conditions in one step. If you no longer need to use a separate conditioner, this could save you money in the long run and save you time, too, which is always a welcome bonus for a horse owner.
This shampoo is sulfate and paraben-free as well as pH-balanced – it's formulated for sensitive skin, so your horse is unlikely to become irritated by it. It contains added vitamins and conditioners that nourish the skin and coat, leaving it feeling healthy and looking shiny, and it rinses out easily, leaving no residue.
This bottle top is one of the safest when it comes to preventing spillages – a bit like a sports-top drinks bottle, you have to squeeze it to get the product out so you can really target the areas you'd like to apply it to. The packaging-related downside is that this shampoo is only available in a 20oz bottle, which is a fair bit smaller than most other brands. It's also made in the US, which reduces the product's carbon footprint and supports American business.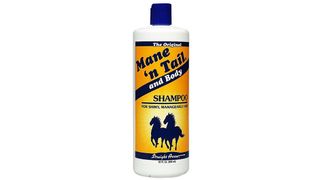 Straight Arrow Original Mane 'N Tail shampoo
Best multi-species shampoo
Specifications
Largest bottle size:
1 gallon
Reasons to buy
+
Designed to use all over
+
Leaves the coat shiny
+
Can be used on human hair
This shampoo was originally created for show horses with long manes and tails to help their flowing locks stand out in the ring, so it should be just the ticket to give your horse the wow factor. The protein-based formula, which can be used on the body, mane, and tail, cleans all the way down to the skin without being harsh or removing necessary natural oils that help your horse's coat and skin do their job. The shampoo leaves the coat soft and shiny, and the mane and tail fuller and more manageable, so it's a great option for a good all-round clean. Regular use should help to improve coat health and appearance, too.
Mane 'N Tail shampoo has become increasingly popular in recent years, as it's found its way into the hair care aisle in your local supermarket or beauty store for human use! The majority of users report fuller, shinier, and healthier-looking hair after use, while some also claim it has promoted growth – for both people and horses. One drawback is that if you're buying it in smaller bottles aimed at people, you won't get such good value for money. However, if you're looking for a travel-sized bottle to take away with you, this could be just what you're looking for. There are three sizes available, and the largest bottle is particularly handy if you have a lot of horses to bath or are bathing them regularly. The smaller bottles have an easy-pour lid, which prevents any spillages if the bottle gets knocked over.
How to choose the best horse shampoo for you and your horse
When making your shampoo selection, it's important to consider what results you're hoping to see – aside from having a clean horse, of course. Brightening shampoos will help to bring out your horse's color and give them a show ring shine, while whitening shampoos will do the best job of removing yellow stains from a gray. If your horse is sensitive, it's definitely worth opting for a natural or specially formulated shampoo, as these will be much more gentle on the skin. A medicated shampoo will not only clean but help to remove any bacteria or fungus lurking in the coat and on the skin, helping your horse to stay at optimum health.
You won't need to use vast quantities of a quality shampoo to achieve your desired results, which should help you to save money in the long run, especially if you're bathing your horse regularly. If you've got a yard of horses to bath, a shampoo that you can buy in large quantities could save you a lot of money. Find the right shampoo for your horse, and you'll be rewarded with results you can see and feel.
Get the best advice, tips and top tech for your beloved Pets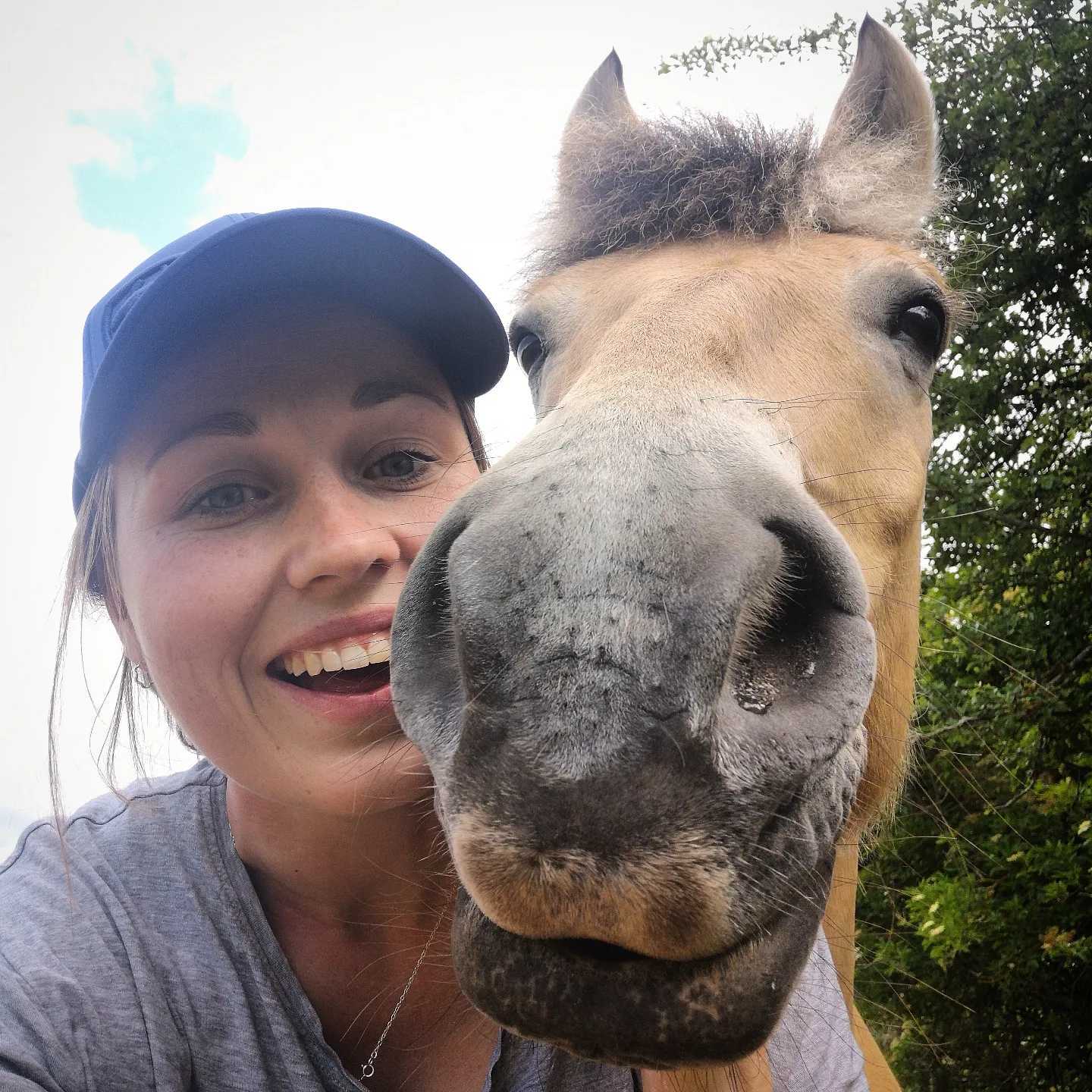 Senior Content Editor (Products and Ecommerce)
Georgia Guerin is Senior Content Editor at PetsRadar. She joined the team with almost a decade of experience writing for equestrian publications and websites – most recently on PetsRadar's sister title Horse & Hound since 2018. She looks after all the products-related content on both websites in order to help you make the best purchases for your pets.
Georgia currently has a 15-year-old Norwegian Fjord horse called Utah and two house rabbits, Blossom and Lottie. She's owned pets all her life, including cats, guinea pigs, hamsters and goldfish – and next on the list is a working cocker spaniel that she can take trail riding.