Pet insurance advice: Five things to look out for when shopping for the best policy
Looking for pet insurance advice? Our top tips will ensure you purchase a policy that gives you everything you need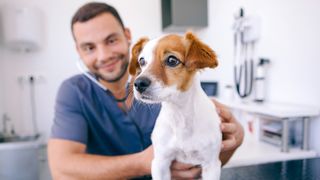 (Image credit: Getty Images)
Looking for sound pet insurance advice is likely high on your list if you've recently welcomed a furry friend into your family. And we don't blame you, after all, while our pets give us so much in the way of love, affection, laughter and companionship, they can certainly put a dent in our bank accounts!
While some animals cost less over their lifetime than others, even a cat or dog with relatively low health needs can still end up costing you hundreds or thousands of dollars if they get into an accident. That's where having the best pet insurance can be a real lifesaver.
A lot of pet parents find pet insurance offers them great peace of mind, helping to keep costs down and ensuring that you have the funds available to you to get your pet the treatment they need, if and when they need it. If you're like most of us and don't have a large savings account to deal with emergency issues, pet insurance is something well worth considering.
But with so many pet insurance providers out there offering a range of different plans, how do you know which one is the right one for you and your fur baby? Well, that's what we're here to help you with. Below, you'll find comprehensive pet insurance advice that will let you know exactly what you need to be on the lookout for to ensure you get the most bang for your buck.
1. Is it a 'lifetime', 'non lifetime' or 'accident only' policy?
When it comes to finding pet insurance that will give you the most comprehensive coverage, a lifetime policy is going to be your best bet. 'Lifetime' basically means that your pet is covered for any illness or condition that they may develop while the policy is active, so, for example, if a few years after you take out a policy your dog or cat was to develop diabetes, the treatment for this would be covered.
Additionally, you also have 'per condition' and 'annual' limitations. It might be that your policy has a 'per condition' restriction of $2,000/£2,000. So if your dog or cat develops diabetes, but also has to be treated for a broken leg, then the insurer will pay out a maximum of $2,000/£2,000 per condition. Alternatively, if the annual limit is $5,000/£5,000, for example, then any and all conditions up to that amount will be covered, with no per condition limit.
While this all sounds great, there is a downside to lifetime policies in that they tend to be a lot more expensive than 'non-lifetime' or 'accident only' policies. The latter are still worth considering if you have a young and healthy pet or if you're struggling to afford a lifetime policy, but just be aware that there are a lot more exclusions, so you could still end up having to part with quite a lot of money to cover what the policy doesn't.
2. Will it cover my pet for pre-existing conditions?
DO YOU NEED PET INSURANCE?
There's no NHS for pets. Veterinary care can be eye-wateringly expensive and most pets will need treatment for an illness or injury at some point in their life. It's difficult to think about your animals being hurt or unwell, but you need to ask yourself: what would you do if you were faced with a vet bill for hundreds or thousands of pounds?
One of the biggest challenges for pet parents who have a fur baby with a pre-existing medical condition is that most pet insurance companies don't offer policies that cover these - which can be more than a little frustrating.
If you already have a policy and your pet developed a condition after you took it out, we'd recommend you think long and hard before swapping over to another provider where it will likely be counted as a pre-existing medical condition and not covered.
And if you're trying to find a policy that will cover your fur baby, it's worth phoning up insurance companies and asking them to talk you through the policies they have on offer and whether any of these will suit your pets needs. Some may be prepared to offer a bespoke policy, but you'll likely need to pay more for this.
3. Does pet insurance include dental coverage?
Dental cover can be a tricky one and it's worth closely scrutinising the policy to see whether or not this is included. You'll find that some policies only cover dental work that is the result of an accident, while others are more comprehensive. If dental cover isn't included in the policy, some providers offer add-on wellness plans that include dental care, so it's worth looking into this.
4. Are there any exclusions I need to be aware of?
We encourage all pet parents to read the fine print of any policy really carefully before you sign on the dotted line. Although pre-existing medical conditions tend to be the biggest exclusion, you'll find other things that may not be covered.
Things that you might expect to have in your plan but that actually may not be included are things like spaying and neutering, vaccinations, flea and worm treatments, and complications arising from pregnancy. Again, an optional wellness plan is likely to include a number of these routine costs, so do consider whether adding this on would be helpful for you.
Another interesting one to look out for is cover for emergency boarding, if something happens to you that means you can't look after your pet. Perhaps you get taken into hospital yourself, or a flight back from holiday is cancelled – good policies will include this cover as standard.
5. Does it provide me with third-party liability cover?
Generally, when we consider pet expenses we think about vet bills, toys, food, and even the insurance itself. But what we don't often think about is what we'd do if our pet was to cause damage to somebody'e else's property or injury to another person.
Thankfully, that's where third-party liability cover comes in and we can't stress enough how important it is to ensure your policy covers this. Believe it or not, it's possible that the financial costs of your pup injuring another person could run into the hundreds of thousands of dollars, and that's definitely not a bill you want to be footing out of your own bank account!
Third-party liability cover will ensure you don't get stuck with a huge bill on your hands should the worst happen, but be aware that it's likely that insurance companies will ask whether your pet has been involved in any dangerous incidents in the past and if they have, they may not qualify.
The moral of the story? Make sure you have third-party liability coverage from the moment you bring home your pet, it could potentially save you from a huge financial headache.
6. Should I shop around for the best pet insurance?
We know that trawling through insurance policies isn't fun, but it really does pay to do your research and make sure you have the right policy for you. Read the fine print to make sure you're making a solid investment, and take into consideration both your current living/work situation and the current health of your pet. Pet insurance can be a life and money saver, you just have to make sure you've got the right one for your and your furbaby.
Get the best advice, tips and top tech for your beloved Pets
Amy Davies is a freelance writer and photographer with over 15 years experience. She has a degree in journalism from Cardiff University and has written about a huge variety of topics over the years. These days she mostly specialises in technology and pets, writing across a number of different titles including TechRadar, Stuff, Expert Reviews, T3, Digital Camera World, and of course PetsRadar. She lives in Cardiff with her dog, Lola, a rescue miniature dachshund.