Best pet insurance for pre-existing conditions: Policies for poorly pets
By Alex Cox
Finding the best pet insurance for pre-existing conditions can be hard, but we've got options that can help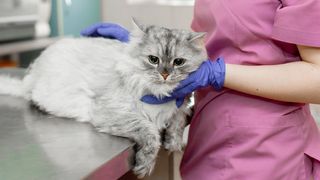 (Image credit: Getty Images)
We all love our pets, but buying pet insurance for pre-existing conditions – and helping to ensure your pet's future is a healthy one – is not easy. It's not impossible, though: Some insurers are willing to provide policies for poorly pets, though this all comes with some very large caveats.
Insurers are not stupid, and they're not in the business of losing money: Pre-existing condition insurance typically will cover your pet for anything but their current health issues. This means you will usually be liable for the full cost of treatments and consultations specifically related to those non-covered areas, with the policy covering the rest. It will be up to your insurer to decide if any future ailments relate to the problems you've previously disclosed, and whether they'll pay out for these.
Some insurers may consider certain prior conditions to be eligible for coverage if you've not had any consultation or treatment administered for a certain period beyond the start of the policy, and they may specify a period after the policy is taken out within which those prior conditions will not be covered.
Even these broad definitions can be cloudy, since there's generally a distinction drawn between types of ongoing health conditions.
Pre-existing conditions
Pre-existing means exactly that: Conditions which have actively manifested themselves before the policy was taken out, or during any mandatory waiting period of the policy. If you're rushing to get your pet insured because they've just developed something very expensive to treat, you're more than likely going to be out of luck.
Hereditary conditions
Hereditary conditions are those which are typically associated with a particular breed. You may have a little more luck here; if your pet is a pedigree or pure-breed animal, insurers are typically aware of the risk that comes with insuring that breed. Some will add an extra charge to new policies, some won't, but it's wisest to take out the policy before, say, your bulldog develops hip dysplasia. It will likely be difficult to find an insurer willing to cover it after it has manifested. Note that many insurers keep a list of breeds they're not willing to cover.
Chronic conditions
Incurable illnesses, or ongoing illnesses which require regular treatment and vet consultations, are generally considered chronic conditions. These will basically never be covered by any insurer, and will always be excluded from the cover offered by any policy. This includes conditions ranging all the way from obesity to diabetes to cancer.
Even if you've long been signed up for a lifetime policy, premiums naturally rise as your pet becomes ill and you're forced to claim. Note that, at least for certain chronic conditions, it may pay to work directly with your insurer to remove certain things from existing cover and self-fund them; some ongoing medications, for example, may work out cheaper to buy yourself, and making it clear on your policy that you do not expect your insurer to be liable for them can help drive those premiums down.
We'll make no bones about it: Premiums are likely to be very high for any policy with any kind of cover for pre-existing conditions. Not just a little bit, a lot: Expect to pay around twice to three times as much as a regular policy, even if your pet has fully recovered.
We'll not talk too much about the price here, because everyone's quote is going to be different, but there are some insurers more likely than others to be willing to work with you to provide appropriate coverage for your pet. Here are the best insurers for animals with pre-existing conditions.
1. Bought By Many: Best overall
Offers a wide range of policies
Underwriter: Great Lakes Insurance SE | Covers: Dogs & Cats | Vet helpline: Yes | Fees covered: £3,000 - £15,000 | Multi-pet discount: 15%
Actual pre-existing condition cover
Plenty of policy types
Great lifetime policies
Quite expensive
Bought By Many, launched in 2017, was founded specifically to offer animal owners the type of insurance cover they couldn't find elsewhere. For example, they offer a very generous lifetime policy in the form of the Complete plan, which covers £15,000 of vets fees, includes dental treatment, and offers monthly payments with no interest charges on top. There's also a Bought By Many MoneyBack policy, which refunds 20% of your premium every year you don't need to make a claim.
You're spoiled for choice with Bought By Many, as every one of the company's policies covers pre-existing conditions, providing no treatment for them has been given in the past two years.
For more recent ailments the company offers a specific 'Pre-existing' policy. You're eligible as long as your pet has not received any treatment for the three months prior to taking out the policy, and Bought By Many has made it work by scaling up the cover you'll be eligible to claim over time.
In the first year those pre-existing conditions will be offered £500 of cover (with all new conditions covered by £7,000 of lifetime vet fee cover); in year two, that number goes up to £1,000. In year three, if you have not made a claim on pre-existing conditions, the claim amount gets upped to the full £7,000. If you do make a claim in the first two years, the limit drops back down to £500.
2. Scratch & Patch: Best for levels of cover
Covers the parts other policies can't reach
Underwriter: HDI Global Specialty SE | Covers: Dogs & Cats | Vet helpline: Yes | Fees covered: £2,500 - £8,000 | Multi-pet discount: No
Online screening program
Some pre-existing conditions covered
No waiting period or co-payment
May not suit all conditions
Whether you can get pre-existing cover on Scratch & Patch's Champ plans really depends on the specifics of your pet's medical history. The company has so far provided cover for pets with a long list of medical ailments, but you'll need to fill in an online medical screening before you'll be told whether your pet's specific case is one they're happy to cover. Having an extensive knowledge of your pet's health before the policy begins is what the company says allows them to cover a wide range of things not cared for elsewhere.
Naturally, there's a slight penalty if you do get that cover, with paid vets fees reduced significantly on known conditions, although this generally won't affect your yearly cover limit for other treatments. You'll want to make sure you haven't kept anything secret from your vet, because there's obviously going to be a little cross checking going on when it comes to paying out. Scratch & Patch may also choose to not cover all of your pet's conditions. Again, it's a question of specifics.
The Champ plans offer three levels of cover, ranging from £2,500 fees up to £8,000 per year, and Scratch & Patch is willing to waive the usual post-purchase waiting period on the policy provided you're transferring from another provider.
Assistance dogs can get the cover, and there are no cat breeds excluded, though there's the usual list of excluded dogs. Professional dogs – racing dogs, gun dogs, beaters, and guard dogs – aren't eligible for the policy.
3. VetsMediCover: Best for low excess
Standard cover with a few perks
Underwriter: Covea Insurance | Covers: Dogs & Cats | Vet helpline: No | Fees covered: £2,000 - £10,000 | Multi-pet discount: 10%
Hereditary/congenital issues covered
Low standard excess
Long wait for pre-existing condition cover
There are a number of things covered by VetsMediCover's range of policies which may or may not interest you, like providing £750 yearly cover for alternative and complementary medicine. Probably more interesting in this context is the cover for hereditary and congenital defects, included as standard with both its 12-month and lifetime policies.
If your pet has suffered from conditions in the past, you'll absolutely want to look at lifetime cover. As long as they've been symptom and treatment free for the previous 24 months, and are between eight weeks and eight years old (five years for certain breeds) VetsMediCover will offer you comprehensive cover, with no cover given for those known conditions for two years from the start of the policy.
In all other respects VetsMediCover offers fairly standard cover, only excluding new illnesses which occur two weeks after the start of the policy or injury within five days. Certain dog breeds are excluded – the likes of Staffies, Pits, and any Wolfhound or Wolf hybrid – and the policies don't cover working, guarding or racing dogs, but all other pets should be eligible.
How much is offered depends on the policy you plump for; the Diamond lifetime policy covers up to £10,000 of vets fees, and offers 40% of the cost of prescription food up to £200. All policies have a standard excess of £90 which, depending on the conditions that befall your pet in the future, seems like a pretty reasonable amount.
4. Lifetime Pet Cover: Best for older dogs
A useful policy for dogs on its accepted list
Underwriter: ETU Forsikring A/S | Covers: Dogs & Cats | Vet helpline: No | Fees covered: £2,000 - £4,000 | Multi-pet discount: No
Suits older pets well
Covers pre-existing conditions after two years
Limited dog breed list
Few extra policy features
Lifetime, like many others, is happy to offer insurance for pets with pre-existing conditions, but specifically excludes cover for these from its schedule. The difference here is how the company defines a pre-existing condition: if your pet has recovered to the point that it can be said to have no underlying weakness or susceptibility to future problems, and has not had treatment or any vet consultations regarding that condition for the past 24 months, Lifetime will write it off and offer coverage as normal. Chronic conditions won't be eligible.
What's especially handy is that Lifetime has no upper age limit on its policies, so if you have an older pet that has had health problems in the past and want to make sure they live out the rest of their lives in comfort, Lifetime may be able to offer a policy which suits.
For dogs, particularly larger breeds or those which frequently suffer from hereditary conditions, you may not have any luck getting a policy with Lifetime, as its list of excluded breeds is one of the longest out there. You may also find Lifetime to be one of the more expensive insurers, particularly if your pet does fall into that older category, and it does not offer quite as many fringe benefits as some other insurers. There's no euthanasia cover, for example, and no vet helpline. Older pets will also leave you liable for a co-payment on vet bills on top of your excess.
5. Waggel: Best for claim tracking
Reliable, with some fringe benefits
Underwriter: Red Sands Insurance Company (Europe) | Covers: Dogs & Cats | Vet helpline: No | Fees covered: £1,000 - £10,000 | Multi-pet discount: No
Great claim tracking
Varying policy levels
No pre-existing conditions covered
Some cat breeds excluded
It's important to point out that Waggel won't actually offer you any compensation if your pet's existing conditions flare up. This is not for getting cover for those conditions. That's not the point. The company just won't ask any questions about pre-existing conditions when you take out the policy. Its policy document states as much: "You don't have to declare your existing conditions upfront. Upon your first claim we will request all of [your pet's] medical records and will let you know what conditions will be excluded."
Depending on the policy level you opt for, Waggel will cover between £1,000 and £10,000 of all vets fees covering eligible illnesses or conditions; from this overall coverage, there's a £1,000 limit for each complementary treatment, behavioral treatments or dental issues caused by accident or illness. There's also a £1,000 limit on cover for the theft or stray of your pet, a £1,000 payment for death by accident or illness, and a very generous £2,000,000 third party liability for the absolute worst case legal scenario.
While Waggel's standard policy will cover ongoing illness costs for conditions your pet develops after the policy is taken out, its list of excluded breeds is a little longer than some others, and includes a few specific cat breeds too. You do get fringe benefits, though: Waggel is proud of its claims process, which lets you see precisely where your claim is at any time, and links you with a specific claims advisor so your experience is as streamlined as possible.
6. PetGuard: Best for working dogs
Good deals are very likely here
Underwriter: Covea Insurance | Covers: Dogs, Working Dogs, Cats | Vet helpline: No | Fees covered: £3,000 - £12,000 | Multi-pet discount: 10%
Covers working dogs
Suitable for older pets
Chronic conditions covered post-policy
Like many other insurers, PetGuard will not actively offer any compensation for pre-existing conditions, or those which manifest within 14 days of the policy being taken out. But it is happy to offer you a policy for the rest of your pet's health needs, and if you're prepared to cover pre-existing conditions yourself you may find you end up with a reasonably good deal here.
What's most unusual is that PetGuard is also happy to cover working dogs. That includes therapy and assistance dogs, as well as those used for shooting, hunting, or livestock work, but not guard dogs or racing dogs. The company will also cover older pets, with £100 plus a 20% co-payment due for treatments if your pet is over eight years old. There's a 14-day grace period between taking out the policy and being able to make a claim.
If you own a breed which is susceptible to BOAS (Brachycephalic Obstructive Airway Syndrome), such as a French Bulldog or Pug, PetGuard will likely offer you continuing cover for it, but only if it has not manifested by the time the policy is taken out – that's a common thread, isn't it? The specific list of breeds covered under PetGuard's comprehensive policy excludes the usual list of dangerous dogs, and its third-party policy excludes even more, but the company is more than happy to offer policies for cross-breeds as long as they aren't mixed with any of the dog breeds on the list.
How to choose animal insurance for pre-existing conditions
This may be a case of shutting the stable door after the horse has bolted, and it's likely that you're reading this guide because your pet has already developed a condition, but the best way to insure your pet come what may is by taking out a lifetime policy when they are young. These, provided you stick with the same insurer, will generally cover absolutely any ailment or condition your pet might develop over the course of their lives, and the ongoing costs associated with those conditions. Note that you may still be charged a little extra for hereditary conditions related to your pet's breed.
If it's too late for that, every insurer has a different schedule of conditions and illnesses they are willing to cover. While we've broken down some of the best options, it's important to check policy documents and different providers before you take out insurance to ensure that everything important is covered.
Speak to insurers too, to see what they might be able to offer outside of any published schedules. If you've done your due diligence, and can talk through your comparisons, it's possible (if not likely) that you may be able to talk them into a better deal.
Be prepared to buy into a policy which does not cover that pre-existing condition at all. Things will get expensive, but at least a narrower policy will go some way to ensuring any other maladies your pet develops are properly paid for, so you're only on the hook for one recurring problem and not several.
Alex is a freelance writer, editor and sub editor specialising in entertainment and technology; he is a father of two, and owned by three increasingly grumpy cats. Somehow he has been doing this for 24 years, and it's still fun.
Get the best advice, tips and top tech for your beloved Pets
Thank you for signing up to Petsradar. You will receive a verification email shortly.
There was a problem. Please refresh the page and try again.