Best dog harnesses: Get the right fit for your pooch
The best dog harness will put you in greater control over your pup and keep them safe during your adventures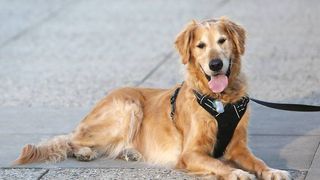 (Image credit: Getty Images)
Investing in one of the best dog harnesses can offer you a lot of peace of mind as a pet parent, keeping your dog safe and secure when you're out and about and giving you maximum control over your canine companion at all times.
While you can absolutely attach a leash to your dog's collar, one of the big benefits about putting them in a harness is that they distribute weight across the body, reducing the amount of strain that's placed on the neck. Unlike collars, harnesses are also a lot more comfortable for your dog to wear and there's zero chance of them getting their feet tangled up in their leash while they're walking.
And the benefits don't just stop with your dog. Using a harness gives you a lot more control when you're out walking or running with your dog and they also discourage pulling, which can make going out on those daily walks a lot more enjoyable for both you and your furkid. If you have a little escape artist on your hand, a harness is also impossible to wriggle out of, so that's another great reason to opt for one of these little beauties over a collar.
So, now that you know a little bit more about the benefits that a harness has to offer, which one should you choose? Well, that very much depends on your dog. Step-in or over-the-head harnesses with straps are great if you have a wriggly dog on your hands who finds it hard to sit still as these are very easy to put on. They're also perfect if you have a well behaved dog on your hands who'll happily trot along beside you, but we don't recommend them for heavy pullers.
Step-in or over-the-head vests have a much bulkier middle section than harnesses with straps, so these are ideal for broader-chested breeds as they prevent chafing and they also offer added security for dogs that are easily startled. You'll find this type of harness gives you excellent control, but the one downside is that some dogs don't like the level of confinement that comes with this type of harness.
Below you'll find a variety of dog harnesses to suit every breed and need, including ones with lots of padding that are ideal for all-day adventures and reflective harnesses that offer great visibility on those early morning and late night walks. And if you're worried about fitting the harness, check out our great guide that will teach you how to put a dog harness on.
PetsRadar's pick of the best dog harnesses
Why you can trust PetsRadar Our expert reviewers spend hours testing and comparing products and services so you can choose the best for you. Find out more about how we test.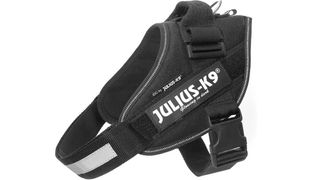 Julius K9 - IDC Powerharness
Best overall dog harness
Specifications
Features:
Reflective; water-repellent; custom tags
Reasons to buy
+
Unbreakable buckle
+
Great durability
+
Multiple colors
+
Reflective
+
Smaller sizes available
+
Custom tags
If you're looking for a hardwearing dog harness, then look no further than the Julius K9 brand. Their IDC Powerharness is a sturdy and reliable dog harness that offers peace of mind to pet owners looking for the most durable option for their canine.
It comes with a price tag, but there are some great features on offer here that can make it worth shelling out the extra money. One of the key features is its unbreakable buckle; no matter the size of your dog there's no fear here of them slipping out or chewing through. The safety feature in the strap is also a nice touch as it allows the handle to be closed so your dog doesn't get caught up. Plus, the harness features reflective areas and the top layer is water-repellent too. We also love that you can add a custom tag to the harness to personalize it for your dog and there's a few colors on offer here, including a snazzy American design.
For dogs who are wary of putting a harness on, there's no need to lift up their legs to put on: simply pop their head through and buckle underneath. Whether you have a large dog or a small canine like a Maltese, French Bulldog or a Pug, the harness comes in a range of sizes, including mini and extra small, to get that perfect fit; be sure to check the measurements before you buy.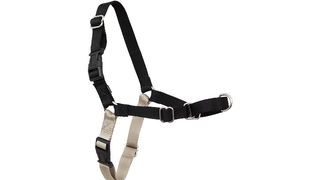 PetSafe Easy Walk Dog Harness
Best front-clip dog harness
Specifications
Features:
Quick-snap buckles; dual color straps; front loop
Reasons to buy
+
Easy to put on
+
Multiple colors
+
Adjustable
+
Perfect for training
Reasons to avoid
-
Sizing can be difficult
-
Could be more durable
Often recommended by dog trainers, a front-clip dog harness is ideal for teaching dogs good walking habits; the PetSafe Easy Walk Dog Harness is great for "pullers."
One of the key features is just how easy is to put it on your dog in the first instance. It features quick-snap buckles that allow you to put it over their head and buckle up and is easy to adjust, perfect for growing pooches.
If you have a dog who's likely to pull you off your feet at any opportunity this harness really can work wonders when it comes to training.
Available in a range of different colors and sizes, there's plenty of options to choose from for all breeds, but getting the perfect fit can be an issue for some dogs.
Generally, the product is quality-made, but the very nature of the design can pose a challenge in the durability department, especially according to your dog's temperament. This dog harness is not suitable for aggressive chewers, while plastic clips and thin straps might not be sufficient enough to give larger dog breed owners peace of mind that their dog will stay inside for long.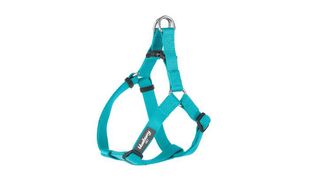 Blueberry Pet Step In Back Clip Dog Harness
Best step-in dog harness
Specifications
Features:
Eco-friendly plastic; metal D ring; adjustable straps
Reasons to buy
+
Easy to put on
+
Inexpensive
+
Multiple colors
+
Adjustable
Reasons to avoid
-
Not for aggressive chewers
-
Sizing can be difficult
If you're looking for an easy way to get your dog harness on your pup, the Blueberry Step In Back Clip Dog Harness lets your canine companion simply step on in, then fasten the clip around their shoulders.
If you have a canine escape artist in your family, rest assured that this dog harness is much more durable than it may look at first sight. The harness is comfortable, safe and secure for most dog breeds, but beware if you have an aggressive chewer as this dog harness can be chewed apart.
Fortunately, it comes in at a great price. If you have a growing puppy and don't want to fork out a lot of money to buy an expensive harness they could potentially outgrow, this is a perfect choice, while also being fully adjustable.
The harness is available in a range of sizes from small to large, but run a little big on some dogs.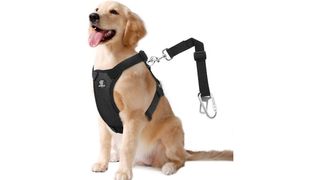 VavoPaw Dog Vehicle Safety Vest Harness
Best dog harness for travel
Specifications
Features:
Adjustable safety seat belt; carabiner
Reasons to buy
+
Good price
+
Comes with adjustable seat belt
+
Easy to put on
+
Good quality
Reasons to avoid
-
Seatbelt not long enough for some larger breeds
-
Can be too stiff for puppies
For keeping your pup secure in the backseat, VavoPaw Dog Vehicle Safety Vest Harness is ideal. At a great price, you get good quality and a few nice extras too.
Included is an adjustable seat belt and the brand has opted for a carabiner style of attachment to fit most cars.
Made from polyester and Oxford fabric, there's a solid D ring on the back for security, while it's soft enough around the chest area to ensure optimum comfort for your canine. Simply slip it over their head and it clips on both sides. An added bonus is is that you can use it for walking too, then clip it in the vehicle once their long distance walk is complete.
It's durable enough to withstand pulls from large breeds, but if you have a puppy it can be a little on the stiff side. If you do own a large dog, one drawback is that the attachment can be too short, but at the price, many pet owners opt to buy another.
Sizing can run small; but be sure to measure your dog using the manufacturer's provided instructions on the site for the best fit.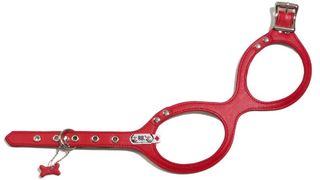 Buddy Belts Classic Leather Back Clip Dog Harness
Best back-clip dog harness
Specifications
Features:
Durable leather; one buckle
Reasons to buy
+
Great for dogs with trachea problems
+
Durable
+
Multiple colors
+
Easy to get on
Reasons to avoid
-
Pricey
-
Not for aggressive chewers
Whether your dog suffers from trachea problems or you're specifically concerned about unnecessary strain around your pet's neck area, Buddy Belts Classic Leather Back Clip Dog Harness is specifically devised to alleviate the tension in this area.
It comes with a fairly lofty price tag but for your buck the durability is great. It's made from leather and welded metal hardware designed to last for years. Whatever activities your dog loves to embrace, this dog harness will go the extra mile.
It's easy to put on too, with the snap located underneath the chest. Plus, the chances of your miniature Houdini getting out of this one is rather low; the product is snug providing you get the perfect fit. Some pet owners recommend sizing down to ensure the excess strap doesn't hang down too much.
One of the drawbacks of leather is that is can be on the stiff side, which won't be to every dog's liking. If this sounds like your canine companion, you can opt to add in a soft liner for an extra layer of comfort.
If you have a puppy or a particularly aggressive chewer in the family, this might not be the best option for them as tiny teeth can cause quick destruction in this expensive harness, but senior dogs with a laidback attitude should have little problem.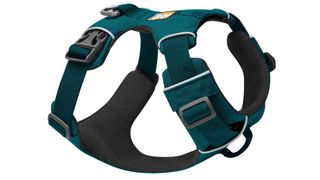 RUFFWEAR Front Range Dog Harness
Best reflective dog harness
Specifications
Features:
Customizable fit, padded, highly visible
Suitable for:
All but heavy chested breeds
Reasons to buy
+
Comfortable fit for extended wear
+
Reinforced webbing for additional control
+
Bright and easily visible
Reasons to avoid
-
Not ideal for heavy chested breeds
If you and your pup love a good early morning or late evening walk, this reflective harness from RUFFWEAR is a great investment that will ensure your canine companion stays highly visible.
Available in a range of stunning colors and generous sizes, the harness has been made for extended wear with a lightweight, padded and durable design that's perfect for all-day adventures.
Designed to be easily taken on and off, there's two leash attachment points and reinforced webbing for extra control that's ideal if your dog tends to pull while walking.
The foam padded strips across the chest and belly make this harness incredibly comfortable to wear and the fit is customizable with four convenient points of adjustment. Most importantly, the fabric is bright and visible with plenty of reflective trim to keep your dog safe.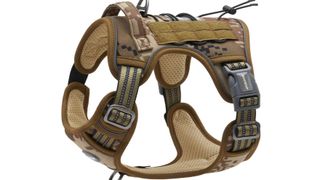 Auroth Tactical Dog Harness
Best dog harness for maximum control
Specifications
Features:
Adjustable, no-pull, fluorescent edges
Type:
No-pull tactical harness
Reasons to buy
+
Military-grade harness
+
Durable material
+
No-pull
If you're looking for a harness that will give you maximum control and security, this military-grade model from Auroth ticks both of those boxes. Available in sizes S-XL, this harness is suitable for most breeds up to 135lbs and comes in a choice of colors.
Featuring breathable air mesh with a soft padded cotton cushion, the harness does a great job of protecting the skin from friction and the heavy-duty 900D nylon with sturdy stitching offers great durability.
The harness comes with two metal leash attachment points with one at the front to stop pulling when you're walking and one at the back that's great if you're going jogging or running, plus there's fluorescent edging that lets you walk your dog safely.
You'll also find two strips of Molle sewn on both sides that allows your dog to carry gear if they're in training. It's compatible with Molle/PALs pouch, so you can also hook on a dog bowl, water bottle and toys.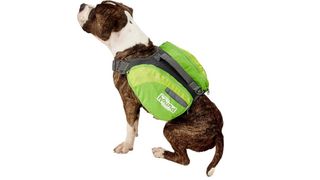 Outward Hound DayPak for Dogs
Best dog pack
Specifications
Features:
Reflective; water resistant
Suitable for :
All breeds
Reasons to buy
+
Perfect for hiking
+
Leash attachment
+
Space for dog essentials
+
Reflective
+
Lightweight
Reasons to avoid
-
Lack of small size
-
Could be more durable
If you and your dog are frequently on adventures together, you'll need the best dog harness for the job.
The Outward Hound DayPak for Dogs allows your pup to comfortably carry extra gear and essentials like their favorite comforter toy, plus it has a leash attachment that allows you to attach your pup's leash directly to the D-ring clip.
You've got to admit it looks pretty cute to boot, too. Available in a vibrant green from Chewy, it not only looks the part by turning your dog into a mini-me hiker, but enhances visibility in the dark.
Sadly, it's not available in a small size for teacup breeds, but medium to larger breeds will be able to wear it with style.
It's lightweight enough to carry around but this can pose a challenge to the durability of the product. Be sure not to overpack the bag as this can lead to the material being ripped, while it does have a tendency to slide a little.
How to choose the best dog harness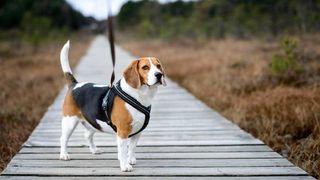 Type of dog harness
Be sure to kit your dog out with the best type for their temperament. Styles of dog harness include front-clip, back-clip, step-in, no-pull, a head collar and a safety harness designed specifically to be used in the car. You can also buy a dog pack harness if your dog is particularly adventurous.
No-pull, front-clip dog harnesses are ideal for dogs who pull or tug at their leash, with the clip located at the front; while back-clip harnesses tend to have a D-ring located at the back so dogs are less likely to become entangled, plus it can be ideal for preventing unnecessary strain around their neck. Step-in options are great if you foresee a struggle placing a dog harness over their head.
Special types of travel dog harness include ones for the car or dog packs, while a head collar, also known as a head halter, is a device that fits over your dog's nose to give more control.
Durability
Much like choosing the type of dog harness, it's important to think about your dog's temperament too when it comes to durability. If you have a puppy or an aggressive chewer, you'll want to pick a product that can't easily be chewed through, while plastic clips can be prone to breakage.
Activity type
Is your pup frequently hitting the road or the puddles? Some dog harnesses feature a waterproof layer, while if you're looking to keep them secure in the car you'll need a secure attachment and the ability to walk with it too is a handy feature.
If you love hiking, a dog pack can store their essentials. If you plan to take them on the trail at night, you'll want to consider reflective material or features that can glow in the dark for greater visibility.
Fit
Getting a great fit is essential for any dog harness as you don't want your pup to wiggle their way out nor to experience any pain with too tight a fit. Ensure you measure around your dog's ribcage before you buy and check in with the manufacturer's sizing advice.