Best dog car harness: Keep your pet pooch safe and secure on the move
We take a look at the best dog car harness that will give you peace of mind when out and about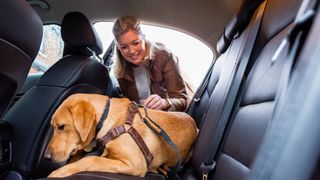 (Image credit: Getty Images)
The best dog car harness makes sure that when your furry friend jumps into the car with you they get the same level of safety and security. You wouldn't dream of driving around without a seat belt on, so why would it be okay to leave your pet pooch vulnerable when out and about?
In the unlikely event of an accident, a decent dog harness will make sure your beloved canine companion doesn't get thrown around the car. Not only can this lead to serious harm for your pet pooch, but also for you. But this isn't the only benefit. They are great at preventing accidents as well. If you have an active dog in your car you don't want them jumping around and distracting the driver. A harness will make sure that they are comfortable and happy without being able to stray too far.
But what is the best dog car harness? A popular choice is the harness and seat belt combo, which is easy to put on and easy to attach. If you already have a harness, you could save a few dollars and invest in a seat belt that attaches to your harness. Alternatively, you can forget about seat belt buckle compatibility and choose a harness that integrates your vehicle's seat belt into the design, giving extra security and stability.
To help you decide on the perfect dog car harness, check out our collection of best options on the market today.
PetsRadar's pick of the best dog car harnesses
Why you can trust PetsRadar Our expert reviewers spend hours testing and comparing products and services so you can choose the best for you. Find out more about how we test.
Lukovee Dog Safety Vest Harness with Seatbelt
Best overall dog car harness
Size: XXX-Small to Large | Color: Purple, Blue, Black, Wine Red, Green, Rose Red, Plaid, Burgundy, Orange | Weight: 8.4 oz | Material: Nylon
Includes harness and seat belt
Made from chew resistant nylon
Elastic bungee design
Plenty of size variety
Not suitable for XL dog breeds
Want to keep your pet pooch safe and secure every time they jump in your car? Of course you do, and this seat belt and harness from Lukovee is ready to help you make sure that happens whenever you take them for a ride.
Available in most sizes, you can get the harness in XXXS right through to Large. Unfortunately, there's no XL in the range, so if you own anything bigger than a large breed you are going to try another harness in this guide. But what are the actual sizes available?
The smallest in the range is the XXXS, which is oddly the most expensive option in the range. This accommodates a dog with a neck girth of 8.6-to 10-inches and a chest girth of 11 to 13-inches. The sizes go up in small amounts until you get to Large, which goes from 25.5 to 31-inches for neck girth and 27.5 to 37-inches for chest girth. There is no crossover on the sizes so you need to make sure you measure as instructed to get the right size for your fur baby.
The harness is made from a double mesh fabric, which is breathable, with a flannelette edge to reduce sweat and to make it comfortable on your pet pooch's fur. Four adjustable straps give flexibility with the fit and are easy to put on thanks to the quick-release buckles. A top strap boasts two D-rings for choices to attach the seat belt or a leash for walks. Alternatively, you can double up for a stronger connection.

The seat belt is made from chew-resistant nylon and brings with it a standardized buckle for in-car compatibility. A swivel clip helps stop the belt tangling while the elastic bungee design eases any pull on your dog's neck or body making a ride safer and more comfortable.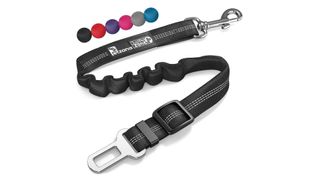 Petzana Seat Belt for Dogs with Elastic Bungee Buffer
Best budget dog car harness
Size: 53-73cm | Color: Black, Blue, Grey, Pink , Purple, Red | Weight: 3.2 oz | Material: Nylon
Inexpensive
Adjustable
Five different colours
Elastic buffer design
No harness - seat belt only
If you want a quick, simple solution to keep your happy hound safe, this seat belt is a great inexpensive option. It works independently as a safety tether or you can couple it up with a harness you already own. But, if you do want a seat belt and harness combo, you need to look elsewhere in this guide.
One plus to the lack of a harness is that you get it at a comparatively low price compared with other options. But what are you getting for your money? For starters, you get a sturdy, high-quality, nylon fabric with an elastic buffer design. This allows for some play in the lead meaning that your pet pooch won't get an instant jolt if you come to an abrupt stop. It will lessen the impact on their neck if being used independently and on their body if being used with a harness.
At each end of the seat belt, there is a standard-sized metal buckle that is compatible with most vehicles and a zinc alloy swivel snap supports 360° rotation. This makes the seat belt quick and easy to fit in your car and release when you have finished. The swivel clip ensures a quick connection to any D-ring or similar and, thanks to its rotation, it can stay pretty much tangle-free.

The strap is available in five different colors and is adjustable so it can be extended from 53 to 74cm, allowing you to shorten it quickly for less movement or extend it to allow your dog more freedom. The choice is yours.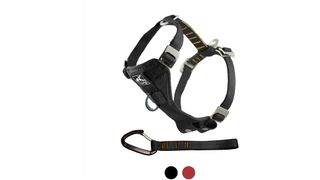 Kurgo Tru-Fit Enhanced Smart Car Dog Harness
Best crash tested dog car harness
Size: X-Small to X-Large | Color: Black, Red | Weight: n/a | Material: Nylon
Crash-tested harness
Good for breeds up to 110lbs
Five adjustment points for custom fit
No seat belt compatibility issues
A little over the top for small breeds
Comparatively pricey
Safe, secure, and crash-tested are three words that any dog owner will want to hear when on the lookout for a car harness. There's no messing about here, it's heavy-duty, but you will have to pay a little more than most in this buying guide to get that extra security for your pet pooch.
Available in sizes from X-Small to X-Large, it may be a bit over the top for small breeds, but it's definitely worth a look if you have a medium or large breed dog that you like to take on car journeys. The manufacturer mentions that the harness has been crash-tested and a visit to their website reveals plenty of stats and videos to read and watch if you want to delve into the details. Just to let you know it passed.
The medium-sized harness is an ideal choice for dogs between 25 and 50lbs, including Beagle, Staffordshire Bull Terrier, and German Pinscher. The next size, Large, is recommended for Afghan Hound, English Bulldog, Chow Chow, and other breeds weighing between 50 and 80lbs.
If you are looking for a harness for even larger breeds such as Newfoundland, St. Bernard, or Mastiff, then the X-Large is the choice for you. But if your breed is over 110lbs, you might want to take a look elsewhere as that is the maximum recommended weight.

The harness itself includes a no-pull D ring on the front surrounded by some heavy-duty strapping and stitching. So you will have no worries about its strength when connected. There are five adjustment points that make for a custom fit and a padded chest for comfort.

There's no seat belt plug here. A separate seat belt loop tether with a carabiner with some extra stitching for strength provides the connection. It doesn't seem that simple to clip on the harness as you have to get around the harness and seat belt at the same time. But once you've done it a few times it gets easier. It also doesn't leave a lot of room to maneuver, just the play in the seat belt.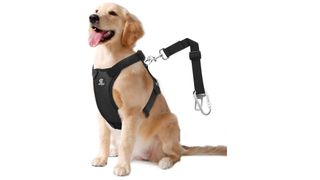 VavoPaw Dog Vehicle Safety Vest Harness
Best car compatible dog harness
Size: Small, Medium, Large, X-Large | Color: Black, Blue, Magenta, Pink, Purple | Weight: 4.7 oz | Material: Polyester
Double seat belt fixing options
Small to X-Large sizes
X-shaped structure for comfort and safety
No choice of seat belt length
Big on safety, this harness and seat belt combo is a great choice if you are worried about seat belt security and compatibility.
Equipped with a standard seat buckle and a sturdy carabiner, you get two choices to secure your pet pooch when on the move. If you're looking for a quick fit you can use the seat belt. But there is always the doubt that your vehicle might not be compatible with the buckle. It's rare but does happen, however, you get a backup with the carabiner so at least the belt won't be useless.
And if the seat belt is compatible, you have two options to secure your hound giving an extra secure fit and peace of mind. At the other end of the adjustable seat belt strap is a standard swivel snap hook for a quick fit to the solid D-ring on the harness.
Available in four sizes, the length of the seat belt varies depending on what size you choose. The Small option adjusts from 27 to 40cm, while the X-Large is from 36 to 66cm, so take this into account when purchasing your preferred size. While not a big deal, we would have liked to choose the seat belt length to go with the harness for a more custom fit.
Like the seat belt, you can choose from four different harness sizes, again from Small to X-Large. The Small has neck sizes from 8.27 to 10.63 inches while the chest size measures from 15.35 to 17.72 inches. The X-Large starts at 17.32 to 23.62 inches for the neck and 25.20 to 32.28 inches for the chest. Big enough for a German Shepherd and similar-sized breeds.
The strong Polyester harness uses an X-shaped structure to help spread the load. Combined with the well-padded design and shape of the harness, your pet pooch gets a secure and comfortable fit that they will be happy to wear.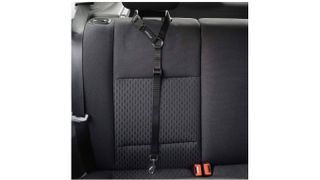 Bwogue 2 Packs Dog Safety Seat Belt
Best leash dog car harness
Size: 18-30 inches | Color: Black | Weight: 5.3 oz | Material: Nylon
Quick and easy to fit
Adjustable
Two pack
Doubles up as a leash with handle
No mention of weight capacity
Not for large breeds
Already own a harness and just need a seat belt leash to keep your pet pooch safe and secure when riding around the neighborhood? This easy-to-use safety strap could just be what you are looking for – and you get two into the bargain!
Made from strong, durable nylon, it quickly and easily slips over the headrest in your vehicle car to instantly transform into a safety seat belt. This is a big plus for this model – there's no messing about trying to plug into a seat belt socket that isn't always easy to find when your hound is sitting down. There's no struggle to wrap the seat belt through harness hooks and once in position, it's ready to go.
There's plenty of flexibility in the adjustable straps. The top strap that goes around the headrest, has a minimum size of 13-inches but can be quickly pulled out to 21-inches for larger headrests. The safety strap can be shortened to 18-inches or pulled out to a maximum length of nearly three feet to allow plenty of freedom for your hound.
One downside is there is no mention of how much weight it can safely take. The manufacturer makes it clear that's not to be clipped onto a collar, but to be used with a harness. It should be suitable for most breeds, but if you have a large dog you'll maybe want to look for something a little more sturdy.
When you have finished with it, you can slip off the headrest in a second and put it away. Thanks to its design, it transforms into a leash with a top strap making a comfortable grip handle.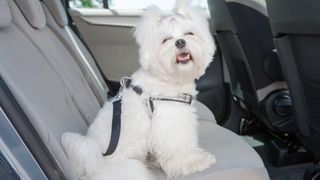 How to choose the best dog car harness
Find the right fit
Dogs come in all different shapes and sizes, so it's important that you find a dog car harness that fits your pet pooch. First, you need to check that the harness is suitable for your dog's breed. Not all harnesses are available for all dog sizes.
Check any measurement charts the manufacturer might have as not all sizes are standardized. A medium fit with one manufacturer might be slightly different from another. Make sure to follow any measuring instructions to help you get the right size. Also, check the weight limit for the harness if available.
Is it crash tested?
A lot of dog harnesses aren't independently crash-tested, but this doesn't mean they don't do the job they are intended for. However, if you want extra peace of mind you can look for a harness that has been crash-tested. These usually are the more expensive models on the market.
But it is worth noting that just because a harness has been crash-tested it doesn't mean it passed. According to the Center for Pet Safety, an independent organization, the majority of manufacturers only test one size, so the size you choose might not have been tested.
Does it include a harness and seatbelt?
When buying a dog harness it typically comes as a set. You commonly get a harness and a seat belt. You can use the seat belt independently from the dog harness, but you can't use a harness without some form of seat belt holder.
A harness that fits around the body is a safer and more comfortable option, as it spreads the jolt of an impact and can double up as a walking harness. However, they don't allow as much freedom of movement, which can be a problem for some dogs, especially on longer journeys.
For shorter journeys around town, a seat belt will do the job and are often quicker and easier to put on.
Get the best advice, tips and top tech for your beloved Pets
Steve Jenkins is a freelance content creator and long-time journalist with more than 20 years in the industry. He has written for numerous titles covering tech to pets, with his latest faithful hound always by his side. When not walking his dog, or discussing who's best - cats or dogs? Loud guitars, AFC Bournemouth, Photoshop, and trying to save the world take up the rest of this time.