How to measure a dog for a harness
Learning how to measure a dog for a harness can be a challenge, but with these top tips, you'll have your hound kitted out in no time!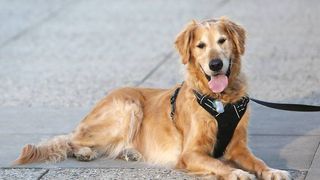 (Image credit: Getty Images)
If you're considering the use of a harness as an alternative to a leash, it's important to know how to measure a dog for a harness. Even the best dog harnesses can cause skin injuries and abrasions, not to mention massive discomfort, if they're too tight. Similarly, a harness that's too loose can jingle around uncomfortably, while also offering the risk that your dog could wriggle free of the harness and escape.
Although achieving the correct fit on a collar is typically relatively easy, because there's only one adjustment point, harnesses must fit correctly at multiple points on the body, requiring you to purchase the correct harness size and then adjust the harness to your dog's body carefully.
Benefits of using a harness instead of a collar
For most dogs, harnesses and collars are both equally appropriate options; choosing one over the other is largely a matter of personal preference. However, there are specific benefits to walking your dog with a harness, which may make a harness a better option for some dogs.
First, a harness places less pressure on your dog's neck and throat than a collar. If your dog has a history of neck or back injuries, such as intervertebral disk disease, your veterinarian may recommend using a harness in order to minimize pressure on the spine. Dogs that suffer from tracheal collapse or other upper airway problems may also do better with a harness than a collar, because a harness minimizes pressure on the throat that can occur when your dog is straining at the end of the leash.
Some harnesses are specifically designed to minimize pulling on a leash. While a typical harness does little to control pulling (horses wear a harness to pull a cart!), some harnesses are specifically designed to be no-pull harnesses. These harnesses typically have a leash attachment at the front of the harness, on the front of the dog's chest. When a dog pulls on a no-pull harness, pressure from the leash will spin the dog around in a circle, so that they are looking at their owner. Most dogs quickly learn that pulling is not giving them the benefits they're hoping for, thus reducing their habit of pulling against the leash.
While harnesses may not necessarily be a better choice for every dog, they can be a better option if your dog has a history of neck or back disease, or a condition affecting the trachea or upper airways. If your dog pulls excessively on their leash, a traditional harness may be of little benefit but a no-pull harness can be very helpful.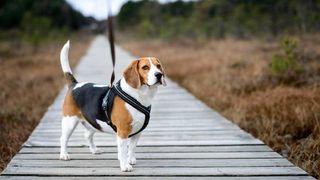 How tight should a dog harness be?
When you're using a harness on your dog, it's important that it be not too tight and not too loose… you want just the right fit. A tight harness can lead to uncomfortable pinching and chafing, while a harness may allow your dog to escape.
To assess the fit of your dog's harness, slide your fingers under the straps at a variety of different points on the harness. If your dog's harness fits correctly, you should be able to slide two fingers under any strap on the harness. This is the same guideline that is used when assessing the fit of a collar. If you can't slide two fingers under the harness straps, the harness is too tight and should be loosened. If you can slide more than two fingers under the straps of the harness, your dog's harness is too loose.
How to measure a dog for a traditional or no-pull harness: Step by step
Your dog's breed and body weight can serve as a helpful guideline when determining which harness size to order, but variation in dog body types means that obtaining precise measurements is a more accurate method of ensuring a good fit. Using a cloth tape measure, measure the broadest (widest) part of your dog's chest. In most dogs, this is the area right behind the armpits. Measure a few times, because you may obtain different measurements depending on your dog's posture and positioning. Once you arrive at a consistent and accurate measurement, record this number. Use this measurement, combined with your dog's weight, to find the best-fitting harness for your dog.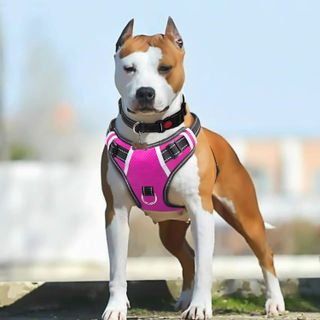 How to fit a dog harness
Purchasing the correct harness size for your dog is only half the battle. Next, you will need to adjust the harness to your dog. Put the harness on your dog (according to the instructions that came with the harness) and close the clasps. Next, tighten each strap as needed until it fits correctly, meaning you can slide two fingers under each strap.
Once the harness appears to fit correctly, take your dog for a short walk around the block using the harness. After a few minutes of walking, check the fit again and make any necessary adjustments. You may need to adjust your dog's harness several times to optimize the fit and ensure that the harness is sitting correctly on your dog's body.
Harness size chart by breed
Every harness is designed to fit slightly different dog dimensions; a dog that wears a size "small" in one brand of harness may require a "medium" in a different brand. However, general size guidelines can still serve as a good starting point for selecting your dog's harness size. Once you have it narrowed down to two sizes, you can use your dog's measurements and the brand's sizing guidelines to determine the best size for your dog.
Swipe to scroll horizontally
| Harness Size | Chest Measurement | Weight | Sample Breeds |
| --- | --- | --- | --- |
| XX-Small | 8-10" | Less than 5 lbs | Chihuahua; Teacup Yorkshire Terrier |
| X-Small | 10-15" | 5-10 lbs | Dachshund; Maltese Toy Poodle |
| Small | 15-22" | 10-25 lbs | Cavalier King Charles; Miniature Schnauzer; Pekingese |
| Medium | 20-30" | 24-50 lbs | Beagle; Cocker Spaniel; Corgi |
| Large | 25-40" | 40-70 lbs | Basset Hound; Dalmatian; Pit Bull |
| X-Large | 31-41" | Greater than 70 lbs | German Shepherd; Great Dane Rottweiler |
Again, remember that these are only general guidelines. Each brand will accommodate dogs of slightly different weights and chest circumferences. Still, having a general idea of which size your dog is likely to need can help narrow down the choices when you are shopping for a harness!
Conclusion
If you're considering the transition from a collar to a harness, it's important to know how to measure a dog for a harness. Achieving the right fit means purchasing a collar that is sized for your dog's weight and chest diameter, then carefully adjusting all of the harness straps to ensure that they fit your dog comfortably.
Get the best advice, tips and top tech for your beloved Pets
Dr. Barnette is a graduate of the University of Florida, where she received both her B.S. in Zoology and her Doctor of Veterinary Medicine (DVM). She has 15 years of clinical experience as a small animal veterinarian, treating dogs, cats, and occasional exotic patients. She now works as a freelance veterinary writer, creating educational content for veterinarians, veterinary team members, and dedicated pet owners. Dr. Barnette lives in southwest Florida with her husband and daughter (plus two cats, a dog, and a rescued dove!) and enjoys kayaking, biking, and hiking. Learn more about Dr. Barnette at www.linkedin.com/in/catherinebarnette.