How to put a dog harness on (by harness type)
Wondering how to put a dog harness on? We explain how to fit every type of dog harness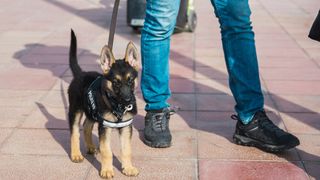 (Image credit: Getty Images)
Whether you're dog sitting or have a new puppy, working out how to put a dog harness on is the first step in getting out and about on a dog walk! It might sound simple, but dog harnesses are all different, and getting them on can sometimes be a struggle. It's one of the reasons we don't often take them off at the vets – and if we do, we leave you to put them back on! With so many different types of dog harness out there, working out how to put the dog harness back on can sometimes take as long as the consultation. So, I've put together this handy guide which breaks it down into types of dog harness and how to put them on safely and securely.
What type of dog harness do I have?
There are several types of dog harness and people categorise them differently, so it can be hard to work out what type of harness you have. Firstly, undo the harness clips. If you're left with two triangles, rings, or leg holes, with the rest of the harness opening to lie completely flat, it's likely you have a step-in harness.
If, with the clips undone, you have a single ring, or two leg holes but the harness doesn't lie flat, you need to determine if you have a front-clip harness or a back-clip harness. With all the clips done back up, identify the D-ring where the lead attaches. For most harnesses, this sits on your dog's back, by their shoulder blades- this is a 'back-clip dog harness'. If the clip is on the chest, you have a 'front-clip dog harness'. And, if you have clips on both, you have a dual clip harness – in which case, try the front-clip and back-clip methods below and see which works for you.
How to put on a step-in dog harness
Step-in dog harnesses are generally easy to use for wrigglier dogs, and those that are head-shy. They're usually the simplest to put on, so I thought it would be a good place to start.
1. Undo all the clips
Since these harnesses usually fasten at the back of the neck and on the back, undoing the clips can help you work out which straps go where. Before you do, though, have a good look at which clips attach to one another – this might be helpful in step four. Place the harness open on the floor in front of you
2. Work out which part of the harness is in contact with your dog.
Look for areas of padding and make sure these are on the 'inside' of the harness when it's on your dog. The easiest way to do this is to make sure any padded areas face up when you lay the harness on the table or floor.
3. Identify the two leg holes
They might be the only holes still visible, depending on the number of clips you undid in step one. Either way, you're looking for two holes of similar size, separated by a strap or strip of fabric. These will be the holes for your dog's legs to go into.
4. Determine which strap is intended as the neck strap
Now work out which strap fastens around the neck, and which fastens around the chest. The neck hole will usually be smaller, and the bigger chest section will usually have the D-clip attached at the back. However, some versions have two D-clips, one on the chest and one on the back, so check for this.
5. Place your dogs feed into the leg holes
Hopefully you've oriented the harness correctly in step three, but if not, you'll soon notice! Call your dog over and get them to place their feet into the leg holes. With smaller dogs, this is easiest if you scoot their bum into your body so they're facing away from you.
6. Bring the harness up, over your dog's shoulders, and close the clips.
As you do so, you might notice that the harness is the wrong way up, with the neck section over the chest and vice-versa. If this is the case, simply undo the clips, remove your dog from the harness, turn the harness 180 degrees, and try again.
7. Check the fit
Before you go anywhere, check the harness fits correctly. See our harness safety and fitting tips below for more information.
How to put on a front-clip dog harness
Front-clip dog harnesses are good for dogs prone to pulling. They have a D-ring for attaching a lead at the front of the chest. This makes it much harder for your dog to pull on the lead. However, they can become frustrating if your dog has a long lead, as they may get their front legs caught in the harness often. Let's take a look at how to get one on your pooch!
1. Undo the clips
If, after undoing the clips, your dog's harness has two leg holes and opens completely flat, you can treat it as a step-in harness (see instructions above). If you're left with a harness made up of a single closed ring and one buckle strap, continue following these instructions:
2. Identify the chest piece
Thanks to the metal D-ring, it's pretty easy to identify the chest piece on a front-clip dog harness. Wherever the D-ring is, this goes at the centre of your dog's chest.
3. Identify the back strap and the belly band
The chest piece should make half of a circle – the other half is the back strap. The strap with the buckle on is the belly band. This will do up under your dog's chest, just behind their front legs.
4. Place circle over your dog's head
With the D-clip at the front, gently place the circle over your dog's head, making calming noises to keep your dog at ease.
5. Do up the belly band
Do the belly band up behind your dog's front legs. If there is any padding, check it's facing inward. If it's not, you'll have to take the harness off, flip it over, and reapply from step four.
6. Check the harness fits properly
Don't head out with the harness on until you've checked it's fitting properly and safe to use.
How to put on a back-clip dog harness
Back-clip dog harnesses, also known as 'standard' harnesses, are the most common type of dog harness. In this harness, the D-ring for attaching the lead is on your dog's back, around the area of their shoulder blades.
1. Undo the clips
First, undo the clips in order to identify whether your harness can be treated as a step-in harness. If, when you undo the clips, you're left with two leg-holes and the harness lies flat, you can follow instructions for a step-in harness, above.
2. Identify and orient the neck hole
Once your clips are undone, it should be pretty easy to identify the neck hole with the D-ring at the back. Depending on the harness design, you may also have a leg hole for one or both legs to go into. If there is more than one hole, the neck hole is usually the smaller one. You'll also want to orientate your neck hole so that the metal D-ring for attaching the lead will end up at the back of your dog's shoulders, rather than on the chest.
3. Slide the harness over your dog's head
Being careful not to rotate the harness so the D-clip is still at the back, slide the harness over your dog's head.
4. Put your dog's leg through the leg hole, if there is one
Once the harness is over your dog's head with the D-ring at the back, it should be pretty easy to work out where the legs should go. Pick up your dog's leg and carefully put it into the correct hole. Occasionally, if there's no strap between the legs, you'll need to place both front legs through into the same hole.
5. Do up the clips
Do up all the clips. There should now be a band across your dog's chest and one behind the front legs, with a D-ring at the shoulder blades. You may or may not have a strap between the font legs, depending on the design.
6. Fit and safety check
Check the padding is facing the right way and that the harness fits properly, making any necessary adjustments before use.
How to put on a vest dog harness
Vest dog harnesses are usually back-clip or step-in harnesses that have a wider strap across the chest to turn them into a 'vest'. Some vest harnesses can be used for restraint in the car, whilst others are mostly used for walking. They're generally easy to use as the vest helps to determine the front of the harness. To put on a vest dog harness, simply undo all of the clips. If the harness lies completely flat and has two leg holes, you can treat it as a step-in harness. If it doesn't, treat it as a back-clip harness.
Safety and fit – How tight should a dog harness be?
It's really important that you run through some basic safety and fit checks every time you use your dog's harness:
Before putting it on, check for worn straps or fabric, especially around the lead clip (D-ring) and the shoulder-chest area.
The D-ring should be well attached – try attaching a lead and pulling on it to make sure there's no give.
Once fitted, check that all straps are lying flat and none are twisted. Not only is this uncomfortable, twists could weaken the straps and cause them to break.
Once fitted, you should be able to get two fingers laying flat against your dog's fur under the harness. Don't forget to check all straps for this, especially the neck strap, and adjust accordingly.
Conclusion
Working out how to put a dog harness on can be tricky, but hopefully my top tips and step-by-step instructions have come in useful! If you're still stuck, try looking for a label and searching for the exact brand of dog harness online – sometimes a picture will go a long way to helping you fit a dog harness correctly!
Get the best advice, tips and top tech for your beloved Pets
After graduating as a veterinarian from the University of Nottingham, Dr Joanna Woodnutt went on to practice companion animal medicine in the Midlands. She quickly developed a love of consulting and helping clients with medical problems such as dermatology, behaviour and nutrition - anything that involved helping clients understand their pets better. Jo started writing about pet health in 2017, realising that it meant she could help even more pet parents. Since then, she has written for countless online and print publications and is a regular contributor for Edition Dog Magazine. Jo now lives in the Channel Islands with her husband Ian and terrier Pixie, and they are expecting their first child very soon.