PetPlan's multi-pet insurance is a very reliable plan to have, especially if you have more than one furry friend. It's not the cheapest on the market, but you certainly get quality service and value for money, with no penalty for claiming and payments being made directly to you vet for treatment.
Pros
+

Payouts directly to the vet

+

No penalty for claiming

+

Covers a lot of different animals
Cons
-

Can become expensive

-

Pre-existing conditions are not included as standard
Why you can trust PetsRadar Our expert reviewers spend hours testing and comparing products and services so you can choose the best for you. Find out more about how we test.
PetPlan Multi-Pet Insurance: Overview
PetPlan Multi-Pet Insurance is a multi-pet insurer that covers many animals from dogs, cats and rabbits to birds, reptiles and horses. Having been established for around 40 years, PetPlan is known as one of the leading pet insurers in the UK and currently insures over 1.3 million pets.
This pet insurance covers for injury and illness including hereditary, congenital and behavioural conditions. You can choose from a lifetime cover and a 12 month cover, so there's something to suit all needs and budgets.
They offer discounts for multi-pet policies with a £12 discount per every pet added, and you can add a new pet at any time.
PetPlan Multi-Pet Insurance: Features
PetPlan offers comprehensive cover in two forms: the "Covered for Life" policy and the "Essential" policy. The "Covered for Life" policy is designed to cover any long-term or chronic illnesses that your pet may suffer from, as well as unexpected illness or injury. As long as you renew this policy every year, PetPlan will continue to cover for ongoing conditions, such as diabetes or arthritis, something that many other insurers do not offer.
The "Essential" policy is a 12-month cover for those pet owners who don't need something as comprehensive. This is good if your pet is relatively healthy, and you just want cover for any unexpected injury or illness. However, bear in mind that any illness or injury is only covered for a maximum of 12 months, and should your pet suffer with a particular illness that then becomes reoccurring, you won't be able to claim for this again on your Essential policy. In this case, we'd definitely say to choose your plan based on quality rather than cost. While it may be a little bit more expensive, knowing you'll have cover for life will give you peace of mind you'll never be hit with hefty veterinary bills.
It's also worth noting they don't cover general costs such as vaccinations, neutering, worming and flea treatments and they do not cover any pre-existing conditions, pregnancy or older pets, which is pretty standard for any pet insurer.
What really stands out about PetPlan compared to other insurers is their pay-out rate. According to PetPlan, 98% of claims are paid out, and this payment goes directly to the vet to pay for the treatment if necessary. This really does make it hassle-free, as the last thing you want is to be spending lots of time trying to claim when you're worried about a sick or injured pet.
There's also absolutely no penalty for claiming, so you don't have to worry about your premiums going up should your pet fall ill, you will still have to pay an excess though, which is determined by the plan that you choose.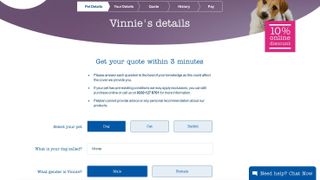 PetPlan Multi-Pet Insurance: User Reviews
Many users of PetPlan have said their service has always been incredibly efficient when making a claim, with payments being made within 5 days. A lot of customers who have dogs with ongoing conditions have praised PetPlan for their reliability when making a claim.
Some found the price plans and quotes on the website confusing, and that some communications did not get sent, so they recommend speaking to someone on the phone when taking out a policy.
The service is rated highly based on quick, efficient and compassionate human interaction from the staff at PetPlan, which sometimes can be one of the downfalls of insurers automated systems and long call wait times. Users have also noted that there is minimal paperwork when making a claim, which is appreciated during times of stress when a pet is unwell.
One of the most common complaints about PetPlan is in relation to cost, but many user reviews note that the high premiums are worth the quality service they receive. Some members of PetPlan have noted that their premiums are raised due to change of circumstances such as moving home, and when their animals reach a certain age. This is something to be aware of and ensure you discuss with PetPlan before committing to a policy.
Overall, PetPlan have a 4.5 rating on TrustPilot and 4.4 on Feefo. This pet insurance is also highly recommended by vets and they have won several awards over the years including Feefo's Trusted Service Award 2020 and the Defaqto Expert Rated 2020 Award.
Should you buy PetPlan Multi-Pet Insurance?
Yes, if you have multiple pets, because you get a good discount off each pet's cover, and they are able to insure almost all types of animals. This policy is also a good choice if you want a very comprehensive form of cover, because while PetPlan has a slightly higher-than-average premium, you get a lot for your money if have young to middle-aged pets that could be susceptible to falling ill with a condition that may become a long-standing issue, such as arthritis or diabetes. In cases like this you are likely to save money on large veterinary bills should anything happen. But remember, that after a certain age, PetPlan may not cover them.
Sarah is a freelance writer and marketer, covering a variety of topics from lifestyle and fitness to sustainability and travel. When she's not writing for PetsRadar or other websites, she can be found looking after her pet chickens or relaxing with a cuppa and a cute doggo snoozing on her lap!