ORSDA Electronic Cat Toy review
The ORSDA Electronic Cat Toy is a two-in-one device that allows your feline friends to tap into their hunter instincts
Why you can trust PetsRadar Our expert reviewers spend hours testing and comparing products and services so you can choose the best for you. Find out more about how we test.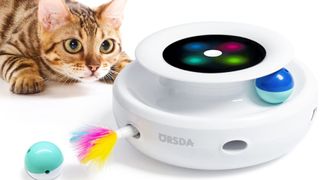 (Image credit: Amazon)
The ORSDA Electronic Cat Toy is designed to mentally and physically stimulate moggies when they're only able to have fun alone. Rather than offer a single method of play, this great-looking device adds variety, by not only allowing cats to try and catch a ball that's spinning around a circular track but by also sending a colorful feather out of its side at random moments. When we were putting the best cat toys to the test, it definitely captured our imagination.
The idea is that your cat has to be on constant alert, with the electronic toy tapping into a feline's innate desire to hunt, stalk and pounce. Indeed, cats will be seeking to ambush the feathers one minute and batting at the balls the next. And because there are five different speed modes, it can be adapted to suit any cat while lessening the chance of them becoming bored.
ORSDA Electronic Cat Toy : Features
Although the premise behind this toy is simple enough, the manufacturer has to be commended for going the extra mile – a hallmark of many of the best interactive cat toys. The company could have made do with one ball whizzing around the track but here you have a choice of two, one of which comes with a built-in bell. This has a couple of benefits: the bell can attract the attention of cats who are not responding to the soundless ball while the latter can give your ears a rest if your cat is playing nearby! Yet that is not all.
The toy also comes with six different feathers. Three of them are multicolored, one is a solid purple, another has a fluffy tail and one resembles a pheasant feather. This is good news for fickle felines since it goes some way to ensuring they won't become too familiar with one type and find their mind wandering away. It's also great to know that replacements can be bought if your cat manages to catch and excessively chew on a feather. It should ensure the toy remains in use for longer.
As we mentioned earlier, there are five speed modes. For kittens, the fastest speed is said to be most suitable while older cats tend to favor the medium settings. In line with lots of the best automated cat toys, however, you can play around, stepping things up and down to see how well a cat takes to the device. The toy can also be slipped into a smart mode so that it will power down after 10 minutes. Four hours later, it will switch on again and hopefully get kitty running over.
Helping to attract a cat's attention is a set of LED lights on top (but imagine if it also fired off a beam of light like with the best laser toys for cats – that would certainly have been cool!). The noise of the unit also encourages cats to investigate and these two things mean you don't necessarily have to do anything to introduce your cat to the toy.
What's more, it's very safe too. The device is made from ABS plastic and it's curved so there are no jutting edges to dig into a cat's paw. As a relatively heavy toy, a cat is also unlikely to knock it across the room. For those worried about entertaining a cat when they're away, this toy could well be a great solution for you.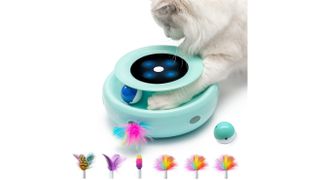 ORSDA Electronic Cat Toy: User reviews
Cats are curious little things and users find their furbabies tend to immediately wander over to this toy once it starts to move. "From the moment I set it up and pushed the button, this had my cat's curiosity," affirmed one customer reviewer. "She recognizes the sound of it turning on from another nearby room and races to it."
Users suggest the device is particularly successful in tapping into a cat's prey drive. "My cat has a large instinct to hunt and this, by far, has been her favorite toy," a user says. Of course, this means it could encourage some rough play but some are at least thankful that the feathers are sturdily held in place given how strongly cats can get a hold of them. "They're actually threaded on to the actuator arm," a user explained.
Sometimes, however, the feather gets stuck. "I was able to stick a pen inside one of the holes and push the mechanical arm to get it unstuck but I let it run for about five minutes and lo and behold, it was jammed up again," a user said. This is likely to be frustrating for both cat owner and cat, but a user reporting this problem did say, "once it started operating properly, my cat instantly became obsessed with it."
And that's the thing. In many cases, it would seem people are more than willing to put up with such niggles. So while, "the mechanical component that makes the feather go in and out is also LOUD", said one, other suggest the noise helps to attract a cat's attention. Some do wish the manufacturer hadn't put the on/off button on top, though. "Where do cats like to perch on things?," asked a user. "On top." D'oh!
Should you buy the ORSDA Electronic Cat Toy ?
There is no getting around the fact that this product has its flaws: the sound, the position of the on/off button and the fact the feathers can get stuck being the prime ones. Yet the good stuff really does outweigh the bad and many users have put most problems to one side because of the most important thing – many cats that get introduced to this toy appear to become totally infatuated with it, to the point where they'll pester their owner to switch it on. To that end, it is one that all cat owners should consider, particularly if you are out and about for much of the day and want to keep your pet stimulated.
Get the best advice, tips and top tech for your beloved Pets
David Crookes has been a journalist for more than 20 years and he has written for a host of magazines, newspapers, websites and books including World of Animals, BBC Earth, Dogs and Canines, Gadget and The Independent. Born in England, he lives in a household with two cats but he's also keenly interested in the differences between the huge number of dog breeds — in fact, you can read many of his breed guides here on PetsRadar. With a lifelong passion for technology, too, he's always on the lookout for useful devices that will allow people to spend more time with their pets.