Best fish cat toys: Keep your feline friend happy, fit and amused
Give your cat exercise and entertainment with the best fish cat toys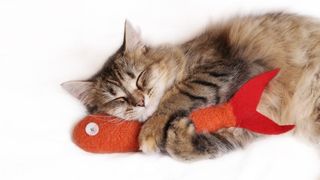 (Image credit: Getty)
The best fish cat toys will keep your furry friend entertained and amused. They are perfect for giving your cat plenty of physical and mental stimulation. Throw down a fish cat toy in front of them, switch it on and watch your furry friend spring into life! It's no surprise then that one made it into our round up of the best cat toys overall.
Fish cat toys come in a variety of guises, but they all have a common purpose – to stimulate and entertain. You can choose a battery-powered flipper fish to get your feline friend excited, or perhaps a simpler plush toy, made with crinkle material and stuffed with catnip to stimulate your cat. Although if your cat is big fan of the herb do take a look our round up of the best catnip toys too.
If you fancy introducing your cat to fish in water, you can try battery-powered robot fish. But a more interactive one-on-one play experience can be had with something like the Koi dangler from Hartz. Those who find themselves to busy for feline playtimes should take a look at our guide to the best automated cat toys.
Here you can find our top picks of the best fish cat toys on the market to help you decide what is the best option for you and your cat.
Beewarm Flippity Fish Cat Toy
Best overall fish cat toy
Specifications
Size:
14.37 x 11.42 x 2.09 inches
Color:
Catfish, Koi, Grass Grap, Lobster Salmon
Reasons to buy
+
Realistic fish pattern
+
Rechargeable battery
+
Multiple types of fish
The Beewarm Flippity Fish Cat Toy is a simulation fish toy that looks like a real fish – and this is part of the attraction for cats. It will keep your furry friend amused, stimulated and happy.
It's available as a host of different fish types. You can choose from Catfish, Koi, Grass Grap, Salmon and – not quite a fish – Lobster. All have a realistic fish pattern and are made from cotton and short plush. This means they are soft and won't harm your cat's paws or teeth when they are biting, chewing or kicking the fish cat toy. And, to make sure that your furry friend stays safe and well there are no chemicals or hazardous substances inside the toy.
To add a touch of realism and fun for your cat the toy swings its tail and flops automatically. This is powered by a rechargeable unit inside the fish. All you need to do is pull open the velcro fastener to get access to it.
To recharge the unit you need a standard USB cable and a power source. Takes around an hour or two to recharge. Handily the unit is removable so that you can wash the fish cat toy when needed – it is hand and machine washable. Just make sure it's fully dry before you put the rechargeable unit back inside the fish.
It's not just the visual stimulation that attracts your furry friend. To get a playful reaction from your feline try adding a sachet of catnip. This is a 100% natural herb that cats typically respond to by sniffing, chewing, licking, head shaking and chin, cheek, and body rubbing. It doesn't work with all cats – or kittens – but give it a go to add a bit more fun for your cat.
SMARTYKAT Fish Friends Crinkle Catnip Cat Toy
Best budget fish cat toy
Specifications
Size:
4.5 x 1.37 x 0.75 inches
Reasons to buy
+
No need to charge
+
Pack of three
+
Different designs
This is a cat fish toy that keeps your feline friend happy and amused, and has the added bonus of being environmentally-friendly. SmartyKat products are made principally from recycled, reclaimed, renewable and certified organic resources. They come as a set of three – each with its own unique style – and are designed to bring out your cat's natural hunting instincts.
They are shaped like fish, feature crinkle material and all come with a tail. Each design has slightly different material and extras to help stimulate your cat senses. There is the most basic design which offers a camouflage fish material along with a top fin and a long twirly ribbon to add extra interest. Oddly, there's a red hunters plaid material fish. Cats are meant to be confused by the colour red and typically see it as a shade of green. But, the design does come with a long feather rather than a fin to help stimulate their senses. The final design in the three pack has a shiny fishing lure orange with crinkle material that is similar to fish scales. This design also has a feather instead of a fin to add to the play fun.
None of the designs are large, but they are ideally sized for an average cat to bat around and carry in their mouth.
The SmartyKat toys do not come with any electronics or moving parts – unlike fish cat toys like the BeeASmart – to stimulate your cat. But this does mean you don't need to worry about charging the Smartykat to get the best out of the toys. They are filled with pure ingredients – that are free from chemicals and pesticides – and catnip which will stimulate and excite most cats.
TOOGE Electric Moving Fish Cat Toy
Best multi-pack fish cat toy
Specifications
Size:
10.83 x 5.39 x 2.4 inches
Reasons to buy
+
Realistic fish pattern
+
Multi-pack
+
Machine washable
+
Rechargeable battery
The TOOGE Electric Moving Fish Cat Toy is similar to the Beewarm Flippity Fish Cat Toy in a lot of ways, but it offers subtle differences and buying options. It is available in three packs of two, with each pack offering two different fish – and slightly varying price points. The packs are named after colours rather than a fish type. Get your hands on the black pack and you get a Catfish and a Koi. Choose the slightly more pricey red pack and you get two salmon. Choose the most expensive of the packs – orange – and you get a Goldfish and a Koi Carp.
To make sure that you can use the fish cat toy straight out of the box each pack of two comes with two USB cables – for charging – and two packs of catnip. One for each fish.
Each fish is 3D printed with a realistic fish design to give the soft plush toy the look of a real fish. The Tooge has a zipper on the bottom of the fish that reveals the USB charging unit that makes the fish appear more life-like with a tail wiggle. All you need to do is use the supplied cable to charge up the fish.
The charging unit is fully removable meaning that you can slip it out – and charge at the same time – and pop the toy into the washing machine for a quick clean.
Once dry put the unit back in, slip in the catnip packet and tap the fish to get its tail wiggling and your furry feline will jump into action. Perfect for keeping you and your cat happy.
Indoor Cat Interactive Swimming Fish Toy
Best swimming cat fish toy
Specifications
Size:
3 x 1.4 x 0.8 inches
Reasons to buy
+
Multiple colours
+
Automatic on/off feature
+
Extra batteries included
Cats aren't fond of water but when they see a fish swimming around they can become transfixed and can't help but pop a paw in the water and play. These interactive robot fish toys may not be the real thing but they are a great way to stimulate your furry feline's natural hunting instincts.
They come in four different colours – note these may vary from those in the product shot. Each robot fish is powered by 2 x LR44 batteries which are included. As an added bonus there are eight extra batteries for when the originals run out. There is also a small installation tool included to make the replacement easy.
But you might well need the extra batteries pretty quickly. The battery life for a single fish is around 20-30 minutes if used continuously. So the manufacturer recommends that you only run two fish as a time for around five minutes. Then replace with the other two fish for another five minutes to help prolong battery life. These short bursts of activity are long enough to keep your cat entertained for as long as they are interested in the fish.
Another battery-saving device is the automatic swimming feature. The fish do not switch on until they are placed into the water. A robotic fin moves back and forth to get the toy moving in the water. You don't need to switch them off either as they will automatically stop working when you take them out of the water. If it doesn't wipe with a dry cloth. To add to the excitement the fish cat toys also contain built-in LEDs that flash and light up when the fish is put into the water.
Best refillable fish cat toy
Specifications
Size:
12 x 24 x 24 inches
Reasons to buy
+
Variable sizes
+
Five different fish designs
+
Refillable
If you are not sure what type of fish cat toy your furry friend will like then this mult-pack is a great place to start. It provides a combination of toys in different sizes, colours and designs. There are seven pieces in the pack including five refillable Catnip fish cat toys. These vary in length from 7.5 inches to 8.6 inches which makes them a great size for cats who like to bite and carry off their prey. To ensure that your cat stays healthy and happy each of the fish is made from a quality plush fabric with a non-toxic and safe stuffing.
The fish are printed with five different realistic designs including Koi, salmon, and a couple of cat favourites, mackerel and sardine. To make the fish cat toys more attractive and stimulating to your feline friend each toy is stuffed with just the right amount of catnip. The pack comes with extra catnip so you can get rid of the old and refill when you want to. A zipper on the bottom of the toy gives access to the inside of the fish. All you need to do is scoop out the catnip and replace. This is a good time to think about washing the toy – whether by hand or in a washing machine. The pack is not exclusively fish, it also contains a couple of catnip fur mouse cat toys which are filled with catnip and will work just as well as the fish to keep your cat entertained.
Best dangler fish cat toy
Specifications
Size:
6.9 x 3.4 x 1.3 inches
Reasons to buy
+
Catnip/Silver Vine mix for more appeal
+
Suction cup to stick to wall
+
Random bounce
+
Solo or interactive play
This is an interactive fish cat toy. What this means is that you need to be part of your favourite felines play time for them to get the best out of it. The Hartz Cattraction replicates a fish caught on a fishing line. Dangle the fish in front of your cat, give it a wiggle and watch your cat try and swat it. If this does work you can try dragging slowly along the ground in front of them and watch them get ready to pounce. This will keep them entertained for as long as you are happy to keep up the one-on-one play with your feline friend.
If you don't have the time – or are feeling a little lazy – you can suction the wand to a hard surface and let your cat indulge in solo play. The elastic string causes a random and fun bouncing motion to make sure that your cat doesn't get bored quickly.
The Hartz Cattraction toy comes in eight different varieties with the Koi Dangler being the only fish in the collection. The plush toy Koi is available in two colours, but unfortunately you don't get to choose. You will be shipped whatever colour the manufacturer decides on.
A lot of fish cat toys come with catnip as an extra stimulant to excite your cat, but not all cats like catnip. The Hartz toy uses catnip but combines it with Silver Vine – a vine that grows in the high mountainous regions of eastern Asia. Silver Vine is another natural and effective cat attractant that stimulates more cats than just catnip alone. An ideal choice to try if your cat is not a big fan of catnip.
How to choose the best fish cat toy
Why you can trust PetsRadar Our expert reviewers spend hours testing and comparing products and services so you can choose the best for you. Find out more about how we test.
When on the lookout for a fish cat toy for your feline friend there are a few choices out there. If you are feeling generous you could treat your cat to more than one as even the high end options will hardly break the bank.
Catnip is a common theme through a lot of fish cat toys. It is a natural herb that stimulates a cat's senses. All the models in this buying guide either come pre-stuffed with catnip or have the option to add yourself. It definitely helps make a fish cat toy more appealing to cats. But, not every cat likes catnip, so you might need to rely on other features as well to get your cat in a playful mood.
At the budget end of the scale there are the simple stuffed plush toys. These could be the first option to try. The SMARTYKAT Fish Friends Crinkle Catnip Cat Toy is a simple fish-shaped toy that comes covered with crinkle material and additional features to help stimulate your feline friend. The Hartz Cattraction is attached to a wand by string, so you will need to get involved to get your cat interested. The Youngever Cat Toys are a great value option with five stuffed fish – and a couple of mice toys as added extras.
If you want the toy to do more of the work then the Beewarm Flippity Fish Cat Toy and TOOGE Electric Moving Fish Cat Toy are good choices. Both are plush toys with realistic fish patterns, rechargeable batteries and catnip pouches. All you need to do is choose which fish you like. Finally, if you want to introduce water to your cat's playtime then consider entertaining them with the Indoor Cat Interactive Swimming Fish Toy.
Get the best advice, tips and top tech for your beloved Pets
Steve Jenkins is a freelance content creator and long-time journalist with more than 20 years in the industry. He has written for numerous titles covering tech to pets, with his latest faithful hound always by his side. When not walking his dog, or discussing who's best - cats or dogs? Loud guitars, AFC Bournemouth, Photoshop, and trying to save the world take up the rest of this time.