Best dog beds: Sweet dreams are guaranteed
The best dog beds will keep your canine companion comfortable, calm and cozy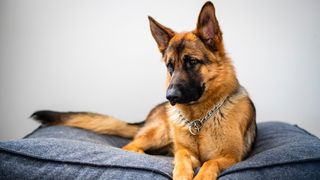 (Image credit: Getty)
Investing in one of the best dog beds is well worth the money considering your canine companion spends around 12 - 14 hours a day in snoozeville! And while not all of that is deep sleep, it's important for their health and wellbeing that they have a comfortable place to rest their head when they need to recharge their batteries.
And let's face it, choosing a dog bed should be pretty straightforward...right? Well, yes and no! As you've probably noticed, there are about as many dog beds on the market these days as there are canine companions in the world, so if you're feeling a little overwhelmed right now, we don't blame you. But, thankfully, with a bit of background knowledge, you'll have the perfect pad picked out in no time.
The first thing to consider is your dog's size. If your dog is a larger breed, we recommend you check out our guide to the best large dog beds to find something suitable for your super-sized furkid. Regardless of whether your pup is on the larger or smaller size, look for a bed that has enough room for them to stretch out and move around in.
The best orthopedic dog beds are well worth a look if you have a senior dog or one who struggles with their mobility or suffers from joint pain. These are designed to support and cushion aching muscles, and can help prevent stiffness at night, leading to a better quality of sleep.
Now, durability, cleaning and maintenance are also things to consider before selecting a dog bed, particularly if you have a heavy chewer on your hands or a pup who suffers from incontinence. It's good to invest in a bed made of strong and waterproof materials and if it's machine washable, even better as that will make your life a lot easier.
To help you find the perfect sleep spot for your forever friend, here's our pick of the best dog beds, with options to suit every hound and their health needs.
PetsRadar's pick of the best dog beds
Why you can trust PetsRadar Our expert reviewers spend hours testing and comparing products and services so you can choose the best for you. Find out more about how we test.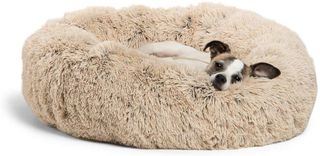 Best Friends by Sheri Luxury Shag Faux Fur Donut Cuddler
Best overall dog bed
Specifications
Sizes offered:
Small, medium, large, x-large
Materials:
Nylon, faux fur, polyfill
Washability:
Machine washable
Reasons to buy
+
Numerous sizes and color choices
+
Easily washable
+
Comfortable faux fur
Reasons to avoid
-
Not all dogs like the round style
-
Faux fur gets less comfy over time
-
Must be careful to ensure a good fit
The Best Friends by Sheri The Original Calming Shag Vegan Fur Donut Cuddler Cat & Dog Bed has a number of positive features.
For a start, it actually seems to have been designed with dogs in mind. Also, the material it is made from is similar to what you'll get in a lot of human beds, so dogs are more likely to be satisfied with this and less likely to resort to invading your own sleeping area.
It is available in four sizes, and comes in three colors. The smallest has a diameter of 23 inches, and the largest is 45 inches. With this in mind, you may want to measure your dog in order to make sure they get the one that fits them best.
It also has a skid-proof bottom, meaning that when it gets dirty, you can simply throw the entire thing into the washer, then air dry or even put in the dryer. Considering the convenience of use it offers, it represents great value for money, and as such makes it to the top of our list.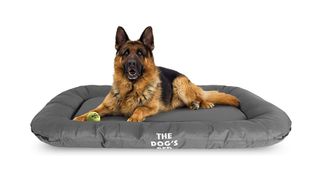 Best hard-wearing option
Specifications
Sizes offered:
Medium, Large, Extra Large
Materials:
Polyester Oxford fabric
Washability:
Machine washable
Reasons to buy
+
Easy to move
+
Tough fabric
Reasons to avoid
-
Not too easy to clean
-
Sizing a little small
This is premium by name and premium by build quality thanks to a polyester Oxford fabric which makes this tough as well as waterproof on the underside. The cover is also easy to clean for a quick wipe down, or for our hairier friends, a vacuum over. While the main bed is flat, the edges are raised for added warmth and comfort. But not too high to make vacuuming an issue.
Despite being packed with a solid premium and durable foam which offers comfort, this remains light enough to make it easy to move about, should you need to. When it comes to washing, the high-quality zip can be used to remove the outer for washing. That said, this material is quick drying so a wash and dry doesn't take long.
Everything is abrasion resistant. That's not to say this is built to withstand a continued chew attack. But it will take clawing and a bit of gnawing over time. In fact this is covered by a one year warranty and there are covers sold on their own, should you want a fresh one or to change colour. Perhaps a spare cover for those kennel trips could be useful.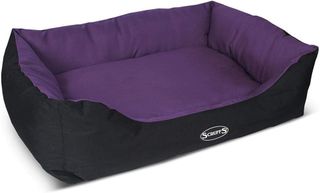 Scruffs Expedition Water Resistant Box Dog Bed
Best durable dog bed
Specifications
Sizes offered:
large, x-large
Materials:
Polyester, recycled fibre fill
Washability:
Machine washable
Reasons to buy
+
Water-resistant
+
Washable
+
Durable
Reasons to avoid
-
Size may be inconsistent
-
Not good for hard chewers
The Scruffs Expedition Water Resistant Box Dog Bed is made of strong water resistant fabric that won't become stained with mud or grass if your dog is the rough-and-tumble type. The whole bed can be put into the wash if it gets dirty, and it won't easily rip or tear either. If your dog enjoys chewing on fabric, though, this may not be the best bed for them. The Scruffs bed is available in multiple sizes and colorways, so you should be able to find one that both you and your pooch will enjoy. Because it is all one piece, the Scruffs bed should hold up well and provide support for dogs of all sizes. One important note based on customer feedback: Look closely at the measurements to ensure that it will be large enough for your dog. The seller measurements appear to be based on the inside cushion area, and your dog will need a few inches beyond that depending on how they sleep. Overall this bed is a good choice for a messy dog, though.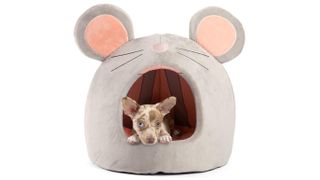 Best Friends by Sheri Novelty Cat & Dog Bed
Best novelty dog bed
Specifications
Materials:
Microplush, fiberfill
Washability:
Machine washable
Reasons to buy
+
Whimsical
+
Multiple styles and designs
+
Washable
Reasons to avoid
-
One size only
-
Not much padding
Novelty dog beds are plentiful, but we chose the Best Friends by Sheri Novelty Hut Covered Cat & Dog Bed because of its 360-degree coverage and variety of designs. Sometimes puppies and smaller dogs enjoy hiding for safety and security, especially if you have larger animals in the house. One of these dog beds could be just the thing for them. It comes in eight different styles, but they're all roughly the same size on the inside - about 16 inches by 16 inches - and the same roundish shape. The seller suggests that it fits dogs (and cats) up to 15 pounds, so definitely keep that in mind when checking out these beds. The Best Friends by Sheri Novelty Hut bed would fit especially well in a whimsical kid's room, but because it's small you could really put it anywhere. The cushion inside is reversible, removable, and washable. The entire bed is supposed to be machine washable, although given the shapes and styles it seems like that might be a bit tricky to handle. For a little dog, though, this novelty dog bed is great!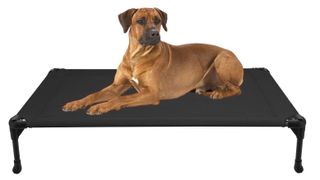 Coolaroo Steel-Framed Elevated Dog Bed
Best outdoor dog bed
Specifications
Sizes offered:
small, medium, large
Materials:
Polyethylene, metal
Reasons to buy
+
Indoor/outdoor
+
Cooling
+
Waterproof
Reasons to avoid
-
Challenging to put together
-
No cushioning
-
Not soft
The Coolaroo Steel-Framed Elevated Dog Bed is a cot-style bed made to allow air to circulate, keeping your dog cool and comfortable even in the heat. A big dog or a breed with thick fur that lives in warmer climates might especially appreciate being able to rest on its breathable surface. The bed's frame is coated steel, so it's incredibly sturdy, and the fabric is waterproof as well as resistant to mold, mildew, fleas, and more. You can wipe off or even hose down the Coolaroo, making it incredibly easy to clean. It's available in three sizes and several different colors. Like many dog beds we've reviewed, the measurements are very important. Buyers state that the measurements are for the frame and not the usable surface itself, so you may want to buy larger than you'd think depending on how your dog likes to sleep.
Some have also stated that it can be difficult to assemble the bed alone, especially as you have to do some stretching to get the fabric to fit the frame. It's not suggested that you leave this dog bed outside all of the time, as the steel frame would eventually rust. However, Coolaroo does sell replacement covers. This dog bed can last a long time if well cared for, making it an excellent buy.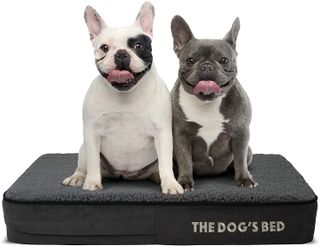 The Dog's Bed Orthopaedic Dog Bed
Best orthopaedic dog bed
Specifications
Sizes offered:
small, medium, large, x-large, xx-large, xxx-large
Materials:
Memory foam, faux fur or nylon
Washability:
Machine washable cover
Reasons to buy
+
Therapeutic
+
Easy to clean
+
Variety of sizes and covers
Reasons to avoid
-
May not resist all accidents
-
Covers may need replacing
The Dog's Bed Orthopedic Dog Bed contains a layer of high-density memory foam over a layer of supportive foam - just like memory foam beds for humans. Unlike a lot of dog beds, it comes in six sizes. The largest size is 64 inches wide, so you can buy this bed for your giant breed like a Great Dane. It can support dogs with any type of joint issues, as well as dogs predispositioned to them. However, you can also buy the bed in a size small enough for your toy-sized dog, because who doesn't want to rest in cushy comfort? The seller claims that it is great for improving mobility and stiff joints, and many customers have purchased the bed to help their dogs as they recover from surgery.
The Dog's Bed is available with two different types of fabric covers, faux fur, and an easy-clean polyester, so you can choose what your dog would like most as well as what's most convenient for you. The mattress underneath is protected by another cover. Even if your dog does have an accident, you can easily remove the outer cover to wash. Some customers caution that the waterproof mattress cover hasn't entirely held up when their dogs have had serious accidents, so beware. Generally customers appreciate the thick, firm cushioning, and believe that this orthopedic bed is worth the price. The seller does offer replacement covers, too.
How to choose the best dog bed
Dog beds cover a wide spectrum running from little more than a blanket on the floor to high-end, big budget items utilizing luxury fabrics and contemporary design. But while it's easy to feel overwhelmed with choices, it's really just a matter of taking things step-by-step and answering a few questions about your dog's preferences. First up, where does your dog like to sleep? Inside? Outside? In the kitchen? By the fire? That will lead on to the next question concerning your dog's individual needs. Do they need warm and cosy cushions or do they like to be cool? Do they enjoy hiding in confined spaces? Are they generally "hard" on fabrics and beds of the past? Once you've built a clear picture of your dog's needs and wants, finding the right dog bed gets a lot easier and you'll be able to make a purchase that suits both of you.
Get the best advice, tips and top tech for your beloved Pets
Shanna Tyndall has been writing and editing for the web and print for most of the 2000s. She is also a happy life-long cat owner and acquired a cat-like dog seven years ago. She believes that pets are generally better than people.