Best dog bed: Give your pooch the perfect night's sleep
Find the best dog bed for your pooch, and ensure their dreams of chasing sheep are the best they can be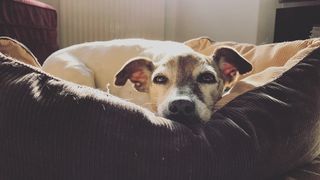 (Image credit: Getty Images)
We've all been there: buying the best dog bed. Or at least what resembles the best dog bed, as judging by how it is subsequently ignored by its intended recipient, this clearly isn't the case.
As well as the disappointment at having your gift snubbed by your dog, these things cost a lot of money. Wasting it is never a nice feeling, and is something you'll want to avoid if at all possible.
There are plenty of beds out there that look and feel great, but what you like isn't the same as what might be best for your pooch. There are all manner of different factors to consider: price, style, the size of your dog, and what it's made from. Where do you intend to put it? Does he like sprawling out, or snuggling in? Hiding away from the world in a corner, or being out in the open?
Bearing all these factors in mind, we've attempted to narrow down the best dog beds out there into this handy buying guide.
One last thing: before making your decision, make sure you take a look at our guide, how to choose the right sized dog bed.
1. Best Friends by Sheri The Original Calming Shag Vegan Fur Donut Cuddler Cat & Dog Bed: Best overall dog bed
Best Friends by Sheri Luxury Shag Faux Fur Donut Cuddler
This dog bed also works for cats (just don't tell them) and comes in a variety of sizes and colours
Sizes offered: Small, medium, large, x-large | Style: Donut/bolster | Materials: Nylon, faux fur, polyfill | Washability: Machine washable
Numerous sizes and color choices
Easily washable
Comfortable faux fur
Not all dogs like the round style
Faux fur gets less comfy over time
Must be careful to ensure a good fit
We chose the Best Friends by Sheri The Original Calming Shag Vegan Fur Donut Cuddler Cat & Dog Bed as the best dog bed overall because of its numerous positive features. Most - but not all - dogs curl up in a ball when they sleep, which makes this bed's shape perfect for them. It also has a bolster on the side so your dog can support his head and neck. The texture of the faux fur is much like some of the blankets that are popular with humans right now, so your dog could stop taking up your fuzzy blanket and sleep in a bed made entirely of the stuff. The polyfill interior will be soft and snuggly to your pup. This dog bed is available in four sizes and three colors. The smallest has a diameter of 23 inches and the largest is 45 inches. You may want to measure your dog when they're curled up so you know which size fits best.
The Best Friends by Sheri dog bed has a skid-proof bottom. And when it gets dirty, you can throw the entire thing into the washer, then air dry or even put in the dryer. It's at a good price point, especially given the convenience and variety.
2. Furhaven Pet Dog Bed - Snuggly Bolster Bed & Tufted Pillow Cushion Nap Mat: Best budget dog bed
Furhaven Pet Dog Bed
This budget dog bed is the perfect shape and depth to work well in a kennel or crate
Sizes offered: x-small, small, medium, large, x-large, jumbo | Style: Mat or bolster | Materials: Faux fur, insulating foam | Washability: Machine washable
Numerous sizes and color choices
Water-resistant base
Fits in dog crates and kennels
Not much padding
Not good for older dogs
Bottom is slippery
Considering the price, the Furhaven Pet Dog Bed has a lot to recommend about it. There's a variety of sizes, from 13 inches by 22 inches for the extra small, to 29 inches by 45 inches for the jumbo, in addition to 10 different color options. You also have the option of choosing between the mat or bolster style, and wash and dry it on gentle/low. If your pet prefers to sleep on top of blankets on the floor, then this dog bed might prove to be a step up in this regard. There isn't a lot of padding, but the seller describes the bed as having a "warming core", basically meaning that your pet's own body heat will be reflected back at it from the foam. Some reviewers have cautioned against using this dog bed in a wire crate because of its lack of padding involved. However, your dog may not always want a lot of padding, meaning this dog bed would be perfect if you travel a fair bit.
3. Scruffs Expedition Water Resistant Box Dog Bed: Best durable dog bed
Scruffs Expedition Water Resistant Box Dog Bed
This water resistant box-shaped dog bed is great for dogs who enjoy getting dirty
Sizes offered: large, x-large | Style: Box | Materials: Polyester, recycled fibre fill | Washability: Machine washable
Water-resistant
Washable
Durable
Size may be inconsistent
Not good for hard chewers
The Scruffs Expedition Water Resistant Box Dog Bed is made of strong water resistant fabric that won't become stained with mud or grass if your dog is the rough-and-tumble type. The whole bed can be put into the wash if it gets dirty, and it won't easily rip or tear either. If your dog enjoys chewing on fabric, though, this may not be the best bed for them. The Scruffs bed is available in multiple sizes and colorways, so you should be able to find one that both you and your pooch will enjoy. Because it is all one piece, the Scruffs bed should hold up well and provide support for dogs of all sizes. One important note based on customer feedback: Look closely at the measurements to ensure that it will be large enough for your dog. The seller measurements appear to be based on the inside cushion area, and your dog will need a few inches beyond that depending on how they sleep. Overall this bed is a good choice for a messy dog, though.
4. Best Friends by Sheri Novelty Hut Covered Cat & Dog Bed: Best novelty dog bed
Best Friends by Sheri Novelty Cat & Dog Bed
This little cave-style bed is perfect for smaller dogs needing a safe, cosy space
Sizes offered: one size | Style: Cave | Materials: Microplush, fiberfill | Washability: Machine washable
Whimsical
Multiple styles and designs
Washable
One size only
Not much padding
Novelty dog beds are plentiful, but we chose the Best Friends by Sheri Novelty Hut Covered Cat & Dog Bed because of its 360-degree coverage and variety of designs. Sometimes puppies and smaller dogs enjoy hiding for safety and security, especially if you have larger animals in the house. One of these dog beds could be just the thing for them. It comes in eight different styles, but they're all roughly the same size on the inside - about 16 inches by 16 inches - and the same roundish shape. The seller suggests that it fits dogs (and cats) up to 15 pounds, so definitely keep that in mind when checking out these beds. The Best Friends by Sheri Novelty Hut bed would fit especially well in a whimsical kid's room, but because it's small you could really put it anywhere. The cushion inside is reversible, removable, and washable. The entire bed is supposed to be machine washable, although given the shapes and styles it seems like that might be a bit tricky to handle. For a little dog, though, this novelty dog bed is great!
5. Coolaroo Steel-Framed Elevated Dog Bed: Best outdoor dog bed
Coolaroo Steel-Framed Elevated Dog Bed
A platform, cot-style bed offers a cool resting place for your pooch
Sizes offered: small, medium, large | Style: Platform | Materials: Polyethylene, metal | Washability: Wipe clean
Indoor/outdoor
Cooling
Waterproof
Challenging to put together
No cushioning
Not soft
The Coolaroo Steel-Framed Elevated Dog Bed is a cot-style bed made to allow air to circulate, keeping your dog cool and comfortable even in the heat. A big dog or a breed with thick fur that lives in warmer climates might especially appreciate being able to rest on its breathable surface. The bed's frame is coated steel, so it's incredibly sturdy, and the fabric is waterproof as well as resistant to mold, mildew, fleas, and more. You can wipe off or even hose down the Coolaroo, making it incredibly easy to clean. It's available in three sizes and several different colors. Like many dog beds we've reviewed, the measurements are very important. Buyers state that the measurements are for the frame and not the usable surface itself, so you may want to buy larger than you'd think depending on how your dog likes to sleep.
Some have also stated that it can be difficult to assemble the bed alone, especially as you have to do some stretching to get the fabric to fit the frame. It's not suggested that you leave this dog bed outside all of the time, as the steel frame would eventually rust. However, Coolaroo does sell replacement covers. This dog bed can last a long time if well cared for, making it an excellent buy.
6. The Dog's Bed Orthopedic Dog Bed: Best orthopedic dog bed
The Dog's Bed Orthopaedic Dog Bed
A great option for big dogs, especially ones with joint problems
Sizes offered: small, medium, large, x-large, xx-large, xxx-large | Style: Platform | Materials: Memory foam, faux fur or nylon | Washability: Machine washable cover
Therapeutic
Easy to clean
Variety of sizes and covers
May not resist all accidents
Covers may need replacing
The Dog's Bed Orthopedic Dog Bed contains a layer of high-density memory foam over a layer of supportive foam - just like memory foam beds for humans. Unlike a lot of dog beds, it comes in six sizes. The largest size is 64 inches wide, so you can buy this bed for your giant breed like a Great Dane. It can support dogs with any type of joint issues, as well as dogs predispositioned to them. However, you can also buy the bed in a size small enough for your toy-sized dog, because who doesn't want to rest in cushy comfort? The seller claims that it is great for improving mobility and stiff joints, and many customers have purchased the bed to help their dogs as they recover from surgery.
The Dog's Bed is available with two different types of fabric covers, faux fur, and an easy-clean polyester, so you can choose what your dog would like most as well as what's most convenient for you. The mattress underneath is protected by another cover. Even if your dog does have an accident, you can easily remove the outer cover to wash. Some customers caution that the waterproof mattress cover hasn't entirely held up when their dogs have had serious accidents, so beware. Generally customers appreciate the thick, firm cushioning, and believe that this orthopedic bed is worth the price. The seller does offer replacement covers, too.
How to choose the best…
Yes, dog beds run the gamut from basic blankets on the floor to high-end luxury fabrics. It's easy to get overwhelmed by choices. Just take it step by step. Think about where your dog likes to sleep and where you'd like to keep their bed. Inside? Outside? Are you concerned about how it will fit in with your existing furniture or decor? Then consider your dog's needs. For example, do they need a lot of warm and cosy cushioning? Or would they prefer to be cool? Do they enjoy hiding in confined spaces? Are they generally "hard" on fabrics and beds of the past? Once you think about how your needs and wants mesh with those of your dog's, finding the best dog bed becomes easier, and it's more likely that both of you will end up happier with your purchase.
Get the best advice, tips and top tech for your beloved Pets
Thank you for signing up to Petsradar. You will receive a verification email shortly.
There was a problem. Please refresh the page and try again.