Best calming dog beds: Keep your canine cozy and secure
Our pick of the best calming dog beds will provide your beloved pup with a comfortable and soothing sleep spot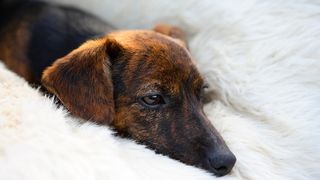 (Image credit: Getty Images)
Calming dog beds may sound like they're just another gimmick rolled out by the pet industry to poach those precious pennies from your wallet, but believe it or not, investing in one of these little beauties can be well worth it. Some of the best dog beds currently available, calming dog beds are ideal for those pups that like having a safe, secure and snuggly spot to sleep in.
Much like the best luxury dog beds, the idea behind calming dog beds is to combine a supportive sleep surface with plush and comfortable materials to create a sleep space that is truly dream worthy. Because the materials are super cozy, they mimic the warmth your pup would have experienced when they were little and all tucked up next to their mother. The result is a bed that will leave your fur ball feeling so blissed out they won't be able to keep their eyes open.
We highly recommend calming dog beds if your canine companion struggles with separation anxiety, loud noises such as thunder or fireworks, or has a health condition that makes sleeping on a regular bed less than comfortable. For many of our senior pups, mobility issues, arthritis and joint pain go paw in paw with getting older, and because calming dog beds use many of the same materials found in the best orthopedic dog beds, they can help to distribute the weight of the body more evenly, reducing the pressure on the head, neck and spine.
There's no denying that calming dog beds bring with them a whole host of perks and the best part is that in most cases they won't set you back any more than a regular dog bed. To help you decide on the right calming dog bed for your beloved bundle of fur, here's our pick of our favorite options lining the shelves in 2022...
PetsRadar's pick of the best calming dog beds
Why you can trust PetsRadar Our expert reviewers spend hours testing and comparing products and services so you can choose the best for you. Find out more about how we test.
Furhaven Pet Calming Donut Bed
Best overall calming dog bed
Specifications
Suitable size of dog:
Small, medium, large
Reasons to buy
+
Available in range of sizes
+
Machine washable
+
Refillable
Reasons to avoid
-
High price
-
Not suitable for very large dogs
-
Not suitable for destructive dogs
Featuring a bolstered donut shape, this cushy and malleable dog bed has a lot of great benefits. It's suitable for small, medium, and large dogs, with dogs up to 75lbs supported by the largest variety (examples given include the Labrador retriever, boxer or golden retriever). The bed's sunken interior is surrounded by a big, bolstered pillow ring. This design allows for maximum snuggling, nesting, and comfort for your dog, while also providing firm support.
With a faux fur covering, the bed is designed to be soft and cosy on paws and noses, which also makes it good for burrowing into. A pocket-effect is created between the bolster edge and the inner pillow, which is useful for burrowing, and also gives you or your dog the ability to hide treats and toys. The zipped interior liner means you can add more stuffing - or refill it - as necessary, or even change the type of stuffing depending on yours (or your dog's) preference later down the line.
You can also remove the bed's cover (medium and large variants), making it completely machine washable. Full washing instructions are also included to make sure you use the correct settings and avoid damage. Note that the smallest bed doesn't have a removable cover, but the entire bed can be washed in the machine instead. It also comes with a 90-day limited coverage warranty against material defects.
There are some downsides to think about with this calming bed, however. It is not particularly well-suited to any dog with particularly destructive tendencies, while very large dog breeds aren't catered for. The range of colors is fairly limited, too.
Best budget calming dog bed
Specifications
Suitable size of dog: :
small, medium, large, extra large
Machine washable?:
Yes, as a whole
Reasons to buy
+
Lots of different colors
+
Good value
+
Suitable for multiple sized dogs
Reasons to avoid
-
Cover not removable
-
Hand-washing preferable
This great-value option is also a good all-round option for anybody new to dog calming beds. It includes raised rim edges which work well as a pillow for your dog, while the sunken design works as a comforter.
Finished with faux fur, the material is ultra soft, warm, and comfortable, and is well-suited to dogs who like to curl up to go to sleep. If your dog is more of a sprawler, you may want to go one size up to ensure they have plenty of space to stretch out.
Although the bed can be washed in the washing machine, since it does not have a removable cover, it's recommended that spot cleaning by hand is used where possible. While you can run it through a tumble dryer (on a very low heat), you'll also need to wait for it to completely dry out before your dog can use it again.
The bottom of the bed is made from durable, waterproof fabric, and also includes non-slip dots to help it stay in place, even on smooth surfaces such as wood floors or Lino.
Suitable for small, medium, large, and even extra-large dogs, most breeds should find a Nonofish bed to match their size. As you might expect, the smallest and medium sized beds are the cheapest, but all sizes provide good overall value. We also love the fact that the bed is available in a wide range of colors so that you can select your favorite, or match it to the decor of your room.
BestFriends by Sheri The Original Calming Shag Fur Donut Cuddler Cat & Dog Bed
Best washable calming dog bed
Specifications
Suitable size of dog:
Small, medium, large, extra large
Reasons to buy
+
Fully machine washable
+
Suitable for variety of sizes
+
Several colors available
+
Pet safe materials
Reasons to avoid
-
Fairly pricey
-
Best if you can machine dry it
If you have a dog that's a bit of a mucky pup, you'll want to make sure you invest in a calming dog bed that is super easy to clean and wash. This bed has a removable cover that is fully machine washable and dryable (it's recommended that you machine dry it to prevent tangling and matting of the fur). Note that the small-sized bed can be put into the washing machine as a whole unit.
This is another bed with the classic round 'donut' shape that many anti-anxiety beds have. This makes it well suited to those who like to curl up to sleep, while still ensuring plenty of room for those that like to spread out. It has a raised rim that can act as a pillow, while its deep crevices are well-suited to burrowing, as well as allowing your dog to hide and protect its treats and toys. The filling is made from AirLoft fibers, which are designed to provide maximum comfort and withstand washes without clumping.
As well as a variety of sizes, there are also lots of different colors to choose from. You can choose your favorite color, or match the bed to your interior decor. The cover of the bed is made from faux shag fur, which is intended to replicate the feeling of a dog's mother's coat for maximum comfort and a feeling of security.
The bottom of the bed is water and dirt-resistant, while the filling is non-toxic to ensure the safety of your pet. The bed features double overlock stitching to ensure durability through both general wear and tear and when put through the washing machine. The materials are also responsibly sourced, with the beds designed and shipped from Los Angeles, with local customer service on hand to help via email or phone call with any problems or queries.
MixJoy Orthopedic Dog Bed
Best orthopedic calming dog bed
Specifications
Suitable size of dog:
Small, medium, large
Machine washable?:
Yes, but recommend hand washing
Reasons to buy
+
Made with pet safe materials
+
Self-warming faux fur
+
Provides additional comfort
Reasons to avoid
-
Not suitable for very large dogs
-
Not suitable for excessive chewers
The simple design of this calming dog bed makes it a great choice for dogs who want both comfort and support. The raised rim design provides head and neck and support, while the sunken centre makes it super comfortable to snuggle into. The faux fur covering is also self-warming, so you should find it keeps your pet nice and toasty too.
Lightweight and portable, this bed is filled with recycled polyester fiber filling that recreates a nest-like feeling and promotes a feeling of safety and security. You can wash the bed in the machine on a cold wash, but the manufacturer recommends using hand washing if possible. You can also place the bed in the tumble dryer on a low heat – ensure that the bed is completely dry before giving it back to your dog.
At the bottom of the bed is a non-slip surface, helping to keep it in place on slippery surfaces such as wood floors and Lino. The bed is made with pet-safe materials, so although it's not recommended for those who like to chew, it should be safe if minor damage occurs.
This bed is available in three different sizes, so the majority of dogs are catered for, but those with very large breeds may find they need to look elsewhere. The smallest size is suitable for very small breeds, but you may wish to go up a size if you have a dog that likes to spread out a little more. It's available in a decent selection of colors too, so you should be able to match it to your decor.
PetFusion Calming Cuddler Dog Bed
Best calming dog bed for burrowers
Specifications
Suitable size of dog:
Small, medium
Material:
Polyester, Fabric
Reasons to buy
+
Ideal for burrowers
+
Easy to clean
+
Super soft material
Reasons to avoid
-
Not suitable for large dogs
-
High cost
This bed's a little different from the rest on the list. Rather than being a donut shape, it's a traditional rectangular shape. Here, anxiety is combated with the ability to burrow – something which many dogs have a natural instinct for. The loose blanket attached to the bottom of the bed is ideal for burrowing into, but since it's attached, it won't detach and come loose, providing hours of burrowing security. On top of that, it also provides warmth and comfort and is made from super soft materials, and they can also bury treats and toys within its layers.
The high walls of the edges of the bed provide good support for the head and neck, while the bed itself has a memory foam base for ultimate comfort and to help reduce problems such as joint pain. The foam itself is constructed from certified pet-safe materials, so you can also feel confident that it's totally safe for your furry friend to snuggle into.
Should you need to freshen the bed up, the covers are removable for machine washing and tumble drying (gentle/cold settings). Spot cleaning for light stains is recommended where possible to maintain the quality for as long as possible.
There are of course a couple of downsides to this bed. It's not the cheapest bed on the market, but with high-quality materials that is to be expected. It's also only available in one colour, which albeit neutral, may not be to everybody's tastes.
GASUR Cozy Cuddler Small Dog Bed
Best for small dogs
Specifications
Suitable size of dog: :
Small
Material:
Polyester, Plush, Microsuede, Fabric
Reasons to buy
+
Supports better sleep
+
Easy to wash
+
Good value
Reasons to avoid
-
Only one color available
If you're looking for a cozy and comfortable hideaway for your little furry friend, this cuddly small dog bed from GASUR is hard to beat. Featuring an attached pet blanket, this covered bed is ideal for any dog that loves to burrow and snuggle.
The soft and plush interior fabric coupled with the chamois microsuede hood provide breathable warmth that promotes better sleep and helps to provide relief to sore muscles and joints. You can also fold the hood down and use it as a blanket to tuck your canine companion in for the night.
Measuring 23" x 23", this bed is suitable for small dogs up to 20 lbs, but there's also a medium-sized version available that measures 26" x 26" and supports pups up to 30 lbs. We love how easy this cuddler is to care for too - simply pop the entire bed in the washing machine and voila, you'll have a fresh and clean bed in no time!
Tinaco Couch Cover Calming Bed
Best calming dog bed for the couch
Specifications
Suitable size of dog:
Small to large dogs
Reasons to buy
+
Range of colors and sizes
+
Ultra soft and plush
+
Leakproof and non-slip
Reasons to avoid
-
Not suitable for extra large breeds
Looking for a way to keep your couch fur-free while also offering your canine companion a snuggly spot to snooze? Then this couch cover from Tinaco could be just the ticket. Ultra soft and plush, it's made from cuddly faux fur fabric to provide the ultimate in warmth and comfort, so a good nights sleep is all but guaranteed.
The three-sided bolster design creates a feeling of safety and security, and because the lining is made with waterproof material, you don't have to worry about any accidents your dog has seeping through onto your couch cushions. It's also durable and incredibly easy to clean - simply pop it in the washing machine, air dry and it'll be as good as new.
We love that this couch cover comes in three generous sizes, so with the exception of giant breeds, it will suit all dogs up to 85lbs. It's also suitable for the car, floor and bed, and comes in a choice of four stylish colors, so you can rest assured that you'll easily find one that blends into your decor.
Get the best advice, tips and top tech for your beloved Pets
Amy Davies is a freelance writer and photographer with over 15 years experience. She has a degree in journalism from Cardiff University and has written about a huge variety of topics over the years. These days she mostly specialises in technology and pets, writing across a number of different titles including TechRadar, Stuff, Expert Reviews, T3, Digital Camera World, and of course PetsRadar. She lives in Cardiff with her dog, Lola, a rescue miniature dachshund.