Best orthopedic dog bed: Keep your canine comfortable
Looking for an orthopedic dog bed? Here are the best ones for young, old, injured, or healthy dogs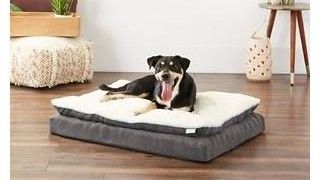 (Image credit: Chewy)
If you're looking for the best orthopedic dog bed, you've come to the right place! While the models in our guide to the best dog bed are all wonderful options for most of our canine companions, a few of our fur friends who might be suffering from injuries or old age can really benefit from the comfort and support an orthopedic dog bed offers.
But, before you rush out and buy one, there are a few things worth considering. First up, just like with the best luxury dog beds, you'll probably be paying more for an orthopedic bed than a regular one and that's because these beds tend to be made with higher quality materials (such as memory foam) that gently cradle the body, helping to evenly distribute your dog's body weight and relieve joint and muscle pain.
When it comes to size, you'll find a wide range of options available to you when selecting an orthopedic dog bed. The most important thing is to ensure you choose a bed that has enough space to accommodate your pup, so if you have a big breed we recommend you check out our guide to the best large dog beds which combine all the therapeutic qualities of an orthopedic bed but in a much bigger size.
Next up, you might like to think about what kind of style would best suit your dog's needs. Some orthopedic beds come in the form of a mattress, which could be a good choice if you have a super social dog who likes to be able to keep an eye on what's going on, while others feature bolsters that offer lots of security - perfect if you have a shy dog who likes their privacy.
Finally, check to make sure the bed is water-resistant and comes with a removable cover that's machine washable as this will make your life a whole lot easier when it comes to keeping your dog's bed clean. And to help you find the perfect orthopedic dog bed for your beloved canine companion, here's a roundup of our favorite options lining the shelves in 2022...
PetsRadar's pick of the best orthopedic dog beds
Why you can trust PetsRadar Our expert reviewers spend hours testing and comparing products and services so you can choose the best for you. Find out more about how we test.
Casper Memory Foam Dog Bed
Best overall orthopedic dog bed
Reasons to buy
+
Human-grade mattress support
+
Durable quality
+
Easy to clean
Reasons to avoid
-
Expensive
-
Not chew-proof or water-proof
Casper is a famous manufacturer of mattresses for humans and now it's using that experience to help dogs find the ultimate in comfort and support too. The knowledge accumulated from years of research and design means you get human-grade mattress quality and support, only in dog sizes.
Yes, this is a fully orthopedic mattress, but it's also built to be dog-proof level tough too. So your dog's achy joints will be eased but it can also chew out any anxiety on the mattress without it breaking at the first bite. As such, this should hold its shape and new quality look for the long term, helping to justify the higher-than-most price tag.
That tough outer coating material is made from durable and chew-resistant bonded microfibres. These coat the main mattress as well as the raised bolsters around the edges, which should help your pup or old pooch feel safe and sheltered as well as kept cosy and warm. The middle section is intelligently designed with a soft top that mimics the sensations of loose earth, something your dog can paw at for comfort.
The outer is machine-washable featuring a zip that means it can be easily slipped off and on again. This is designed intelligently with the zip hidden with sewn-in pockets so they won't scratch your floors or the dog.
The bed comes in three sizes of small (66 x 48 x 15cm) for up to 14kg, medium (83 x 63 x 15cm) for up to 27kg and large (114 x 89 x 18cm) for up to 40kg.
Whichever you opt for, there's a 30-night risk-free trial. So if you or your dog don't like the mattress you can simply send it back and get a full refund, no questions asked. The shipping to you and the returns are free so this really is an easy way to give this dog bed a try before you buy.
The downsides? It comes in only three color options of blue, grey and sand. And the price is high compared to other options, but that's about it. Hence this being at the top of our list of the best orthopedic dog beds.
Best budget orthopedic dog bed
Reasons to buy
+
Affordable
+
Easy to wash
+
Material replaced if it tears
Reasons to avoid
-
Variation between color options
The Furhaven Pet Dog Bed is an affordable way to give your dog all the comforts of an orthopedic bed without you feeling any pain in the wallet region. Despite the low price, this is a well made dog bed that uses a certified polyurethane egg crate foam style inner, which not only offers comfort and support, but is also breathable. The result is that it won't get as smelly as some of the competition, while still offering some of the best levels of comfort.
The quilted outer is removable, making it machine washable for easy cleaning. This quilt adds another layer of comfort and support to the dog while also ensuring that the orthopaedic supportive foam beneath has a layer of protection, should the dog have an accident while in the bed.
The Furhaven Pet Dog Bed features a sofa style design, meaning raised edges. These are made from 100% recycled fluffy materials, so they not only let your dog's head rest at ease but your green conscience can too. Having the raised edges is a great way to offer the dog a spine-supporting sleeping position, but it also helps make them feel more safe and secure. In fact, it also offers a warm pocket so your dog can find comfort and warmth during colder nights.
This bed is available in 13 different colors and designs from quilted navy to velvet dark sage. This comes in four sizes: small (50 x 38 x 8cm) good for up to 9kg dogs, medium (76 x 50 x 8cm) good for dogs up to 16kg, large (91 x 69 x 8cm) good for up to 25kg dogs, and jumbo (111 x 89cm x 10cm) that's good for dogs weighing up to 43kg.
All that and the outer is also tough. In fact, the company replaces accidentally torn covers, it's that confident that its product shouldn't be breaking. Impressive at this price point.
BarkBox Memory Foam Dog Bed
Best bolster-style orthopedic dog bed
Reasons to buy
+
Great range of sizes and colors
+
High-quality materials
+
Water-resistant and machine washable
We feel comfortable and cozy just looking at this bed! Incredibly well made using high-quality materials, this memory foam bolster bed features a therapeutic gel relieves body aches, joint pain, hip dysplasia, and arthritis to offer your canine companion a more restful nights sleep.
This 2-in-1 bed has a removable and portable memory foam mattress that can be separated from the rest of the bed for use in the car or your dog's crate. Both pieces of the bed are water-resistant and have covers that zip off for easy cleaning.
Available in a range of sizes (from S to XL) and colors, you'll find this bed accommodates most breeds and it fluffs up beautifully and retains it's shape well. The only drawback is that it's not suitable for heavy chewers, so if you have a destructive pup on your hands, you'll want to steer clear of this bed. But for all other canine's, this snuggly and supportive orthopedic bed is definitely worth considering.
Best puppy orthopedic dog bed
Specifications
Material:
Polyurethane foam
Reasons to buy
+
Comfy and supportive
+
Tough material, ideal for puppies
+
Odour-resistant
The Purple Dog Bed comes with a rare 100-day free trial, making it a great option to try if you aren't sure. Although, based on the tech going into this bed, you're likely to be impressed. Coming off the back off the mattress-in-a-box revolution that's taking human beds by storm, this uses the same principles for your dog.
The mattress is made from "luxurious Purple Grid support by a polyurethane foam base" which is hypoallergenic and orthopedic. That grid is designed to adapt to your dog's body, offering support and comfort for the deepest levels of relief and recharging.
The outer can be removed to go in the washing machine for easy cleaning. It's made from an anti-microbial, moisture-resistant and odor-neutralizing material. This is also durable so it should be able to last lots and lots of washes. The material is non-toxic and strong, so it should be fine even if your dog chews the bed to relieve stress.
There's free shipping and returns with that 100-day trial, making it a real why-not choice. You also get a one year warranty.
The bed is available in small, medium and large options, meaning there is a size for all types of dogs. The grey finish is the only color option, but it looks great, so it's really not that much of an issue.
The Dog's Bed Orthopedic Dog Bed
Best waterproof orthopedic dog bed
Reasons to buy
+
Waterproof outer
+
Machine washable
+
Memory foam support
Reasons to avoid
-
Not specifically chew resistant
The Dog's Bed Orthopedic Dog Bed, as it's confusingly named, is a fully orthopedic flat bed-style sleep slab for many different dogs. The company offers a huge range of size options, making this a great choice for anyone wishing to find a bed that fits exactly into a certain space in a room. There are also a huge range of colour options, so it's easy to make it fit into the room's style too.
The bed itself is made from orthopedic grade memory foam meaning it will offer the joint, muscle and spine support your dog needs, even older dogs or ones recovering from injury. There's a solid 5cm high-grade orthopedic memory foam layer on top of another 5cm layer as a base for enhanced stability.
This mattress is a prudent choice for anyone with a younger dog as it ensures healthy development for a safer future. Since there are lots of size options and the price isn't too high, it is possible to upgrade as your pup grows.
Not that you should need to with that cover, which is totally waterproof. This means that should your pup have an accident, you won't need to worry about it getting through to the mattress and potentially causing lasting smells. Instead, you can simply remove the cover, using the zip, machine wash it, then return it back fresh for the dog to enjoy.
The size options total six from a bed that supports small dogs to a massive bed for even the largest of dogs. Each is available in a whole host of color options, 14 to be exact, with mixed colors and even some pattern options in the mix.
Big Barker 7" Pillow Top Orthopedic Dog Bed
Best ultra premium orthopedic dog bed
Specifications
Style:
Flat with headrest
Reasons to buy
+
Stylish headrest
+
Machine washable
+
Great for larger dogs
Reasons to avoid
-
Expensive
-
Not ideal for dogs who love to burrow
Available in Large, X and Giant XX sizes, the Big Barker Pillow Top Orthopedic Pet Bed offers maximum style and comfort for larger breeds.
The product features several features specifically calibrated for big dogs and looks stylish to boot with its headrest design.
The bed looks like a beautiful piece of furniture with a high-end velvety touch to the touch, while also providing ample support for a larger canine's body through its 3-stage foam construction that helps envelop sensitive joints and provide extra relief to dogs suffering from joint pain or muscle disorders.
The Big Barker Pillow Top Orthopedic Pet Bed is handmade and features high quality therapeutic foam, which could go some way to explaining the premium price tag, but lovers of stylish design will be delighted with the variety of colors on offer paired with great comfort.
PetFusion Ultimate Memory Foam Dog Bed
Best materials in an orthopedic dog bed
Specifications
Material:
Memory foam, polyester and cotton outer
Reasons to buy
+
Quality materials
+
Chew and water resistant
+
Solid memory foam
Despite being low down on the list, this is one of the best orthopedic dog beds you can buy. It has it all, on paper, with a memory foam inner, water and chew-resistant cover, comfy bolster edges and a selection of size options. In fact, it does it all for a relatively decent price. It even has replacement covers and fur blankets as optional extras.
The bottom of the bed also offers a layer of waterproofing, meaning this is a great option if you can't be sure your dog won't have an accident. As such, the seams are well stitched, hence that water and chew resistance that should mean this will last you a long time.
The solid memory foam is good for joint protection and improved health while the inner liner offers the waterproofing to protect that foam from potential odor-causing accidents. The bolsters around the edges are made from recycled polyfill and are well packed to make sure they're as comfy as possible.
The zips are well designed with two separate compartments for the bolsters and the memory foam. At the bottom is a non-skid base which makes this good for tiles, wood or laminate floors even if not kept against a wall.
This bed comes in four sizes and three color options. This is the Ultimate model, made for older dogs, but there is also a cheaper BetterLounge model for young adults and a PuppyChoice model. Expect the same high-quality from each although the BetterLounge uses polyester microsuede and the PuppyChoice features solid 28D foam.
Dogbed4less Extra Large Orthopedic Gel Memory Foam Dog Bed
Best cooling orthopedic dog bed
Specifications
Material:
Microfiber cover with 100% memory foam insert
Reasons to buy
+
Cooling surface
+
Easily removable washable covers
+
Reasonably priced
+
Highly durable
Reasons to avoid
-
Not completely waterproof
Ideal for aging dogs, the Dogbed4less Extra Large Orthopedic Gel Memory Foam Dog Bed looks to combine all the benefits of pressure point relief and alignment support with a cooler sleeping surface for a more restful sleep.
It comes with multiple covers which are easy to remove and wash, including a stylish exterior that's heavy and durable enough to withstand hair and mud whilst providing ample comfort.
Made from a solid 4 inches of high density memory foam, you may find the Dogbed4less Extra Large Orthopedic Gel Memory Foam Dog Bed a particularly excellent choice if you find dog beds prone to flattening.
Bedsure Dog Bed Sofa
Best orthopedic dog bed for small dogs
Specifications
Material:
Orthopedic foam, laminated flannel plush
Reasons to buy
+
Machine washable
+
Helps with joint pain
+
Waterproof
Reasons to avoid
-
Some report tears after multiple washes
It sounds pretty obvious, but when looking for an orthopedic dog bed, it makes sense to tailor it towards your dog's size. If they're only small, you might as well get an appropriately sized bed.
With this in mind, Bedsure presents an ideal offering for small dogs. Made from orthopedic foam, you can rest assured that your pup will be able to sleep in comfort. The 3-sided optimal support provides balance for the key pressure points, and the waterproof liner is ideal in case there are any accidents.
Moreover, it is designed to be machine washable, so cleaning and maintenance is made easy, although you might want to be careful about how much you do this, as some have reported the fabric coming apart after multiple washes.
Regardless, with a 4.6 rating on Amazon after multiple washes, it's fair to say that the risks are few and far between. For dogs that are a bit more on the diminutive side, you can't go wrong with Bedsure.
Get the best advice, tips and top tech for your beloved Pets
Life-long pet owner Luke currently enjoys the company of his five year old German Shepard Khaleesi and now long-in-the-tooth cat Maggie. During his years of growing into the writer of over two decades that he now is, Luke's reared and cared for horses, hamsters, rabbits, lizards, birds, bugs and even an alpaca.