Best luxury dog beds: Perfect pads for pampered pooches
By Luke Edwards
Invest in one of the best luxury dog beds and your pampered pooch will sleep soundly all night long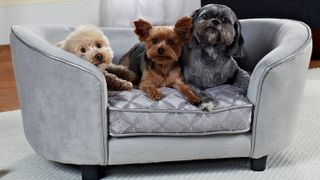 (Image credit: Amazon)
When your pooch has had a long day, the best luxury dog beds will ensure they get quality sleep in style. In fact, it's important that your pup gets a comfortable sleep in order to stay healthy and content. And while they may be already kipping in one of the best dog beds, luxury dog beds are certainly an upgrade! Best of all, they are extra stylish, cozy and make a great addition to any home décor.
But with so many types available, it can often be tricky to know which one is suitable for your pup and their general well-being. For instance, if you have an older pooch or one with arthritis, they may benefit from the best orthopedic dog beds. These luxury beds are designed with a special material that both supports and cushions aching muscles and joints, to prevent any stiffness at night.
In addition, it's essential to consider durability when buying a luxury dog bed. It's worthwhile looking at types made from chew-resistant materials, which are ideal for pups who love biting. Also, you need to consider how easy it is to clean, so it's wise to invest in one with a removable machine washable cover. Bear in mind, you'll be spending quite a bit more money than you would on a standard dog bed, so you want to ensure it lasts a long time and is low maintenance.
So from the chew-resistant to the super stylish, we've rounded up the best luxury dog beds for your pampered pup to relax on…
PetsRadar's pick of the best luxury dog beds
Best overall luxury dog bed: Casper Memory Foam Dog Bed
Best budget luxury dog bed: Earthbound Rectangular Removable Waterproof
Best carpet friendly luxury dog bed: PetFusion Ultimate Lounge
Best luxury dog bed for puppies: Purple Dog Bed
Best covered luxury dog bed: Snoozer Luxury Cozy Cave
Best compact luxury dog bed: Best Friends by Sheri Donut Cuddler
Best sofa-style luxury dog bed: Quicksilver Pet Sofa
Best raised luxury dog bed: Furhaven Pet Elevated Platform Dog Bed
Best luxury dog bed for small dogs: DEWEL Pet Teepee Dog Playhouse
Casper Memory Foam Dog Bed
Best overall luxury dog bed
Style: Flat | Material: Memory foam | Machine Washable: Yes | Chew resistant: Yes
Durable quality
Easy to clean
Human-grade mattress comfort
Expensive
Not chew-proof or water-proof
Mattress maker Casper now creates comfy sleep slabs not only for humans, but also for dogs. As a result, you get all the scientifically researched and designed smarts of human-grade mattresses, but for your pooch. That means pressure relieving memory foam, which is also orthopedic, making it a great option for older dogs whose achy joints will be eased by this comfort. It also means this will keep its shape for the long term.
Beyond the full support this bed offers, there is the outer coating material, which is made from durable and chew-resistant bonded microfibers. All around the edges are raised bolsters so your pup will feel safe and sheltered, as well as kept cosy and warm. In the middle the material is intelligently designed with a soft top, which mimics the sensations of loose earth, something your dog can paw at for comfort.
The outer is machine washable, and can be easily removed with the zip. But even this is designed intelligently with the zip hidden with sewn-in pockets so they won't scratch your floors or the dog.
The bed comes in three sizes of small at 26 x 19 x 6 inches for up to 30lb, medium at 33 x 25 x 6 inches for up to 60lb, and large at 45 x 35 x 7 inches for up to 90lb. Whichever you go for you get a 30-night risk-free trial. So if your pup, or you, don't like the mattress then you can simply send it back and get a full refund, no questions asked. The shipping to you and the returns are free, so this really is an easy way to give this dog bed a try before you truly buy.
All that adds up to one of the best luxury dog beds you can buy right now. The downside is that this is an expensive option and comes in only three color variants of blue, gray, and sand. Alright, we're struggling to find negatives here, hence this being at the number one spot making it the best luxury dog bed you can buy right now.
Earthbound Rectangular Removable Waterproof
Best budget luxury dog bed
Style: Sided | Material: Premium heavy duty polyester | Machine Washable: Yes | Chew resistant: No
Affordable
Easy to wash
Tough waterproof material
Not hair resistant
This Earthbound dog bed gives you the best of a classic design combined with the affordability that a big brand name like this can offer. The result is a cheaper-than-most option which will serve most needs, namely keeping pooch comfy while also making your life easier when it comes to cleaning.
The bed is made from machine washable premium heavy duty polyester. Removing this for washing is great but another inspired touch is the ability to remove the inner cushioning too. This means you can flip the inner, much like you turn your own bed mattress. The result should be a consistent comfort for your dog, even if there is a lot of pawing and moving that might otherwise cause the cushion material to bunch up.
Back to that machine washable feature. This is good for up to a 40 degrees Celsius wash, which is plenty to get any stains or smells out. That makes this a viable option for all dog ages, including puppies. That said, the material is tough, but isn't specifically called chew-resistant, so don't expect this to withstand a constant attack from an anxious dog that tends to chew a lot. But this is a cheaper option than most, meaning it can be replaced without quite so much wallet pain as you might feel if you splash out on a claimed chew-resistant bed that your dog manages to destroy anyway.
The entire bed, even the inner, is waterproof, again making this ideal for puppies in training. Once your puppy has bladder matters under control, you can flip the material to a non-waterproof side that's made of comfy Sherpa.
This bed comes in four sizes and five colors, including blue, green, red, navy, and brown.
PetFusion Ultimate Lounge
Best carpet friendly luxury dog bed
Style: Sided | Material: Memory foam | Machine Washable: Yes | Chew resistant: Yes
Durable and chew resistant
Machine washable
Memory foam support
Very expensive
Only large sizes
PetFusion makes one type of bed, and sells it for both cats and dogs, but with this model only coming in large sizes, this is primarily more for canines. As such it's built to withstand the weight of heavier dogs while still offering lots of support and comfort thanks to its memory foam mattress. This is a medium firmness base that comes in large and extra-large, with four inches of depth or jumbo with six inches. There is also a recycled polyfill bolster around the edges to give the dog extra comfort, support, and warmth. Under the base is a waterproof liner to protect floors from any accidents, making this an ideal dog bed for carpets.
Everything is covered with a durable cotton and polyester twill outer which manages to remain gentle on your dog's skin while also being tough enough to be chew-resistant. That anti-tear covering is water-resistant, but should it get wet or stained, it can be removed and machine washed in cold water. This is done easily using the YKK zips, made to high standards so they can withstand a lot of use.
The bed comes with a one year limited warranty, and is available in gray or brown color options. Pricing does vary massively based on the color you want, so if you're not picky then you could get yourself a good deal on this impressive mattress.
Purple Dog Bed
Best luxury dog bed for puppies
Style: Flat mattress | Material: Polyurethane foam | Machine Washable: Yes | Chew resistant: Yes
Super comfy and supportive
Very tough material
Hypoallergenic and orthopedic
Odor resistant
Expensive
One color
The Purple Dog Bed is the pet world equivalent of the mattress-in-a-box revolution that changed human mattresses. That means it's designed scientifically to offer everything your dog needs and everything you want without compromises. As such, it's one of the most expensive options out there, but with a 100 day free trial it's definitely worth considering.
The bed features a hypoallergenic and orthopedic mattress that's made from "luxurious Purple Grid support by a polyurethane foam base", says the company. That grid is designed to adapt to your dog's body so that it offers support and comfort for the deepest levels of relief and recharging.
The outer is also built to task with an antimicrobial, moisture-resistant, and odor-neutralizing material. This can be removed and put in the washing machine for easy cleaning. Since it's also ultra durable that means it should be able to last lots and lots of washes. It should also mean this is a bed built to withstand your dog, from claws to teeth, it's made to resist and stay strong. It's also non toxic, so even if your dog does manage to get a mouthful or a good lick then you can relax knowing it won't do them any harm.
That 100-night free trial comes with free shipping and returns, so you can try before you decide with no commitment. Then you're covered by a one year warranty. The bed comes in small, medium, and large options, meaning there is a size for all types of dog. The fact it's got a super minimal finish and attractive grey color that goes with any room is just a bonus.
Snoozer Luxury Cozy Cave
Best warm and covered luxury dog bed
Style: Cave | Material: Microsuede | Machine Washable: Yes | Chew resistant: No
Luxurious and cosy materials
Machine washable
Anti odor
Expensive
Not chew or water resistant
Snoozer is famous for its Cosy Cave style dog beds, and this Luxury model is the top-of-the-line option made for its Show Dog Collection. As such, it's a pricey dog bed, but one that's built to offer the very best materials for your dog's comfort. If your dog likes to have a cover and enjoys being warm then this is the perfect dog bed.
The interior is made from Sherpa, meaning it'll keep your dog warm and cosy during the colder months, but will breathe enough to make sure they're also cool during the warmer times. The base is filled with a cedar and poly mixture or, if you need, an orthopedic foam insert for extra support. The roof is kept up with a hidden rod so your dog can slip in and out without it falling in.
The outer material has a luxury microsuede material which is both machine washable and dryable. The heavy duty zips are brass, making them rust-proof so you can wash this as many times as you need knowing it will remain resilient and durable. It's not rated for water or chew resistance, so probably isn't ideal for puppies, but for dogs where that isn't an issue this is a great option for covered comfort.
There are three size options and over a whopping 40 different fabric colors to pick from. This comes from a brand that has been around since 1985, and is known for comfort so that steep price tag is justified with the peace of mind in knowing this is made well and built to last.
Best Friends by Sheri Luxury Shag Faux Fur Donut Cuddler
Best small luxury dog bed
Style: Doughnut | Material: Shag faux fur | Machine Washable: No | Chew resistant: No
Affordable
Very comfy
Compact on space
Not the most tough
Fur magnet
The donut shape of this Cuddler is ideal for getting very, very cosy. You know when your dog is so comfy its eyes move to follow you about the room but the head stays locked? You'll get that a lot with this little round bed of fluff. We say fluff, it's actually a faux shag fur which means it's not only comfy but is also machine washable. That's a good thing since this material, as you can imagine, isn't ideal for hairier dogs that molt a lot.
Since this has that donut shape, it means the rim is raised up to keep the dog in for comfort, warmth, and security. That makes this a great option for a puppy that will love the safety this offers, as well as the soothing feeling that circling and pawing at it will give them. Also, the fact this will feel like their mother's fur coat is another really nice bonus for pup. That said, if the puppy is chewing, this isn't ideal, as it will get destroyed pretty quickly.
As such, expect this to get a lot of use. It's not built to be tough, so this also won't last a very long time, but this is so cheap it's an option that can be replaced as regularly as needed without it costing too much. Luxury dog bed comfort with an affordable price.
The bottom of this bed is both water and dirt resistant, making it great for both hard floors and carpets alike, even for pups who can be prone to accidents. Since this works in the washing machine, on cold, and also can be machine dried, it means any mess can be quickly and easily cleaned, so this bed is in top condition all the time. It'll also mean you don't need to worry about odors building up.
The dog bed comes in a mix of sizes, from a small 23-inch up to and XL 45-inch, and is available in taupe or frost colors.
Quicksilver Pet Sofa
Best sofa-style luxury dog bed
Style: Sofa | Material: Velvet | Machine-washable cover: Yes | Chew resistant: No
Affordable
High-quality
Storage pocket
Not suitable for dogs over 30lbs
This luxurious velvet sofa comes with faux-leather trim and a removable and washable cushion cover for easy cleaning. Suitable for dogs up to 30lbs and measuring 34" x 22.25" x 15", the sofa is perfect for small furkids.
With a rounded and curved back and cushioned arms, the sofa is ideal for dogs who like to sleep curled up or for leaner dogs who like a place to rest their head that's slightly elevated.
The micro-velvet cushion offers superior comfort and the raised legs prevent your pup from feeling a draft while they sleep. The sofa also comes with a handy storage pocket for toys, treats, and bones.
Fully upholstered and made from high-quality durable materials of furniture-grade construction, this luxury dog bed offers the perfect blend of comfort, style, and longevity.
Furhaven Pet Elevated Platform Dog Bed
Best raised luxury dog bed
Style: Elevated | Material: Veneer | Machine-washable cover: No | Chew resistant: Yes
Multiple finishes
Stylish design
Multiple sizes
Easy to assemble
Doesn't come with mattress
Doesn't have non-slip feet covers
Super stylish and available in multiple finishes, Furhaven Pet Elevated Platform Dog Bed is perfect for posh pooches who don't like getting their paws dirty.
Its raised design comes in walnut, bamboo or gray wash and is both simple yet sophisticated enough to fit into any room of the home with ease and style.
Whether you have a small dog or a larger canine, it comes in multiple sizes, including a respectable jumbo size at 45.9 x 37 x 9.8 inches.
If you've been having trouble finding a dog bed that doesn't look cheap, Pet Elevated Platform Dog Bed is a generally a sturdy purchase in both design and material choice but it would benefit from having non-slip feet covers.
Buyers may also be disappointed by having to source their own mattress; the bed frame doesn't contain one as standard.
For pet owners who have found the perfect mattress match, however, this luxury dog bed is providing the perfect size and comfort level for even the fussiest of canines.
DEWEL Pet Teepee Dog Playhouse
Best luxury dog bed for small dogs
Style: Teepee | Material: 100% cotton | Machine washable: Yes | Chew resistant: No
Can be used as a fun play area
Stylish and attractive design
Detachable and machine washable
Bed/cushion not included
If you really want to spoil your little pooch, this teepee dog bed is simply adorable. Made from 100% cotton canvas and supported by pine poles, this Native American design offers style as well as comfort. What's more, it doubles up as a fun tent to play games such as hide and seek!
Designed for smaller pups, you can either choose a tepee with a height ranging up to 15inches or a larger tepee with a height from 15-23 inches. It is quick and easy to assemble and has ample room for your pup to snuggle up and snooze inside.
Best of all, the luxurious, white fabric with lace detail is detachable and machine washable, so it will always remain stunning (and spotless!). The only downside is the bed isn't included, however, you can always switch around your pup's favorite cushions to lounge on.
Life-long pet owner Luke currently enjoys the company of his five year old German Shepard Khaleesi and now long-in-the-tooth cat Maggie. During his years of growing into the writer of over two decades that he now is, Luke's reared and cared for horses, hamsters, rabbits, lizards, birds, bugs and even an alpaca.
Get the best advice, tips and top tech for your beloved Pets
Thank you for signing up to Petsradar. You will receive a verification email shortly.
There was a problem. Please refresh the page and try again.