Revolutionary new anti-theft dog lead promises to thwart dog snatchers
A new design of anti-theft dog lead could be the latest weapon in the fight against dog thieves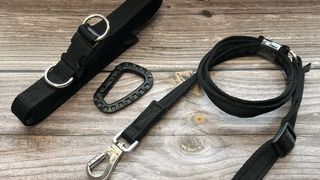 (Image credit: Sarah Gleave, Meg Heath Dog Leads)
A dog lead designer has come up with a new anti-theft dog lead in the hopes that it will deter criminals from stealing people's beloved pooches. This new invention has been created as a result of the concerning rise in pet thefts in the UK.
Sarah Gleave, founder of Meg Heath Dog Leads, recently released the Theft Deterrent range, which includes the anti-theft dog lead called 'Stealth'.
This new lead combines three different concepts, which all act as deterrents against dogs being easily snatched, cut free, or unclipped.
The 'Stealth' lead contains a PVC-coated galvanised 7x7 steel rope core that is covered in a soft webbing, making it difficult to cut through. It comes with either a swivel or a barrel carabiner style clip, which are both tricky to undo unless you know how. The third anti-theft measure is a soft handle that, should the occasion call for it, can be made tight against the owner's wrist making it harder for the thieves to grab the lead from you.
"Daily, there are reports of dog theft on Social Media… I wanted to play a part in trying to help", explained Sarah. "Personally, I have always been scared to death of dog theft… It's early days for the product but the feedback so far has been positive."
Of course, no device or accessory can guarantee that your dog will not be stolen but hopefully things like this will make it much harder for the thieves to perform a quick snatch and grab.
Get the best advice, tips and top tech for your beloved Pets
Chloe is a freelance writer, editor, and proofreader, who has more than ten years' experience in creating animal-focussed content. From National Geographic to Animal Planet, Chloe's passion for creating fact-filled features all about wildlife and the environment is evident. But it's not just wild animals that Chloe's fascinated by. Having written more than 75 articles for PetsRadar - and having her very own four-legged friend by her side - it's no wonder that her love of dogs (and, of course, cats) has grown exponentially.
Her website, www.chloemaywrites.com, and social media pages - @ChloeMayWrites on Instagram, Facebook, and Twitter - showcase her knowledge through daily facts and trivia tidbits. For example, did you know that snails have teeth?!