10 animal rescue social media accounts that will melt your heart
These animal rescues will restore your faith in the world, and give you a steady flow of adorable fuzzy faces to admire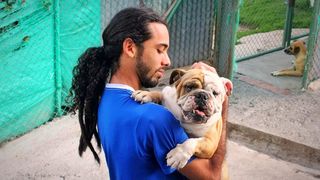 (Image credit: Getty)
Whether or not you already own a pet, chances are that your social media feeds are full of dog, cat, and other animal accounts guaranteed to brighten up your day.
In this post, we've found some super-cute, super-adorable feeds that are pretty much guaranteed to melt your heart, not just because the animals are gorgeous, but because they're all animal rescue accounts. Some of the stories behind those big wide eyes are sure to set off even the most hardened of viewers.
If you're looking for some new animals to add to your daily scrolling, then look no further than these. If you're thinking of adopting a new dog, cat or other type of animal, it can also be a good idea to look for the social media accounts of local rescue centers, since you may just come across your next best friend.
These accounts come from across the globe, but you can find plenty more by searching for hashtags such as #petrescue, #animalrescue, #dogrescue and so on. Many specific breeds also have dedicated rescue accounts too – try searching for the name of the breed followed by rescue, for example #labradorrescue.
So without further ado, here are 10 accounts to get following right now...
1. ASPCA
Another official account of a huge animal rescue organization, this time the American Society for the Prevention of Cruelty to Animals; you get a steady stream of heart-melting stories about a variety of different animals (mostly dogs and cats). You'll also find information on animals that need to be rescued, as well as some tips for looking after your own.
2. Official RSPCA
The official account of the RSPCA (Royal Society for the Prevention of Cruelty to Animals) in England and Wales, expect to see a host of different beautiful animals, as well as tips and advice to look after your own furry friends. You'll also see animals who are available for adoption. This account features all different types of animals, not just cats and dogs .
3. Sasha's Shelter
This shelter in Nis, Serbia, is home to more than 750 rescue dogs. Follow the page for updates on the many beautiful canine companions it rescues. Some of the stories behind these dogs are absolutely heartbreaking, but there are happy endings and uplifting tales to read about too.
4. Cats Protection
The UK's leading feline welfare charity's beautiful Instagram feed is the ideal follow for cat lovers. See a steady stream of gorgeous moggies, as well as finding information on how to adopt a cat and give a rescue cat a new life and home. You can also find regional Cats Protection accounts, such as #catsprotectionharrow – just type CatsProtection into the search bar to find your nearest center.
5. DC Shiba Inu Rescue
If there's any dog breed that is perfect for the 'gram, it's the Shiba Inu. The face of many dog memes, if you can't get enough of this type of dog, this is an account dedicated to those that have been rescued by a shelter in Washington DC. Cuteness and heart-warming rescue stories? Come on – you have to give this one a follow.
6. Alittlebitiffy Animal Rescue Sanctuary
If dogs and cats aren't the only fluffy friends you find cute, check out this Instagram account dedicated to rescued guinea pigs. These cute little guys are sure to brighten up your day as you scroll past. Generally, most of the guinea pigs are long-termers with specific and long-term medical needs, so it's not an account to follow with the hopes of adoption, but we just love their cute faces nonetheless.
7. Many Tears Rescue
If you're serious about adopting a dog in the near future then following a page like Many Tears Rescue is a great idea. It will update you with information on dogs and puppies that are available to adopt. But even if you're not looking to adopt, this is a page filled with cute faces and sweet stories, so follow it anyway.
8. Dog's Trust
The UK's largest dog welfare charity, the Dog's Trust Instagram account is filled with beautiful dogs, awesome characters, and information for those looking to adopt, as well as tips and tricks for those who already have their own dog. For lovers of all types of dog breed, this is the one for you.
9. Little Paws Dachshund Rescue
Who doesn't love a sausage dog, right? These characterful canines are beloved for their cheeky dispositions and cute nature. Follow this account to see wiener dogs that are fostered and adopted along the East Coast of the US. Even if you live nowhere near enough to be able to adopt one yourself, stick around for those sweet faces.
10. Nashville Cat Rescue
Another one for the cat-lovers among you. As the name suggests, this rescue centre is based in Nashville, Tennessee, but anybody from around the world can surely enjoy these cute felines. Whether you've got a penchant for kittens or prefer your cats fully grown, there's something sweet to catch your attention as you scroll with this account.
Get the best advice, tips and top tech for your beloved Pets
Amy Davies is a freelance writer and photographer with over 15 years experience. She has a degree in journalism from Cardiff University and has written about a huge variety of topics over the years. These days she mostly specialises in technology and pets, writing across a number of different titles including TechRadar, Stuff, Expert Reviews, T3, Digital Camera World, and of course PetsRadar. She lives in Cardiff with her dog, Lola, a rescue miniature dachshund.