Best mini pig treats
Spoil your porky companion with any one of these well-loved mini pig treats.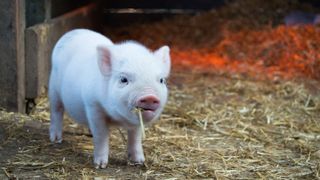 (Image credit: @Christopher Carson on Unsplash)
Like just about any pet, mini pigs love getting treats, whether it's a reward or to encourage bonding. Mini pigs are incredibly intelligent animals and will quickly form positive behavioral associations and relationships, so you'll end up with a well-trained and loyal friend in no time at all. These piggy pets are sure to squeal with delight for any of the treats on this list.
Staff pick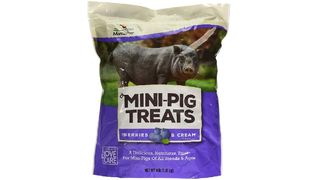 Delicious and nutritious
The Manna Pro mini pig treats will become an instant hit. They have a yummy berry flavor that your little one will love.
Pros:
Smells great
Piggies seem to really enjoy the flavor
4-pound bag
Cons:
Treats can get crushed into powder during transit
Double-check expiration dates on new bags
The Manna brand pig treats have a tasty berry flavor that your little piggy will gobble up. The treats smell great to humans, so they probably smell even better to the sensitive-nosed mini pigs. The morsels consist of a delicious collection of hays, veggies, and fruit flavorings that will keep your pig's tastebuds happy. They are best used as a sometimes treat but work especially well for training a mini pig.
Best fruit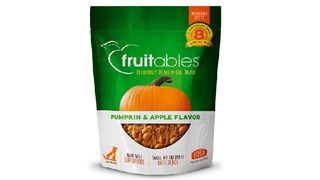 Sweet and nutritious
These treats are crammed full of natural fruit and available in several flavors to appeal to any picky pigs out there.
Pros:
Delicious
All-natural ingredients
Low calories make it a healthy choice
Cons:
Quality seems to vary pretty wildly
Comes in bacon flavor; don't get bacon flavor
The Fruitables brand snacks are a good choice if you don't want to compromise on the quality of your mini pig's food. This brand crafts treats with natural ingredients made from the top superfoods, baked to perfection each time. Despite being made for dogs originally, the fruit-based versions of this treat work for pigs as well! Pigs are especially big fans of fruit and veggies, so the apple or pumpkin flavors are a great option given their closeness to what mini-pigs generally will eat.
Best corn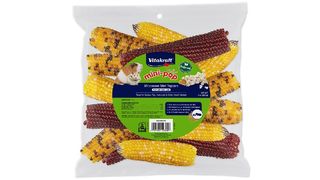 Simple, yet effective
Tiny corn cobs make great treats for the ever-curious pig because corn is a dietary staple.
Pros:
Can be served either whole or popped
Just corn
Multiple sizes available
Cons:
Cobs might not always arrive intact
Smaller than your usual corn on the cob
Vitakraft's tiny corn cobs are a great treat for your mini pig; corn is a part of their diet. The little corns cobs, which they call mini-pops, aren't only adorable but are a great way to give your pig food they love and expect. These treats can be served with the kernels intact, or (for fun), they can be heated until the kernels burst into popcorn. Either way, your pet will love it!
Healthy selection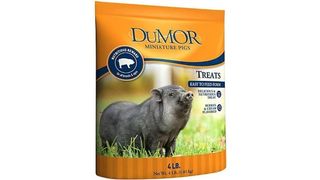 Great choice loved by pigs
The AZ micro brand is well known for its mini pig gear and food, and its treat options are no exception.
Pros:
Easy-feed styl
No fillers
Most pigs seem to really enjoy the flavor
Cons:
Treats can get crushed into powder during transit
Pigs might not enjoy taste
AZ Micro is a brand that is a powerhouse in the world of mini- pig gear and food, and their treat items follow up with their commitment to quality. The berry and cream-flavored treats are a yummy selection for mini-pigs. While they might not be the most healthy choice, their easy-feed shape and affordable price make them a great pick for a new pig owner.
Treat your pig to the best
Why you can trust PetsRadar Our expert reviewers spend hours testing and comparing products and services so you can choose the best for you. Find out more about how we test.
Pigs are loyal, loving, and smart pets. Like dogs, humans and pigs can form a strong companionship. Building trust with pigs can take time, but the benefits are well worth it for such a smart companion. The fastest way to a pig's heart is through its stomach. They love treats, so selecting the right snack is an easy way to win piggy trust.
The Manna Pro Mini-Pig treats are a delicious berry-flavored treat that your pet will go wild for the moment the bag comes out. Give the Vitakraft mini pops treats a chance if you want a more natural choice! Since they're just corn on the cob, you can rest assured that they are healthy for your pet. Enjoy your pet pig's well-earned love and loyalty one treat at a time.
Why trust us?
At PetsRadar, we recommend the best products to enhance your life. As expert curators, we handpick products based on quality and usefulness to positively impact your day-to-day, from cart to doorstep. We take our responsibility seriously — testing products, reading reviews, and sourcing knowledgeable outlets to ensure our selections are worthy of your time and money. We deliver detailed product overviews, balancing objective information with subjective opinions, so making the best choice for your home and lifestyle is as easy as possible.
Get the best advice, tips and top tech for your beloved Pets