Boost your serotonin levels with these adorable pet videos on TikTok
Cheer yourself up and banish bad moods with some cute animal videos set to a Bee Gees remix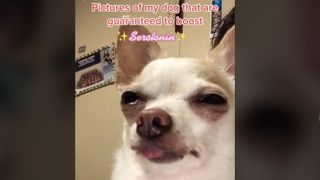 (Image credit: Jacky Navarrete)
A TikTok video format has gone viral, for all the right reasons. Try not to smile when watching any of these.
Set to a remixed version of the Bee Gees' "More Than a Woman" featuring audio from Clueless, the videos are titled "Pictures of my [insert pet here] that are guaranteed to boost serotonin" and are a slideshow of hilarious or adorable pet pictures. From a pitbull named Shortcake who looks like she's always smiling, to an impossibly fluffy cat wearing a costume, these videos are definitely going to boost your serotonin - I'm no scientist, but I'm very confident you'll be happier after watching them.
There's a lot of silly things on TikTok these days, but when the platform is used to boost happiness by way of pets, you simply can't deny its importance. The social media platform may not always be this cute, but these videos show the wholesome side of TikTok - and there are quite a few for you to pick through the next time you need a pick-me-up.
If you stumble upon one of these videos while scrolling through TikTok and are confused how to find others (there's no set hashtag for them) just click on the audio at the bottom of the video (it's made by virgomovies - that_80s_girl) and you're sure to find others using that same format.
Get the best advice, tips and top tech for your beloved Pets