Build a stronger bond with your dog and teach them patience with this one simple training tip
You'll never walk up a set of stairs the same again after reading this canine expert's advice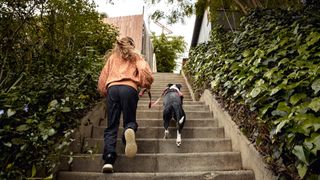 (Image credit: Getty)
Are you struggling with obedience training for your dog? Do you want to improve your bond with your four legged friend? Look no further than this dog trainer's simple staircase training exercise.
Making the most of walks with your dog is so important, this includes allowing them time to sniff and explore (why not try a 45-minute 'sniffari with your pooch?), playing with them and their favorite puppy toys, and keeping up with regular training.
Allegra Kaough, the founder and lead trainer at Naked Dog Training, has shared with her Instagram followers a very simple training opportunity that is worthwhile trying out the next time you approach a set of stairs with your dog.
Kaough who takes a relationship-based training approach to canine coaching demonstrates how to do the trick in a video posted to Instagram, which you can watch below...
The staircase exercise is a simple technique that can improve your dog's obedience and strengthen your bond. Here's how to use it:
Wait at the base
If your dog pulls ahead, pause
Get even on the same step and pause
Next time they get ahead ask them to come back to you
At first glance, this exercise may seem simple and easy, but it actually helps build a wide range of skills that are essential for good dog behavior. For example, it teaches your dog self-control, patience, awareness, and staying tuned in to you. These skills are not only helpful for climbing stairs but also for loose leash walking, waiting at thresholds, listening with distractions, managing reactivity (here's an in-depth guide on how to calm a reactive dog if you're looking for some extra help here), navigation of crowded spaces, and off-leash recall.
One of the most important skills that the staircase exercise builds is self-control. Dogs are naturally impulsive creatures, and they often have a hard time resisting their instincts. However, self-control is a critical skill for good behavior. When your dog learns to exercise self-control, they can stay calm and focused on you even in situations that might otherwise be overwhelming or exciting.
Another important skill that the staircase exercise builds is awareness. When you are doing this exercise with your dog, you are training them to pay attention to you and to their surroundings. By staying aware of their environment and looking to you for cues, your dog can stay focused on you and be more receptive to your commands.
In addition to building specific skills, the staircase exercise can also help improve your bond with your dog. When you are doing this exercise with your furry friend, you are working together as a team to accomplish a common goal. This can help strengthen your relationship and deepen your bond.
If you can master the staircase exercise, you will be better equipped to handle bigger challenges with your dog. Kaough wrote in her caption, "If you can't nail an empty staircase in a heel how can you get it on a walk? If you can't ask your dog to come back to you when they are two steps ahead then how can you ask them to come back to you at a busy park with lots of fun distractions?".
A lot of these things take time to master with your pup but sometimes getting a hold on the small moments can be the most impactful.
Get the best advice, tips and top tech for your beloved Pets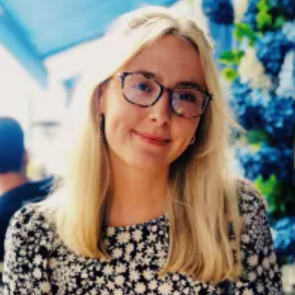 Jessica is Staff Writer at PetsRadar who joined the team after spending over a year writing for the brand's sister site, Fit&Well. She is an avid dog spotter whilst out for her weekly runs and brings to the team a passion for creating informative and helpful digital content, which she has been putting to practice since graduating with a degree in Magazine Journalism in 2021.