Adorable moment cat massages his fellow feline friend goes viral
Everyone knows how relaxing a back rub can be so it's no surprise that this cute cat massage clip has given us all chilled vibes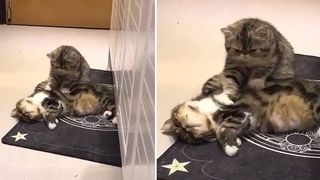 (Image credit: TikTok / @Petassembly)
You think you may have seen it all before but a clip of a relaxing cat massage is taking TikTok by storm!
Shared by an account called @Petassembly (Pet008), the video shows a pair of tabby cats that - for the most part - seem fairly oblivious to the world around them.
One of the felines can be seen laying flat out on its side on the floor whilst the other is sat upright, over the top of the super chilled moggy, massaging back and forth with their front paws. And it's not just clawing and hoping for the best either!
The master masseuse is clearly concentrating on what it's doing as it looks to be showing off their skills by moving its paws in a circular motion across the recipient's body. It's no wonder they've got their eyes shut - they must be in heavenly bliss!
Captioned with the hashtags #cutecat #catsoftiktok #pets, this short clip has managed to attract an incredible 19 million views.
And, if the video wasn't entertaining enough, the comments TikTok users have left are pure gold!
After watching the adorable clip, Ur cutie said that they "want this kind of relationship."
With Seher Asif adding the famous phrase: "Happy wife, happy life."
But then there were comments that viewed the clip in a completely different (and hilarious) way: "What if the other cat's dead and he's trying to play off the murder by being cute?" said @haileymckinnonart.
Another TikTok user, called Yoboijr12, excitedly added: "I thought the cat was doing the moonwalk on the other cat at first!!!"
However you interpret the video clip, you can't deny that cats are pretty awesome!
Get the best advice, tips and top tech for your beloved Pets
Chloe is a freelance writer, editor, and proofreader, who has more than ten years' experience in creating animal-focussed content. From National Geographic to Animal Planet, Chloe's passion for creating fact-filled features all about wildlife and the environment is evident. But it's not just wild animals that Chloe's fascinated by. Having written more than 75 articles for PetsRadar - and having her very own four-legged friend by her side - it's no wonder that her love of dogs (and, of course, cats) has grown exponentially.
Her website, www.chloemaywrites.com, and social media pages - @ChloeMayWrites on Instagram, Facebook, and Twitter - showcase her knowledge through daily facts and trivia tidbits. For example, did you know that snails have teeth?!